One of the most relaxing experiences when visiting New York City is to take some time out of your hectic schedule to explore probably the most famous park in the world – Central Park. However, the first thing you will notice when you arrive at the entrance to this majestic park is the magnitude and size that it covers. So just exactly what must you see inside the park?
After recently wandering the sidewalks that meander through New York's famous park, we want to share with you our top 5 must see spots in Central Park. Of course this is not an exhaustive list and there are many more attractions that you can experience if time permits.
We all know that visiting New York City isn't about one particular attraction; therefore allocating your time efficiently will ensure you can see everything you want to during your stay in the Big Apple.
Gapstow Bridge
If you have ever seen Home Alone 2, I am sure you will be familiar with the sight of Gapstow Bridge, which is an iconic structure that crosses the lake. Surrounded by beautiful wildlife, it is no surprise that this is a haven for a variety of species to congregate among the millions of tourists that visit here.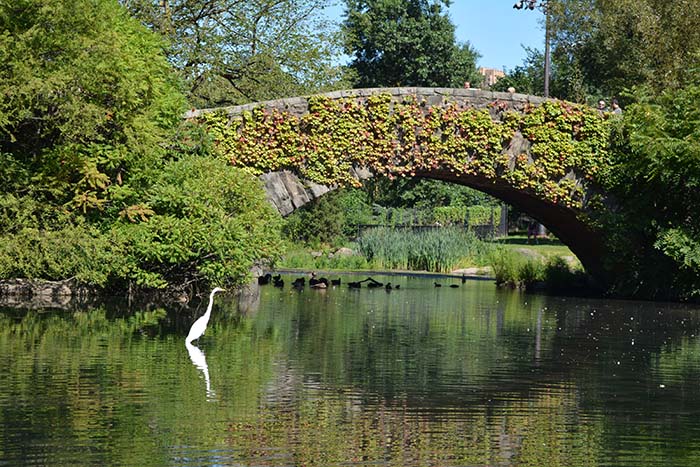 We spent quite a bit of time here just sat on one of the benches looking across the lake to Gapstow Bridge. With a beautiful city skyline in the background, this really is a tranquil spot to grab a book and a coffee and just take some time away from New York's hectic lifestyle.
Of course, you may spot one or two pigeons in the area but don't forget that Macaulay Culkin or the Pigeon Lady could be right around the corner!
Bow Bridge
An even more impressive structure that is a photographer's dream is Bow Bridge. Crossing over the boating lake, which in itself is a gorgeous attraction that you should experience, Bow Bridge is probably the most famous of all bridges in Central Park.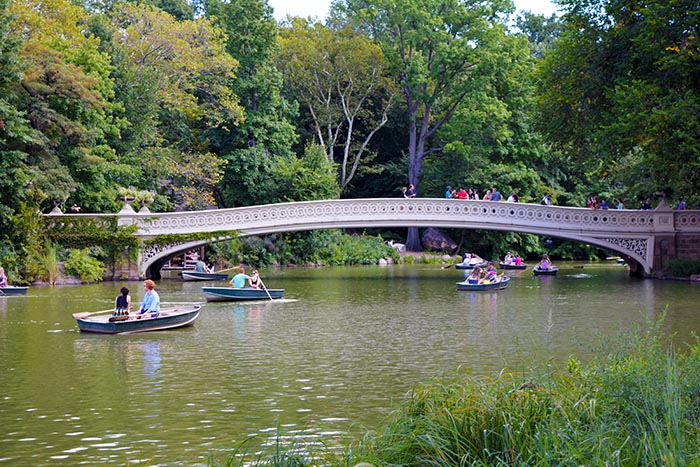 Whether you want to just sit alongside the banks of the boating lake and watch as people test their rowing skills on the lake, or actually partake in the experience of rowing, there is certainly something for everyone here. For only $12 for the first hour, you and your loved ones can hop into a rowing boat and venture out on the lake to really capture the full experience.
You will also find that Bow Bridge and the boating lake offer some of the most spectacular views of the New York City skyline from Central Park, so plan on staying in this part of the park for quite some time.
Strawberry Fields
Let me take you down, cos I'm going to Strawberry Fields
Nothing is real and nothing to get hung about
Strawberry Fields forever
The beautiful opening lyrics to Strawberry Fields echo in your mind as you wander around Central Park and head to the symbolic memorial of John Lennon. Located on the west side of the park, just in front of The Dakota, Lennon's former home and also place of his murder, Strawberry Fields is one of the most visited landmarks for good reason.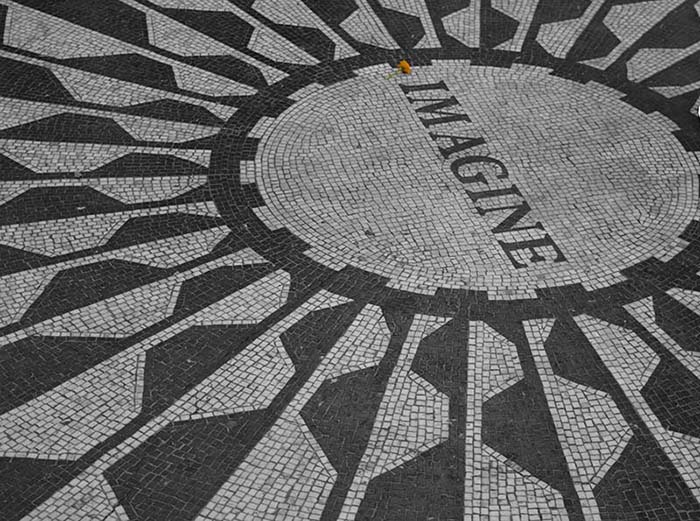 The Imagine mosaic design emblazoned on the ground in the heart of the Strawberry Fields location is a clear favorite among visitors, especially for those die-hard Beatles fans who want a moment remembering their lifelong hero.
Walking The Ramble
Just spending time wandering around Central Park is a must-see attraction in itself. There are certain parts of the park, such as The Ramble trails, which give you a variety of options on routes that you can take. Enjoying a beautiful summer's day walking the Central Park trails is a moment you should certainly cherish, as it allows you to get away from the hustle and bustle of New York City.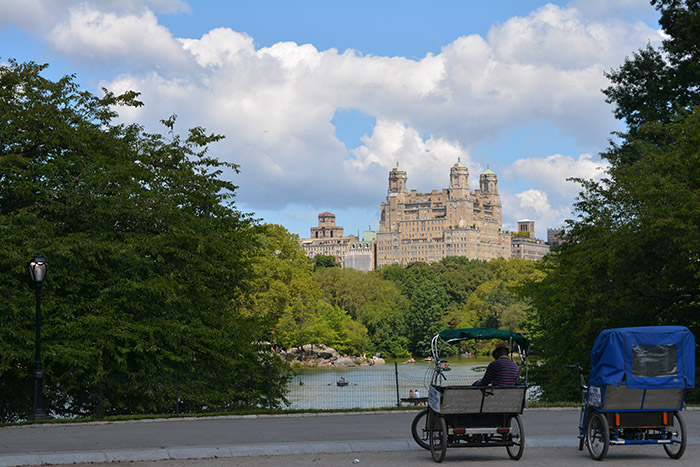 We really enjoyed our time wandering from Bow Bridge around the perimeter of the boating lake through some of the hidden trails until we reached apparent civilization. For a brief moment, you are taken away into the wilderness as there are a variety of paths you can take with very little direction, however which ever path you choose there will be a hidden gem along the way worth exploring.
Some may consider The Ramble to be a maze of confusion, but we preferred to see this as an opportunity to lose yourself in Central Park for a short time. Come on folks, this is Central Park in New York City we are talking about!
Geological Wonders of Central Park
Many of you may think that Central Park is entirely man-made but the reality is there is an abundance of ancient bedrock formations that form a natural guide through the park. There are many spots throughout Central Park that provide either a perfect backdrop or a great climbing spot to get a better view of the surrounding NYC skyline.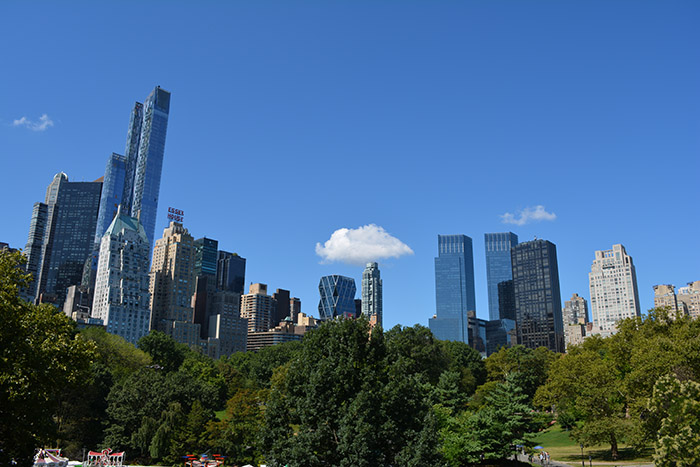 I would highly recommend taking some time to find some of these geological wonders. Central Park probably isn't the first place you would think of visiting as a budding geologist but the rock formations really provide a nice blend of natural beauty among the acres of man-made park.
Other Must See Spots in Central Park
Although we have listed our top 5 must see spots in Central Park, this is primarily based on our recent experiences there. Other attractions worth exploring based on our research and recommendations include the historic Carousel, Bethesda Fountain, Central Park Reservoir and Central Park Zoo.
When you next visit New York City, take some time out of your schedule to explore Central Park. What ever you decide to experience there, we can assure you that it is a memorable, relaxing location that provides a perfect contrast to the New York City stereotype!
What are your favorite things to do in Central Park?