Welcome to the latest installment of BLOGGER INTERVIEWS and today we are delighted to speak with Katherine Belarmino from Travel The World
Please feel free to comment, ask questions and connect with Katherine using her various social media fronts listed below.
We would like to give a special THANK YOU to Katherine for taking time to interview with us!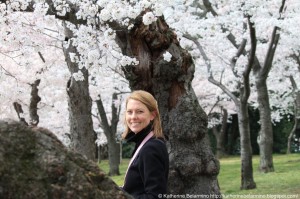 Name: Katherine Belarmino
Hometown: San Diego, California (USA)
Website: Travel The World
Social Media: 
What is your favorite aspect of traveling and if you are a travel blogger, why did you decide to create your website? 
It's impossible to choose just one favorite aspect of traveling! As a kid I hated history class, but I have found that I love learning about history while traveling when it can be learned by being at historical locations and seeing items from various time periods. I also love experiencing different cultures and expanding my awareness about how people live in other countries (and even other states and cities in my own country). And of course, I love sampling the local food!
I decided to create my travel blog for a number of reasons. My final push was when a friend of mine asked for suggestions for her upcoming trip to Thailand and I provided her with the itinerary from our trip. She was shocked at the detail and told me I need to start a travel blog, so I did! I also have few friends that actually travel, and know of a lot of people who have no interest in traveling. There are so many places I have been and loved that I want to share them with others who might be inspired to travel there as well.
How many continents have you visited?
Four
How many countries have you visited?
11-20
What is your favorite destination in the world and why? 
Again, it's impossible to pick just one! London is my favorite non-US city (New York is my favorite US city), and England will always have a special place in my heart since I always wanted to go there and it was where our honeymoon started. Belize is exceptional for Mayan ruins. Bruges is like being in the middle of a fairy tale. Croatia has a fantastic mix of architecture, history, and nature. And of course Rome has history around every corner.
If money/time was no object and you could visit anywhere in the world, where would you travel to and why? 
I am dying to go on an African safari, and I want to do it right, which means pricey.
Which of the following gadgets do you take on your travels? 
Camera, Phone and GPS if we're going to be driving.
What is your preferred method of transport? 
Air
Complete the following, "Everywhere I go, I visit…." 
Everything I possibly can. My travel itineraries are jam packed so I don't miss a thing.
Here is your chance to sell yourself and your website! Tell us some more information about yourself, what your travel philosophies & future plans are and anything else that people may find interesting to read about… 
I try to experience everything I possibly can while traveling, be it museums, outdoor adventures, or fabulous food. I share all my experiences on my travel blog, including time and money saving tips, to help others plan their travels. I have a ton of experiences to share still and am continuing to have more. We have no concrete travel plans, but the goal is to travel to South America for the first time before the end of the year.