Can you think of anything better than sampling authentic Mexican cuisine, listening to live Mariachi music and dancing the night away? If you plan on visiting Cancun or the Quintana Roo area of Mexico, look forward to experiencing an evening of stereotypical Mexican fiesta!
Whether you are a party animal or somewhat laid back, you will find the authentic Mexican experience at Xoximilco to be worthwhile and entertaining. We recently visited Cancun for the TBEX bloggers conference held at Moon Palace and were invited to experience Xoximilco on the pre-BEX Tour.
Xoximilco History
Let's start by giving a little history on Xoximilco. Unless you are a Mexican native or somewhat familiar with the detailed history behind this, you will likely be asking how on earth do you pronounce Xoximilco. Thanks to our awesome host, Yosef, he delighted in telling us it is very similar to 'chocolate milk' with a little extra twist to it.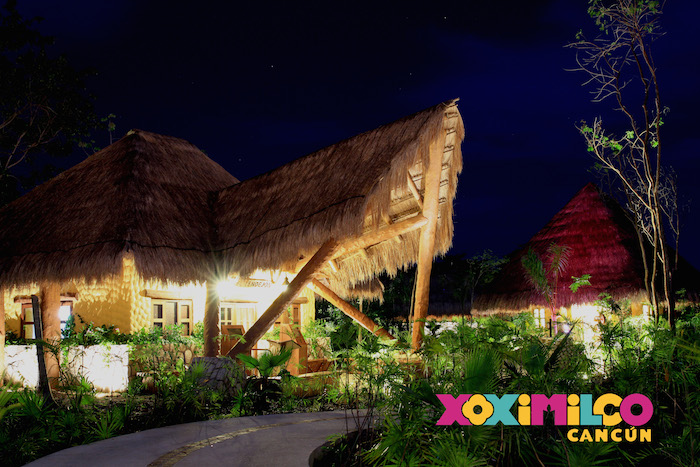 Still confused? It's ok, we were too but after a while you learn the art of pronouncing this awesome word without making a fool of yourself in front of your Mexican counterparts.
Xoximilco Cancun is a homage or genuine representation of the original Xoximilco traditions of Mexico City. The idea of bringing this same authenticity to Cancun clearly helps tourism but also enables locals to really experience the traditional fiesta with friends and family.
Xoximilco Experience
Before we arrived at Xoximilco, I was questioning how exactly the evening was going to be structured. Upon arrival, it doesn't take too long to figure it out. After taking an initial picture, you are guided to the docking area where all the 'trajineras' are located. A trajinera is a flat-bottomed boat and is your home for the duration of the 3 hour experience.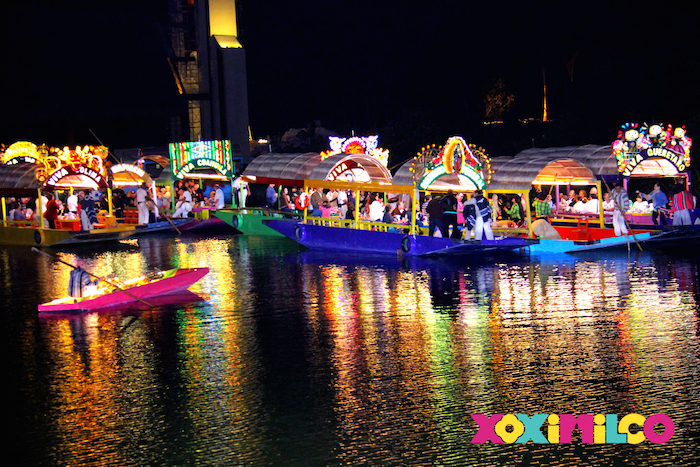 Our boat, Viva Michoacan, was full of fellow travel bloggers from around the world and it was great meeting some new friends along the way. After introducing ourselves individually with a brief background on where we are from and of course the embarrassment of shouting some weird yet wonderful sound, we began the tour.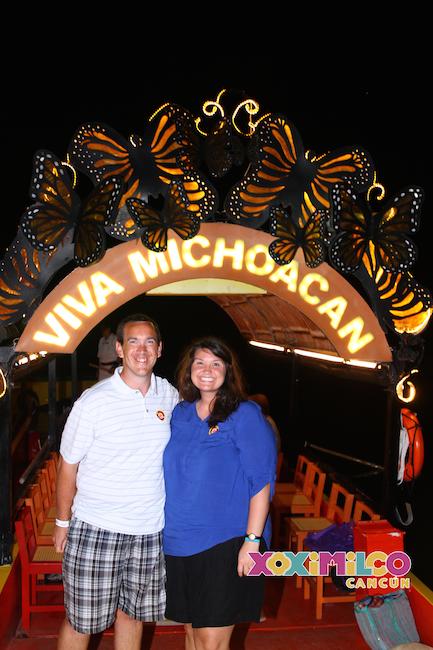 As I mentioned, our guide for the evening was Yosef and steering our vessel around the waterways was Yosef's compatriot, Josef (sorry, no pun intended with the names I am sure!) The basic structure of the evening involved learning about Mexican culture and experiencing a variety of events such as live music and sampling typical Mexican cuisine.
Live Music
Throughout the evening, the Viva Michoacan docked to various other trajineras, many of which featured Mexican musicians performing admirably into the evening. I couldn't imagine spending an evening in Cancun any better than listening to live Mariachi music among many other genres which are stereotypical in this part of the world.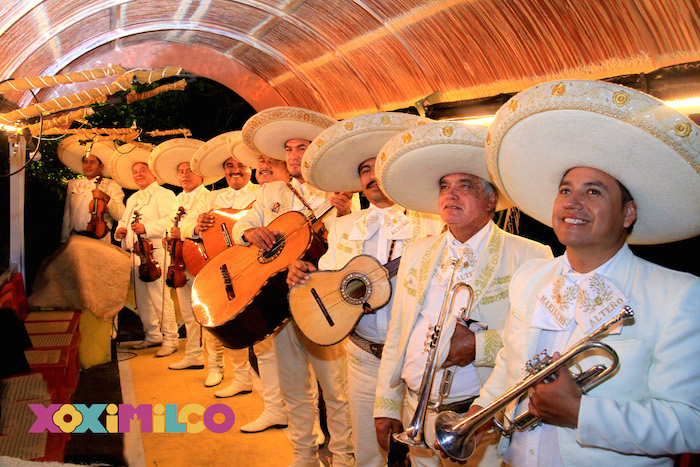 Watching the charismatic performers on the Marimba (a Mexican style xylophone) was particularly intriguing and I have to admit that all of the performances left a memorable image in your mind to take away with you.
Mexican Cuisine
The best advice I can give you before taking part in the Xoximilco experience is go into this with a very open mind! I am so glad that I followed my own advice here because otherwise this could have turned into a painful experience, primarily because of the local gastronomy that you are encouraged to sample along the way.
Mexico is famous for many different cuisine types along with a variety of beverages, and throughout the evening you should be prepared to indulge your tastebuds in many of these. The trajinera is packed full of Corona and of course El Jimador Tequila.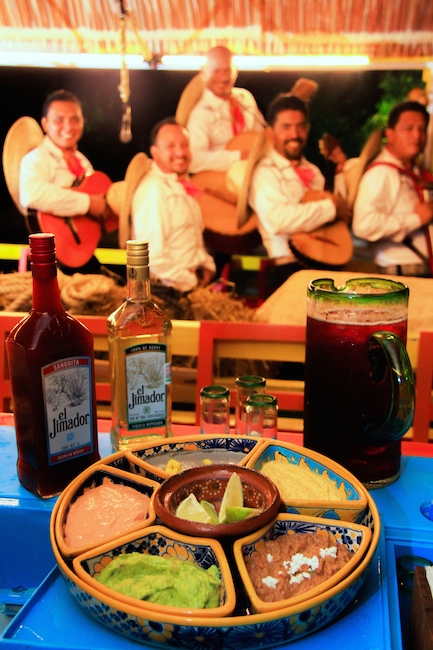 Heather can be proud to say that she was the only person on the boat to be a complete 'newbie' to tequila but even I can say that she handled it very well throughout the night. Four shots later and she was still upright and dry, so surely this deserves some recognition!
Let's talk about the cuisine. Have you ever sampled baby crickets before? Sound tasty! I didn't think so and neither did I prior to this trip but I can now say that I have tried 'chapulines'. They have a very distinctive taste and honestly the sound of them is much worse that the actual taste. A savory almost spicy texture is the best analysis I can give of chapulines. My advice is try them…close your eyes if you need to but you will likely be pleasantly surprised!
The evening's cuisine is broken down into three different courses and on each course you are given a platter to sample a small portion of unique Mexican flavors.
Here are the first course options:
Tamales
Oaxaca cheese ball
Fried silversides
Cactus pad salad
Corn on a cup and pear squash
Baby crickets
Here are the second course options:
Steamed fish with wormseed
Pork in green salsa
Chicken in mole sauce
Beef roll with corn smut sauce and cotija cheese (on banana leaf)
Shrimp with tamarind sauce
Barbecued mutton
Here are the final course options:
Corn flan
Milk caramel
Coconut sweet
Pine nut milk fudge
Amaranth sweet
Wafers
Oaxaca milled chocolate
Take your pick from any or all of the above samples and you will be whisked away on an adventure of Mexican cuisines.
Entertainment and Celebrations
A Mexican fiesta would not be the same without traditional celebrations thrown into the party atmosphere. The distinct blend of cultural learnings combined with dancing to Mariachi music is a perfect way to spend your evening in Cancun. Learn about all of the Mexican festivities that correspond with daily activities such as harvest, rain, birth and life among many others.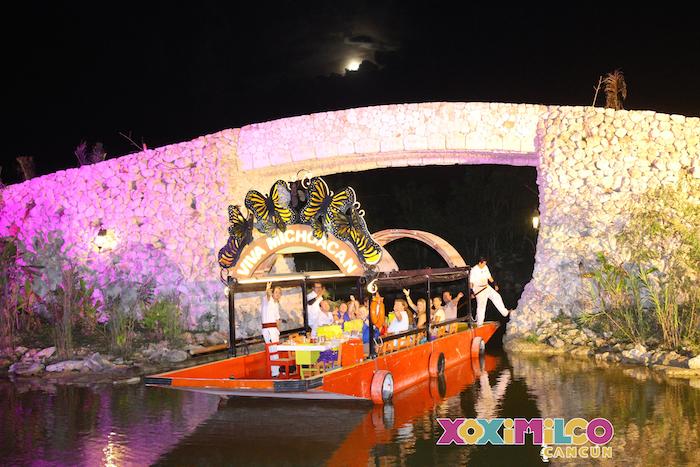 Throughout the journey around the canals, Yosef introduced a variety of games we all had to participate in, some of which required a little more tequila than others (I won't go into detail, rather I will encourage you to experience Xoximilco to find out exactly what I am talking about).
A Memorable Evening
I will be the first to admit that going into this evening I was a little skeptical about what to expect! Expanding my taste palate was something I wasn't particularly looking forward to, especially after reading some of the descriptions of apparently edible creatures you are able to sample.
However, all of my fears and misconceptions were immediately thrown out of the window as soon as we arrived at Xoximilco and stepped on our trajinera. The experience is amazing and definitely worthwhile to learn about the true, authentic Mexican traditions.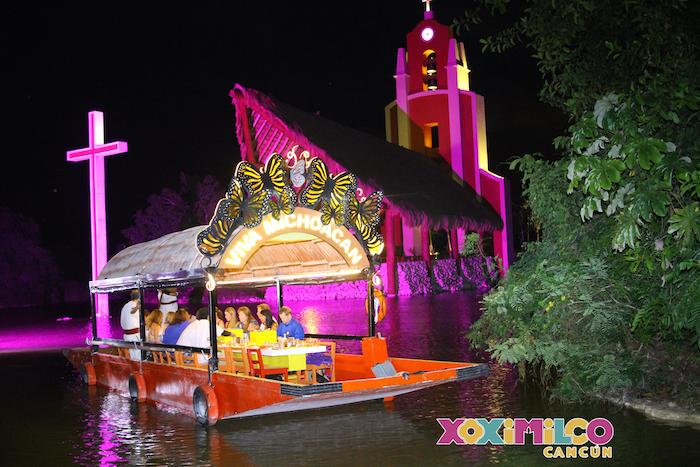 Xoximilco Cancun may be a homage to the real experience in Mexico City, but credit must be given to the organization and performances that ensure you leave with a truly memorable evening.

Disclaimer – We would like to thank Experiencias Xcaret for organizing the pre-BEX tour.These are solely our personal opinions/experiences and we were not financially compensated for this post.