One of the major issues when planning a trip to Paris, France is deciding where you want to stay. Fighting the high prices charged by the majority of leading hotels in the Paris region, it is tough to find somewhere that is reasonably priced yet still offers a great location. Well I honestly feel like we can offer this to you with the Best Western La Tour Notre Dame which we stayed at for 3 nights on our recent trip to Paris. Before you start having thoughts about the brand 'Best Western', I will openly admit that I voiced my concerns to Heather prior to our trip. However, I can now say that the stereotype that you may associate with Best Western in the United States is certainly not applicable to the Paris equivalent.
Located about 5 minutes from the Notre Dame Cathedral and in close proximity to the Saint Germain des Pres, this hotel offers a perfect spot to get out and enjoy the Parisian surroundings. If you are taking the metro/subway from either the airport or Gare du Nord train station as we did, your best option is to take the Blue line to St. Michel Notre-Dame and then follow the signs for Cluny La Sorbonne which will leave you on Boulevard Saint-Germain and less than a 5 minute walk to the Best Western La Tour Notre Dame.
Entering the hotel we were greeted by a pleasant hostess who was happy to speak in English. She provided information regarding breakfast, free wi-fi internet and indicated that if we had any questions she would be more than happy to help. The first thing you will notice about this hotel which may put you off a little is the size. It feels like a local establishment, almost like a Bed and Breakfast but honestly this is the Paris hotel scene in a nutshell. Paris is the complete opposite to major cities in the United States where everything is doing on a large scale. Paris prefers to have unique, authentic hotels that are not necessarily affiliated with chains (though you will notice the one we chose is a Best Western brand) but have the perfect location and make your stay very memorable.
Our first challenge was getting our bags to our rooms. We initially didn't notice the small lift located by the reception desk so were forced to use the winding staircase to the third floor. I have to admit this wasn't the most pleasant experience but at least it was only a one time occurrence. Opening the door we entered a pleasant room, yes it was small especially given what we are used to (the previous two nights we had stayed at a Westin in Chicago and Hilton in London) but very well-kept and 'cute'. The biggest attraction that we immediately noticed was the windows that opened to a small balcony type structure overlooking the Parisian streets. It's difficult to explain how this felt but you pretty much knew you were in Paris with this one aspect.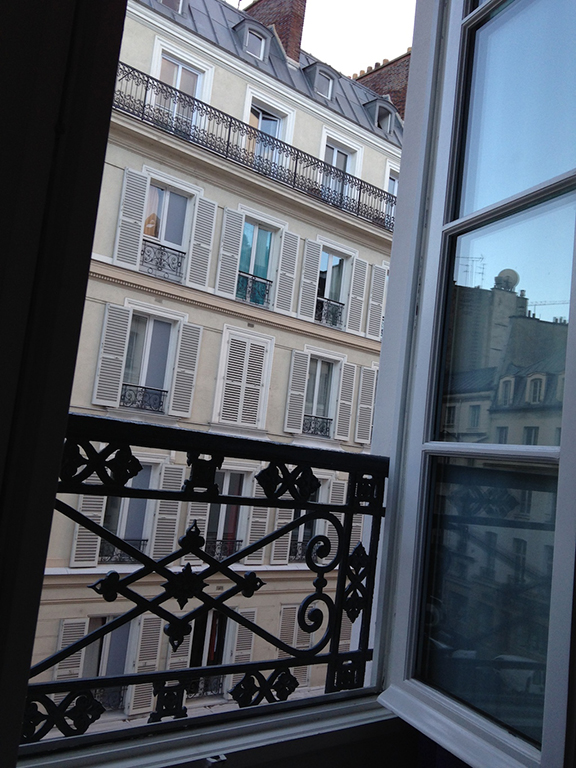 The bathroom was another interesting part of this hotel. Spotlessly clean with every amenity you would expect, the main problem however was that given we are both tall individuals, the shower was going to cause a slight issue. The next couple of days was really an interesting experience taking the shower as we had to stand pretty much in one spot, with hardly any room to turn around and with our heads ducked down! But you know it's one of those experiences that we all have to put ourselves in because you adapt without any problems.
I would say that our main issues over the three nights that we spent at this hotel were the room temperature and outside noise. We were constantly switching the thermostat on and off to try and find that perfect temperature. I don't think it helped that we were still getting over the dreaded jet-lag but whenever we had the gorgeous windows open, we had to deal with the traffic outside which even at 4AM appeared to be as busy as 4PM!
The internet was great though we only used this on a couple of occasions. We didn't sample the breakfast at this hotel so can't comment but the pictures we saw indicate that this would have been a worthwhile expense. One added expense that you may not be aware of is the Paris city tax which is only 1 Euro per day, per person but it's handy to have some change whenever you check out unless you want to potentially experience convenience charges on your credit card.
I would highly recommend the Best Western La Tour Notre Dame to anyone visiting the Paris downtown area. If you are visiting Paris for the first time and are interested in scoping out the 'main' tourist attractions, this is the hotel for you. You are within walking distance to pretty much everything including the Champs-Elysees, Arc de Triomphe, Louvre Museum and even the Eiffel Tower is less than 2 miles away.
Details
Dates: Thursday, December 18, 2013 – Sunday, December 22, 2013 (3 Nights)
Price: $152 per night