For many years I have been an avid follower of Ramsbottom United Football Club, located in the heart of North-West England, about 20 miles north of Manchester.
The History
Before you start asking questions such as 'Who are Ramsbottom United?' or 'Why not watch Manchester United?', I want to take a few minutes to introduce the reasoning behind following my local side.
Non-League football is the true grass roots football in England. In other words, the lads are amateur/semi-pro so generally have other jobs and are playing for the love of the game!
Admission into non-league games is much cheaper and easier than trying to get tickets to overpriced Premier League games.
Support your local side! You can get close to the players and there is much more banter created with both players and fellow supporters.
Ramsbottom United are a local side ran by an avid group of hard working members, lead by Chairman Harry Williams who has been with the club since it was founded in 1966. Die hard supporters and folks like Williams are hard to come by in football, so this shows the passion that there is in an outfit like this!
I started watching 'Rammy' in the mid 1990s when they first entered the North West Counties football league. To put this into perspective, look at the English football league system as a pyramid and the reality is that the NW Counties league is about 9 steps down the ladder (more now since restructuring took place in recent years).
Following the lads home and away for several years, you certainly go through the highs and lows with them, near relegation battles along with the uproar of a promotion campaign are all part and parcel of following your local side!
Match Report
After leaving for the States in 2006, I have been left to experience the Rams only a couple of times each season and this season was no different. On Boxing Day (Thursday, December 26th), the Rams hosted Salford City, a real local rivalry and a proverbial six pointer with both sides pushing for a playoff position.
After a disastrous start to the season, the Rams have been on a real positive run of results and are certainly a team that most will fear in the Evo-Stik league. Salford, under the guidance of former Ramsbottom player Barry Massey have picked up some good results in recent weeks so this was going to be a tough encounter for two of the league's in-form sides.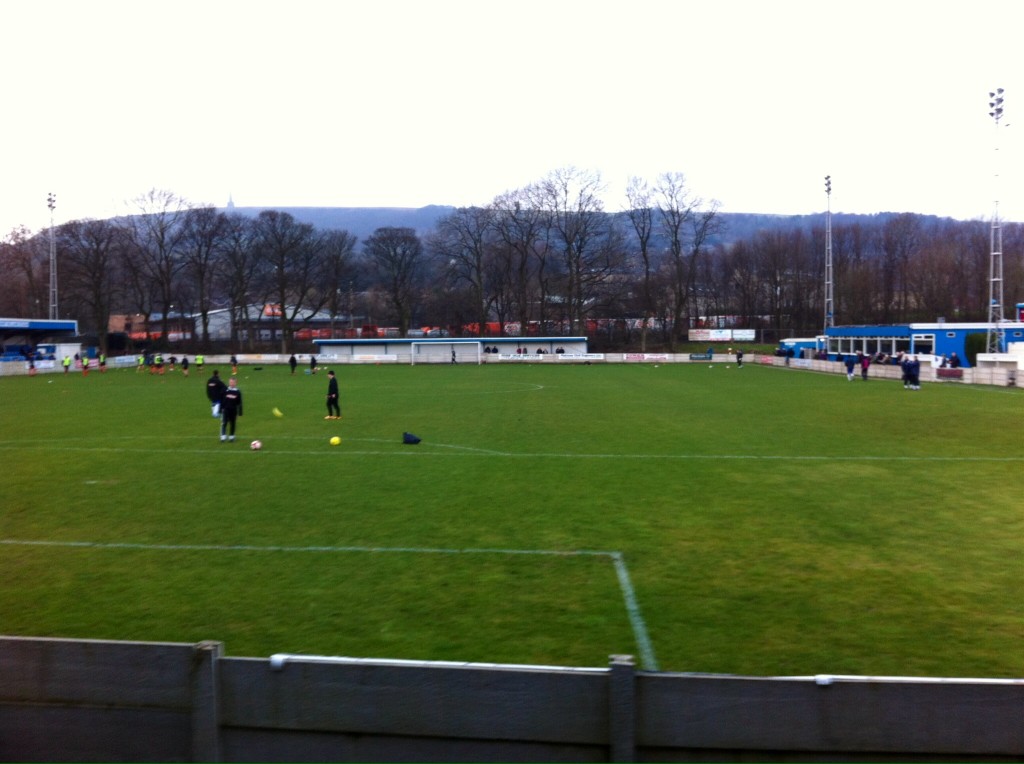 In front of a bumper Boxing Day crowd of 341, the Rams started in fine form. Attacking the railway end, they quickly found themselves three goals to the good. Following Dominic Smalley's early strike being disallowed for a dubious offside decision, Phil Dean popped up at the far post to slide home the opener after just 8 minutes. The lead was doubled soon after when Lee Gaskell calmly lofted the ball over the onrushing Salford keeper.
The goal of the game arrived midway through the first half when Dean picked up the ball on the left wing, cut infield and let fly an unstoppable right-footed (any of the Rammy contingent will tell you that Dean is predominantly left-footed which made this even more spectacular) drive that flew into the top corner.
Credit to Salford as they fought their way back into the game though it was more of Ramsbottom's lacklustre defending that allowed Mark Battersby to grab two goals before half-time reducing the arrears to only 3-2. The half ended with Salford's full-back James Moss challenging for a 50/50 ball but after falling awkwardly appeared to be in excruciating pain and left on a stretcher with what was later diagnosed as a broken arm.
The second half started in similar fashion with the Rams on top and it appeared to be only a matter of time before the lead was extended. The fourth goal duly arrived just after the hour mark when Gaskell 'rose like a salmon' to nod beyond the despairing dive of Keiran O'Boyle in the Salford goal.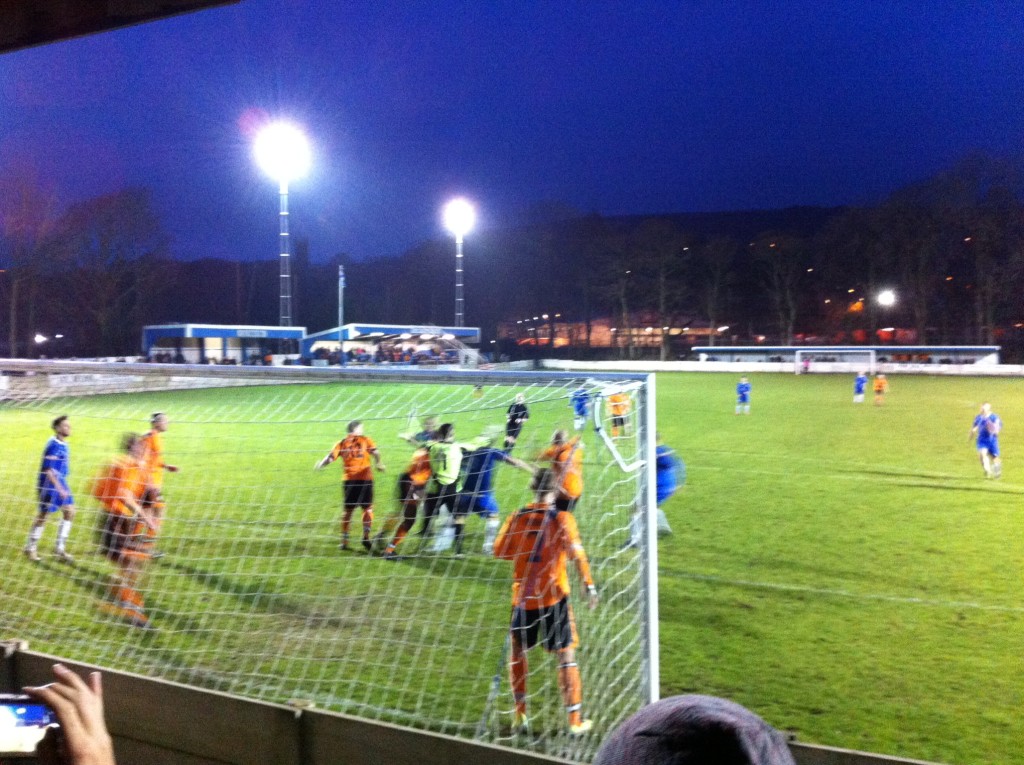 The encounter was made safe for the home side when substitute and former Salford star John Robinson was brought down in the penalty box and fellow sub, Grant Spencer confidently slotted home the spot kick to make the scoreline 5-2.
In reality the Rams comfortably won this encounter and had it not been for some dubious defending by the hosts midway through the first half, the margin of victory could have been much wider!
Reaction
This was Heather's second experience at a football match in England and on both occasions I have taken her to see Ramsbottom and we have been treated to two very entertaining encounters. I would certainly encourage anyone interested in football to take a trip to a local non-league side because this is where the real football takes place.
Of course, watching the global stars play in the Premier League at Old Trafford or Anfield is something that you have to do at least once in your lifetime but I prefer to give my money to my local team rather than a bunch of overpaid professionals.
I miss following the ups and downs of Rammy but thanks to Twitter updates and the great match reports by Tony Cunningham, I am able to at least keep up to speed with what's going on down at the Harry Williams Riverside Stadium.
Check out the official match report from Ramsbottom United vs Salford City here thanks to Tony: Match Report.