Understanding the concepts of science may not be something that we are all interested in, but I am convinced that we can all appreciate that technology and science have evolved over time. At the Franklin Institute Museum in Philadelphia, there is everything that any budding scientist could dream of. From electrical engineering to the human body, visitors are treated with an abundance of amazing displays, hands-on experiences and visual exhibitions.
Our initial intention was not to visit this museum, rather we were passing by en route to the Philadelphia Museum of Art when we decided to wander inside the museum and see what they had to offer. Immediately walking through the doors into the large entrance hall, you could see that this was going to be a cool experience. Ticket prices at first seem a little high but you have various options available to you dependent on how much time you have or what your interest are.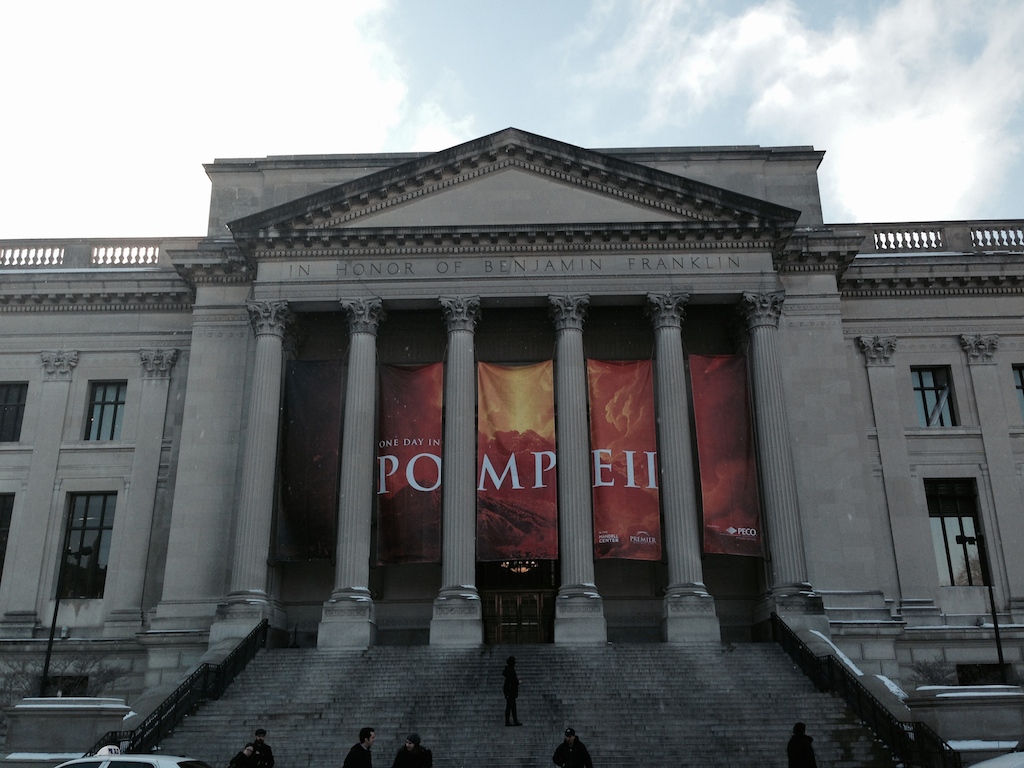 During our visit, the main attraction was 'One Day in Pompeii' which was a special feature currently running. For $27.50 each, we received tickets to this special feature, the science museum and also our choice of an IMAX movie (we opted for the Ring of Fire). If you are only interested in visiting the museum, the price of $16 per person seems very reasonable.
The Science Museum
We spent the first couple of hours walking around the museum; this really brought back memories of my childhood going through science museums where you get that hands-on experience of using your body as a human conductor of electricity or walking through a human heart! One of the most interesting exhibits was a wall full of small antennas that lit up whenever you placed your cell phone in close proximity. I am not sure if this was fascinating because of how the radio waves clearly transmit or the potential harm cell phones are doing to us (Admittedly, I am not a proponent of this and believe that cell phones are relatively harmless unless you are on them 24/7).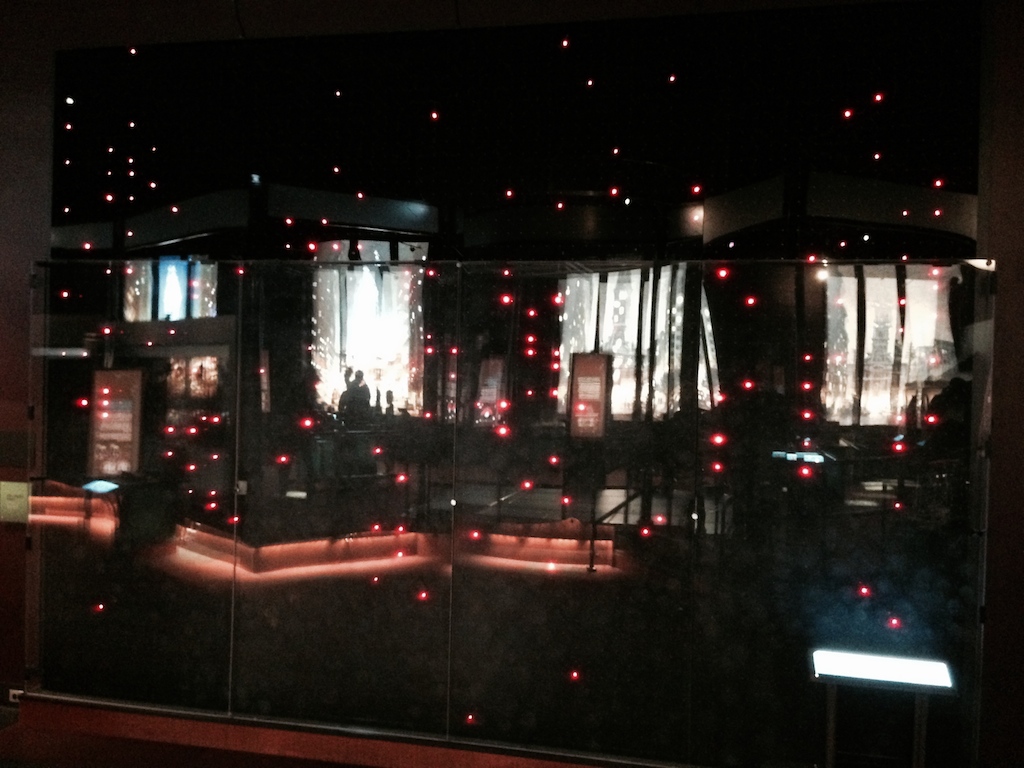 There are 3 floors to the museum and each has very different displays available. The first floor contains the Train Factory if locomotives interest you, a Planetarium to learn more about how our solar system works and Space Command which allows you to explore the farthest reaches of space without having to leave Earth! The second floor is where the main entrance is when you pass the Franklin Memorial. Exhibit galleries here feature the Electricity area, Giant Heart and Changing Earth (which is pretty cool as you can create your own weather forecast and replay the video!). Unfortunately some of the main attractions on the top floor were closed including the Sports Challenge but for those daring enough to ride the SkyBike, you could soar through the air above the Atrium.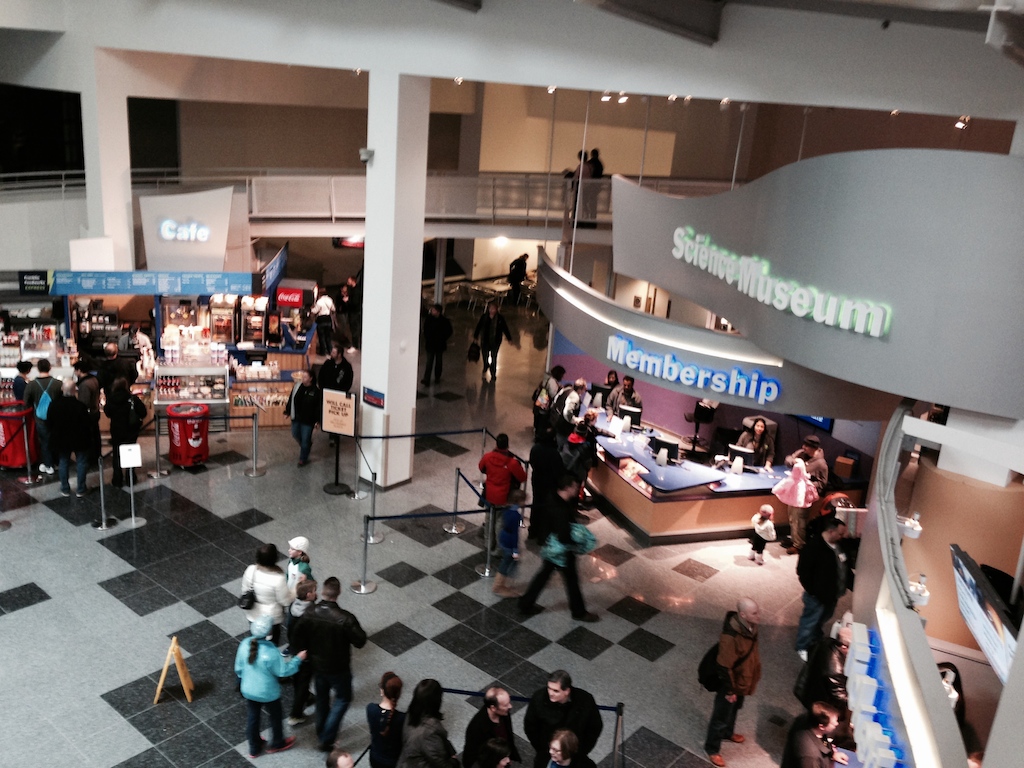 Before visiting the science museum, I would probably have associated this type of attraction with activities solely related to children. But I can now honestly say that anyone can enjoy this type of experience. There is something for everyone, of course there are activities catered for kids but many of the 'hands-on' challenges are probably more suited for adults. Interaction is always going to attract visitors and I think this is one of the main reasons why the Franklin Institute will continue to be successful.
IMAX
We have visited a few IMAX theatres before and really enjoyed them. Given the opportunity to see 'The Ring of Fire' (No, not Johnny Cash but the volcanic chain that surrounds the Pacific Rim), we were both really looking forward to this. Our show started at 2:15 and lasted 45 minutes. The theatre was one of the biggest I have seen before, though my only regret was that we sat on the front row that I believe took away from enhancing the overall experience.
Learning about how volcanic activity is still such a huge natural phenomenon was interesting. This was also a perfect prelude to our final attraction of the day which was 'One Day in Pompeii' as it gave us a little more information on what causes volcanoes to erupt around the world.
One Day in Pompeii
For those of you that don't know the history of the ancient town of Pompeii under the ashes of Mount Vesuvius, this would have been a really great attraction. However, I was left a little disappointed especially given that we paid $11.50 each for this and it rather failed to live up to the hype and expectations given the advertisements for this.
On a positive note, learning about how the ancient Romans lived their daily lifestyle, ranging from architectural design of their living quarters to the food they consumed was interesting. The story continued culminating in a video showing a recreation of Vesuvius erupting and destroying Pompeii under 12 feet of ash. Only in the 18th Century was Pompeii rediscovered and to this day archaeologists are working on identifying remains and learning more about how the Romans lived and what actually happened on that tragic day in AD79.
Summary
Though you are probably not going to leave the Franklin Institute as the next Albert Einstein, you will certainly learn plenty to make you intrigued about the evolution of science. You can easily spend a full day here and it is great spot for the whole family to just learn and have fun. If you plan on visiting here for just a hour, it's not worth paying the admission fee because you simply won't have enough time to see everything. We spent about 4 hours here and didn't see everything so be prepared to set aside at least half a day when in the Philadelphia region. Visit this attraction because you won't regret it!
Have you visited the Franklin Institute in Philadelphia? 
Have you experienced other similar museums around the world?