As an avid golfer, every year I anxiously await the PGA Tour schedule to be released so that I can plot which tournaments I can visit. This year was no different and after visiting the Crowne Plaza Invitational at Colonial CC in Fort Worth, TX which unfortunately had a rather disappointing field, I hoped that my second tournament of the year would be a little more attractive. Over recent years, the FedEx St. Jude Classic has played host to several leading golfers though it's timing on the schedule the week prior to the US Open usually makes less of the leading players in the world wanting to play this event.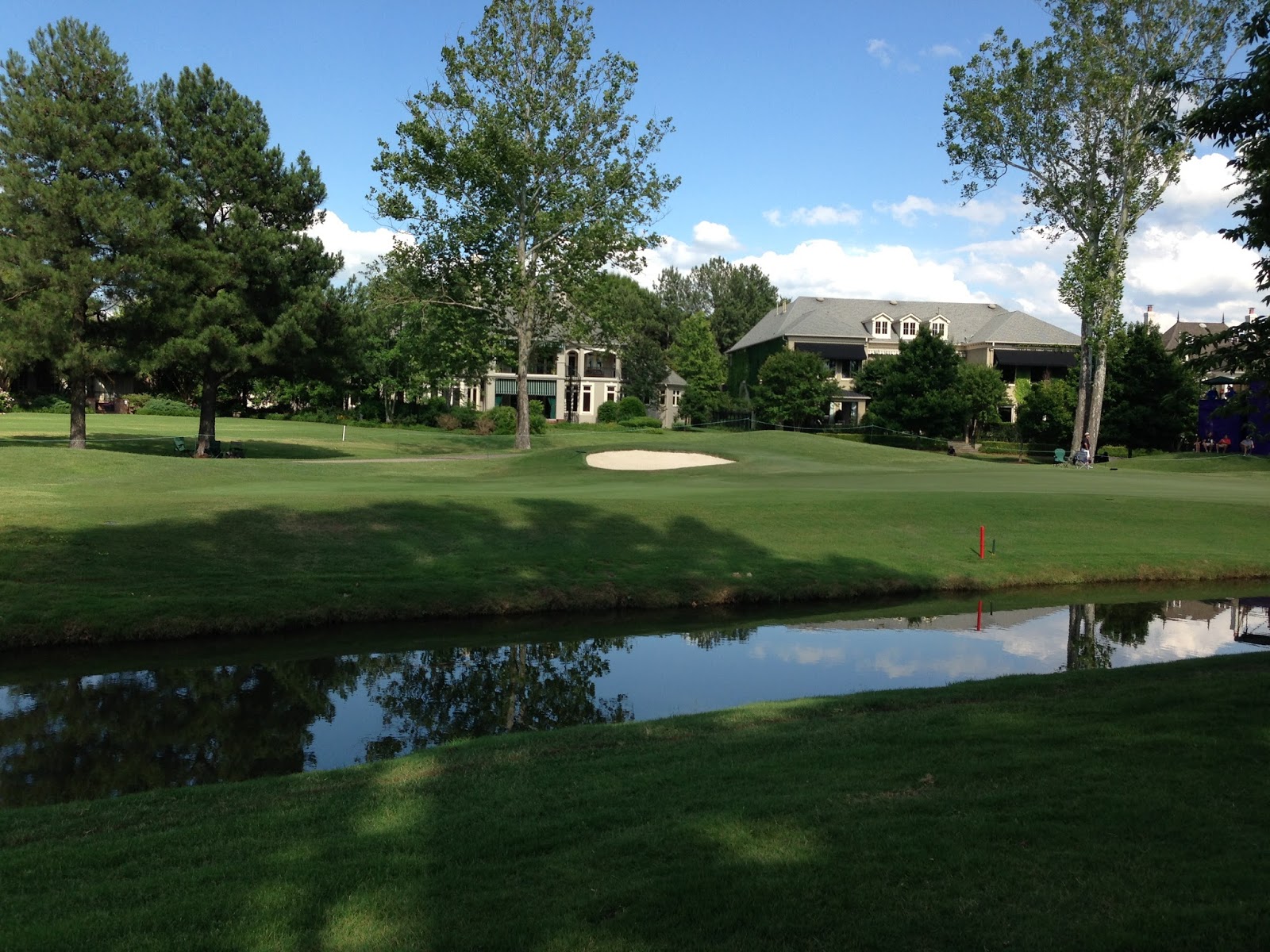 This year saw the likes of Phil Mickelson, Brandt Snedeker, Davis Love III, Padraig Harrington, Ian Poulter and defending champion Dustin Johnson in a field that certainly attracted a lot of attention from the Memphis locals. I was fortunate enough to visit the tournament for three of the four days and saw an abundance of quality golf from some of the world's leading players.
Day 1 (Friday)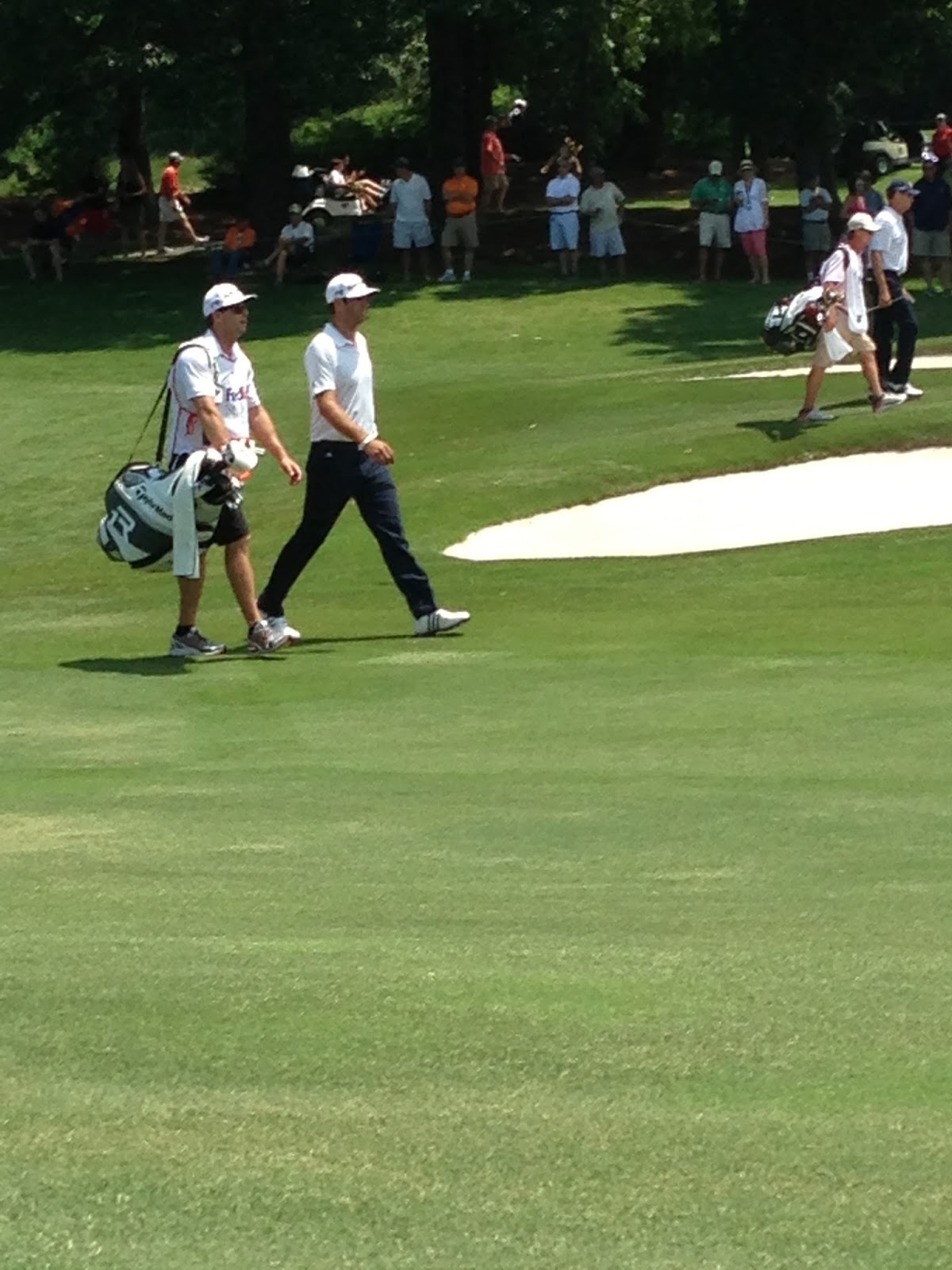 An early start at 6:00AM and a 1 ¼ drive to Memphis, TN to be there around 8:00AM to watch the opening groups plot their way around a perfectly manicured TPC Southwind course. I decided to head out to the 1st hole to follow the trio of Dustin Johnson, Brandt Snedeker and Davis Love III who had started on the 10th tee and were just making the turn when I started following them. Love III and Johnson were both in contention towards the top of the leaderboard but Snedeker was clearly struggling to find his game as he was lingering the wrong side of the cut mark. Just watching how these guys plot their way around a 7400+ yard course is on its own a great tip for any aspiring golfer. Love III appeared to be hitting the ball the best out of the trio, but his inability to hole any putts outside of a couple of feet was causing to be a real hindrance for his scorecard.
This also gave me the opportunity to scope out the front nine at Southwind and I have to admit that this is one of the better courses around for spectator viewing. The tournament organizers clearly went to great depths in setting up the walk ways in ideal locations.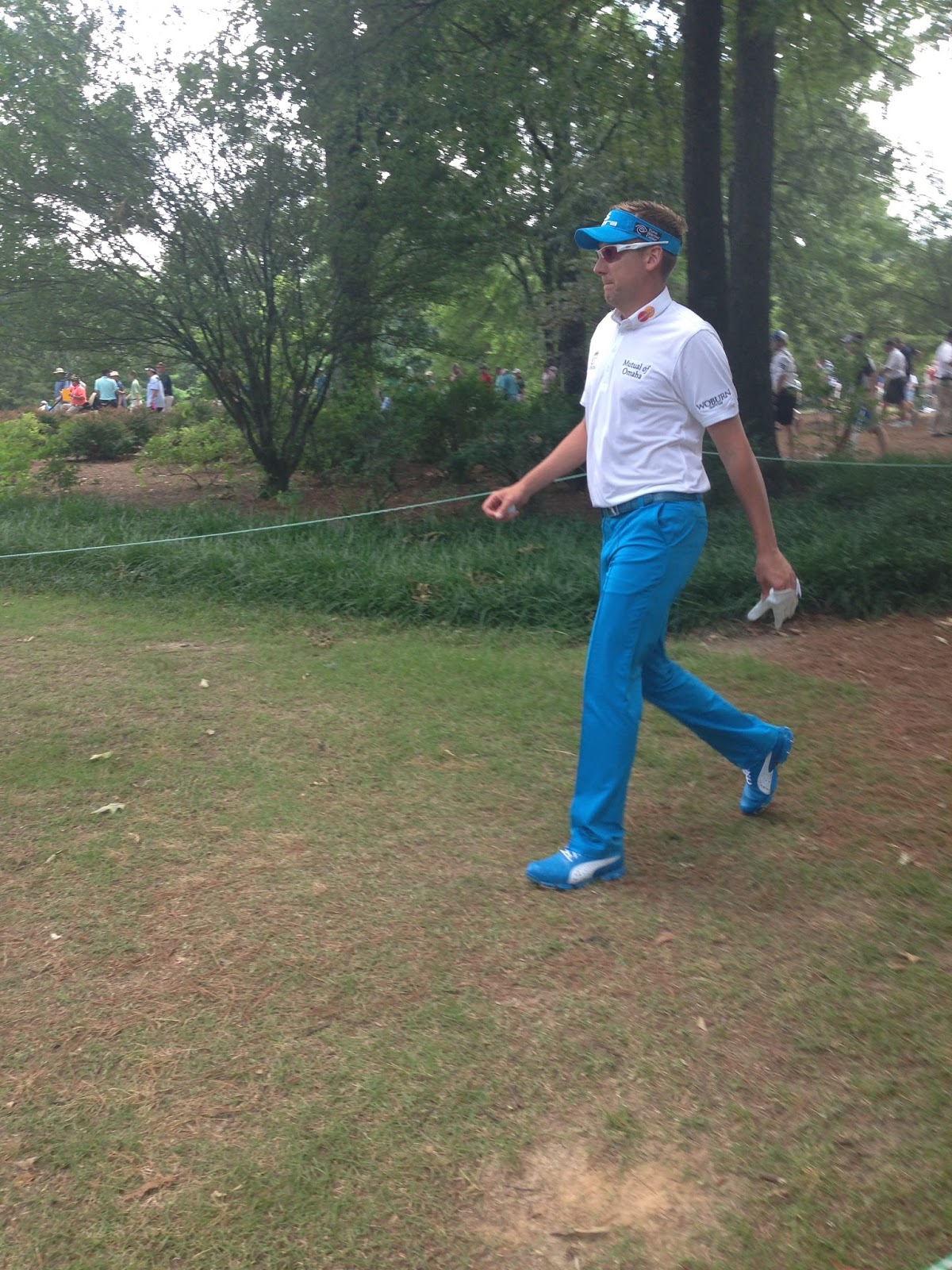 My afternoon grouping was my fellow Brit, Ian Poulter, Boo Weekley and David Toms. I enjoyed watching 'Mr. Ryder Cup' (Poulter) but there is just always part of me that feels he concentrates too much on his charismatic dress sense (of course marketing his IJP Design clothing range) rather than focusing solely on his individual career. Needless to say, the three of them all played solid rounds of golf, though they will all probably feel that they let 'great' rounds slip away.
The highlights have to be seeing Poulter lip-out for a hole in one on hole 8 and then on number 12 after seeing his approach shot fail to clear the water, he took off his shoes and socks before clambering into the water and hitting a great recovery shot onto the green.
Day 2 (Saturday)
Moving day as all golfers know is Saturday when the leaderboard really begins to take shape and players want to put themselves into position heading into Sunday.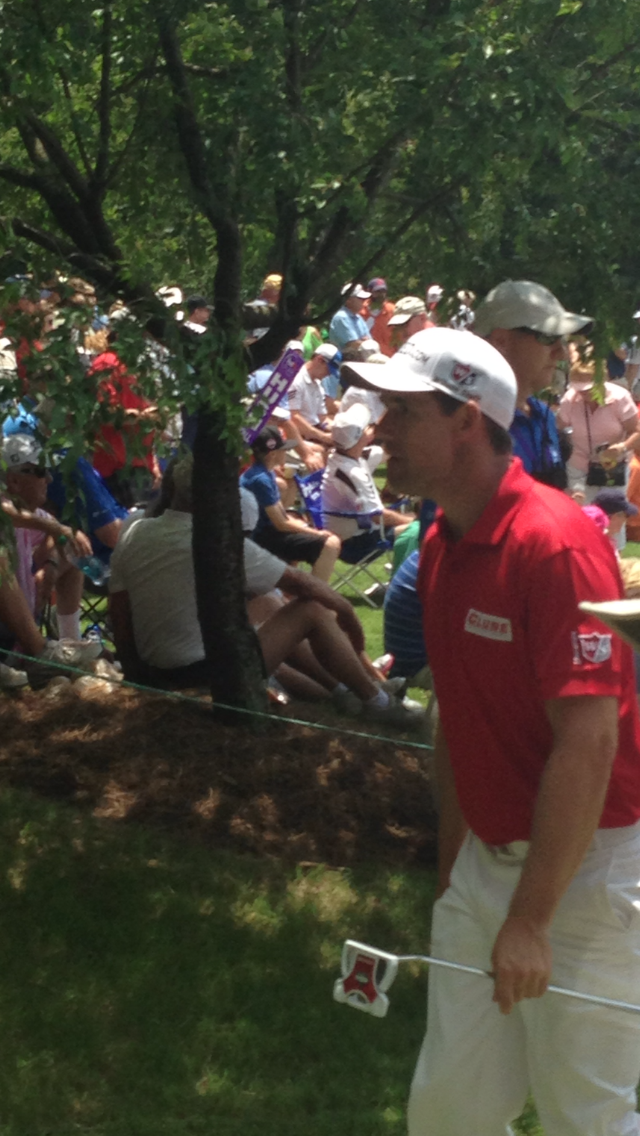 I decided to follow Padraig Harrington and Kevin Stadler in the morning and again we were treated to an excellent array of golf. Watching the 'lesser' known names at PGA Tour events is a great way to get closer to the action because the crowds are all focused on Mickelson, Woods etc.
Day 3 (Sunday)
The final round proved to be a real closely fought encounter with a host of names popping up with a real fighting chance of winning the tournament. We spent the day watching a mixture of Harrington, Poulter, Mickelson and the lesser known quantities of Scott Stallings, Shawn Stefani and the eventual winner, Harris English.
We also had the opportunity to wine and dine in the FedEx Corporate Cabana which was a great way to cool down.
Standing by the 18th green at the end watching Mickelson almost hole out from the middle of the fairway (he literally knocked it over the edge of the hole to within less than 2 ft) and then seeing English hold his nerve to capture his maiden PGA Tour title was a worthwhile experience.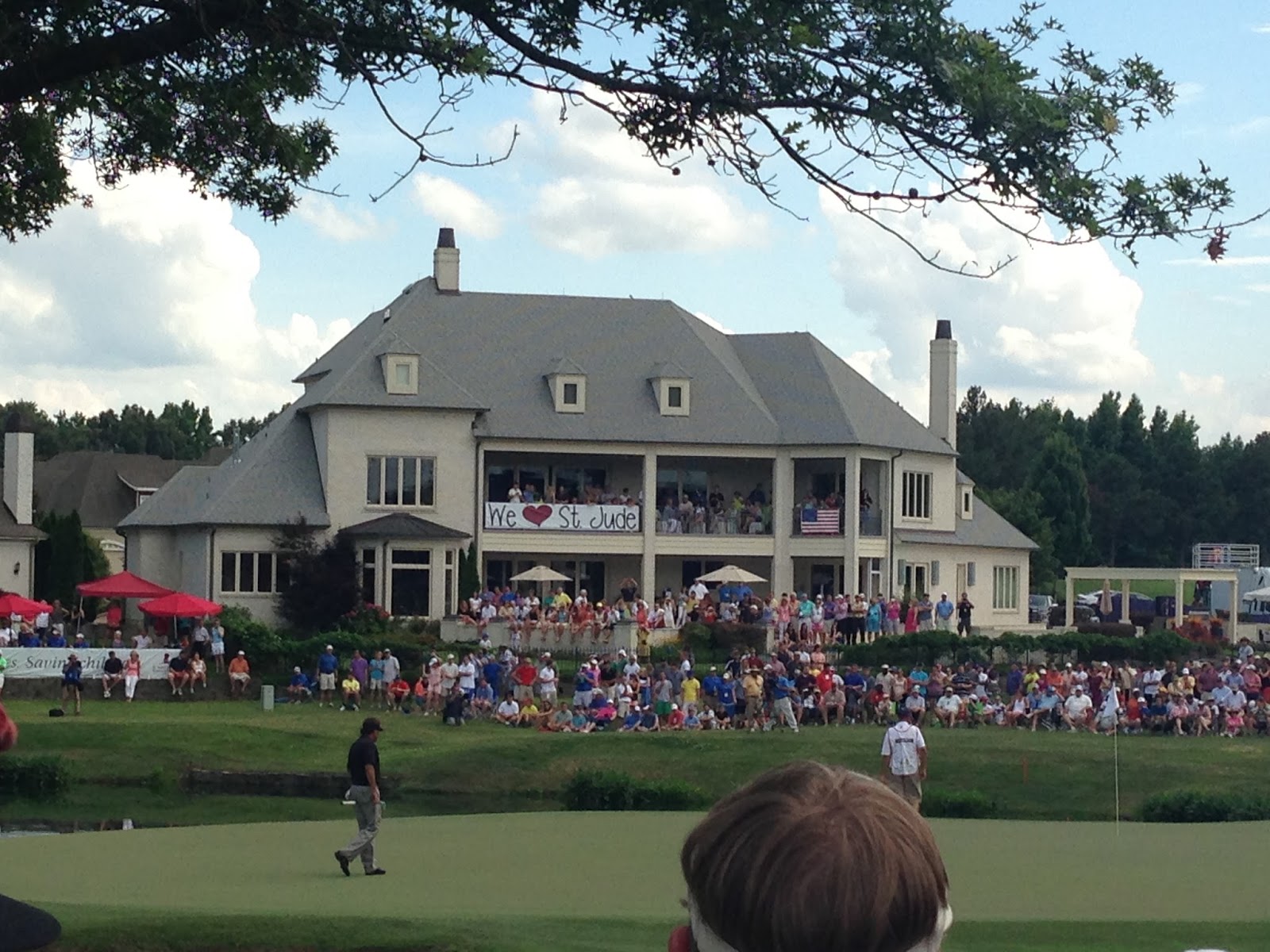 For anyone that has never encountered a PGA Tour event, it really is money well spent. Even if you are not the most avid of golf fans, it is a great way to get out and enjoy the sunshine. You can go either alone or with your family and enjoy a day great out on the course.
Have you ever been to a golf tournament?  
Do you play golf yourself?