On our recent weekend trip to Philadelphia, we opted to stay at the Four Points by Sheraton – Philadelphia Airport hotel. Using Priceline we picked up a great deal at only $58 per night plus taxes which for the location and brand name we were pretty happy with this.
If you are looking for a hotel in the Philadelphia area with convenience to public transportation, comfortable rooms, affordable price and great amenities, you won't go wrong with staying at the Four Points by Sheraton location.
Location
Location wise this hotel is perfect if you are just passing through Philadelphia International airport with an overnight connection or early morning flight. Just a short 5-minute shuttle from the airport terminals, this hotel offers a free service that runs every 20 minutes taking passengers to and from the airport. One thing that we noticed was that the shuttle was a little less efficient than advertised.
I don't want to give too much negative feedback on this because we were never waiting longer than 30-35 minutes, but in comparison to other hotel chains that we saw shuttles running much more frequently, maybe this is something that the Four Points by Sheraton in Philadelphia need to work on. However, in their defense their shuttle service runs in conjunction with the Sheraton Suites and Aloft hotels that are close by.
If you are staying here to visit Philadelphia for the weekend like we did, you can still make this location work for you. You will save a lot in comparison with the downtown Philly hotels and although you have to catch the shuttle back to the airport each day and then hop on the SEPTA, it still works out better than paying exorbitant prices downtown!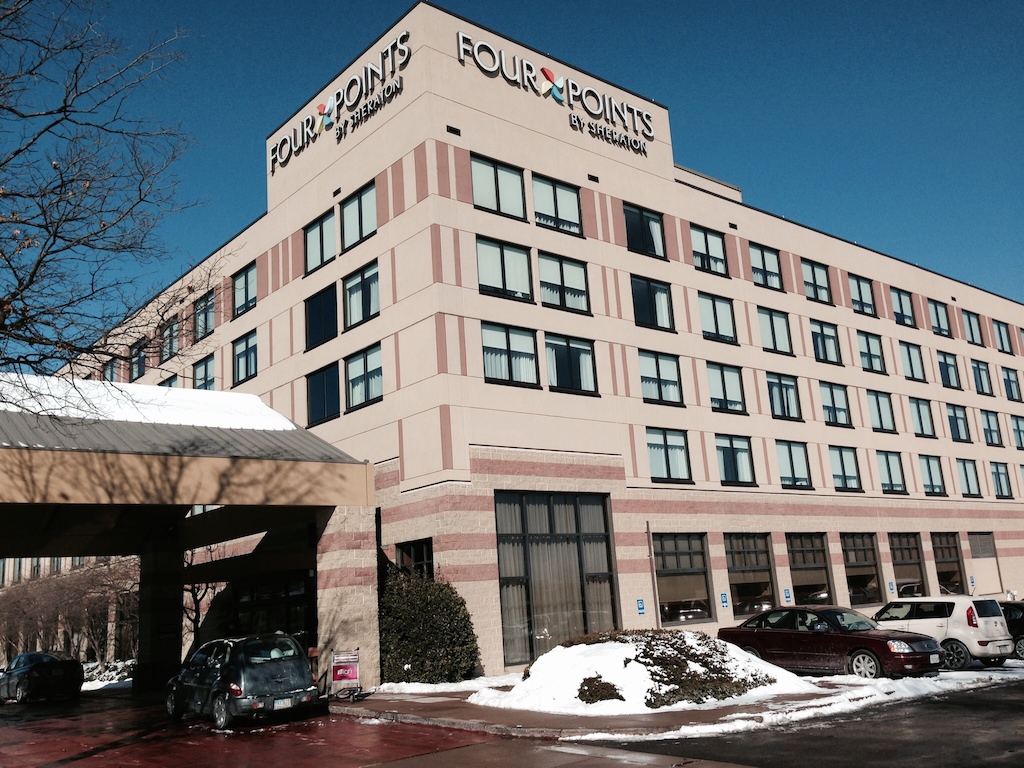 Check-In Process
Check-in at the Four Points by Sheraton in Philadelphia was friendly and efficient, so we couldn't ask for anything more than that. We later found out that they are helpful also because they provided information on the best way to get downtown (their suggestion confirmed our above thoughts on using the SEPTA public transportation system rather than taxi) and also they provided toothpaste which we failed to bring with us.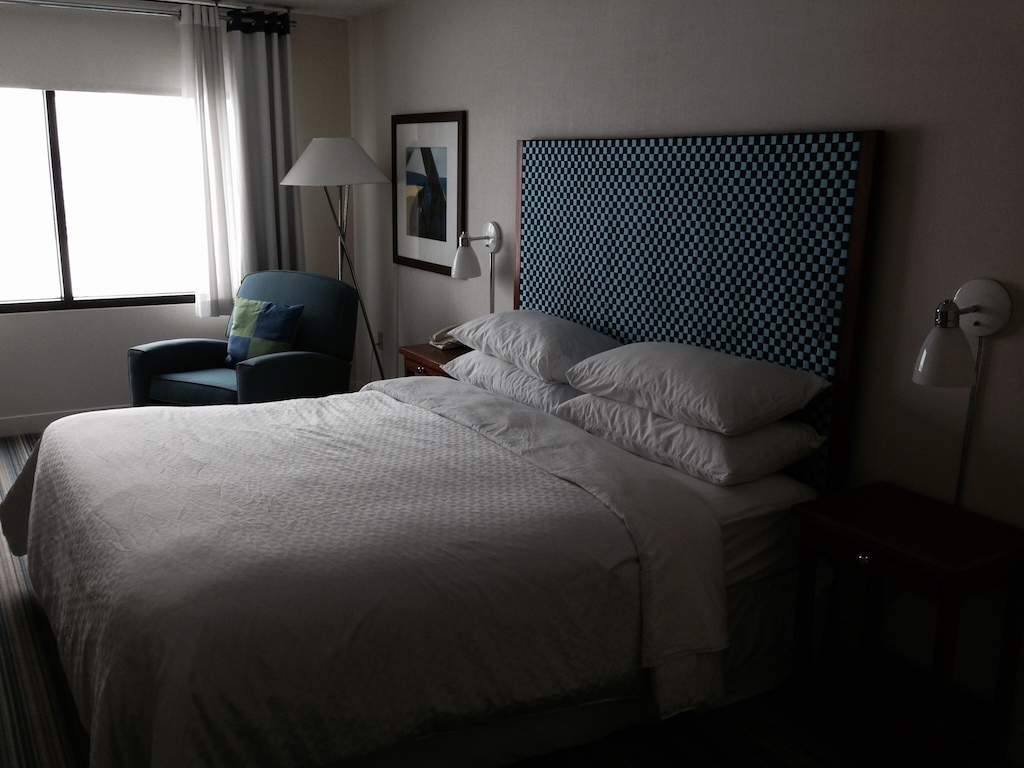 The Room
Our room was a good size with a king size bed and sufficient space for a relaxing chair by a large window overlooking the nearby hotels and interstate. That view may not sound overly appealing but with snow covered ground, it made for a good morning view! The room wasn't in bad condition and honestly was a bargain for the price we paid.
However, had we paid full price which I believe is about $100+ per night, my review of this may be slightly different. One annoying aspect was the air conditioner which sounded like a plane taking off at the nearby International airport. Added to the fact we set this at 65 degrees yet it never got below 70 and it wasn't ideal for our perfect room temperature.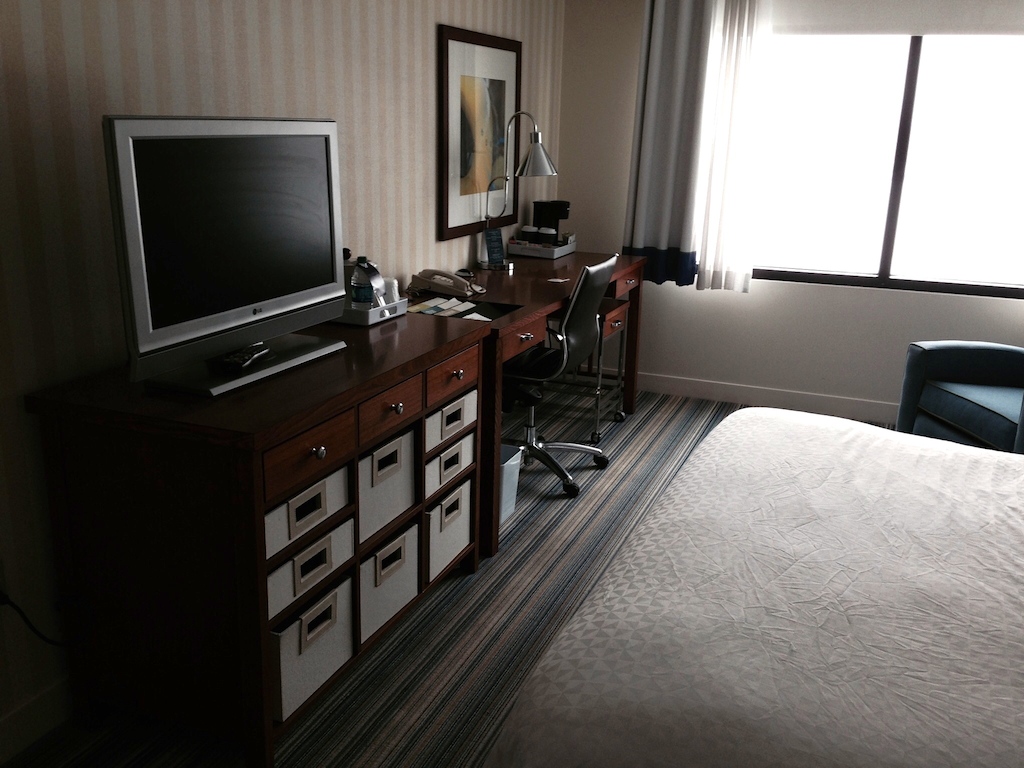 The bathroom was small but offered everything you would expect. The shower had great water pressure which is always a positive and built in shower gel, shampoo and conditioner which is nice, especially if you are not a big fan of those travel size tubes hotels usually provide.
The daily room service to clean our room was sufficient yet you could tell they didn't go overboard on cleaning everything which is a slight concern. Our bed was reasonably well made and at least we had fresh towels so in reality what more can you expect but the shower didn't appear to have been touched and the bathroom floor was still in similar condition to the way we left it.
Amenities
Free wi-fi gets this hotel a big check mark for amenities and for the most part it was pretty fast (we found Sunday's internet speed to be much better than Saturday). Downstairs is a bar and restaurant area, though we didn't sample either so can't comment on the overall quality of these.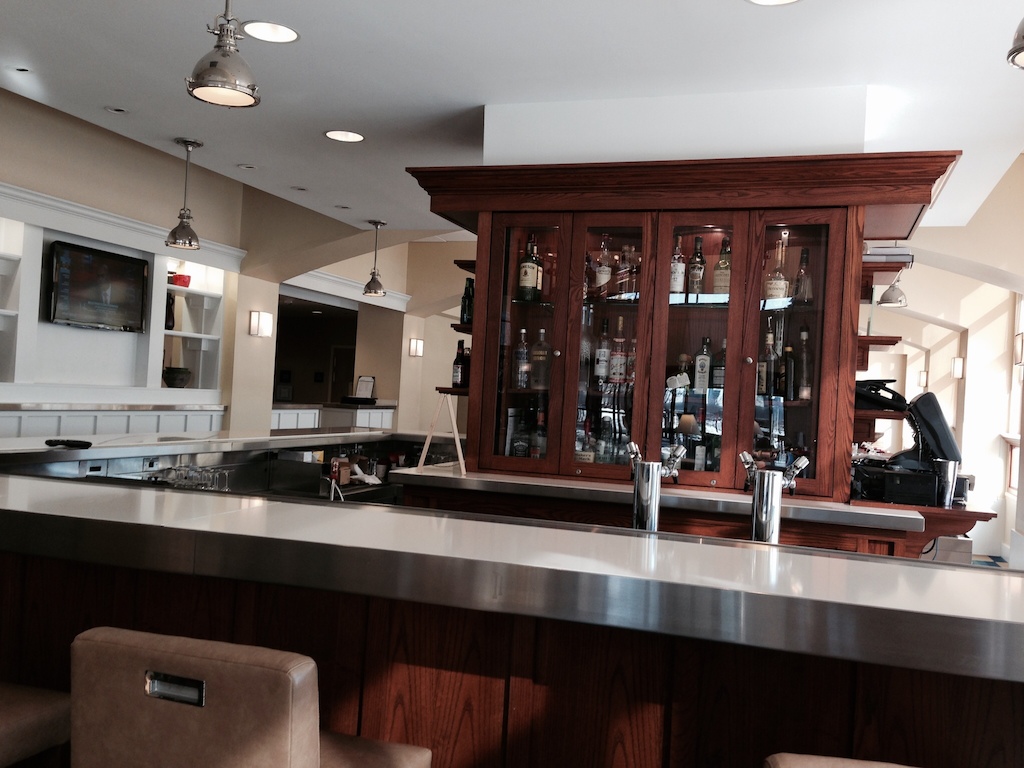 Details
Dates: Saturday, January 25, 2014 – Monday, January 27, 2014 (2 Nights)
Price: $58 (+tax) per night on Priceline; Regularly $91 (+tax)