We would like to extend a special welcome to Charlotte Nightingale from Maison Bussière who has graciously given her time to speak with us in our travel blogger interview series and help us learn a little more about her travel thoughts and website.
Please feel free to comment, ask questions and connect with Charlotte using her various social media fronts listed below.
We would like to give a special THANK YOU to Charlotte for taking time to interview with us!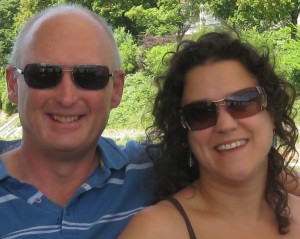 Name: Charlotte Nightingale
Hometown: Born in South East England, now living in Central rural France since 2012
Website: Maison Bussière
Social Media: 
What is your favorite aspect of traveling and if you are a travel blogger, why did you decide to create your website? 
Favourite aspect of travelling has to be the freedom to explore totally new and different cultures – nothing broadens the mind like experiencing new cultures that will do things differently to the way you've always known!
I've always travelled extensively, and written a journal when I did so, so when my husband and I moved to France last summer, it was natural to write a blog about our life here. My blog is actually cheese-themed: 'The Livarot Diaries – Adventures in Cheese', but it's as much about our life in France as it is about cheese!
How many continents have you visited? 
Four
How many countries have you visited? 
30+
What is your favorite destination in the world and why? 
Other than France, obviously – it would probably have to be New Zealand, it really is paradise on earth, with the friendliest people, the most incredible scenery, the most relaxed outlook – I've just loved it every time I've been, and that's 4 times now! That said, I absolutely loved Uzbekistan – I visited on a trek following the TransAsian Silk Route and was blown away by how staggeringly beautiful the architecture was, totally unexpected!
If money/time was no object and you could visit anywhere in the world, where would you travel to and why? 
I'd love to take a year out and see more of Asia at a leisurely pace, taking in Vietnam, Cambodia and Laos, before heading down to South Africa. I've seen a lot of the States as I was lucky enough to live in New York for 18 months, but I never made it to Seattle, Montana, Oregan, so I'd love to go back and do that, and if money was no object, to combine it with that wonderful trip through the Canadian Rockies.
Which of the following gadgets do you take on your travels? 
Camera and Phone
What is your preferred method of transport? 
Train
Complete the following, "Everywhere I go, I visit…." 
Everywhere I go, I visit somewhere that's 'authentic' – I eat where and what the locals eat, immerse myself in their history and culture as far as possible.
Here is your chance to sell yourself and your website! Tell us some more information about yourself, what your travel philosophies & future plans are and anything else that people may find interesting to read about… 
Since moving to France last year, I've loved immersing myself in French life – our gorgeous village has been described as the 'quintessential French village', unspoilt and authentic, and we're thrilled that our guests love it as much as we do! Future plans definitely involve exploring more of France, as we're lucky enough to be able to drive everywhere here, and there'll definitely be masses of cheese tasting of all the regional specialities for wherever we go!
Check out more about our gorgeous village at Maison Bussière and more on my lovely life here at www.thelivarotdiaries.com