Here is our next installment of 'Travel Blogger Interviews'. Today, we would like to welcome Rachel Campbell from Treepot Travels!
Please feel free to comment, ask questions and connect with Rachel using her various social media fronts listed below.
We would like to give a special THANK YOU to Rachel for taking time to interview with us!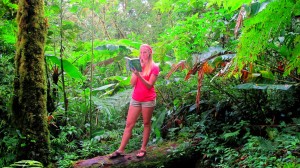 Name: Rachel Campbell
Hometown: Key West, Florida (USA)
Website: Treepot Travels
Social Media: 
Twitter – https://twitter.com/TreePotTravels
Facebook – https://www.facebook.com/treepottravels
What is your favorite aspect of traveling and if you are a travel blogger, why did you decide to create your website? 

I decided to create my website because I want to share my travel ups and downs with anyone who will listen. I'm kind of out there in that I tend to go with the flow and sometimes that works while other times it leads to a funny disaster.

How many continents have you visited? 

One

How many countries have you visited? 

1-10

What is your favorite destination in the world and why? 
As of this moment it's the Blue Ridge Mountains in North Carolina, USA. I got the chance to live there for 3 months and I was lucky enough to experience Fall there. Those days changed me from beach bum to a mountain girl. There's no going back now. 🙂
If money/time was no object and you could visit anywhere in the world, where would you travel to and why? 

Iceland! I've never seen a bad picture or heard a bad thing about this country. Everyone who goes there seems to always be itching to go back. I feel like I've fallen in love with it already.

Which of the following gadgets do you take on your travels? 

Camera, Phone, Tablet and Laptop

What is your preferred method of transport? 

Car

Complete the following, "Everywhere I go, I visit…." 

Nature first!

Here is your chance to sell yourself and your website! Tell us some more information about yourself, what your travel philosophies & future plans are and anything else that people may find interesting to read about… 

I am Rachel from Treepot Travels. I run the site with my amazing husband and travel partner Mike. We have lived all over the south in the US and just finished our first overseas trip together to Costa Rica! We have decided to become nomads in a few months and are winging our adventures. We are both crazy, spontaneous and adventurous so who knows where we will end up. But no matter where, we will be having the time of our life.