How many of you have ever considered tracking how many miles you walked while traveling? You may be surprised just how far you covered and of course in today's era of health conscious individuals, it is essential that we all understand more about our body and exactly how much activity we are/should be doing!
What better way to do this than by using an all-inclusive activity tracker that does everything for you and with a simple bluetooth connection to your phone, shows you detailed information and data that can help change your lives! We believe that we have found this with the Misft Shine activity tracker which is a great addition as a travel companion.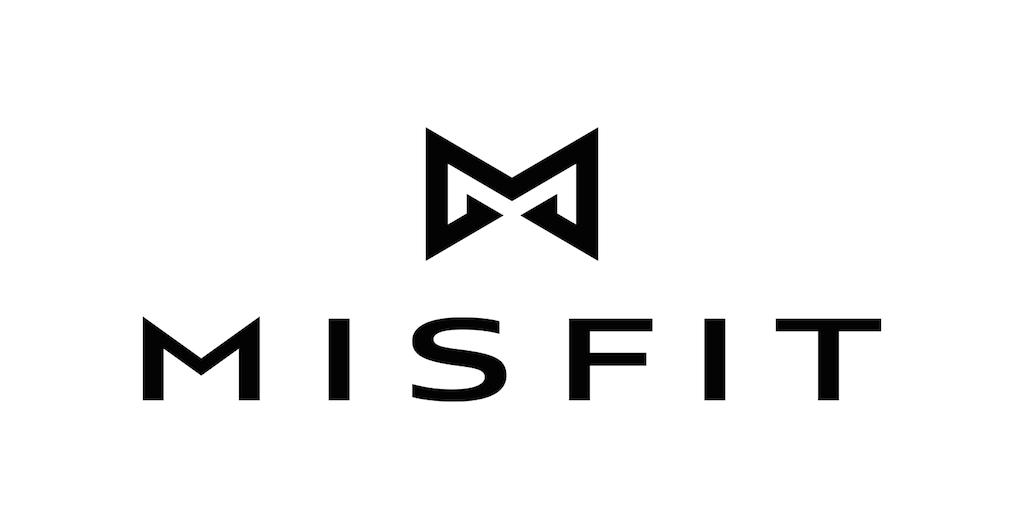 Activity Tracker Comparison
There are several different activity trackers on the market and we have been trying to decide which one would fit us the best. If you are like us on trips we rarely have time for a dedicated workout, so we thought that this would help us stay motivated to remain active especially on our weekend getaways.
Here are a few of the questions we asked ourselves before deciding on a tracker:
What does the activity tracker have in terms of functionality?
What type of monitoring is available for sleep patterns?
What design features allow the tracker to be functional yet durable?
Of course despite the activity tracker being a relatively new technology product, it is still a hugely saturated market with competitiors such as Fitbit, Nike Fuel+Band and Jawbone. However, I truly believe after using the Misfit Shine it is unlike any of those other trackers. The Shine is a circle that comes in various colors that you can track your activity,sleep, steps and even show the time.
The main differentiating factor between this and all other trackers is the unique design and the fact you can use this metal disc on a variety of wristbands, clasps, necklace or even just hooked on the corner of your shorts.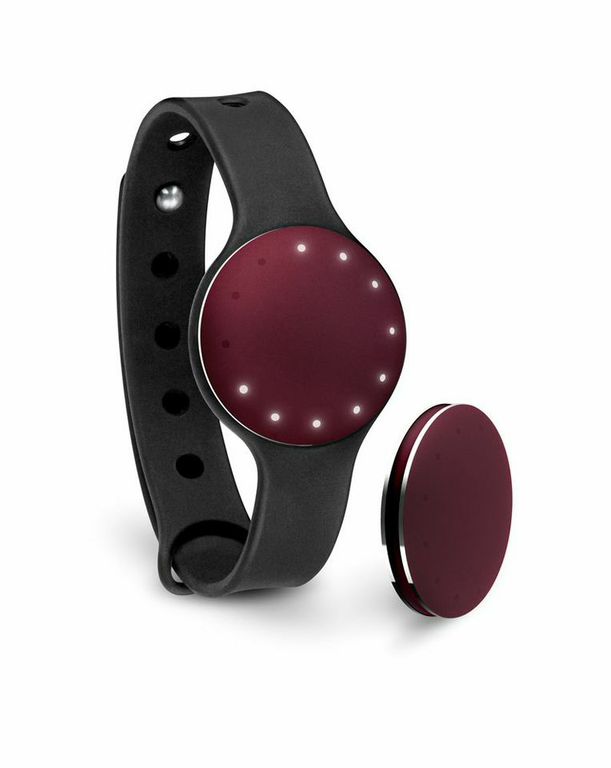 In the box you get the Shine, a sport wristband and the clasp for your shoes or shirt (in addition to the battery and a tool designed for replacing the battery). The cool part about the Shine is that it will automatically sync with an app for your phone and there is NO charging! That's right, you read that correctly.. no charging of this device!
The App
The Shine is easy to set-up out of the box and once you get the app that is available on iOS and Android devices, you are almost ready to start moving!
The first thing to do is setup your personal profile on the app, create a realistic goal that is calculated in increments of 1000 pts (more information on how you achieve the various levels later!) and finally synchronize your tracker for the first time. Start your daily activities and watch as your Shine works in conjunction with your everyday movements! You can sync your tracker as frequently as you like, though I would personally recommend only doing this at the end of the day so that you can review your daily activity.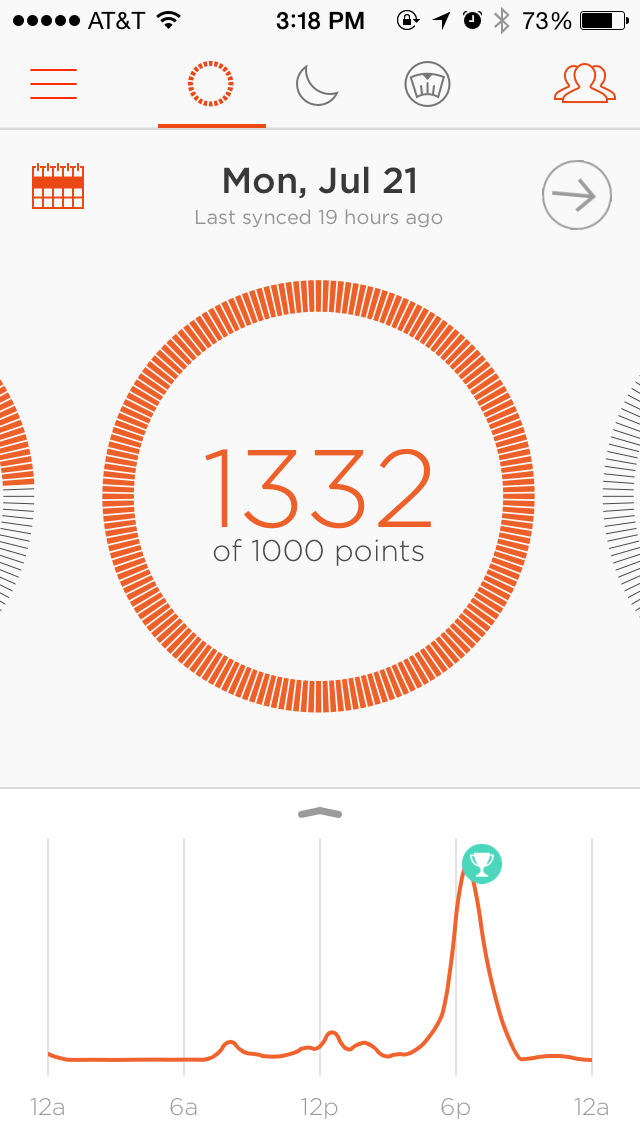 The cool thing about this app is that it gives you a detailed graphical representation of your daily schedule. No longer can you get away with forgetting those moments that you just lazed around in the living room watching TV! This is shown on the tracker, just like when you head out for a leisurely walk/jog.
Reviewing this data can really give you the inspiration to change your lifestyle, I will be the first to admit that it certainly made me rethink a few things about my exercise routines!
Activity
I have used the Shine sport band while playing tennis, running and of course wearing it on a day to day basis at work. For cycling, I use the clasp around my shoe strings which really works well because you don't even notice it is there, yet it is still calculating every movement you make on the bike.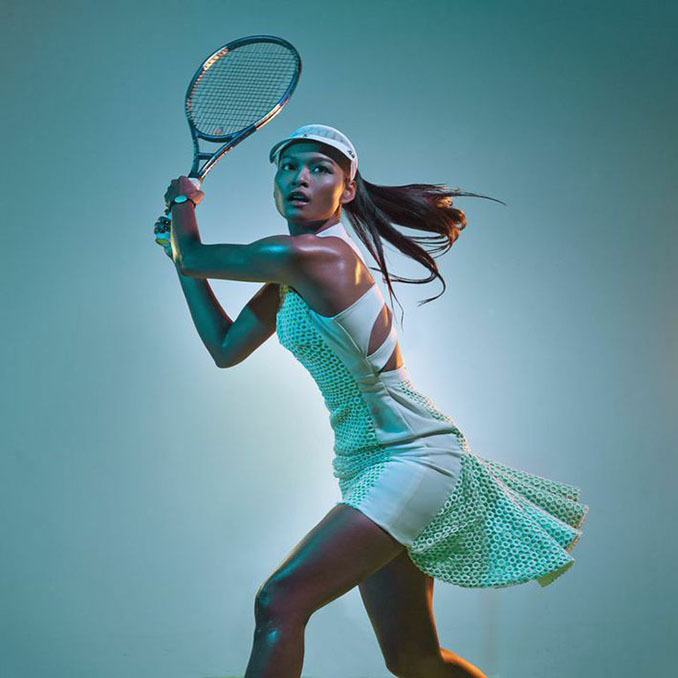 So let's talk about exactly how this tracker works when you are partaking in strenuous cardio activity. The Misfit Shine uses points as a way to measure physical activity, both from your steps and other physical movements.
For example, if you walk for 10 minutes, you can earn about 100 points, depending on your pace. If you run for 10 minutes, you can earn closer to 3-5 times that amount, depending on the intensity of your running. The more active you are, the more points you receive. 1 dot on your Shine is equivalent to 1/12 of your goal or in other words a little over 8% of your daily goal.
Sleeping
Don't worry, the Shine isn't just a great tracker of your daily strenuous activities! It is also a great tool to see exactly how well you sleep. Prior to using this, I tried to convince Chris that I wasn't sleeping very well but he rarely believed these comments. Well after wearing the Misfit Shine, I was able to prove to him by showing him evidence from the app after synching the previous night's sleep patterns.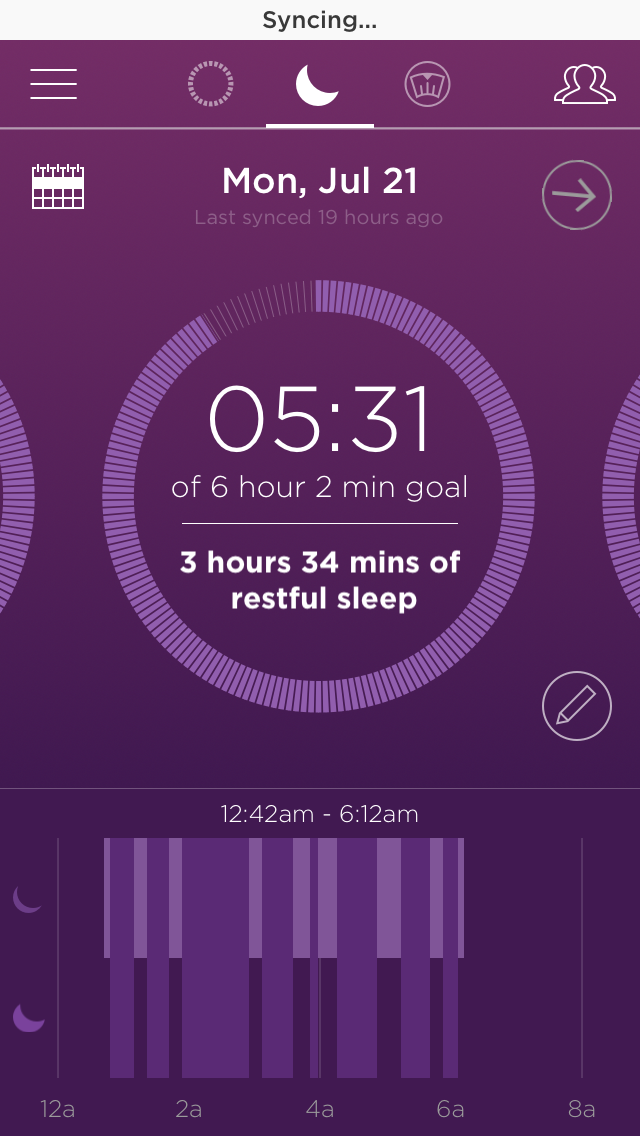 The Shine analyses your movements during the night and compiles an overall representation of your sleep both in terms of the overall number of hours you slept and more importantly how much of this was classified as 'Restful sleep'. I set my goal at 6 hours for restful sleep but so far I have been falling short of this, ranging from 3-5 hours – clearly I need to change my daily patterns somewhere so that I can sleep better at night but that's another story!
Pros
Extremely elegant design
Durable metal disc that also provides flexibility as it can be switched between variety of holders (necklace, wristband etc.)
Bluetooth connectivity makes it easy to sync with your mobile device
No charging!
Cons
Summary
Despite having one or two issues with the wristband, I have to admit that I have been completely satisfied with the Misfit Shine. The overall look, design and most importantly functionality of this product makes it a real bargain in my opinion.
As I mentioned at the beginning of this review, the modern era of traveling and lifestyle in general means that we all need to be more active and ensure that we are keeping fit. Well I sincerely believe that I can achieve this with the Misfit Shine on my wrist!
*Disclosure of Material Connection: A Brit & A Southerner was not financially compensated for this post. We received a free sample from Misfit for consideration of review purposes only. This is solely our personal opinion/experience*