Have you ever been on a plane and encountered that uncomfortable pain in your neck while traveling in economy class? Well, we can't all afford to pay for first class travel so we look for alternative methods for comfort.
Thankfully we have stumbled across the Sleeper Scarf – an amazing, innovative design that not only enhances your comfort level on the plane, but also provides a stylish accessory that will keep you looking good and staying warm during those winter months.
What is a Sleeper Scarf?
The Sleeper Scarf by Tiffany Paul is a brand new product on the market that is the 'first ever scarf with a built-in inflatable neck pillow'. Cool right!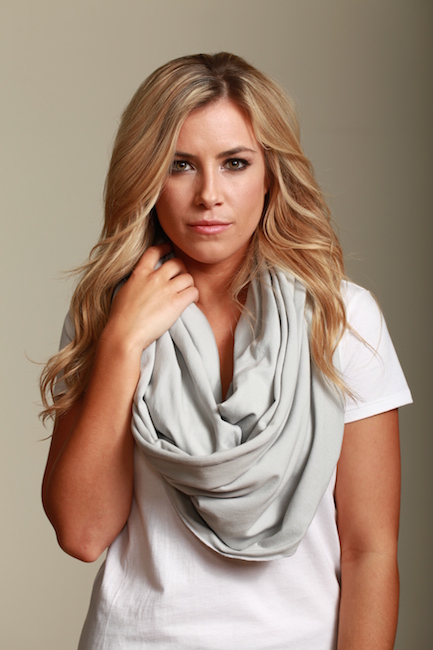 This item may not have any bells and whistles like our previous technology products we reviewed, however the creative design of this accessory qualifies itself for our Travel Tech 101 series!
Add the practicality of this product and innovation that has gone into the duel functionality of the Sleeper Scarf and we feel that is a great addition to your carry on luggage.
Now you can travel fashionably and sleep stylishly!
It's a scarf and neck pillow in one, easy-to-use travel accessory.
Much of our travel takes place during our weekend getaway road trips and there is nothing worse that being stuck inside the passenger seat of the car hour after hour. With the Sleeper Scarf, I am now able to travel in comfort and this really does help the long road trips pass by without ensuing neck pain.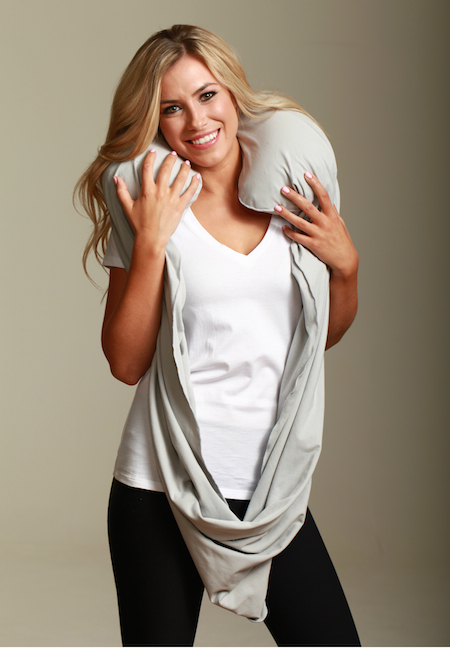 This product is an infinity scarf that has a built in pillow, you simply blow air into the pillow and you are good to go, when you want to deflate you simply press a button and it stores easily in your bag.
A Fashion Product
The Sleeper Scarf is a unique invention that introduces fashion as a functional travel gadget. I have to admit that I have never been a true proponent of 'traveling fashionably' but after using the Sleeper Scarf, I can honestly say that this is a true fashion item!
Tiffany Paul has done a great job introducing a fashionable accessory that all females use at some point in their day to day life and when you combine this with the neck pillow you really have a successful product.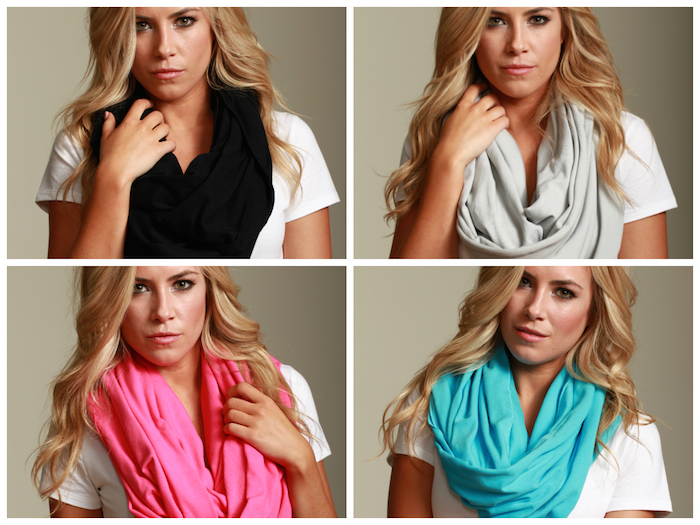 The sleeper scarf comes in an array of colors and at a cost of $65.00, it is less than a good neck pillow and a thick high quality infinity scarf.
Pros
Thick material
Easy to use
Easy to clean
Adjustable to fit comfort
Cons
This is a great product that we feel has no cons
Summary
Since all planes are different climates, I would wear layers to make sure I don't freeze or burn up. However, I don't have to worry about that any longer since I was introduced to the Sleeper Scarf.
I have looked at various infinity scarfs before but never wanted to pay the high price for them.  When you find one that has multi-purpose functionality, it certainly makes it easier to purchase the product.
Discount Alert (Valid Through October 2014)
***We are also delighted to announce that if you are interested in purchasing one of these Sleeper Scarfs, you can get $10 off your order by using the coupon code ABS10 through the end of October, 2014.***
Ladies, believe me when I say this is a product you have to try!
*Disclosure of Material Connection: A Brit & A Southerner was not financially compensated for this post. We received a free sample of the Sleeper Scarf from Tiffany Paul for consideration of review purposes only. This is solely our personal opinion/experience*