The journey to Haworth, Yorkshire always begins with the scenic drive over the moors and our regular stop at the spot where we feel like we are on top of the world as we overlook the beautiful scenery that encapsulates both Yorkshire and Lancashire's finest views. If there is a more beautiful, natural spot in the world than here I would love to visit it because these views are absolutely breathtaking.
You can see rolling hills for miles and the lush, rugged countryside just emphasizes the rustic English countryside given the terrain and battering it takes from the climatic conditions in this part of the world. Whenever Heather first visited here in 2010, she claimed that this was the most beautiful and favorite place on Earth and she still maintains this.
There are so many gorgeous vantage points on the drive over from Colne that you could probably spend all day just taking in the beauty surrounding you. An interesting point that Heather made was the amount of public footpath signs that you can see and it is clearly apparent that fell walking and hiking in this area are ideal for anyone with this sort of interest.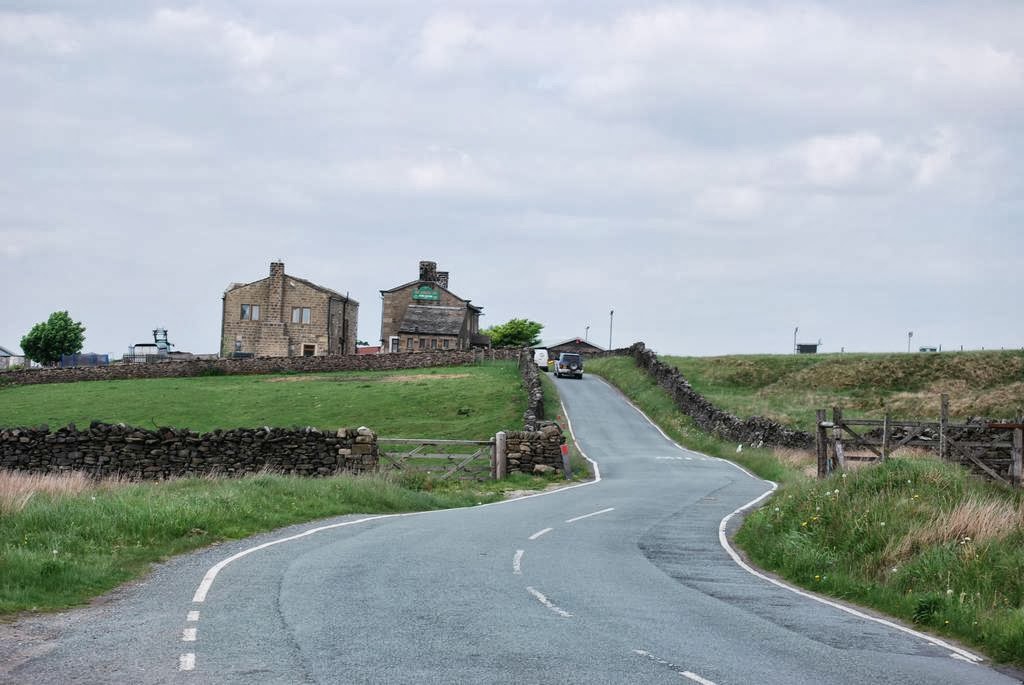 Driving around the winding roads is an art in itself especially as you carefully wander through the small towns along the route into Haworth. Anyone with any hint of car sickness should beware though because for many this is probably like riding a roller coaster (Heather kindly pointed out that my driving tends to enhance the 'sick' feeling but I would prefer to think it is just improving the experience!).
Driving out of Haworth was particularly interesting this time given that as we approached one of the smaller towns we were faced with a bus on the other side of the road and the road really wasn't wide enough for the two of us to pass through. Needless to say with some careful maneuvering we were able to get through but for a moment I think both of us thought we were going to be at a standstill for a while.
So what makes Haworth so charming and picturesque? There are so many reasons but if you had to say one thing about this quaint village I would suggest it is the relaxed feeling that you get as you are walking along those old stone cobbles passing by old school shops and delicatessens. Below are our top 5 reasons that you should visit Haworth:
Home of the Bronte Sisters
Steeped with history and heritage, Haworth is world renowed as being the home of the famous Bronte sisters, Charlotte, Emily and Anne. Would Haworth be as inviting for tourists without this recognition? On a global scale the answer is probably no and this is not because there is nothing to do aside from visiting the Bronte Parsonage, it is more so because Haworth would probably dwindle away like many other towns dotted across the English countryside.
There is so much beauty in Haworth that fortunately people that do visit here purely for the reason of seeing the home of the Bronte's, also get to experience everything else that this unique town has to offer. Anyone visiting Haworth can walk into the Bronte Parsonage Museum and at £7 per person it is a relatively inexpensive attraction. The museum is open daily from 10:00AM – 5:30PM during the months of April to September and is open between 11:00AM – 5:00PM during the Winter months.
So if you are reading this post and still trying to figure out who we are referring to with the Bronte's, here is a quick snippet from the Bronte Parsonage website indicating who they are:
The Brontës are the world's most famous literary family and Haworth Parsonage, now the Brontë Parsonage Museum, was their home from 1820 to 1861.
Charlotte, Emily and Anne Brontë were the authors of some of the best-loved books in the English language. Charlotte's novel Jane Eyre (1847), Emily's Wuthering Heights (1847), and Anne's The Tenant of Wildfell Hall (1848) were written in this house over a hundred and fifty years ago, yet their power still moves readers today.
It is a great experience to just walk around the town and speak with locals on this historic fame. The older generations are generally proud to be part of this heritage though as generations move on, the younger folks probably feel less inclined to boast about where they are growing up.
The cobbled streets and local shops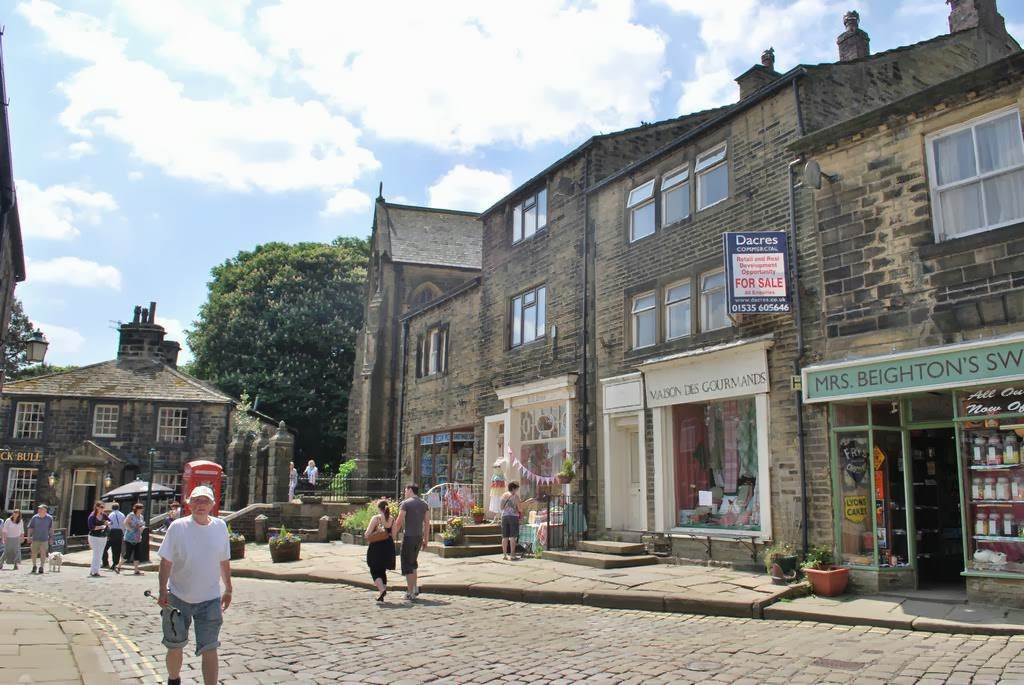 There are very few places in the world today that still have original cobble stoned streets from the 18th and 19th centuries but Haworth can still lay claim to this. Walking up and down the main street along those beautifully knitted cobbles is a perfect way to relax as you take in the local shops. The local shops for many will seem tiny, in fact there is even a gift shop along the street named "The smallest shop" as there really is only room for two or three people to browse around.
Taking in the atmosphere as you walk along the street passing the stereotypical English red phone box and also by the steps to the towering Haworth Parish Church, providing ample wonderful photograph opportunities. The cobbles enhance the overall attractiveness of Haworth's architecture and infrastructure. There is so much originality in how everything is designed and you can see at first hand that locals are refusing to let modern infrastructures dominate this idyllic landscape. Visitors can enjoy browsing in the shops or simply passing them by along the descent to the bottom of the valley.
Enjoy the local cuisine
If you plan on spending half a day or even longer in the town of Haworth, you have to sample some of the local cuisine on offer. There are countless bakeries and delicatessens to choose from along with several pubs and "chippy's" depending upon your preferences. We decided to sample afternoon tea in one of the local bakeries and we were certainly not disappointed with the quality and atmosphere on offer. Anyone looking to experience a typical English Cream Tea (Scone, Jam, Cream and a Pot of Tea) would be well advised to visit the "Villette Coffee House and Bakery".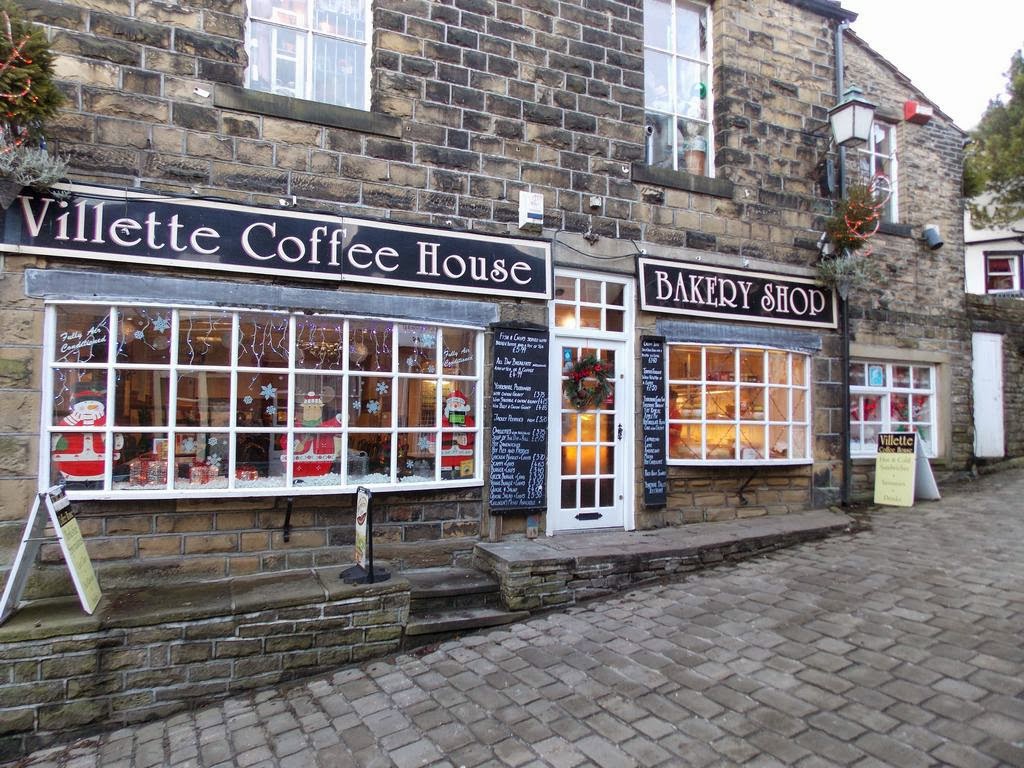 Heather indulged in the cream tea and I decided to try the toasted teacake and pot of tea. Both of our snacks/beverages were excellent and the service was second to none! A definite five star experience and reasonably priced so no complaints at all here.
Tourist Information Centre
When looking at the county of Yorkshire as a whole, there is just so many attractions and things to see, it is imperative that local towns have informative tourist information centres. Haworth certainly has one of these located at the top of main street inside the local post office. For all the latest events, attractions and local news in the town of Haworth, this is the place to go. There are always people willing to help and point you in the right direction and you can even take home a small piece of Haworth history with you or maybe a stereotypical English gift such as a model telephone box is more your thing!
Haworth Railway Station
Haworth is also famous for being the home of a railway station that is on the Keighley & Worth Valley Railway line. Although this may seem trivial, when you learn that this line was used for the 1970s hit classic 'The Railway Children', the line has ever since been a magnet for visitors. Visitors are able to travel through the Bronte Country and enjoy the beautiful landscapes on offer along this line. Christmas is a great time for visitors to enjoy the 'Santa Steam Specials' which are a true hit among locals and visitors alike.