For as far back as I can remember, I have always been passionate about pretty much all sports and anything related to them! Aside from horse racing, though after experiencing the Kentucky Derby Museum at Churchill Downs even my opinion on this sport is changing, I am convinced that I will watch and make an effort to watch anything related to the sports domain.
Let's throw in another of my passions – travel! When Heather and I started traveling more frequently, I realized that this was a perfect opportunity to expand my sporting event portfolio. Honestly, travel and sports really do go hand in hand because it allows you to see the world whilst at the same time experiencing an awesome event.
Whether you are passionate about the French Open at Rolland Garros in Paris or the Tri-Nations Rugby series held in South Africa, Australia or New Zealand, traveling the world and watching sport is a perfect combination.
World Cup Fever
The majority of the world will soon be glued to their TV's as the start of the World Cup 2014 begins in Brazil. Even in USA where the passion is the 'Big 3' sports, there is still a buzz going around that the US team may perform admirably in the so-called Group of Death alongside Portugal, Germany and Ghana. Prior to the World Cup starting, all teams generally play a few friendlies and warm-up matches around the world to get acclimatized to the conditions.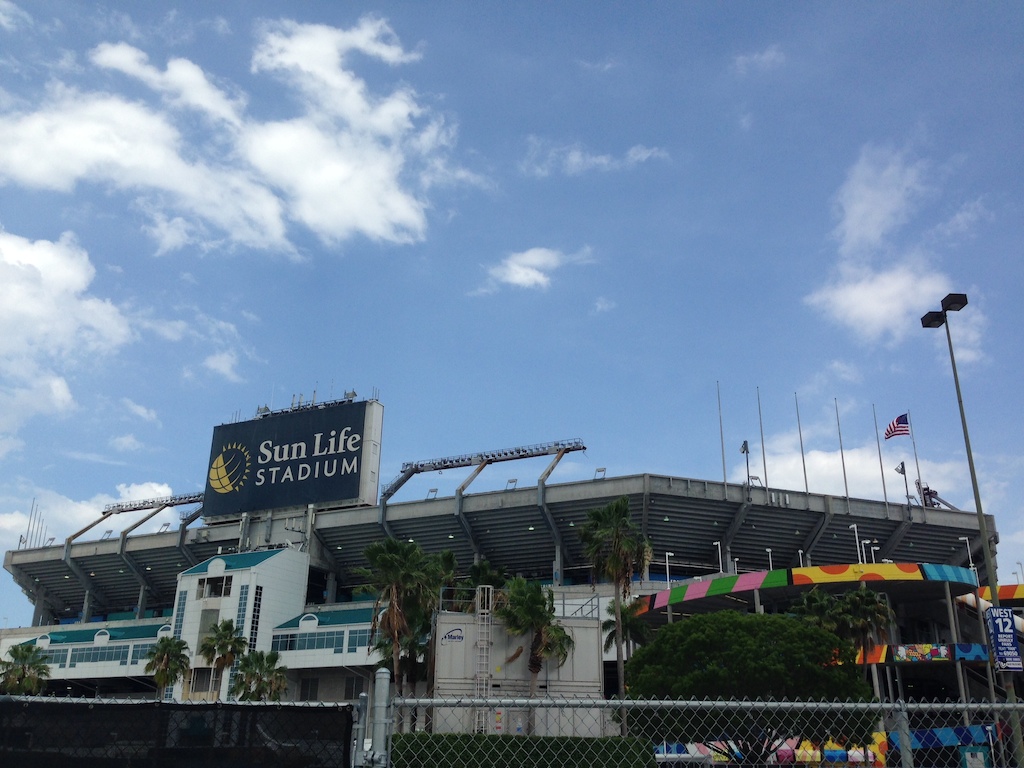 England opted to fly out to Miami for two encounters with Ecuador and Honduras. I saw this as a perfect opportunity to give the boys a good send off before heading to Brazil. I remember the last time I watched the England national team was in 1997 when they played South Africa at Old Trafford in Manchester which at the time was strange because it was one of the first occasions where they played a home match away from Wembley.
Pre-Game Parties
We arrived at Sun Life Stadium, home of the Miami Dolphins, a couple of hours prior to kick-off and the first thing we noticed was the large number of Honduras supporters that had made their way to the game. Of course the traveling English 'Barmy Army' were still in strong presence and it was great to see everyone partying together in the Game Time Plaza.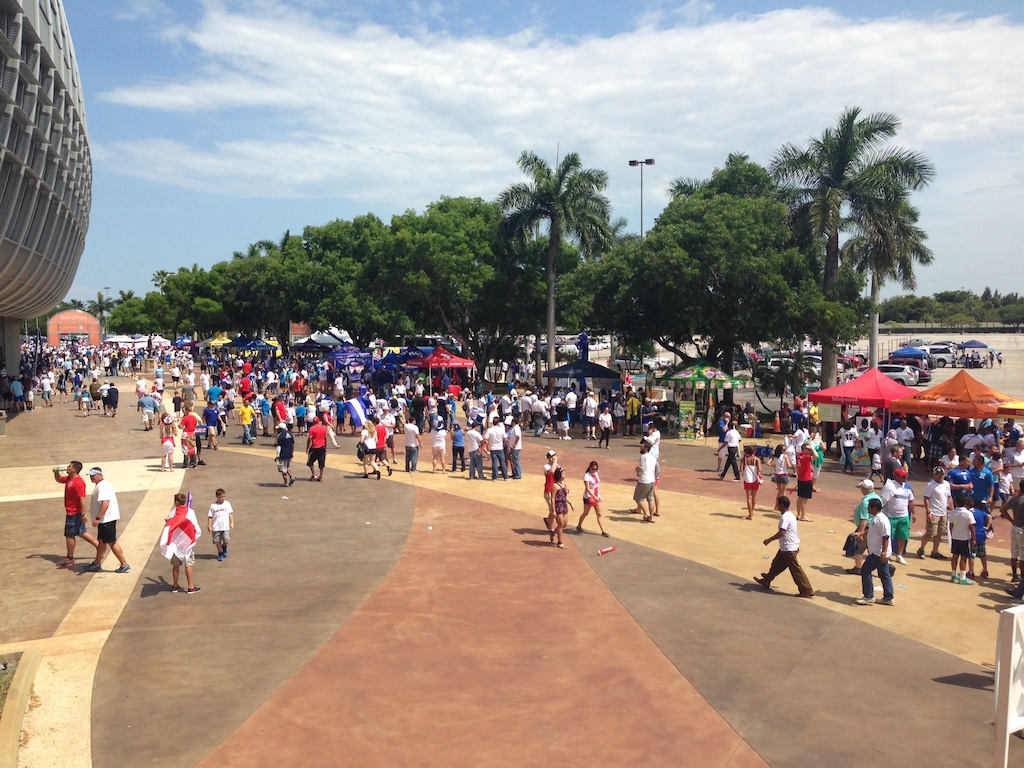 I know that whenever the World Cup begins and fans from all teams begin to get more passionate about the results and performances, tensions will begin to rise. However, friendly matches are usually a time for fans to get together and really show their spirit and love for the beautiful game.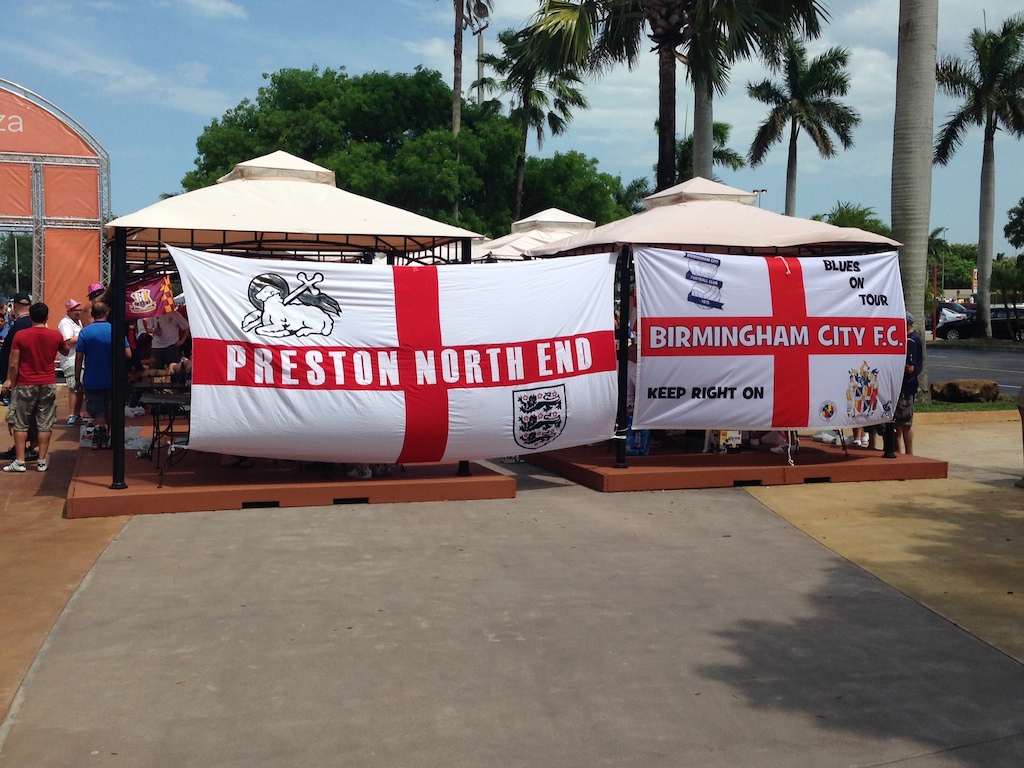 England vs Honduras
Our seats inside the stadium were excellent, we were near the half-way line and only 15 rows back which gave us a great view of the pitch. We were seated in plenty of time to see both teams warming up and we were both pretty anxious for the game to begin.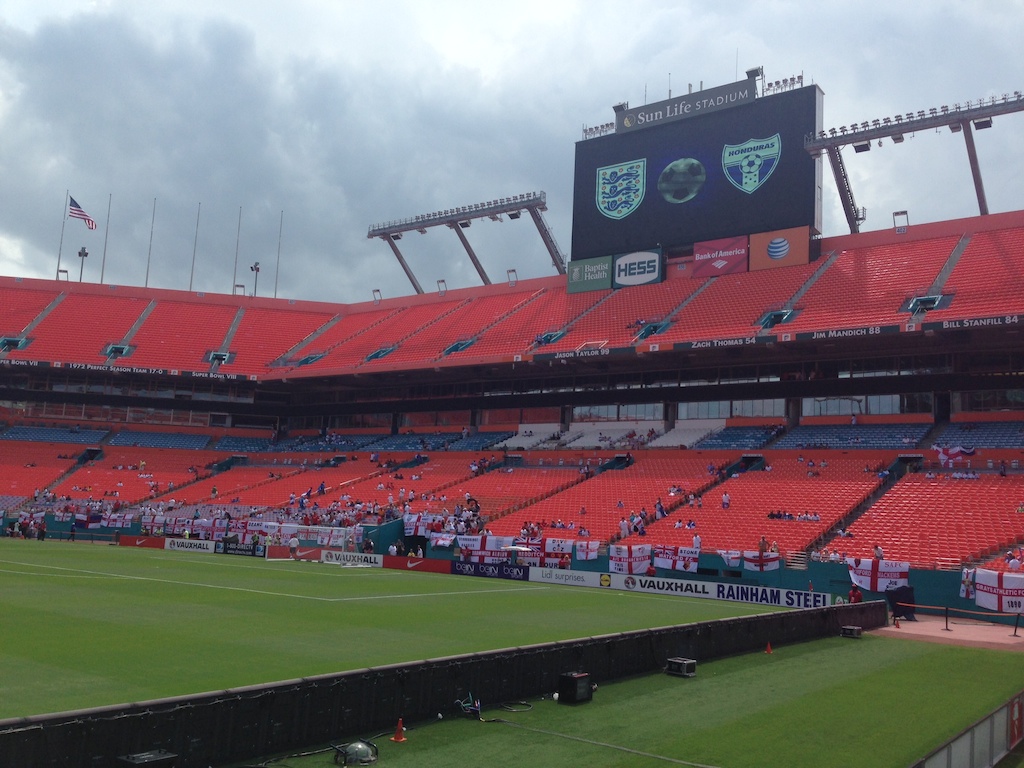 Unfortunately the game itself was rather a letdown in terms of the scoreline which finished 0-0 but there was plenty for England to cheer about, mainly as they headed to Brazil unscathed with no further injuries.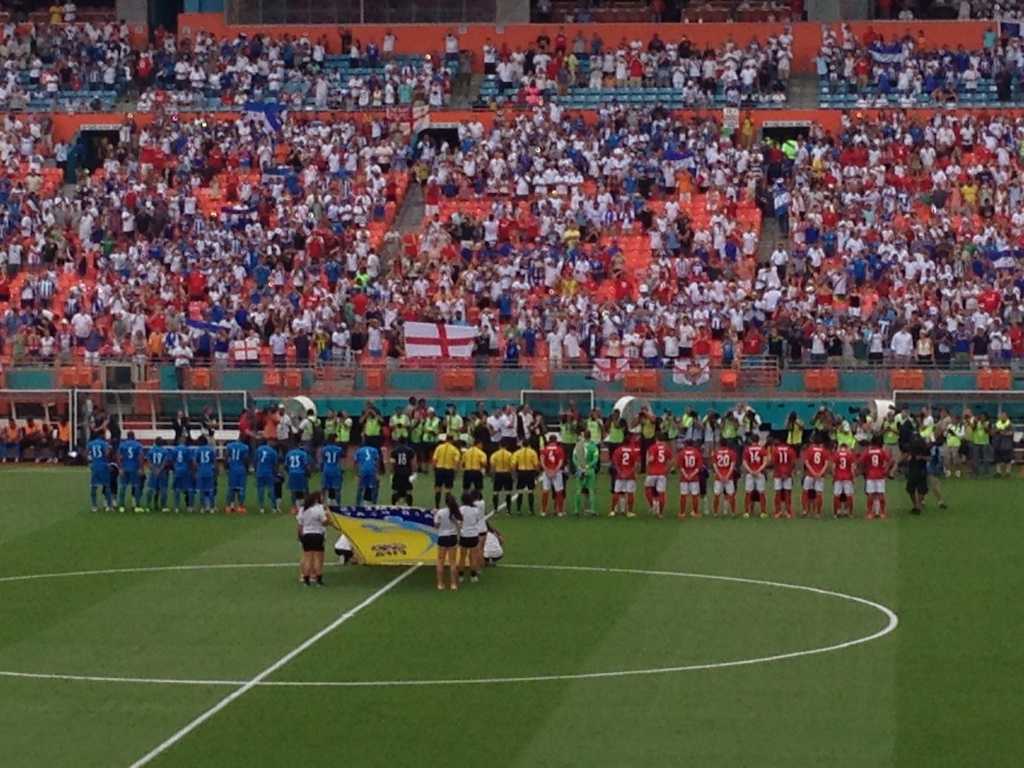 The highlight of the encounter occurred after just 23 minutes of the match when the referee suspended the match for 30+ minutes due to lightning and torrential rain in the Miami area. A first for England but relatively common in this part of the world especially in the late afternoon.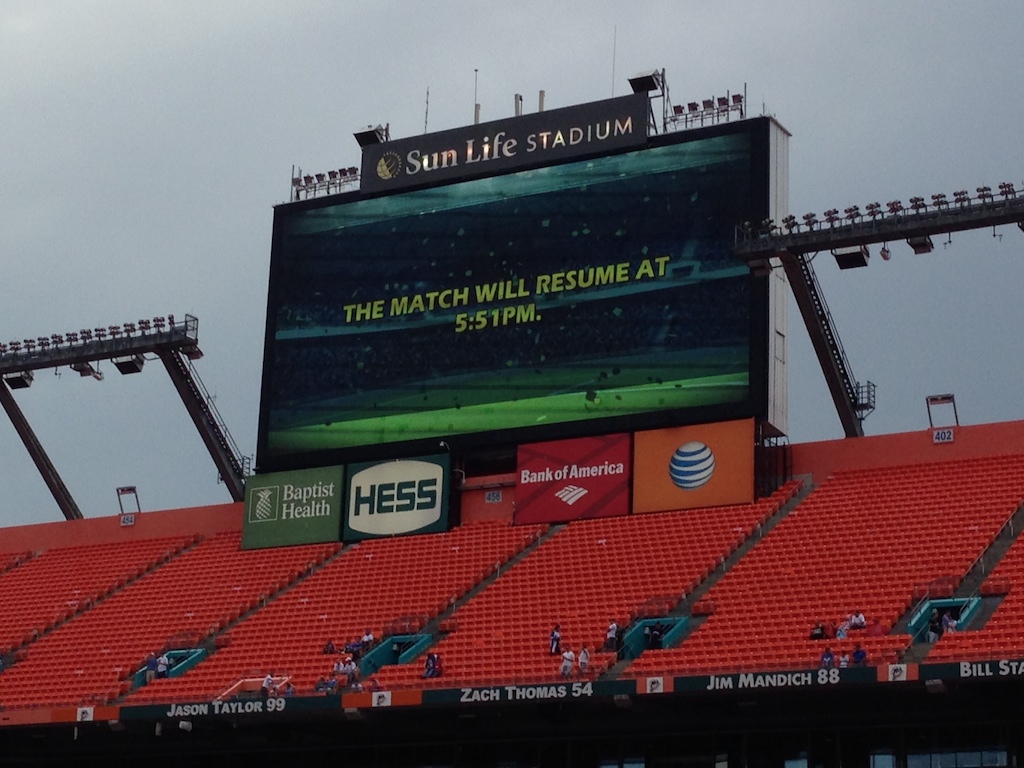 If you have ever watched a live friendly match either in person or on TV, you will understand that the main goal of these types of matches is usually to try different formations, help gel the team together and ultimately make progress in preparation for the next competitive match.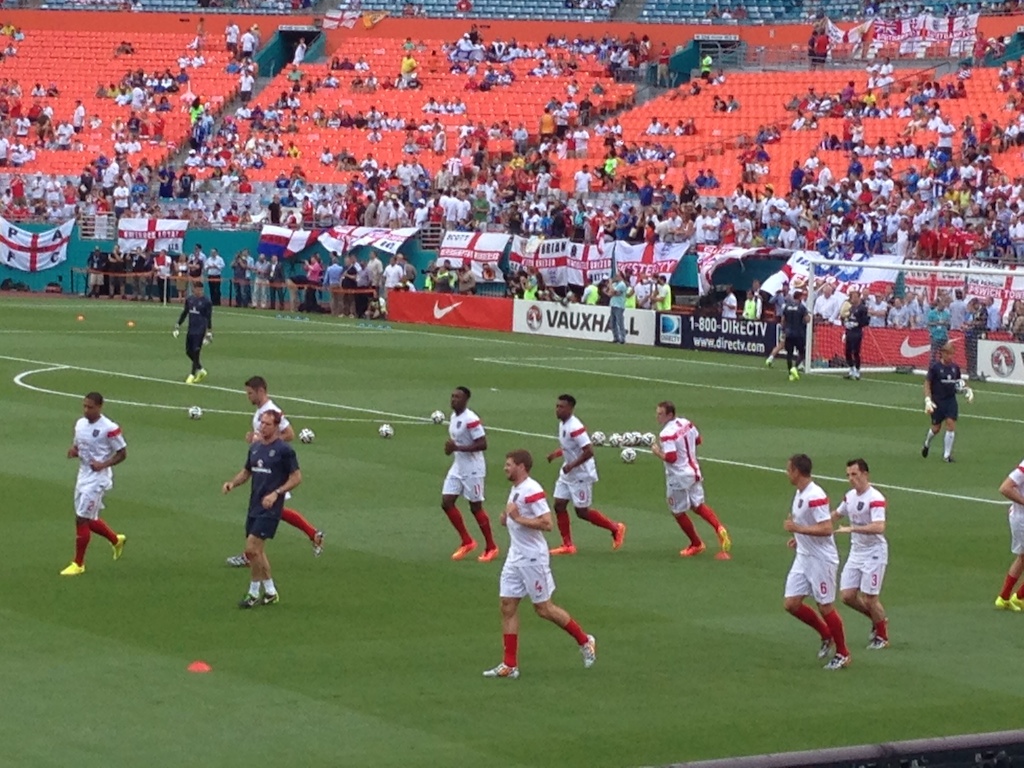 Chances for both teams in this friendly were at a premium though Liverpool's Daniel Sturridge will feel that he should have got his name on the scoresheet as he squandered England's best chances on two separate occasions. Wayne Rooney saw a free-kick awkwardly handled by the Honduras goalkeeper but apart from that, England supporters were left disappointed despite some encouraging cameo displays from Ross Barkley and Jordan Henderson. Honduras were reduced to 10 men midway through the second half when Brayan Beckeles was given his marching orders for a second bookable offence.

Heading to Brazil
A feisty encounter which lacked a real cutting edge is a good way to summarize this match. It was a really enjoyable occasion sat in a crowd in excess of 45,000 which is reasonable for two countries playing away from home in a meaningless match aside from warming up for the upcoming World Cup.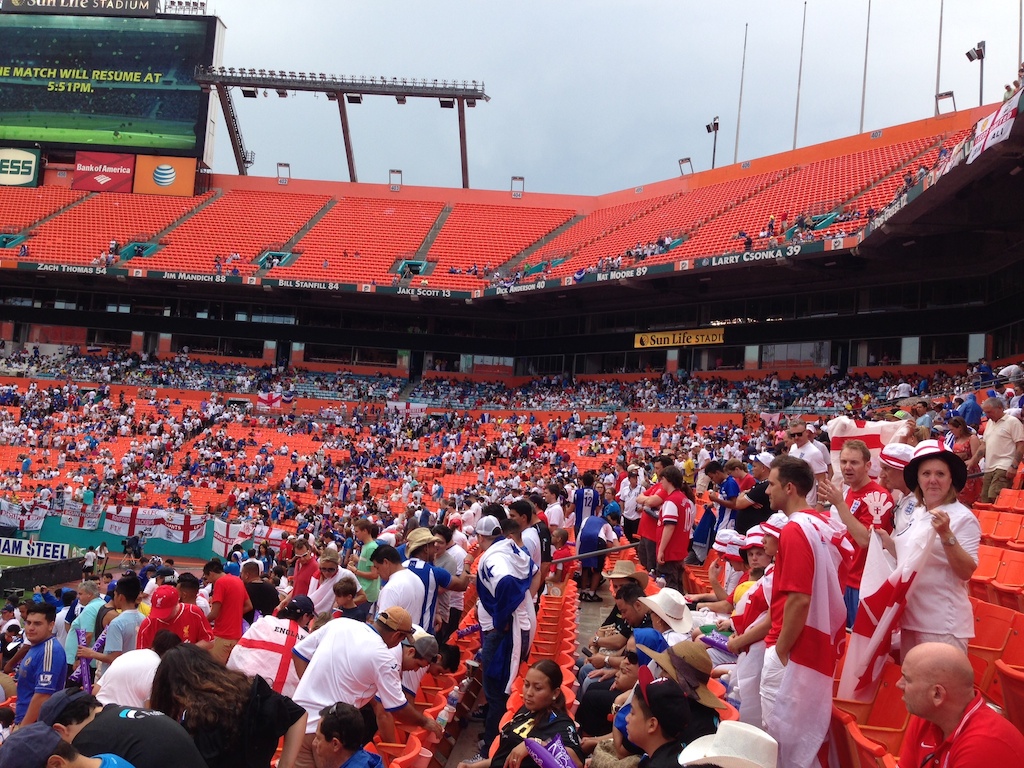 Am I encouraged by England's performance to believe they will be successful in Brazil? Unfortunately not! I will say though that for those fans heading to Brazil, it will be an awesome experience to watch the Three Lions playing in the Amazon rainforest location of Manaus along with opportunities to explore other parts of this beautiful country.
So, if you are fortunate enough to be heading to Brazil to watch any of the World Cup matches, then it's fair to say that I am very envious and jealous because I imagine this will be an amazing experience.
What are your experiences of combining travel with sport? Do you find that they go hand in hand?