During our recent Road Trip from Boston to Canada, we were not only intrigued by Quebec cuisine but pretty much convinced that we had to try certain Canadian delicacies for ourselves. Canada may be famous for many things but perhaps cuisine is not at the top of your list when you think of the stereotypes associated with the Maple Leaf nation.
Here are 4 of our top Canadian delicacies that you HAVE to try when you visit there next.
Poutine
I was reading an article yesterday that described an experience with a so-called 'heart-attack food' and I have to admit that I was able to relate to this pretty well. Before we headed to Quebec, I had several folks tell me that we had to try the delicacy that is 'Poutine'. Ok, well let's be honest it's not really a delicacy, rather it's a combination of high calorie items that when you see this really doesn't make it look at all appealing!
Here are the ingredients:
Chips/French-Fries – Whether you are from USA or England will depend on what you refer to these as but in this instance a good old portion of chips is the basis for poutine.
Gravy – Thick, dark brown gravy is a must as it is piled over the chips.
Cheese Curds – Ok, so this part is what really grossed me out whenever I was told that cheese curds are scattered among the chips and gravy.
How does that sound? Delicious….ok maybe not, because I agree that whenever I envisioned this I wasn't all that fond of trying poutine.
"Welcome to Chez Ashton – how can I help you today?" – This was the greeting from the server in Old Quebec as we ventured inside the chain restaurant to sample poutine. The pictures on the wall pretty much confirmed my initial impression of poutine.
We ordered a 'small' portion of poutine, nothing fancy with the variety of options available such as hot dogs, different gravy flavors etc, instead we just wanted to sample true poutine that the Québécois locals eat on a regular basis.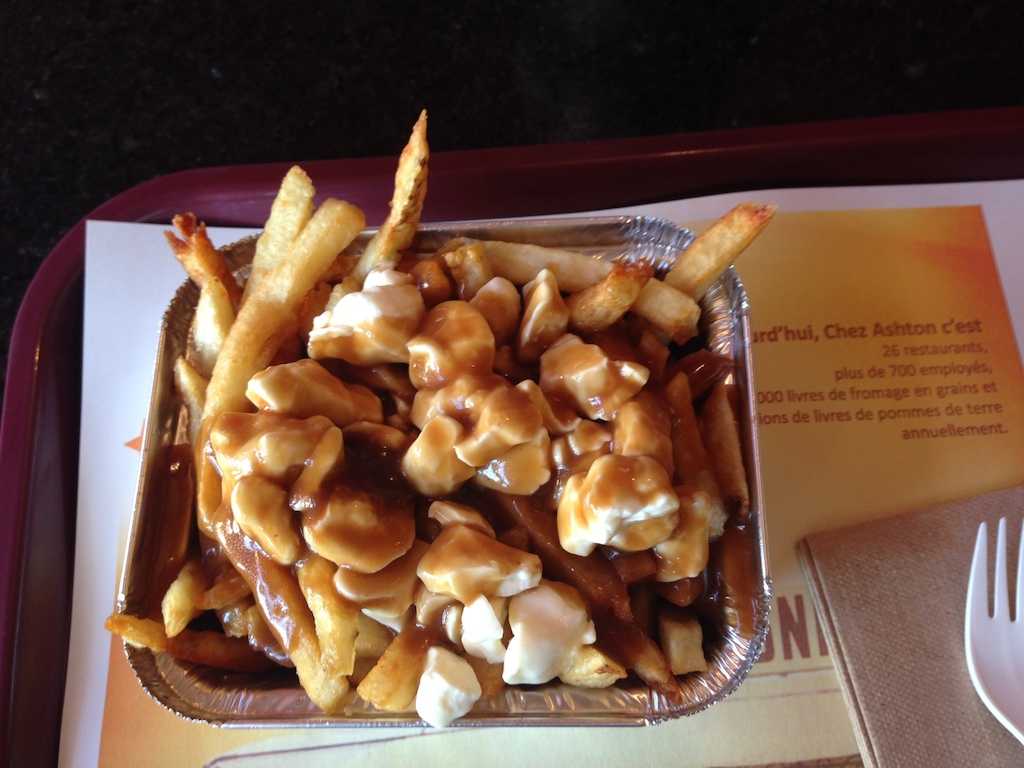 After a short wait, our order was ready and the first thing I noticed was that it actually looked more appetizing than pictures show. But I was still a little apprehensive about those cheese curds that looked even more menacing floating on the gravy. I am sure that everyone who knows me will testify that I generally don't like sampling weird cuisines, but I was ready to try this today and no one was going to convince me otherwise!
The moment I put the fork to my mouth, my whole opinion about this delicacy changed. Yes, that's right I will now use the word delicacy to describe poutine because as much as the look and appearance may put you off, the taste of this weird and wonderful combination is AMAZING! The cheese curds really didn't have that 'cheesy' taste, rather they had a little rubbery texture which made it go well with the chips and gravy.
I would definitely recommend sampling poutine the next time you head to Canada. It may not sound or look too appetizing, but please don't let that stop you from sampling a true Canadian delicacy.
Lobster Roll
Although you may associate lobster with the north-eastern US states, you may be surprised to realize that Canada offers great lobster rolls. Arriving in Quebec City late in the evening, we opted to head downtown to find something for dinner. We read various reviews of spots around Quebec City and finally decided to sample Le Cochon Dingue which is another local establishment popular among the Québécois residents and visitors alike.
I opted for the Fish and Chips and Heather went for the Quebec style Lobster Roll. Both dishes were excellent choices but the lobster roll in particular was something a little different to what you typically find in chain restaurants.
Maple Syrup Ice Cream
After the main course of a lobster roll or poutine, head on down to the Quartier Petit-Champlain to try some maple syrup ice cream which is undoubtedly one of the best dessert options in Canada (though one of my later delicacies in this article may argue otherwise). With several quaint bistros and cafes to choose from, you really are spoiled for choice but we opted for a local establishment that was selling maple syrup taffy outside and with crowds surrounding this it suggested this was a popular option.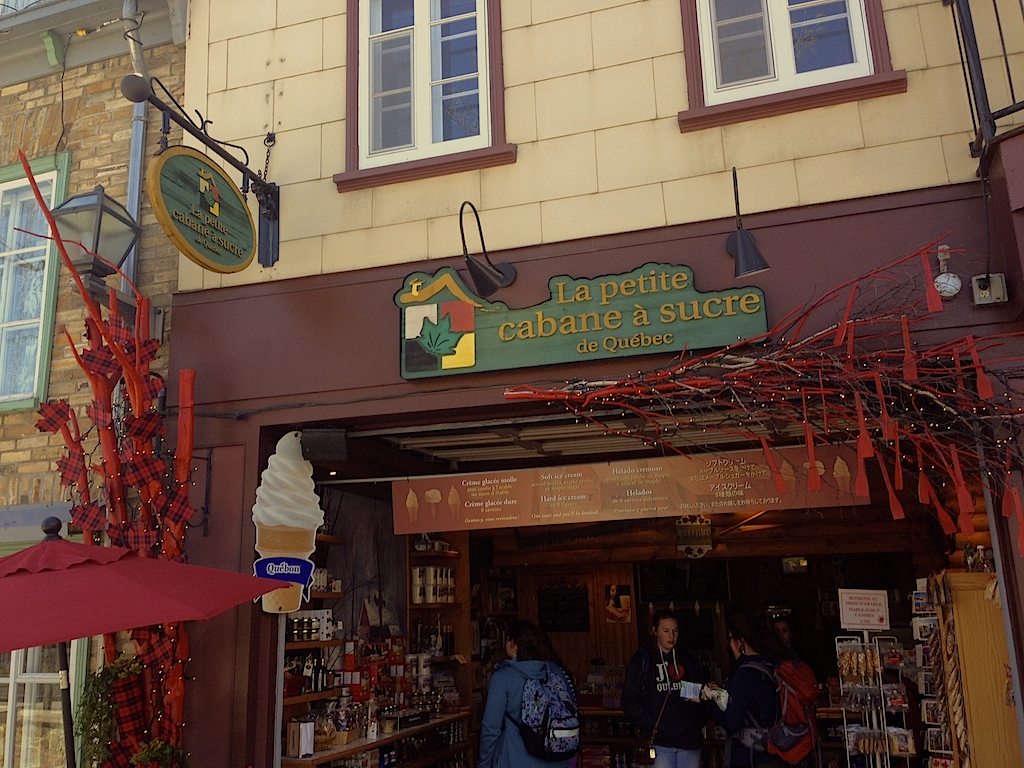 Although our ice creams were a little expensive at $5 each (Canadian Dollars), they really were a treat with the maple syrup and ice cream combination working like a treat. There is nothing better than grabbing a maple syrup ice cream and then wandering around the idyllic gift shops scattered alog the Rue de Petit-Champlain.
Maple Syrup Doughnuts
What is it about Canada and their love for maple syrup? Well, after spending a few days there you will soon realize what all the fuss is about. Maple syrup really goes well with a variety of dessert options, none more so than the delectable doughnuts that are available from various establishments. Our favorite has to be Tim Horton's simply because our experiences there have always been nothing but positive. During our trip to Toronto and Niagara Falls last year, we sampled Tim Horton's for the first time and I think from that moment we fell in love with this place.
Visiting Quebec City was no different and Tim Horton's is a great spot to visit for breakfast if you want either a Triple Berry Explosion muffin or particularly a maple syrup doughnut, freshly baked that morning.
Summary
There you have 4 Canadian delicacies that I strongly recommend you should try at least once in your life. Each one is very different and many will say they have a unique taste unlike anything else.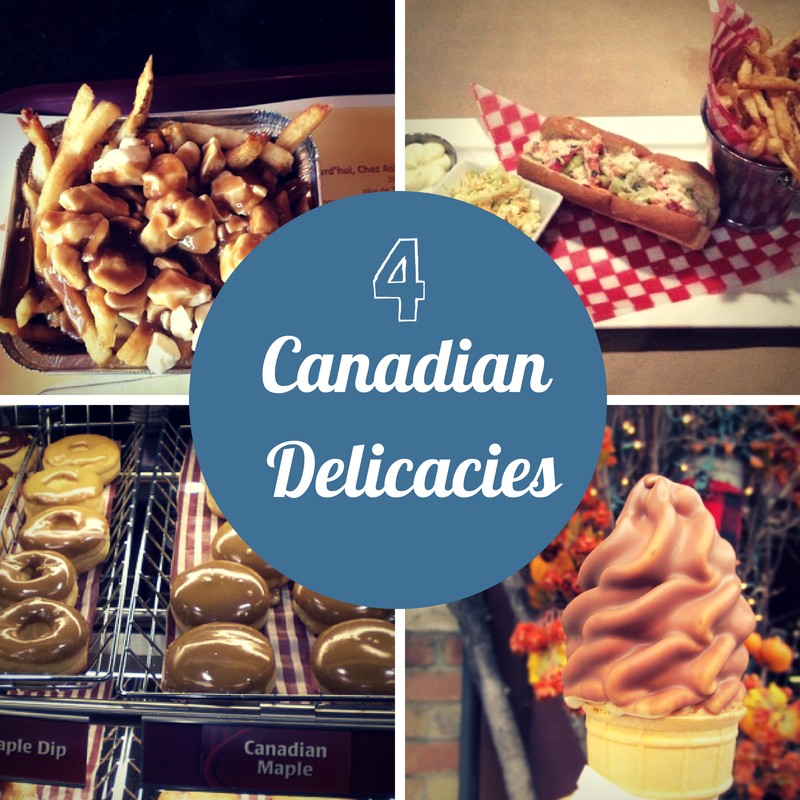 What have you sampled in Canada that you would classify as a delicacy that you may struggle to find anywhere else?