Let's start with a simple question – how many of you reading this post have visited the historic city of Bath, England? Chances are if you are from England you probably have visited this city at least once in your lifetime but if you are from anywhere else in the world, you may not have been as fortunate yet to experience this beautiful Roman city!
Well, what are you waiting for? Don't wait any longer! After reading this post, you will be itching to catch the next plane to London Heathrow and then hop on the M4 or the train across to Bath, England.
I would like to share with you my 5 inspiring reasons to visit Bath. There are many, many more but after our last trip there I really feel obliged to share our experiences and inspire you to check out this amazing English city that probably fails to receive the attention it richly deserves.
Roman Baths
Ok, sorry folks but I had to start with the most obvious and probably what Bath is stereotypically famous for around the world – the Roman Baths! People that do visit Bath generally flock from around the world to experience the healing, relaxing waters found in these Roman Baths. You can bathe in the natural thermal waters that were discovered by the Celts and Romans over 2000 years ago. There are a variety of packages available dependent on how much pampering you really want.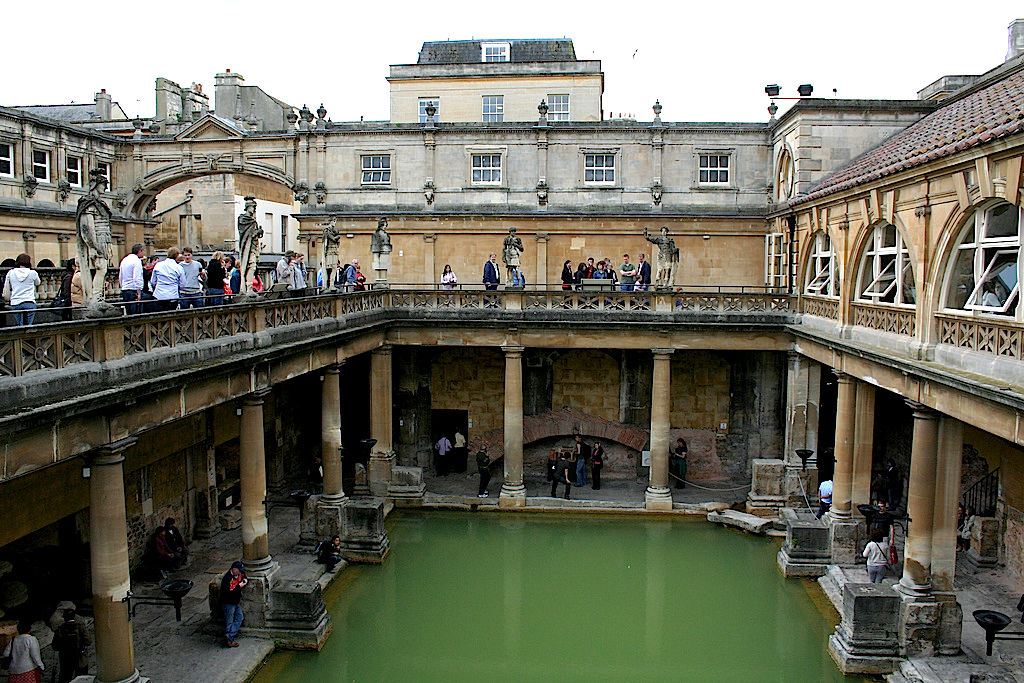 The Roman Baths building was voted the most romantic building throughout the UK in 2013 and combined with the Temple of Aqua Sulis Minerva, they are certainly among the finest ancient architectural designs/remains left throughout the country.
For £66.00 per person, you can experience the Spas Ancient and Modern Special Package. I would highly recommend taking this option given that it includes a 2 hour thermal relaxation session in the baths, a full tour around the Roman Baths and a 3 course lunch or champagne tea (your preference) in the Pump Room.
Even standing outside the entrance to the Roman Baths building, it's relaxing to just sit and watch as people go about their daily lives passing through this iconic courtyard or consider heading into what many feel is a life-changing few moments of relaxation!
Guided Walking Tour
Just like many other leading tourist locations around England, Bath is a great city to just get out and walk around both inside the city limits and also outside in the nearby rural countryside.
Why not sample some of Bath's gorgeous rolling hills and winding canal paths by taking a guided walking tour that lasts around 2 hours and covers just over 2 miles of gorgeous scenery!
This is a perfect way to learn about Bath's steeped history along with catching a glimpse of some mainstream attractions such as Jane Austen's house and the gardens she walked in. If you would like to mingle with other tourists and locals alike, for just £7.50 each you can take a guided tour around Bath. However, if you would prefer to be taken on a privately guided tour, that option is also available for a slightly higher cost.
The Royal Crescent
The Royal Crescent is a row of 30 terraced houses designed in the shape of a crescent and constructed in the mid-18th Century. Undoubtedly one of the most famous piece of Georgian architecture, this is a sight to behold and is certainly worth taking the time to at least see this spectacular design from the outside.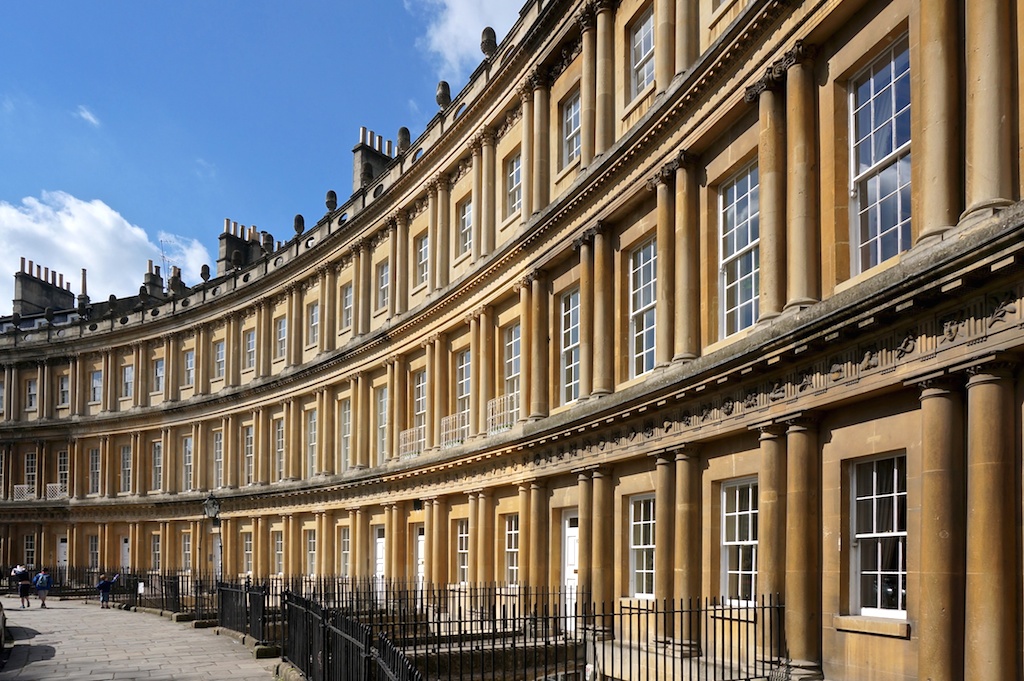 Number 1 Royal Crescent is a museum open to the public and owned/maintained by the Bath Preservation Trust. This is a great way to learn about Georgian heritage and the rooms inside the museum have been preserved and in some cases transformed to relay a direct correlation with Georgian living in the 18th Century.
Another of the terraced houses has been transformed into a hotel which is one of the more lucrative establishments in the Bath region. If you want to be treated like royalty whilst visiting Bath, I would highly recommend checking out The Royal Crescent Hotel.
Jane Austen Centre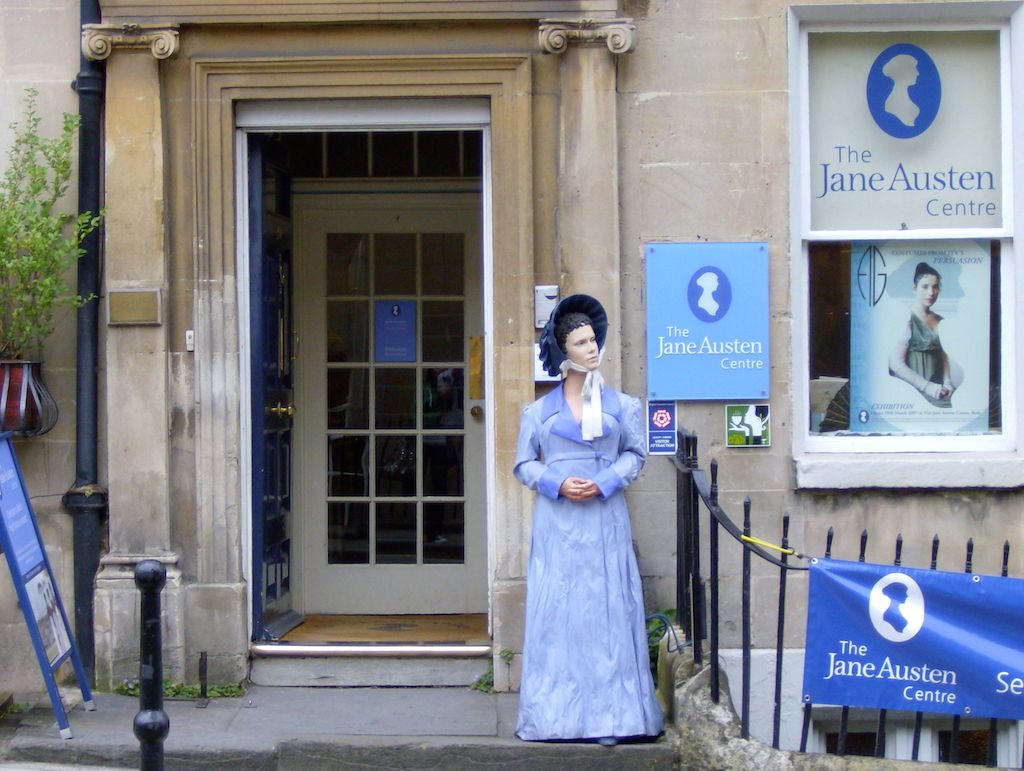 The Jane Austen Centre is located in the heart of Bath and is a permanent exhibition where you can learn about one of England's finest authors. It's a great way for visitors of all ages to learn more about Austen's life in Bath during the early part of the 19th Century, and how this part of England really had an impact on her writing style.
A favourite aspect for many visiting the Jane Austen Centre is the hands-on dressing up activities that allow visitors the opportunity to get fitted out with regalia from Austen's era. It's a great way to have some fun filled action whilst at the same time learn about the cultural differences between now and then.
Admission prices are just £8.00 for adults and discounted rates for seniors and children.
Bath Abbey
If none of the previous reasons are inspiration for you to visit bath, you could always just marvel at the stunning architectural design of Bath Abbey whilst wandering around the downtown streets of Bath and along the banks of the River Avon.
The Abbey Church of Saint Peter and Saint Paul, commonly known as Bath Abbey, dates back to the 7th Century so clearly this is part of Bath that is filled with an abundance of history. Today, this is still a fully functioning place of worship and both tourists and locals alike are welcome to visit here at any time during visitor opening hours.
Even though we didn't go inside the Abbey, just standing outside and looking in awe at this magnificent design was worthy enough of our time!