Many of you that have followed us for the last 18 months will know that much of our travel is done over the weekend or long weekend breaks, hence how we frequently coin the phrase 'Weekend Getaways'. We really want to focus our attention on the so-called 'Weekend Traveler' who has a full-time job during the week but loves to experience the world whenever time permits.
Life as a part-time or weekend traveler as we will refer from now on is very different to someone who is fortunate to be able to travel for a living or nomadically moves around the world. As a weekend traveler, we don't have the freedom to spend days or weeks in a specific location, rather we have to concentrate on experiencing a location in just a few days or in some cases hours!
BUT….after reading this post we will have shared with you 5 tips that will help you make the most of any weekend getaway that you take. Follow these simple principles and you can have as much fun as someone who spends weeks there.
Plan
Spontaneity is such a wonderful concept to follow when you are traveling but when taking a weekend getaways it is imperative that you 'PLAN' effectively and efficiently prior to the trip. Ask yourself a series of questions. What do you want to achieve when you are in location x? How are you going to get around the location? Where do you plan on staying while in the area?
Once you have answers to these questions, start planning your trip. Book your flights, book your hotel, book your rental car if this is you desired method of transportation! All of these will allow you to have a solid framework in place prior to traveling and everything else can fit in between.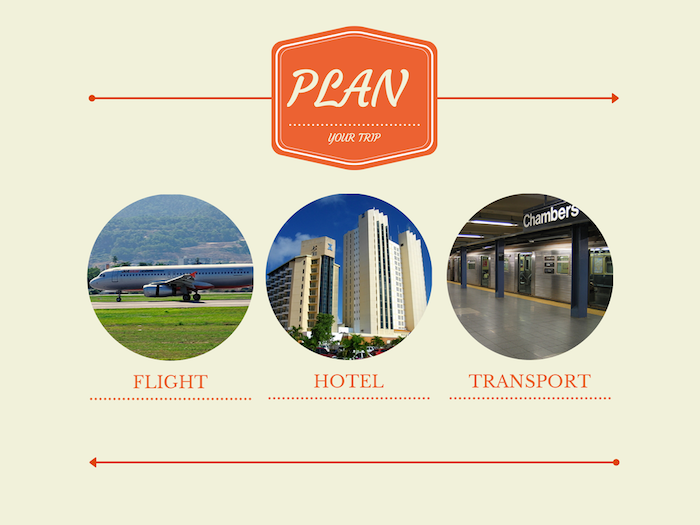 Establish the type of trip you are taking. Have you visited this spot before? If not, are you interested solely in seeing the main attractions or are more about visiting 'off the beaten path' landmarks? Are you taking the trip for a specific reason?
A lot of our weekend getaways tend to be sport related (yes, I am a huge sport follower and love visiting live sporting events) so whenever we plan our trip we likely look to see which sports teams or events are taking place in the region and plan the rest of our trip around that.
Maximize
Determine exactly how much time you will have in a location and ensure that you 'MAXIMIZE' your time while you are there. If you fly out on Friday evening and then return Sunday evening, the likelihood is that you want to do the majority of your exploring on Saturday.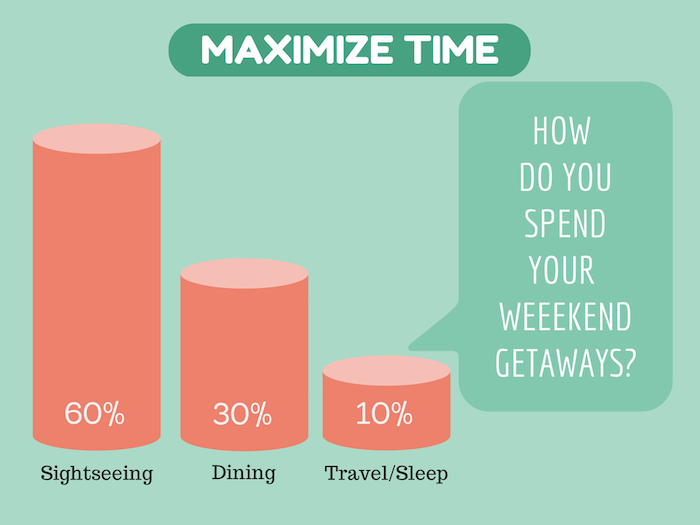 You may be fortunate to have some time on Friday evening but you also want to maximize your time on Sunday prior to flying home. All too often we see people that have a flight on Sunday think they don't have sufficient time to do anything that day. By all means leave enough time to get to the airport without panicking, but be an early-riser and enjoy the time you have.
I want to emphasize the importance of getting up early when you take a weekend getaway. Let's be honest, you will have time to sleep and recover when you get home or during weekends you don't travel anywhere. The earlier you can get out and about, the more time you will have to cherish your experiences.
Focus
Taking a weekend getaway is all about 'FOCUS!' Focus on achieving everything you want to see and experience in the location. Focus on managing your time effectively. Most importantly though, focus on having fun because as a weekend traveler you have to appreciate your time in a spot is limited.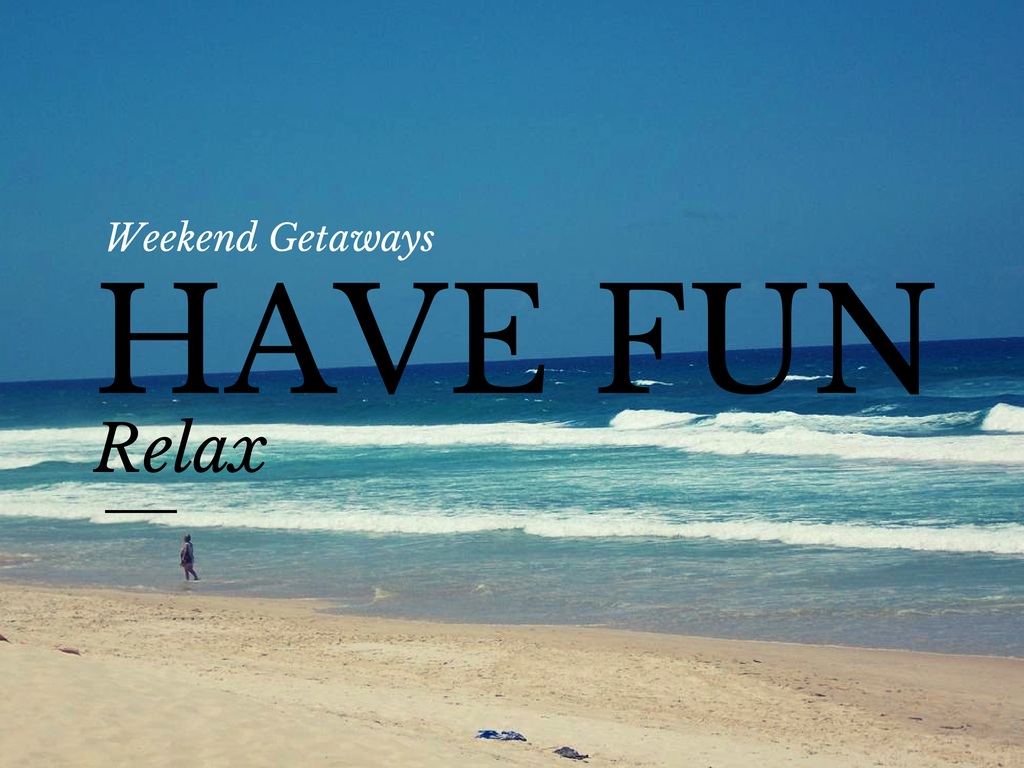 One thought that I always carry with me though when I travel somewhere for a weekend getaway is that even though I may only be there for a couple of days, I tell myself that we can always return here again if we enjoy it!
Immerse
Cultural Immersion has become a familiar topic in the travel domain in recent years. Why? Well, the reality is that in order to fully appreciate a destination you have to allow yourself to be immersed in the local culture. You may be asking, how can you do this if you are only visiting for one or two days? The answer is simple, 'IMMERSE' yourself the way you want to! Only you can determine what you define as culutral immersion.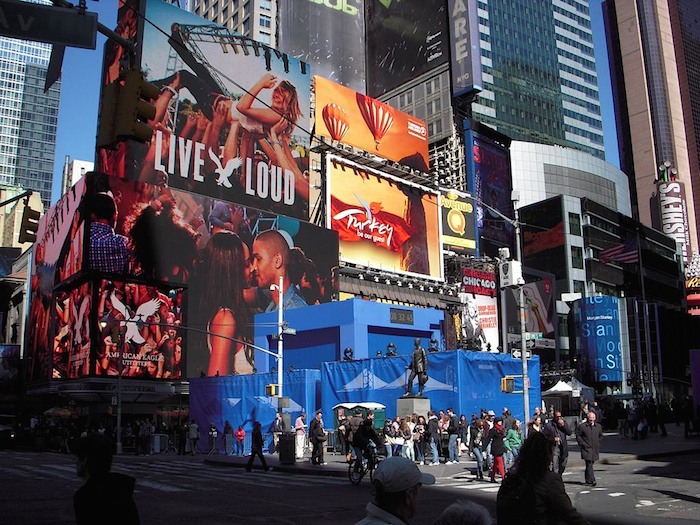 Whether this involves sampling a backstreet restaurant for the best local cuisine or simply taking a walk around the city through back alleys, you have the opportunity to decide how you immerse yourself in the location. That is one of the ultimate beauties of traveling, there is no right or wrong way of doing things, it's all about personal preference.
Reflect
So you have just taken a trip somewhere for a weekend getaway and then you return home and consider the whirlwind weekend you just experienced! 'REFLECT' on the positives but also consider some things you would do differently the next time you take a trip. Would you be better opting for a different hotel location? Did you choice of transportation make it more difficult to see everything on your list of attractions?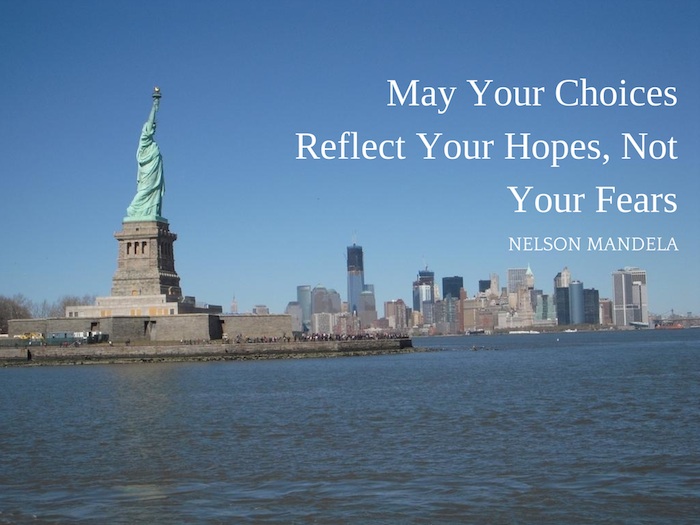 Reflection is a great way to achieve more positive outcomes on future trips. As I indicated with my recommendation on immersing yourself in a society, only you can determine the success factors from your trip. Everyone is different and we all have different expectation levels.
Summary
So there you have the 5 key words to maximize your next weekend getaway! Plan, Maximize, Focus, Immerse and Reflect are the keys to success in my opinion. I am sure there are other correlations that you could use but in essence, traveling on a weekend getaway can be just as rewarding as a longer trip.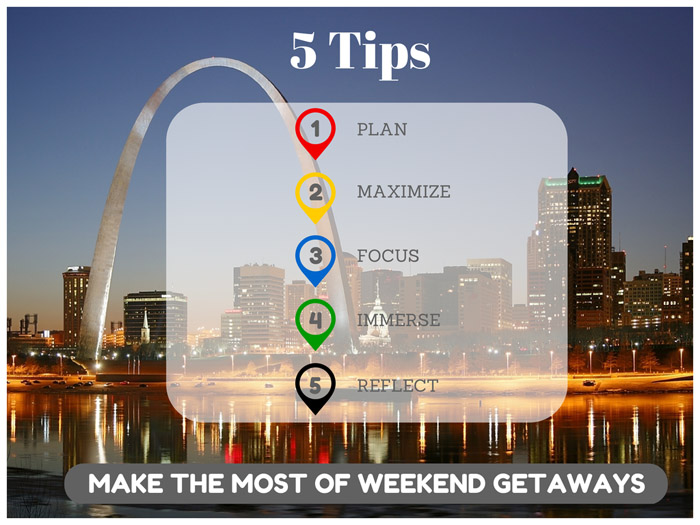 Our love for traveling the world has only increased since we started taking more weekend getaways. Our horizons have broadened as we have realized just how much you can see in a short time. Of course it's tiring when you take long trips over a couple of days and then return to work on Monday morning but honestly that's all part of the experience.
As our tagline of our website suggests 'Explore the world one weekend at a time' – try it out, you never know just how much you may enjoy it!
What are your top tips to help part-travelers enhance their experience?