Is there any better way to see all of the hidden gems of Paris than by taking a bike tour of this iconic city? Are you planning on taking a trip to the wonderful Parisienne arrondissements in the near future?
Thanks to Fat Tire Bike Tours, we are delighted to offer a fantastic giveaway today offering two people the opportunity to explore Paris by bike!

Imagine riding around the Paris landscape in style on your two-wheeled companion, taking in the architectural wonders of the Arc de Triomphe, Eiffel Tower and Champs Elysees along the way. Fat Tire Bike Tours – Paris offer both day and night tours and people that have taken these tours have nothing but positive experiences to share!
So what are you waiting for? Enter our giveaway at the bottom of this page for a chance to explore everything Paris has to offer for FREE!
Fat Tire Bike Tours Grand Prize Giveaway
Fat Tire Bike Tours – Paris is also offering a once in a lifetime opportunity to win a Grand Prize of a Free Trip to Paris for two! The Grand Prize package, includes airfare for two, a five night stay at the Fat Tire Flat, and an unlimited amount of exciting tours of Paris for two from all Fat Tire Bike Tours, Easy Pass Tours, City Segway Tours and Classic Walks of Paris selections.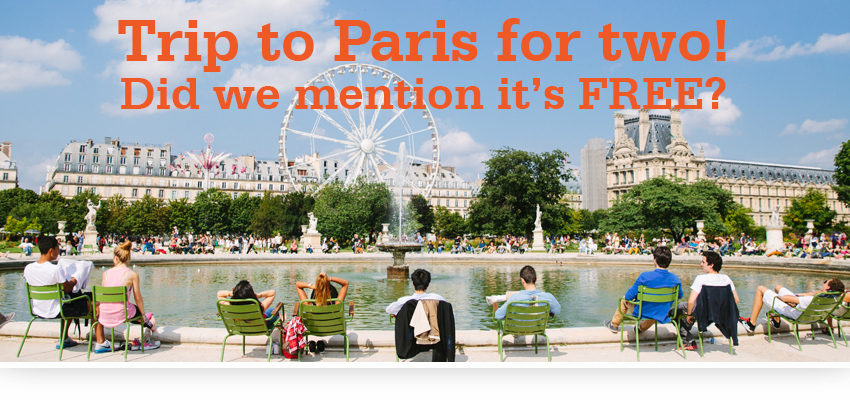 For more details on this opportunity, please click here and don't forget to enter. THE DEADLINE FOR THIS GRAND PRIZE GIVEAWAY IS AUGUST 31ST, 2014. 
WIN 2 Paris Day Bike Tour Passes
Enter below for a chance to win 2 FREE Paris Day Bike Tour passes!! We are honored to be partnering with Fat Bike Tours – Paris to offer this great opportunity to our followers.
After visiting Paris last year, we can attest to the fact that anyone visiting Paris for the first time will have a great time there. However, we are certainly envious of the winner of this great giveaway as they will be seeing Paris in whole different light!
THE DEADLINE FOR THIS GIVEAWAY IS AUGUST 31ST, 2014.