After visiting Chicago in 2012 for the Ryder Cup and only have a little time to explore downtown, we decided that a great way to spend a weekend getaway was to revisit the Windy City. Despite wanting to explore Chicago, we also wanted to take a trip around Lake Michigan, through Indiana and into the state of Michigan as this was another of our states that we had yet to visit.
However, the highlight of this trip had to be our walking tour of downtown Chicago which allowed us to really experience true Chicago and see some of the key landmarks and highlights of this city.
Navy Pier
Driving back from Michigan, we arrived in downtown Chicago around 1:30PM. On a gorgeous Saturday afternoon this is always going to be one of the negative aspects of driving a rental car because parking is either expensive or difficult to find.
We decided to park in the Navy Pier Parking Garage which for $25 was expensive but at least it gives you the freedom of leaving your vehicle there all day. Chicago's Navy Pier is similar to Pier 39 in San Francisco and is a real hub for entertainment and dining options. Unfortunately, the Pier is currently undergoing renovations although you are still able to explore the Pier.
The Navy Pier is a great place to look back on the impressive Chicago skyline and take some memorable pictures. You can also take various cruises that go out around Lake Michigan from this location and the River Architecture tour is highly recommended by many though we opted to walk around instead.
There are numerous restaurants and a great food court to choose from at the Navy Pier and we opted for Carnelli's Deli for lunch. We would highly recommend this to anyone who wants a lighter option but still has a Chicago style feel to it.
Walking Tour – Downtown Chicago
One of the great aspects of Chicago's downtown area is that you can wander around for hours seeing a variety of different landmarks and genius architectural designs. The image below shows a snapshot of the route we took from Navy Pier as we decided to create our very own 'Chicago Walking Tour'.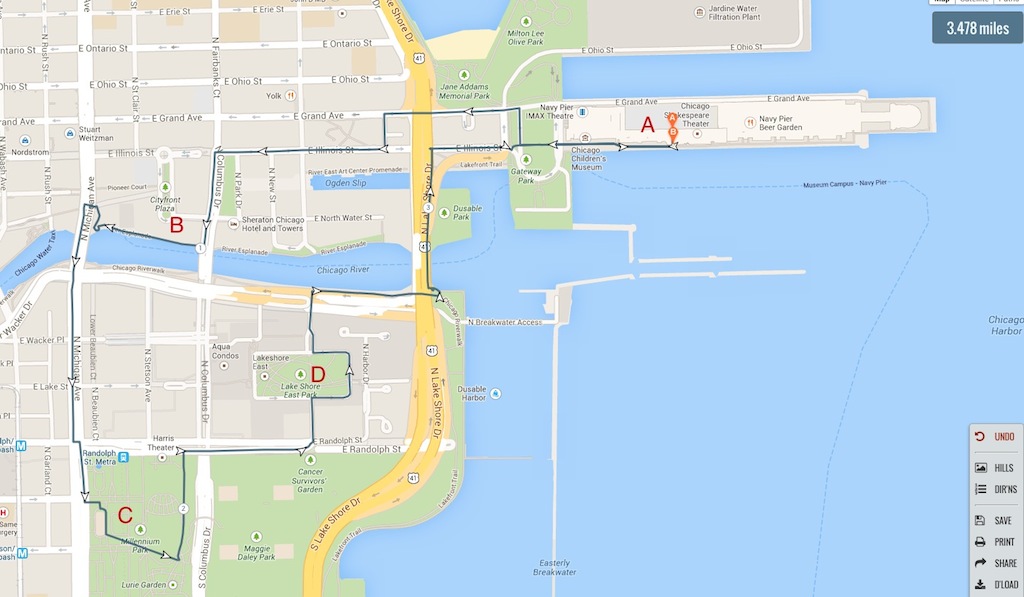 I have highlighted a few of the key spots along the way but this route was a little over 3 miles and well worth taking the time to do. Along this route you will see Chicago's skyline up close with a variety of beautifully designed skyscrapers but there is so much more to Chicago's downtown area that just high-rise buildings.
Walking Tour Key
A – NAVY PIER
As I have already mentioned the Navy Pier is home to various restaurants including Bubba Gump's, Jimmy Buffet's Margaritaville among others.
B – CENTENNIAL FOUNTAIN AND RIVERFRONT
The Centennial Fountain is a great spot to just go and relax along the river. Throughout the day, the fountain shoots into the river providing a spectacular display for onlookers.
You can sit and take in the beautiful architecture with some of Chicago's high-class hotels located on this part of the Riverfront. We spent quite a bit of time here, buying an ice cream from a van parked on the side of the street and just relaxing in the late afternoon Chicago sun!
C – MILLENNIUM PARK
Millenium Park is a real hub for tourists and locals alike who want to just relax, work out or check out some of the key landmarks within this park. Home to the Cloud Gate Sculpture and Pritzker Pavilion, this is a really great part of the city worth exploring.
D – LAKE SHORE PARK
As we headed back to the Navy Pier, we came across another gorgeous little park in the heart of Chicago – the Lake Shore Park. This is a great spot for people to walk their dogs or take their children on the play area.
Full credit must be given for the upkeep of this park as tulips and other floral arrangements were neatly maintained in this park.
Summary
Of course we didn't see everything there is to explore in downtown Chicago but this is a really good walking tour if you are interested in seeing all of the key landmarks on foot.
Aside from the fact taking a personal walking tour is free, unlike the architectural river cruise or lake cruise, you will certainly burn some calories which won't hurt you after sampling some of Chicago's finest cuisine.