New York City is home to a plethora of amazing attractions, iconic structures, delicious restaurants and awesome local coffee shops. In fact, the Big Apple pretty much has a coffee shop on every street corner, such is the demand for the best Cup of Joe across the city by locals and visitors alike. While it's near impossible to put together a list of all coffee shops across Manhattan, each time we visit we want to take time to focus on one of the many neighborhoods across the city. One of our favorite neighborhoods is the Chelsea area, so what better place to start than by visiting the best coffee shops in Chelsea!
We have been fortunate to experience a small number of these coffee shops during our visits to New York City, and while we initially put together a collection of the best coffee in New York City (in an attempt to cover all of Manhattan), we quickly realized we needed to focus our attention on more specific locations given the abundance of coffee shops across the city.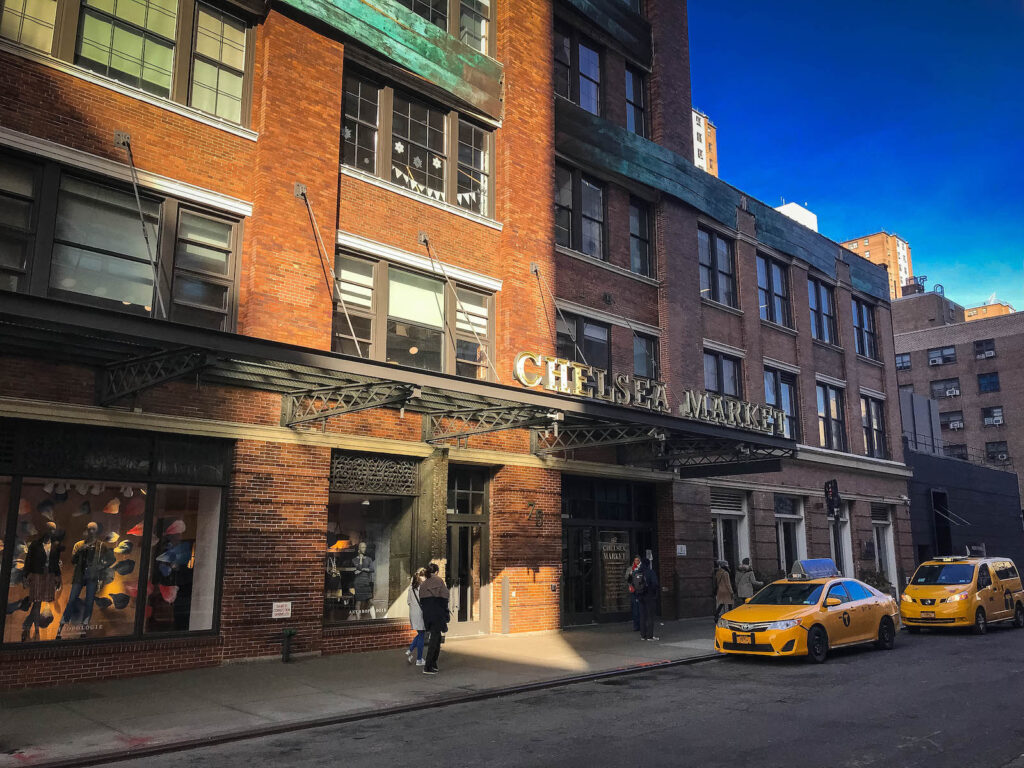 Best Coffee Shops in Chelsea
Whether you are inspired by the trendy, vibrant coffee shop atmosphere so you can relax with your favorite book, or perhaps you are looking to catch up on some work while indulging in your favorite espresso, there are plenty of options throughout the Chelsea neighborhood. Here are some of our favorites that we recommend checking out.
Coffee Project New York
Yanni's Coffee
787 Coffee
Kona Coffee and Company
Think Coffee
St. Kilda Coffee
Telegraphe Cafe
Terremoto Coffee Room
Let's take a look at some of these favorite spots in the Chelsea neighborhood and perhaps you will be inspired to visit some of these during your next visit to the Big Apple.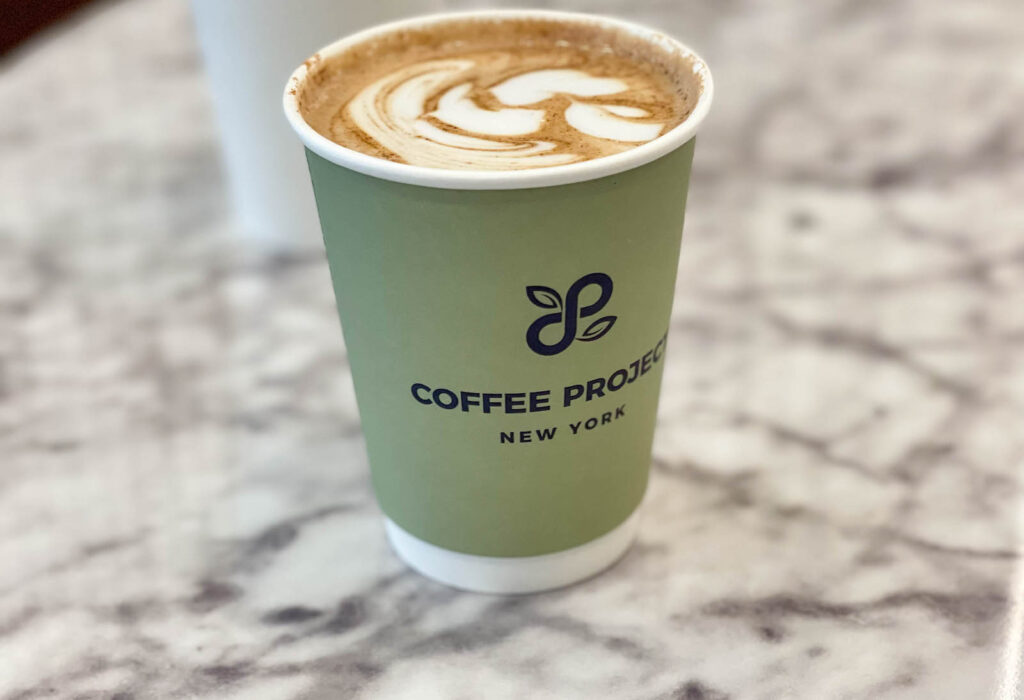 Coffee Project New York
Coffee Project New York was founded in 2015 by Chi Sum Ngai and her partner Kaleena Teoh to share their passion for coffee with the city's East Village neighborhood.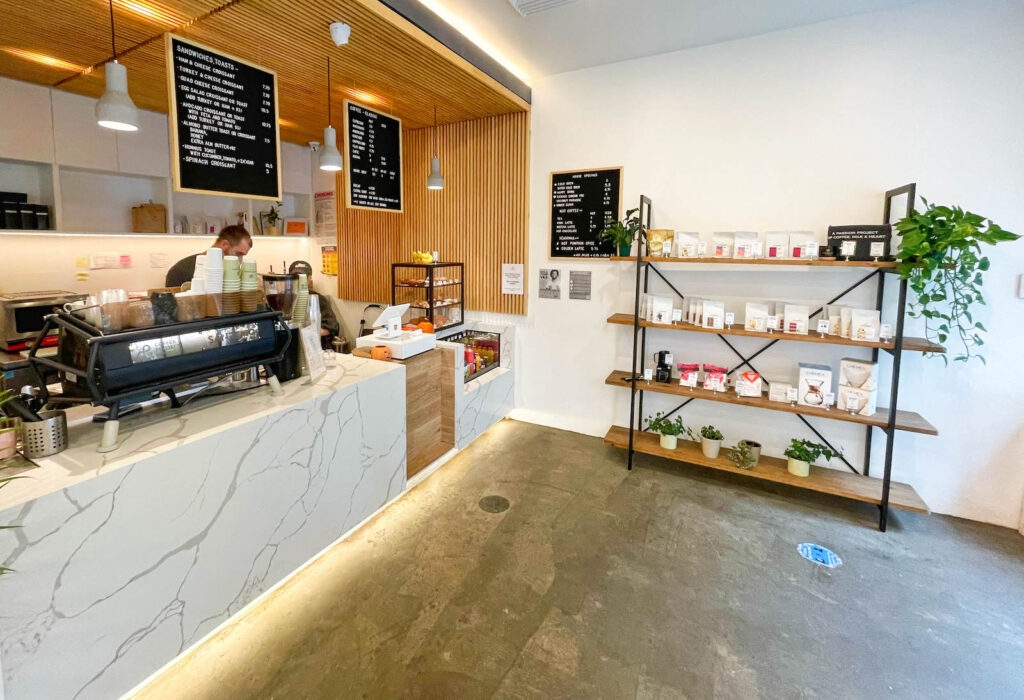 However, their entry into New York's coffee shop industry didn't stop with this location and they have since expanded into the Chelsea neighborhood (among others) and offer a welcoming atmosphere in their shop located on 7th Avenue.
A Passion Project of Coffee, Milk and Heart.

Coffee Project New York
It is certainly inspiring to hear that Ngai and Teoh's mission as a coffee roaster is to improve the quality of life for every person in the supply chain, from producers to consumers. After visiting the location in the Chelsea neighborhood, we can 100% attest that the customer service, ambience throughout the coffee shop, and of course, the beverages available are all reflective of the high standards expected by the co-founders.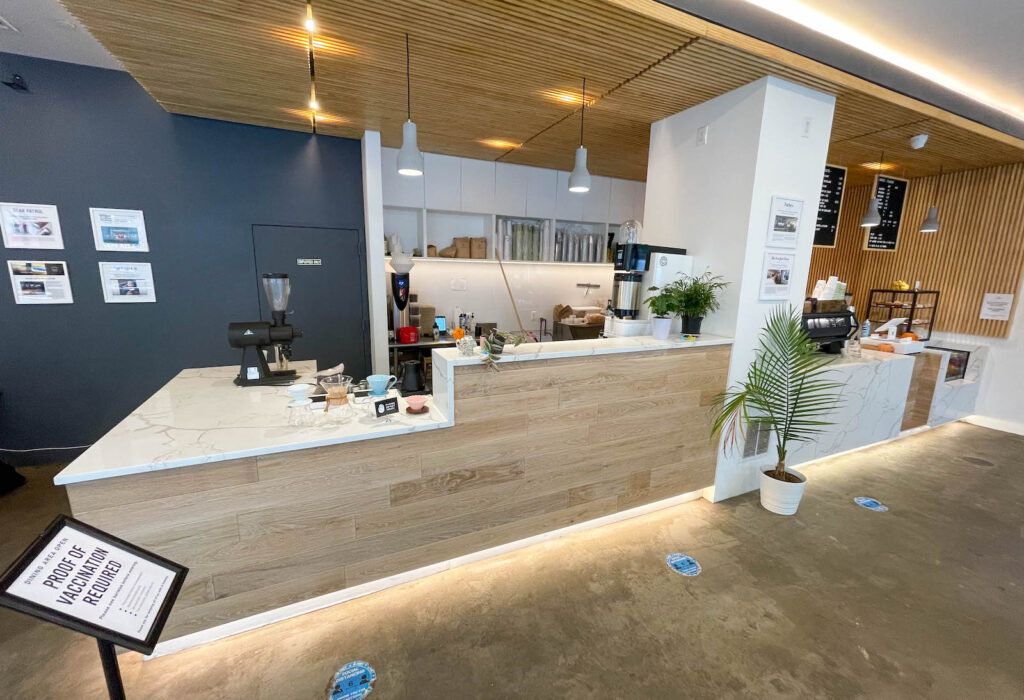 We visited during the fall season and sampled the "Not Pumpkin Spice Latte" and it was delicious, and definitely a great way to warm up during the colder temperatures. However, the selection available ranging from House Drip to stereotypical espresso options make this the perfect place to stop if you want to enjoy some of the best coffee in the neighborhood.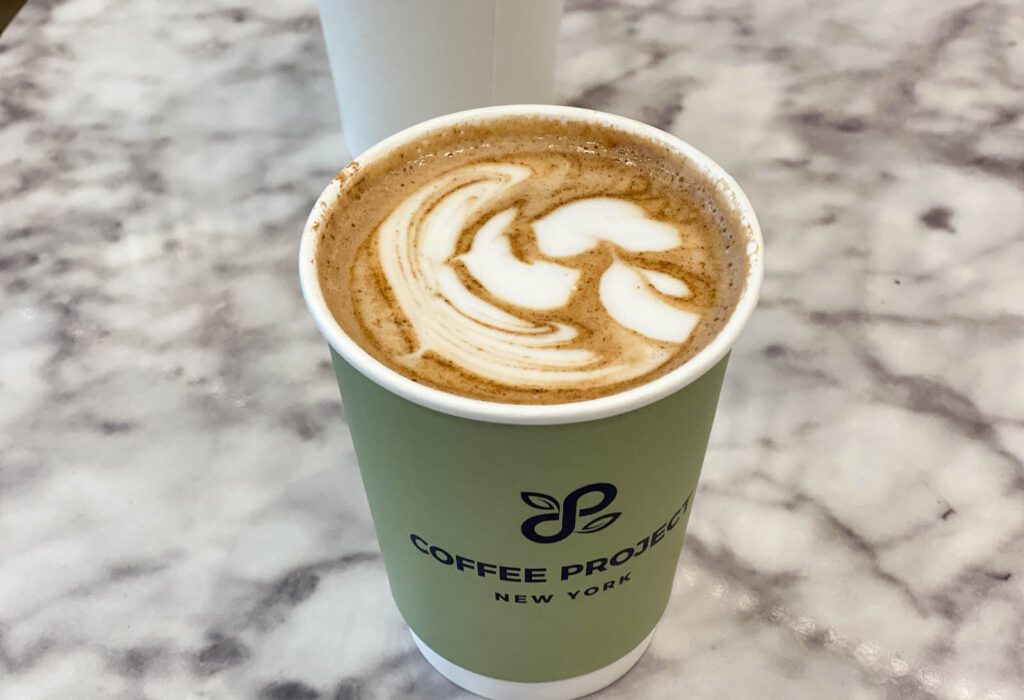 CHELSEA | MANHATTAN
Coffee Project NY
155 7th Ave
New York NY 10011
Phone: (917) 388-3399
Yanni's Coffee
One of the best locally owned coffee shops in the heart of Chelsea is Yanni's Coffee. Located along 7th Avenue, Yanni's Coffee is proud to serve only the finest single origin coffee & tea to locals and visitors alike. When you step inside the small yet quaint coffee shop, you are greeted by the friendly baristas who are focused solely on delivering an excellent experience to everyone that walks through their doors.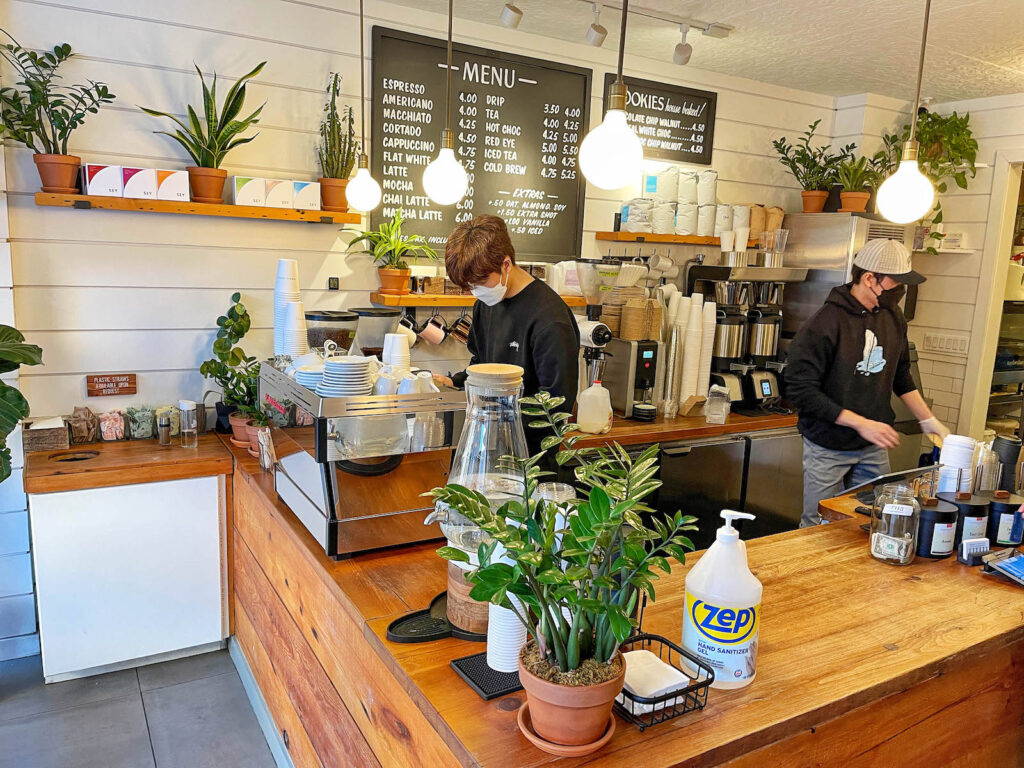 The interior of the coffee shop has a very airy feel to it (I couldn't decide whether it felt like a Japanese or European design, but when I found out that Yanni's Coffee originated from a Greek inspired founder, Ioannis Blentzas, it definitely made perfect sense), with modern decor and ample plant life to provide the perfect atmosphere for guests awaiting their perfectly manicured espresso.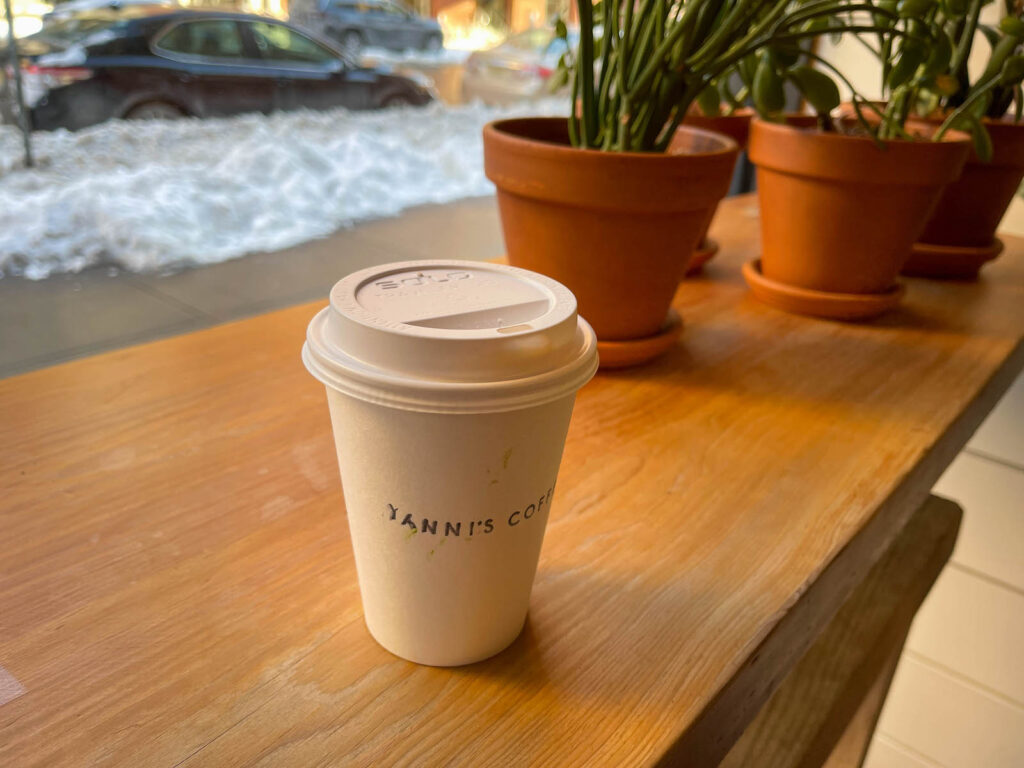 Whether you are tempted by one of Yanni's signature drinks, or perhaps prefer to stick to a Flat White or Latte, you can be sure that you will be leaving with a well-crafted drink.
Don't forget to sample one of the home-cooked cookies – the oatmeal white chocolate is an excellent choice, while the traditional chocolate chip cookie looked equally appetizing. The relaxed vibe of Yanni's Coffee, combined with the homemade sweet treats and carefully concocted beverages create the perfect coffee shop experience and definitely is one of our favorites not only in Chelsea, but across anywhere in New York City!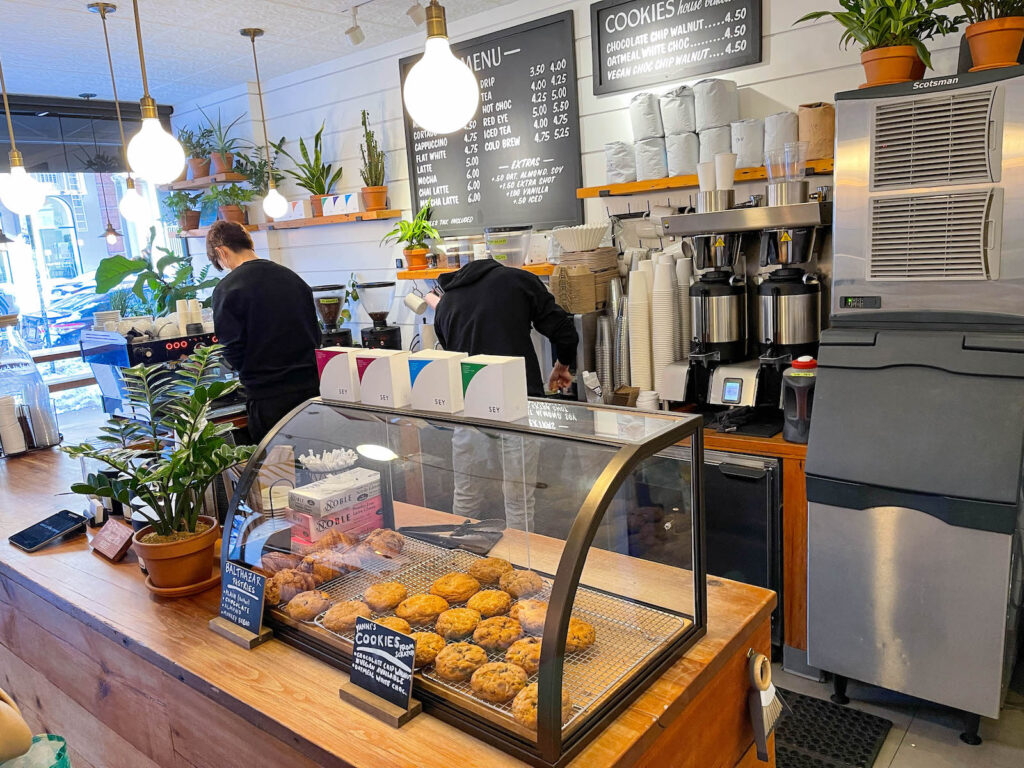 YANNI'S COFFEE
96 7th Ave
New York NY 10011
Phone: (646) 833-7333
787 Coffee
If you are looking for a little international flavor in your espresso, look no further than the vibrant 787 Coffee Shop that has roots (or coffee beans) all the way from the mountains of Puerto Rico. Visitors to this trendy coffee shop can learn all about the history of the roasting process at 787 Coffee, starting with the planting in Puerto Rico to the meticulous handcrafted serving by the local baristas in the Chelsea neighborhood.
From the mountains of our coffee farm in Puerto Rico to YOUR door.

787 Coffee
I spent a few minutes talking to the local barista about his opinion on preparing the "perfect" handcrafted beverage, and he emphasized that while there are important steps a barista takes, the real cup of coffee is created through the whole process starting with those coffee beans planted in Puerto Rico. It's only when you hear about such a detailed process that you realize there is so much more to know than what you can see in the local coffee shop.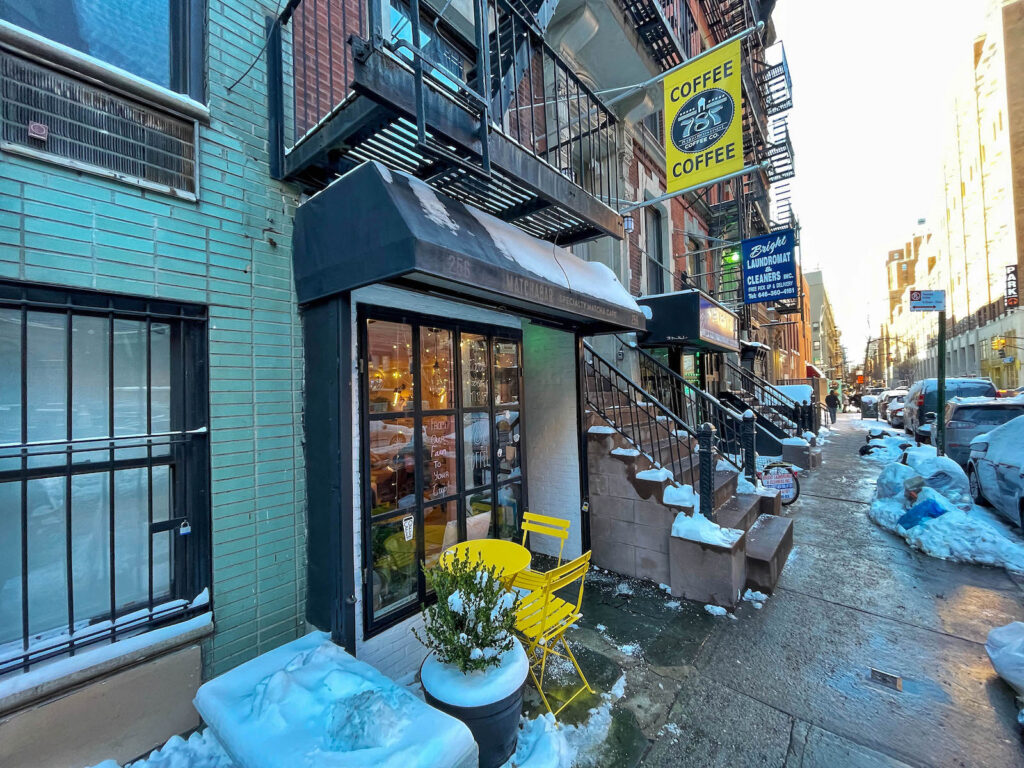 787 Coffee epitomizes the "From Farm to Cup Coffee" experience and so, if you are looking to sample the freshest coffee in New York City, you certainly won't find many more fresher than what is available at this coffee shop. When you think about local coffee shops, 787 Coffee definitely meets the definition of this as they completely bypass the middle-man (the distributor) and grow their own beans on their farm on the mountainous slopes of Maricao, Puerto Rico.
787 COFFEE
256 W 15th St
New York NY 10011
Phone: (773) 797-2118
Kona Coffee and Company
Ready to sample stereotypical Hawaiian coffee in the Chelsea neighborhood? Head over to Kona Coffee and Company which is the only coffee shop that brings Hawaii's premium Kona coffee to New York City.
Established in 2017 and located on the corner of West 21st Street and 7th Avenue, Kona Coffee and Company was founded by Hawaiian native, Tae Kim. Kim arrived in the Big Apple and missed not only the island of Oahu, but also the coffee that he had been brought up with all his life prior to moving to New York. Kona Coffee and Company was founded with the philosophy that a great cafe is not just a place to enjoy your favorite beverage, but also "a space where New Yorkers from all walks of life can connect and unwind from their busy lives with a cup of coffee."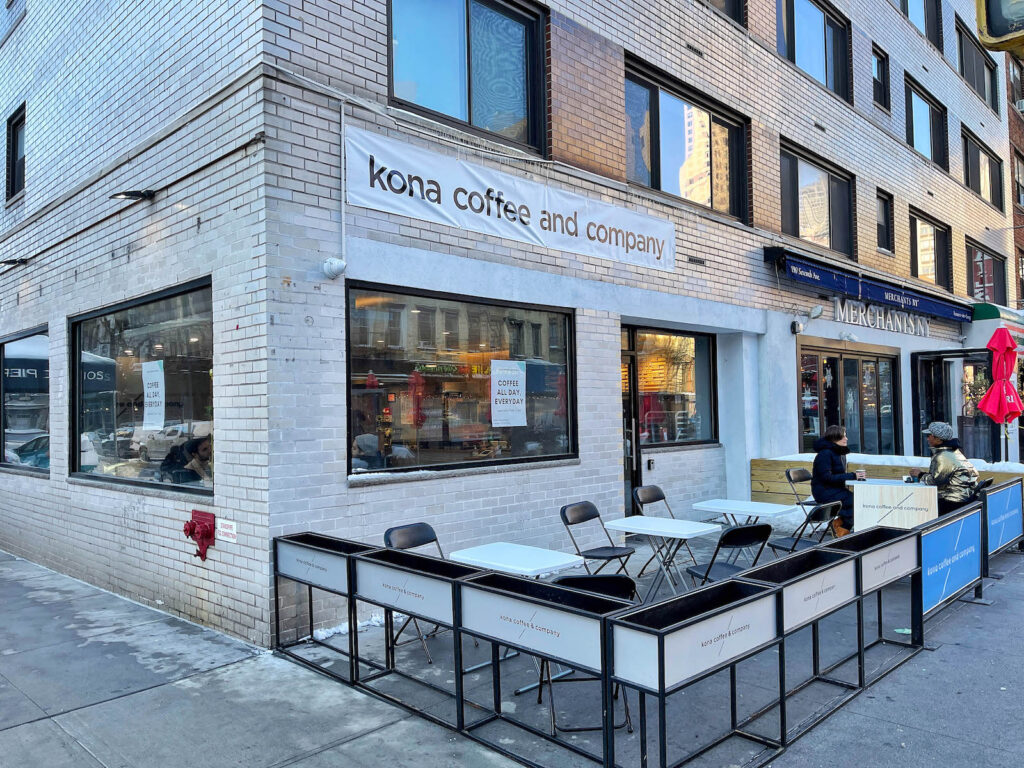 Similar to 787 Coffee where the local coffee shop experience is the focal point, Kona Coffee eliminates the middle man distributor and is proud to offer visitors the opportunity to sample fresh espresso beverages from the coffee beans cultivated on the slopes of Mauna Loa and Hualalai.
In terms of the interior of Kona Coffee and Company, visitors will enjoy a space that epitomizes a peaceful environment where everyone can relax and enjoy their drink in comfortable surroundings. The open space feel along with the relaxing vibes create the perfect ambience for guests to get away from the stereotypical hustle and bustle of 24/7 New York City life!
KONA COFFEE AND COMPANY
201 W 21st St
New York NY 10011
Phone: (917) 522-6120
Think Coffee
It is refreshing to know that there are a plethora of local businesses out there that are not only interested in creating a beneficial service for their customers, but also that they are giving back to local communities and global projects in need. Think Coffee in the heart of the Chelsea neighborhood epitomizes this and their philosophy is "every time you enjoy a cup of think coffee, you know you're making a difference."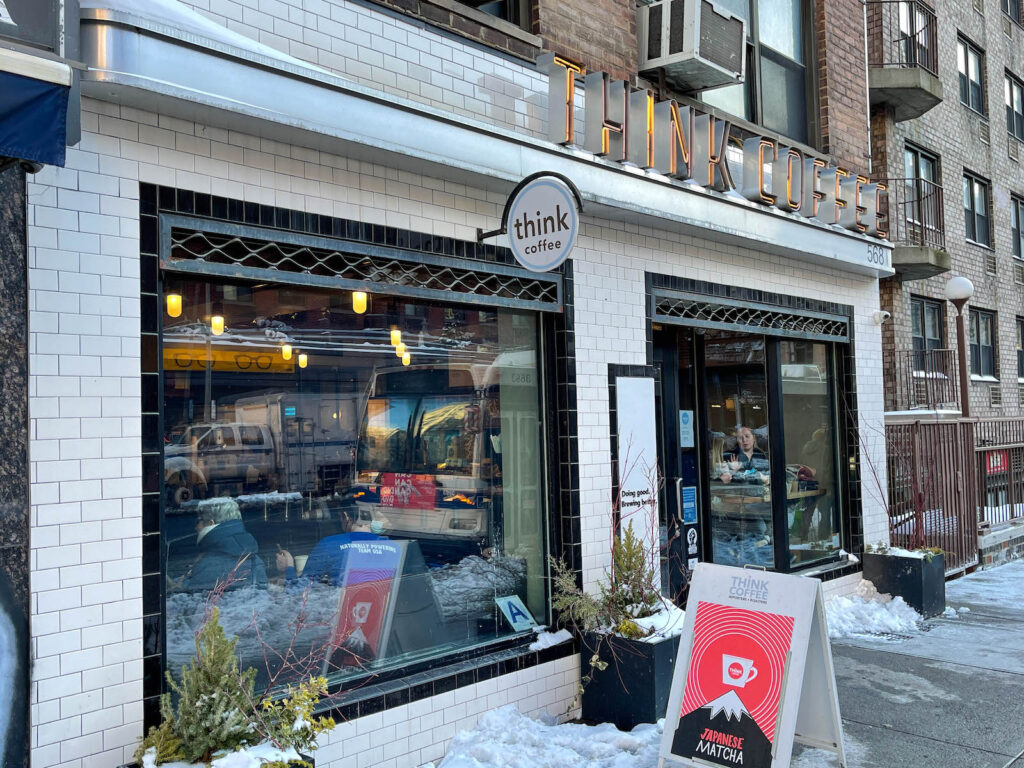 From menstrual activism in Ethiopia to clean water access in Nicaragua, among others, Think Coffee is proud to be part of these incredibly important projects to help others in need gain access to things we in the first world frequently take for granted.
With a number of local establishments scattered throughout New York City's neighborhoods, Think Coffee has a real footprint in the Big Apple to help promote these critical global projects to locals and visitors alike. The coffee shop in Chelsea has a spacious area for customers to enjoy their favorite beverage and the perfect vibe to setup and catch up on work.
THINK COFFEE
568 6th Avenue
New York NY 10011
St. Kilda Coffee
The eclectic nature of Chelsea's coffee shop scene continues with the Australian inspired St. Kilda Coffee located on 8th Avenue. Focused on delivering exceptionally curated coffee from around the globe, St. Kilda Coffee brews everything with precision, ensuring that guests leave knowing that they have sampled a perfectly manicured beverage regardless of their choice.
We nerd out on coffee. And hope you enjoy it! …drink it black and drink it bright.

St. Kilda Coffee
With a typical coffee menu to choose from (along with tea and hot cocoa for the non-coffee drinkers), visitors will have ample options along with a decadent collection of fresh pastries that are the perfect accompaniment to your preferred drink. Each day, visitors can learn about the specific coffee that is available that day, including the roaster, region, farm and what notes of flavor they can expect from that particular bean.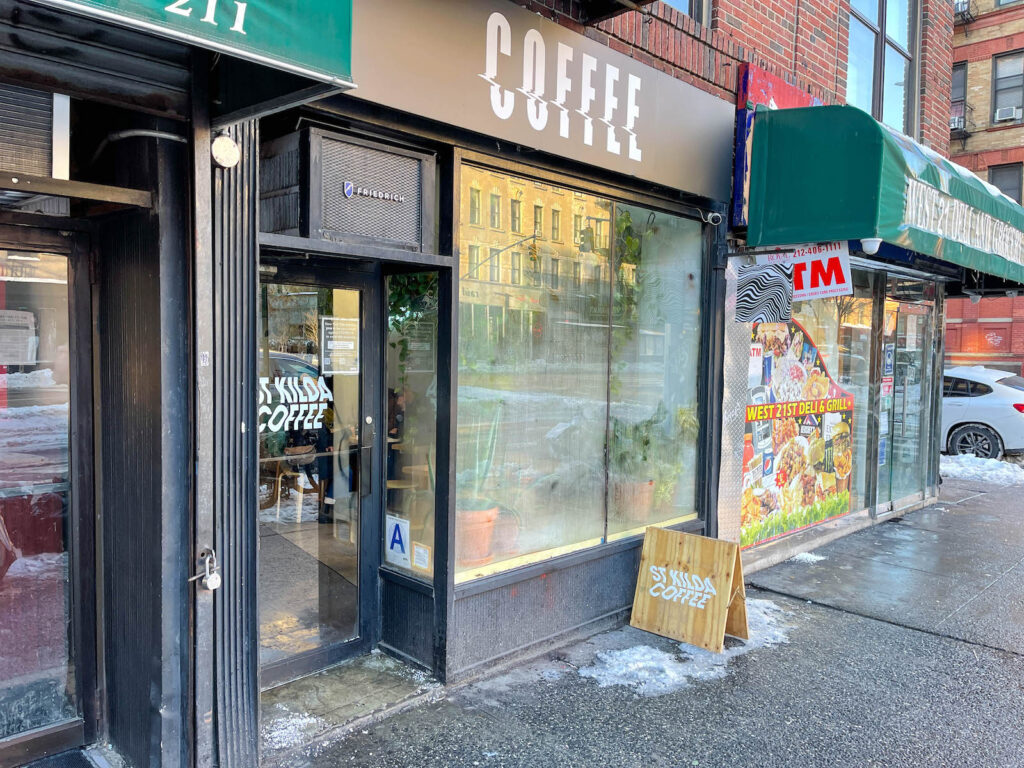 While St. Kilda Coffee is one of the smaller coffee shops, and perhaps not your chosen spot if you want to relax for a while, this is definitely a great spot to visit to grab a coffee and pastry to go to kickstart your day exploring the rest of New York City!
ST. KILDA COFFEE
213 8th Avenue
New York NY 10011
Phone: (646) 756-4660
Telegraphe Cafe
A post highlighting a variety of coffee shops in a neighborhood wouldn't be the same without including a French inspired location. Telegraphe Cafe has a very Parisienne feel to it and this family owned coffee shop in the heart of Chelsea is definitely a spot worth visiting if you are looking to enjoy a location that "values you as a friend".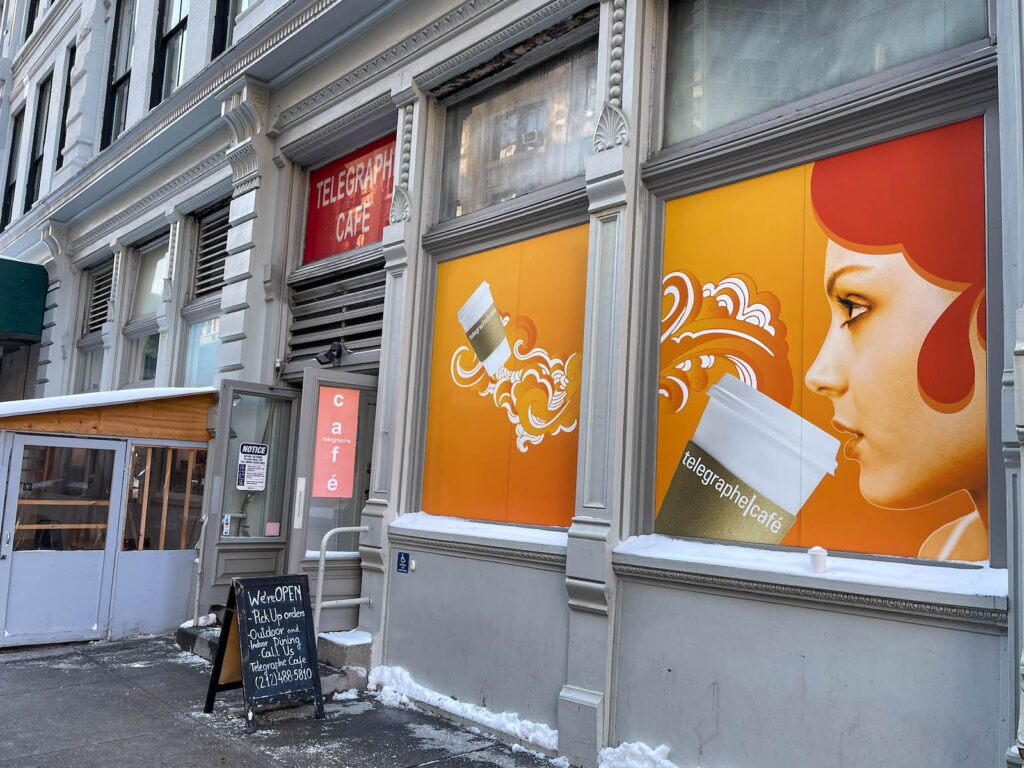 With French style croissants and other pastries, a variety of sandwiches and other light snacks, and of course, a wide coffee selection, there are plenty of options for every customer to enjoy something that satisfies their appetite. Whether you are inspired to sample a hot drink or perhaps prefer an iced alternative, there are ample options for everyone to choose from.
The vibe throughout Telegraphe Cafe definitely has a very French cafe appearance and style. Imagine sitting in a local establishment in a French arrondissement, and what you envision is likely similar to what you can experience inside this coffee shop in the Chelsea area.
TELGRAPHE CAFE
107 West 18th Street
New York NY 10011
Phone: (212) 488-5810
Terremoto Coffee Room
Are you ready to sample a Prince inspired "Purple Rain Latte" or perhaps David Bowie's "Space Oddity Latte"? Where better spot in the Chelsea neighborhood to sample one of these than the wonderfully named Terremoto Coffee Room. Focused on delivering the best quality to visitors from across the city and around the globe, Terremoto Coffee Room has the unique selling point of being able to pull five different coffees however you want it prepared.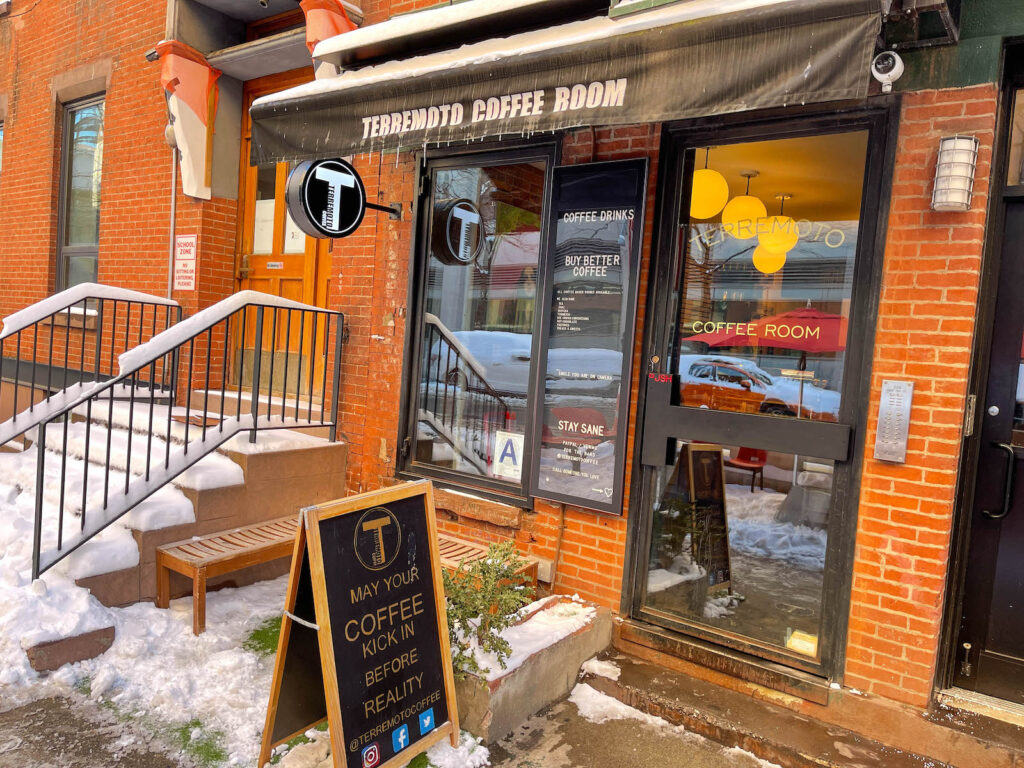 You may be wondering where the name Terremoto derives from? It is actually the Spanish word for "earthquake" and given that coffee stereotypically is known to "shake you and wake you up", it's a fitting name for this local coffee shop.
Terremoto frequently offers some of the most exotic coffees available on a seasonal basis, ranging from the second most expensive coffee derived from the grand Elida Estates in Panama to Gesha Village in Ethiopia.
While Terremoto offers these distinctive coffee blends, it's also noticeable when you walk into this local shop that there is plenty of New York City throughout the interior. Owner, Richard Agudelo, emphasizes the importance of having local NYC available throughout the shop and the tables and bench are made from recycled wood from the dance floor at Roseland Ballroom.
The infamous celebrities that set foot through the doors at Terremoto may have inspired some of the most popular beverages, but the one that is the most enticing for those with a sweet tooth is surely Agudelo's favorite, the Colombian Caramel Latte (also known as the Terremoto Latte).
TERREMOTO COFFEE ROOM
107 West 18th Street
New York NY 10011
Phone: (212) 488-5810
Summary
New York City is home to a diverse variety of coffee shops, and each neighborhood can likely lay claim to having a selection that offers unique opportunities for visitors who love sampling local establishments. However, we would certainly argue after visiting a number of the available options that the Chelsea area is unequivocally one of the best areas, especially if you are looking to sample a diverse array of coffees from across the globe.
Each of the coffee shops featured above are unique and offer something a little bit different to the others. However, one thing is consistent across all of these and definitely contributes to our opinion that the Chelsea neighborhood is one of the best, and that is the focus on providing a customer centric, friendly experience. Every coffee shop we visited, we immediately felt welcomed and part of the "family" which is something that local establishments frequently have that chain coffee shops do not.
We cannot wait to explore more of Chelsea's coffee scene and are always welcoming of suggestions in the comments section below. The coffee shop is constantly changing throughout New York City and regardless of your preferred option, you can be sure that any of the above recommendations will give you an experience you can cherish!