"Get your kicks on Route 66″…it's a phrase synonymous with one of the most historic roads not only in the United States, but across the globe. This US Highway that stretches from Chicago to Los Angeles is not only historic because it reduced the distance between these two cities by more than 200 miles, but also because today there are a number of iconic roadside attractions that make this a popular tourist attraction among visitors from all around the world. During our recent visit to Amarillo, we had the opportunity to explore the section of Route 66 in Texas that stretches the Panhandle region of the state.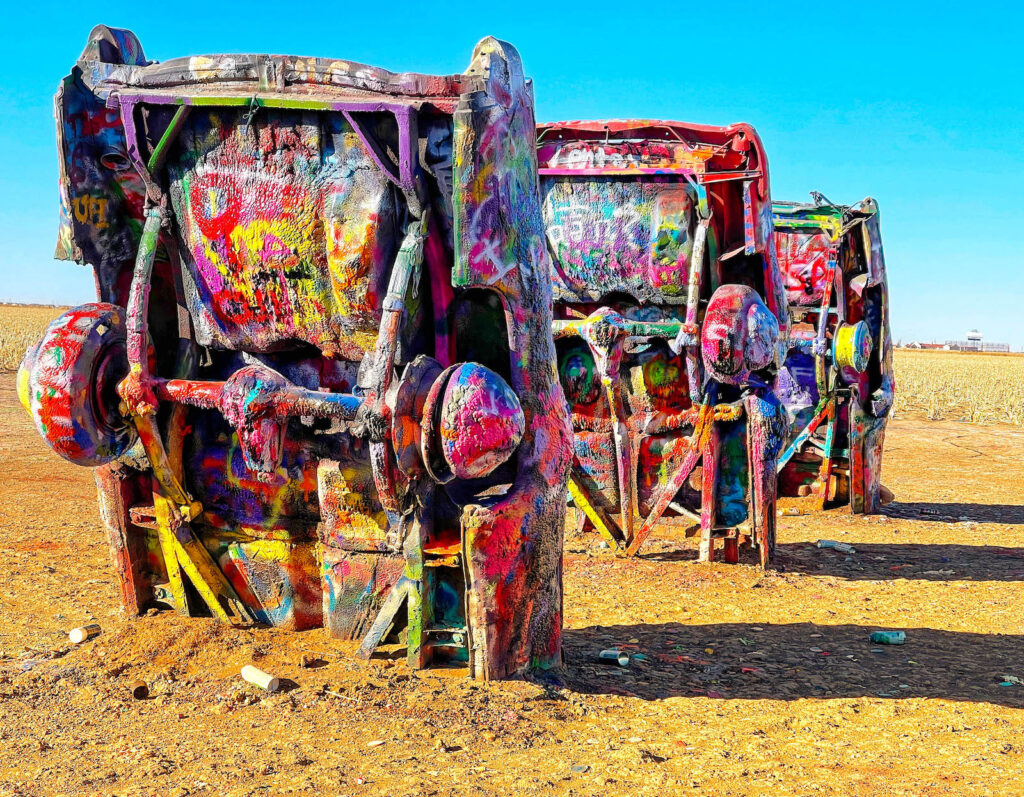 Exploring Route 66 frequently involves simply driving (or walking) along this historic road and admiring some of the attractions that can be found along this stretch of highway. However, we have found in numerous spots along this historic road that the street art on display paying homage to this highway is where you can find the inherent beauty.
Local towns and even larger cities that are scattered along Route 66 showcase their local artistic skills and ability to express the local culture on murals depicting both the symbolism of this road, along with how the local area has embraced the history associated with this US Highway.
Route 66 in Texas
Whether you are an avid street art explorer, or simply want to enjoy learning about the history of Route 66 in Texas, the street art that we stumbled across in downtown Amarillo offers a great way to learn how this Texas city has embraced the Route 66 culture.
Of course, street art isn't the only reason to visit Amarillo to learn more about Route 66, rather you can explore the myriad of free things to do in Amarillo including the iconic Cadillac Ranch to truly appreciate why this city is one that should be on your radar.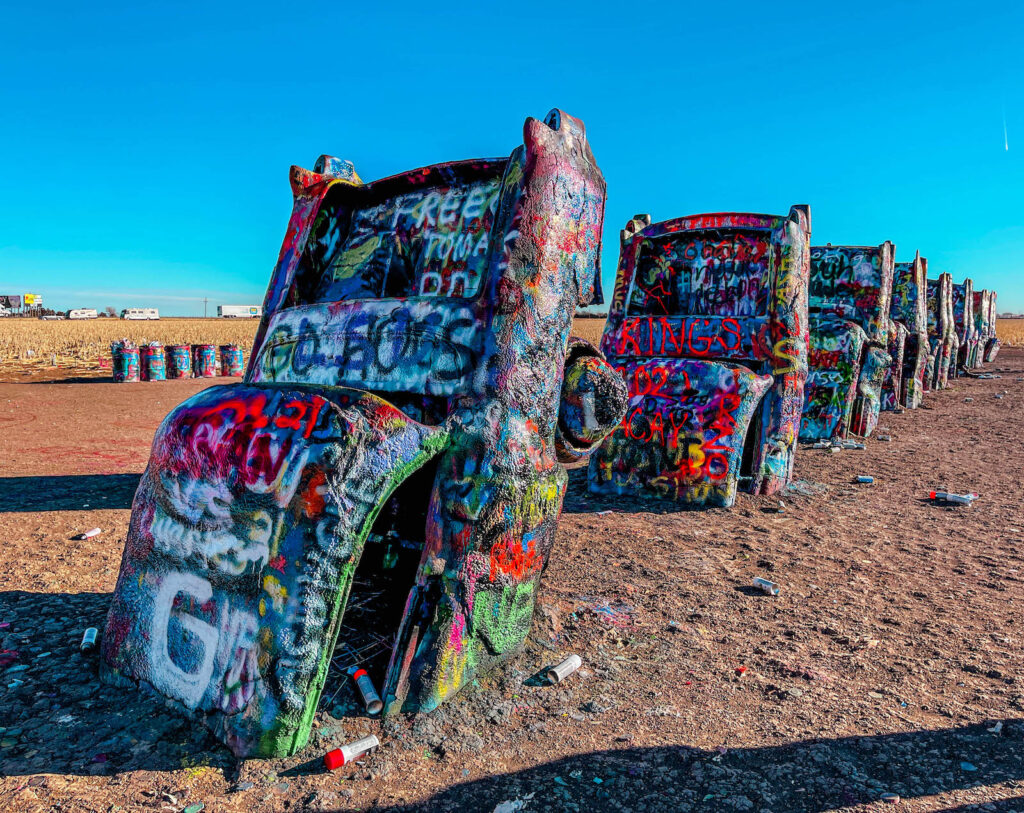 Route 66 crosses the state line into Texas at Texola, Oklahoma and then ventures towards Shamrock, McLean, and Groom before arriving in Amarillo. Historic 6th street in Amarillo is where much of this post will be focused on, but after passing through this street and heading by the infamous Cadillac Ranch attraction, Route 66 continues towards the towns of Vega and Adrian before finally crossing into New Mexico at the town of Glenrio.
While Route 66 is only in the Lone Star State for approximately 170 miles, it is certainly the city of Amarillo that is the focal point in Texas for those exploring this historic highway and looking for the best roadside attractions. Let's take a look at why Amarillo is the home of Route 66 in Texas!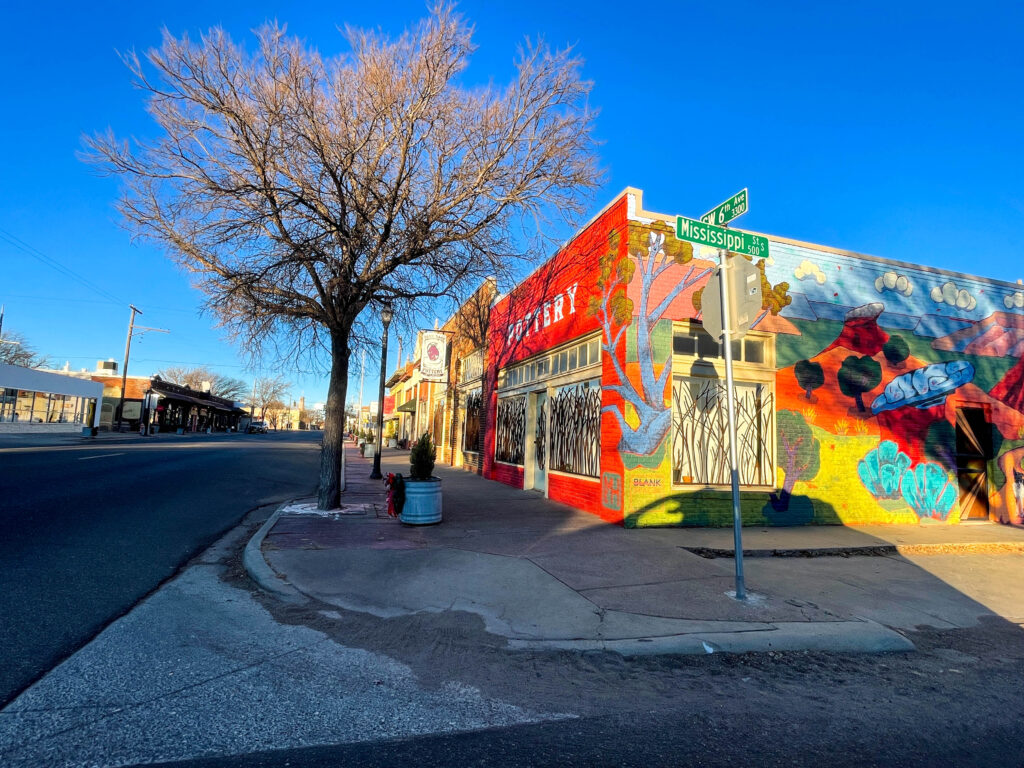 Amarillo's Historic 6th Street
Route 66 is frequently recognized as the "Mother Road of America" and there are not many better spots that provide a stereotypical reflection of this than Historic 6th Street in the heart of downtown Amarillo. With over one mile of art galleries, local stores, restaurants and of course, iconic street art, this stretch of Route 66 offers some of the most eclectic attractions of anywhere along this 2,448 miles of US Highway.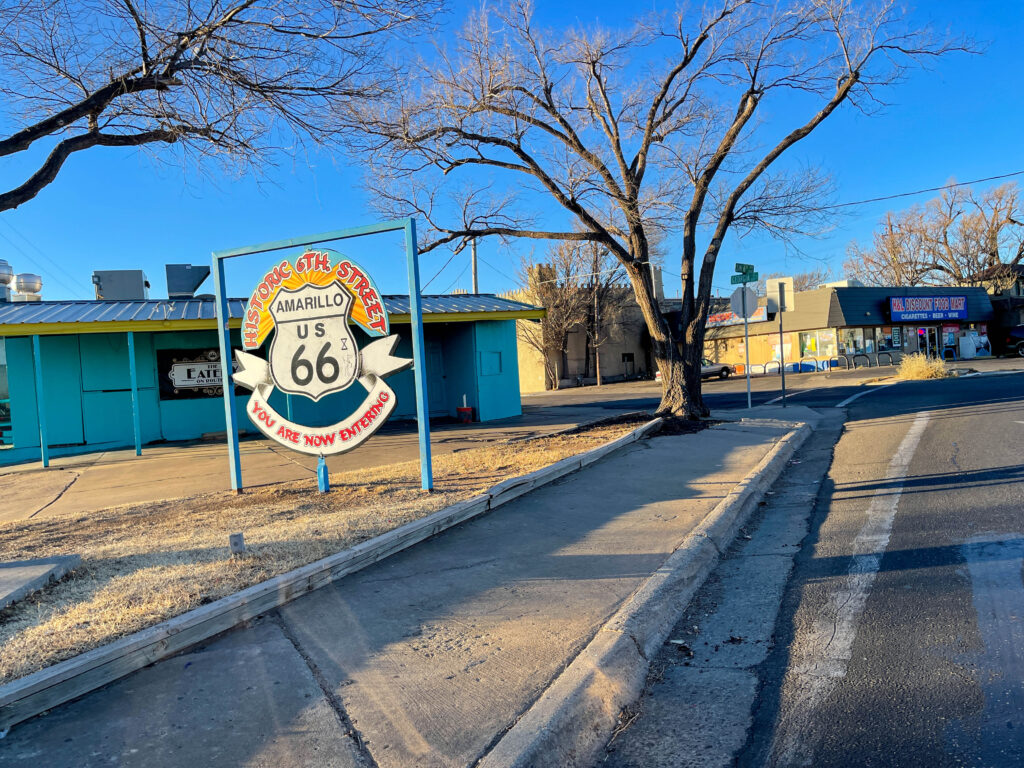 Over recent decades, locals and visitors alike have come to experience the stores and restaurants located on the 6th Street and dance on the iconic ballroom floor of "The Nat Ballroom", which is now home to over 100 vendors as a local antique store. Visitors can park along the side of this historic street and get out to walk along this stretch of Route 66 and likely will find something they are interested in.
Our visit to Historic 6th Street was prior to many of these restaurants/stores opening, and so our focus was on the artistic creativity on display here. The plethora of murals depicting Amarillo's street art scene is certainly worth experiencing and collectively, they help paint a picture of how Amarillo played such an integral role in the history of Route 66.
Street Art in Amarillo
For the architecture aficionados visiting Amarillo, the elements of Spanish Revival, Art Deco, and Art Moderne design on display will likely draw attention away from the myriad of street art murals that can be found on many of these buildings. One of our favorite murals was the map of Texas displaying historic Route 66 across the Panhandle region. The inspiring slogan of "Get your kicks on Route 66″ is the focal point and provides visitors the opportunity to see which other parts of this highway they want to explore.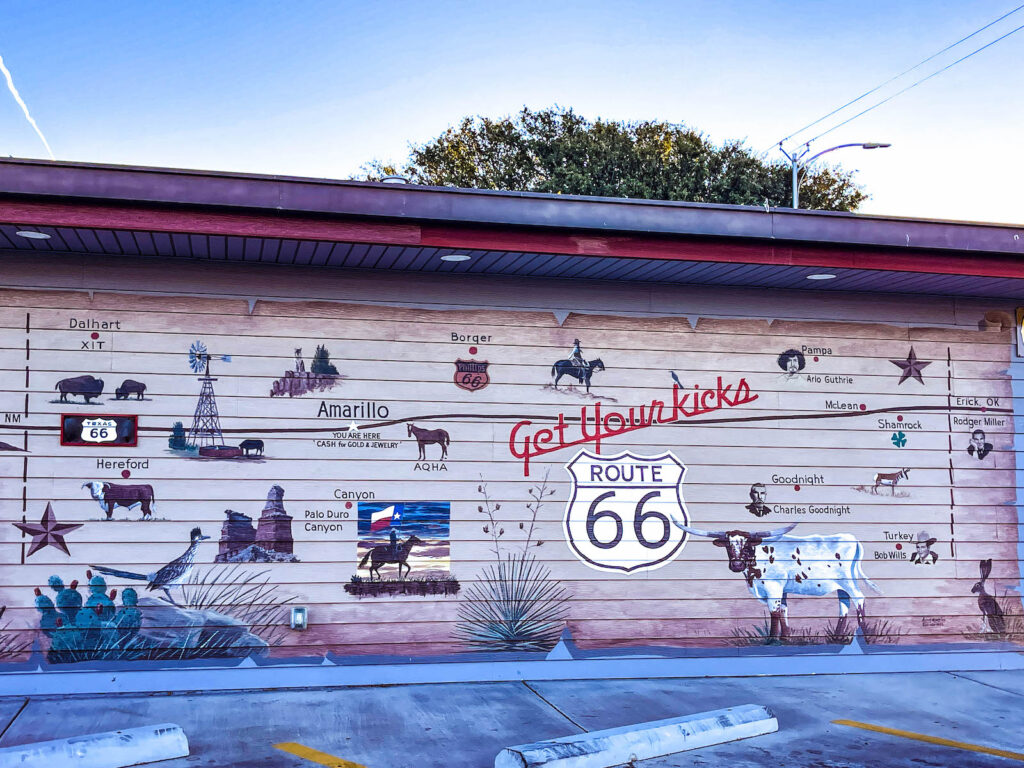 Another intriguing mural is that of a Texas crossroads with the sunset providing the perfect backdrop. It's fair to say that this is symbolic of many visitors to this part of Texas, as there are many options available as to where you want to head to next. From Kansas to the north, Oklahoma to the east, and New Mexico to the west…where your journey takes you is entirely up to you!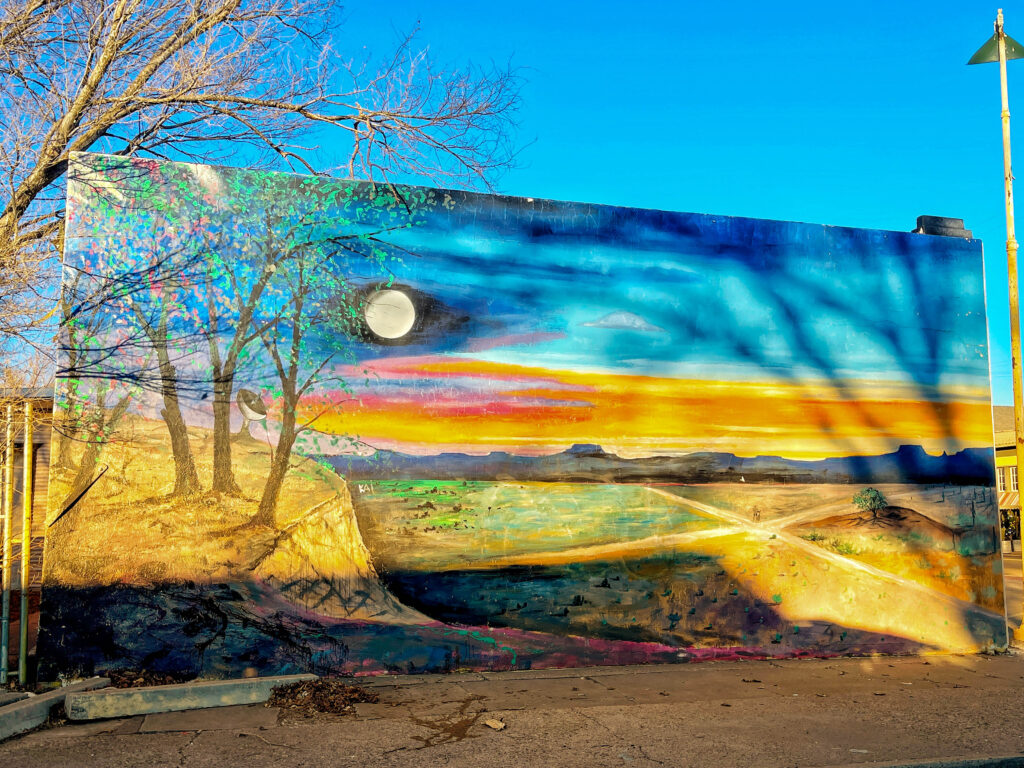 For those of you visiting 6th Street and looking to indulge in a sweet treat, head over to Blue Crane Bakery to sample the popular oatmeal cream pies or perhaps one of the Keto-friendly delicacies. Before you leave, be sure to take a peak at the mural on the side of the building.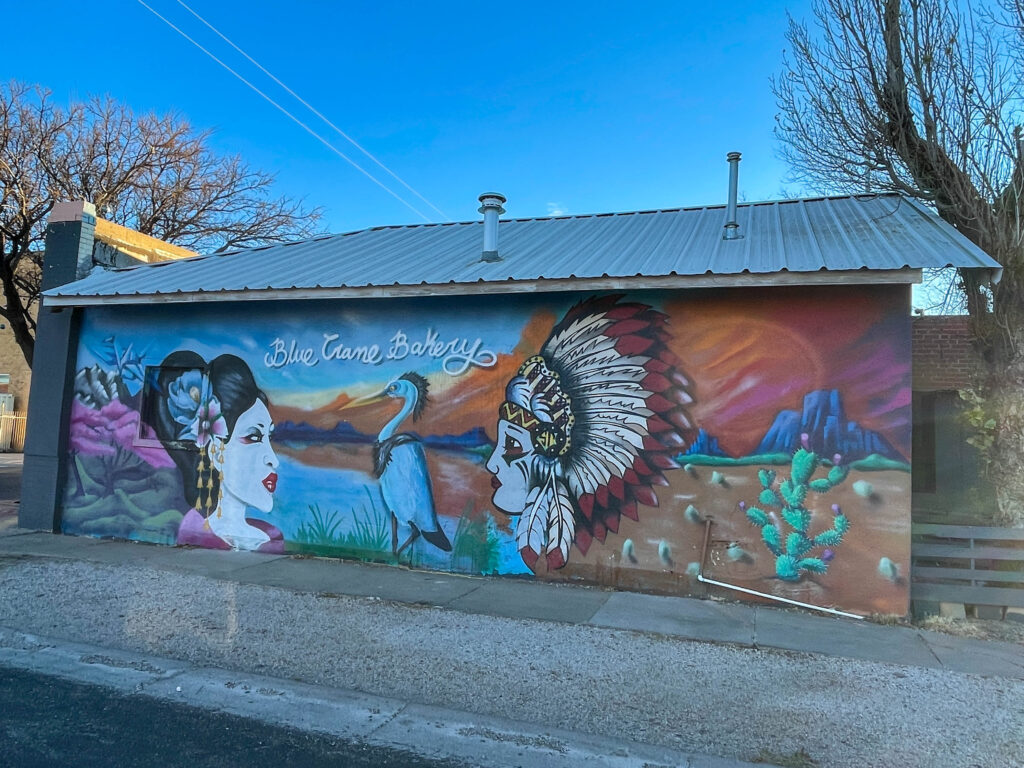 Perhaps the most spectacular of all the murals along 6th Street is the rendering of the nearby Palo Duro Canyon. Recognized locally as the "Grand Canyon of Texas", this attraction is definitely worth visiting for those that love to explore the great outdoors and enjoy epic panoramic landscapes. However, the equivalent 15ft tall, 70ft wide mural is equally breathtaking on the side of the Blue Sage Pottery store.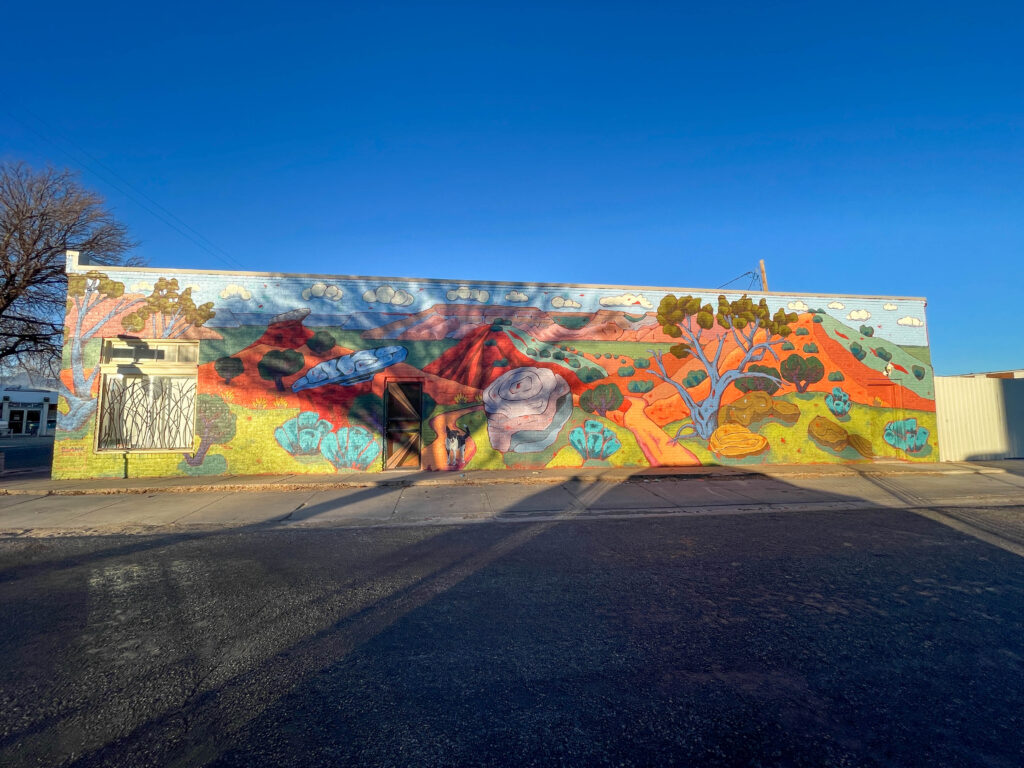 The map of "Old Tascosa" offers a stereotypical image of a Western style movie and reminds locals and visitors alike of the former capital of 10 counties in the Texas Panhandle region. The San Jacinto Arts Project on Route 66 celebrates the history of the neighborhood through all of these murals and as you wander along 6th Street, you never know what new mural you may stumble across.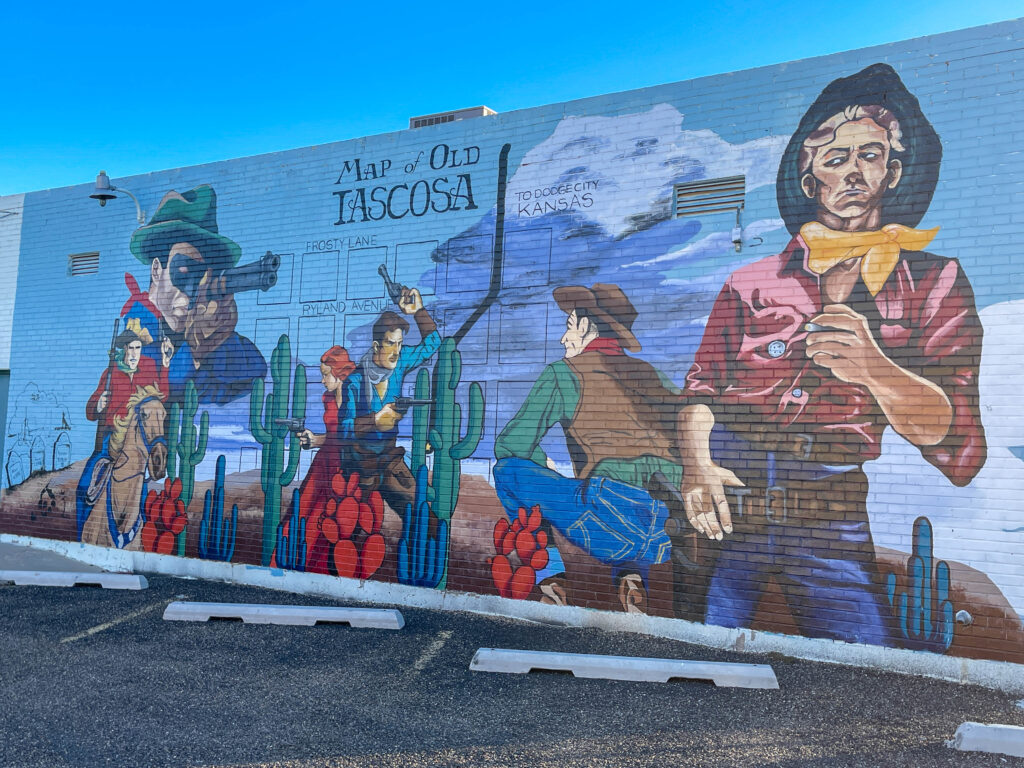 Summary
Amarillo is a fitting destination to be located along the Mother Road of America. After exploring the quirky side of the city with iconic attractions such as Cadillac Ranch and Combine City, and then visiting the Historic 6th Street and the amazing murals on display, it's certainly a tribute to Route 66 that Amarillo plays such an integral part in the history of this infamous US Highway.
Whether you love street art or not, you cannot help but admire the vibrant, colorful displays on show along 6th Street. The towering sight of the Palo Duro Canyon mural will surely inspire you to head outside of the city to experience this natural landscape for yourself, but before venturing away from Amarillo, we definitely encourage you to sample one of those oatmeal cream pies from Blue Crane Bakery…you won't be disappointed!