Christmas in Paris – what could be more romantic? Well, we are technically not spending Christmas in Paris but we have just spent three amazing days exploring this beautiful city during the Christmas season.
Our experiences at the Louvre, Eiffel Tower et al. are all to come but for our first story we want to share with you our experience on the Champs-Elysees. The Avenue de Champs Elysees is probably the most infamous street in Paris, possibly in the whole of Europe. Approaching the Champs Elysees from the Louvre, there are a myriad of different attractions to see.
The Christmas Markets
Either side of the Champs-Elysees are wooden huts decked in Christmas decorations and selling a range of novelties or local French/European cuisine. We wandered up and down this part of the avenue several times and each time experienced something a little different.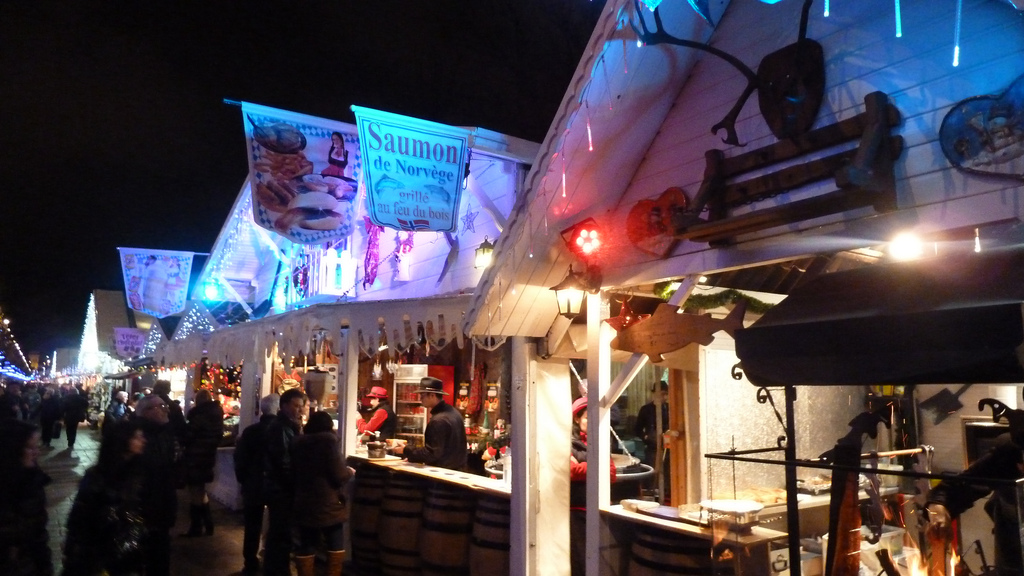 Sampling a Norwegian smoked salmon sandwich for only 6 Euros along with a German Nuremberg Bratwurst for 5 Euros were particularly appealing especially given the price of dining throughout Paris. Another great cuisine option if you are looking for a cheap dessert is the 'Tête de Choco'  also known as a 'Chocolate Head filled with mousse' which is a delightful little delicacy ranging in a variety of flavors that I would highly recommend sampling!
Children and families can be seen experiencing the temporary ice rink that is in place but probably the most festive aspect of this part of the Avenue des Champs Elysees takes place above ground and is the 'flying Santa Claus' that runs every half hour in the evening. Our first night we stood at 6:30PM and experienced fake snow blown over everyone to set the mood and then Christmas carols playing as Santa Claus paraded in his sleigh across the night sky led by his trusty reindeer.
To make this even more realistic, a 'real' Santa is in the sleigh and speaks to the children below encouraging them to be good and wait until December 25th for 'Père Noël' to return bearing gifts!
The Ritzy Champs-Elysees
After moving through the Christmasy, traditional feel of the Champs-Elysees, you venture into the glitzy part of Paris where all the leading world-renowned stores are located. Tiffany&Co, Louis Vuitton, Mercedes-Benz and Cartier are just a few examples of establishments that reside here.
Let's be honest, unless you are a high roller with plenty of cash to go around this part of Paris may not be for you but I can say that just walking along here and taking a look in some of these stores even without buying anything can be a worthwhile experience.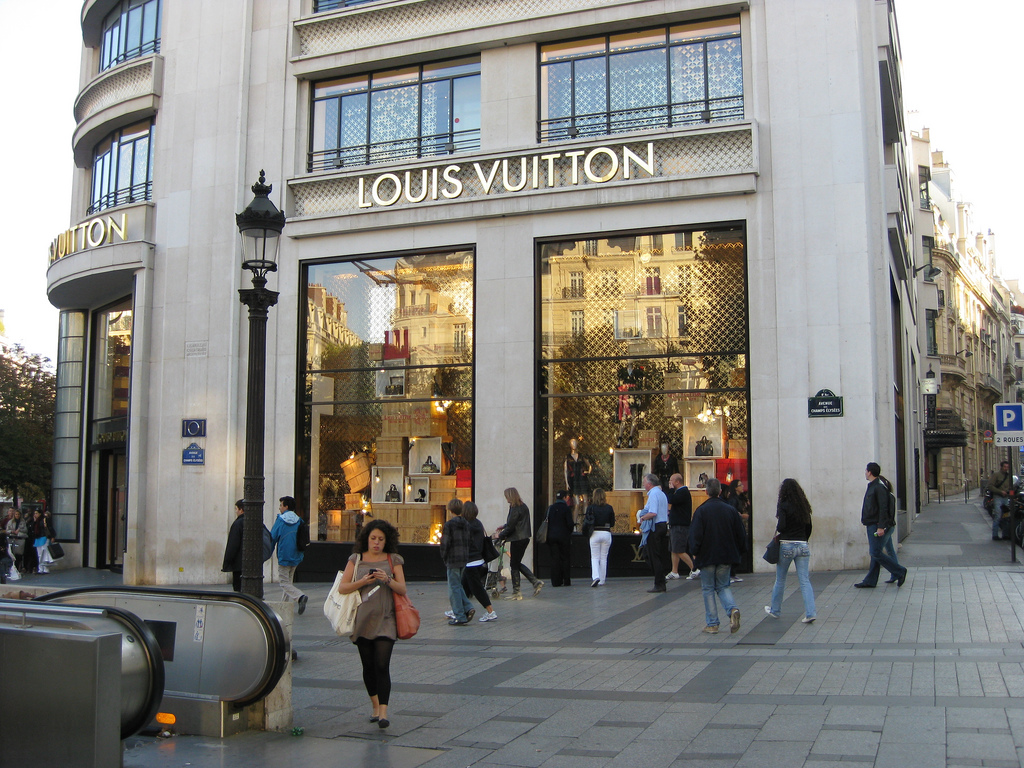 I really enjoyed visiting the car stores along here which is very different to anything that I have seen before. Mercedes-Benz, Citroen, Peugeot among others are located on the Champs-Elysees and have several of their leading models stacked on different floors inside their showroom. It's not like a normal showroom that you associate with car dealers though because here they are advertising their Formula 1, World Rally Championship and Le Mans 24 hour vehicles. A really cool experience even if you are not that interested in what's under the bonnet of a car!
What was interesting to me on this part of the Champs-Elysees is that it really wasn't decked out in Christmas decorations. In fact, throughout our three days experiencing Paris I would say that we are both very surprised at the lack of Christmas feel throughout the city, of course the exceptions being the markets we mentioned earlier and other markets sporadically located around Paris that we saw.
Maybe the 'ritzy' stores don't consider it to be necessary to adjust to the Christmas traditions or maybe it's just because we are in Paris and they just do things a little different. Either way, this is not really a negative aspect rather an interesting observation that I wasn't expecting.
Place de la Concorde to the L'Arc de Triomphe
Well the title of this section pretty much says it all. The Avenue des Champs-Elysees runs for just over 1 mile from the Place de la Concorde which currently houses a big wheel in front of the Obelisk of Luxor all the way down the avenue to the impressive L'Arc de Triomphe. After sampling the Christmas markets and high end stores, standing at either end of the Champs Elysees gives you a perfect view down the whole avenue.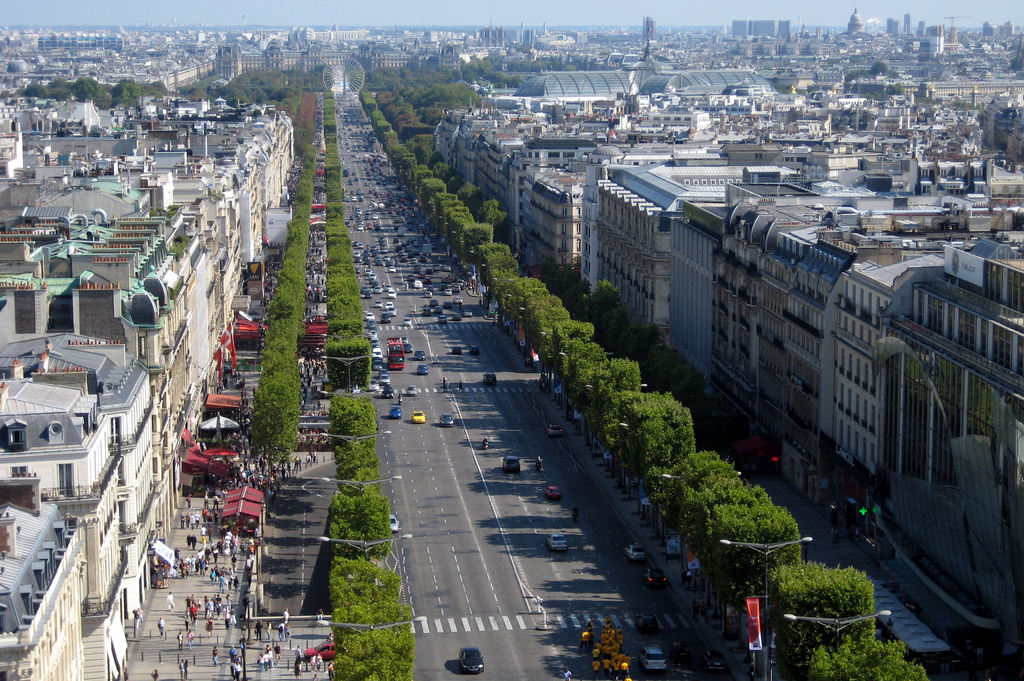 When thinking about experiencing Christmas in Paris, you will probably think about either going to the top of the Eiffel Tower or wandering the Avenue des Champs-Elysees. We would highly recommend sampling both of course but the feel of Christmas is more prevalent when you set foot through those little wooden huts that make up the markets. Not only do you get the stereotypical French experience with vendors selling crepes and vin chaud (hot wine), you can also sample some other European delicacies and experiences along the way.
The Avenue des Champs-Elysees is a must for anyone visiting Paris. You could almost say it is the heart of Paris with the area steeped in history and also the traditional feel that surrounds this avenue.
How are you celebrating Christmas this year?
What are your experiences on the Avenue des Champs-Elysees?