Before traveling to San Francisco, we decided to either venture north to the wine valleys of Napa and Sonoma or head away from the coast inland to Yosemite National Park. I am not sure what the eventual determining factor was but we opted for the latter and prepared a route from San Francisco that saw us first head south to Pebble Beach and the 17 Mile Drive along the Monterey Peninsula, and then head across country to Yosemite (about a 4 hour drive). From Pebble Beach, we drove a couple of hours before staying overnight in Modesto and then woke up early Saturday morning to take on the 2 hour drive to the entrance of the National Park.
There are various routes that you can take to get into Yosemite and it really depends on the type of drive and scenery you want. The scenic Route 120 was our chosen method and this even allows you to take on the infamous 'Old Priest Grade' which has some pretty steep gradients but in reality is just a quicker way to get to your final destination of Yosemite. I am not convinced that this route would be as 'easy' in bad weather but given the perfect driving/road conditions on our trip it was not as bad as reputation suggests.
Yosemite National Park, for anyone that has never visited here, is truly breathtaking. The scenery is unbelievable and maybe that was because I have been trapped in the lowland states of Kansas, Oklahoma and currently Arkansas, but in reality the natural beauty present in Yosemite can surely only be found in national park settings.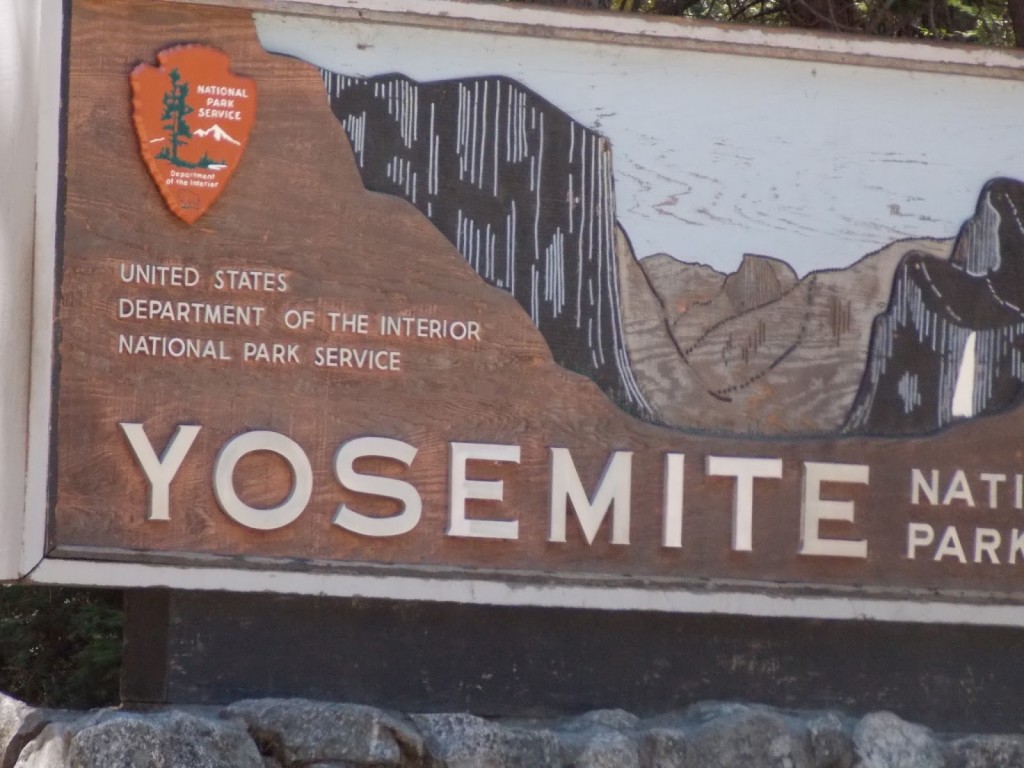 Arriving at the entrance to Yosemite, you have to pay a $20 fee if you are in a vehicle but this in reality is not bad as it gives you a 7 day pass in and out of the park as long as you keep your receipt. It may seem a little expensive if you are only staying for a day, but after you have drove around and experienced what Yosemite has to offer, you will realize it was well worth it! If this is your first time into the park, the map and guide the ranger provides will prove to be very useful.
The entrance from Route 120 is a great way to get into the park because you are starting from the 6,000 feet elevation and drop down into the valley to get to the Yosemite Valley Visitor Center. Driving down through the valley gives you amazing photograph opportunities along the way, with views looking over the valley, surrounding mountains and forest. There are countless spots to pull over and even though the ranger indicates at the entrance you are about 45 minutes from the Visitor Center, with all the stops along the way, I would recommend allotting about 1 1/2 hours to get to the bottom of the valley.
Once you get into the valley, your first problem is going to be parking! The bottom of the valley is the hub for transportation to get to all the 'hot spots' around Yosemite and hosts several camp grounds for folks hiking and staying overnight in the park. We were fortunate to locate a spot and were then able to get out and start exploring. One major difference that you will notice if you are visiting from the San Francisco Bay Area is the vast difference in temperature. Whereas the Bay Area had a very comfortable 75 degrees, Yosemite was a toasty 98 degrees which for anyone interested in hiking would certainly require you to carry plenty of fluid along the way!
Some of the key landmarks in Yosemite worth visiting especially if you only have a day are as follows:
1. The Waterfalls
There are a variety of waterfalls in Yosemite that are worth visiting, none more spectacular than Yosemite Falls itself. Other waterfalls in the region include Bridalveil Fall, Horsetail Fall and Sentinel Falls (among many others).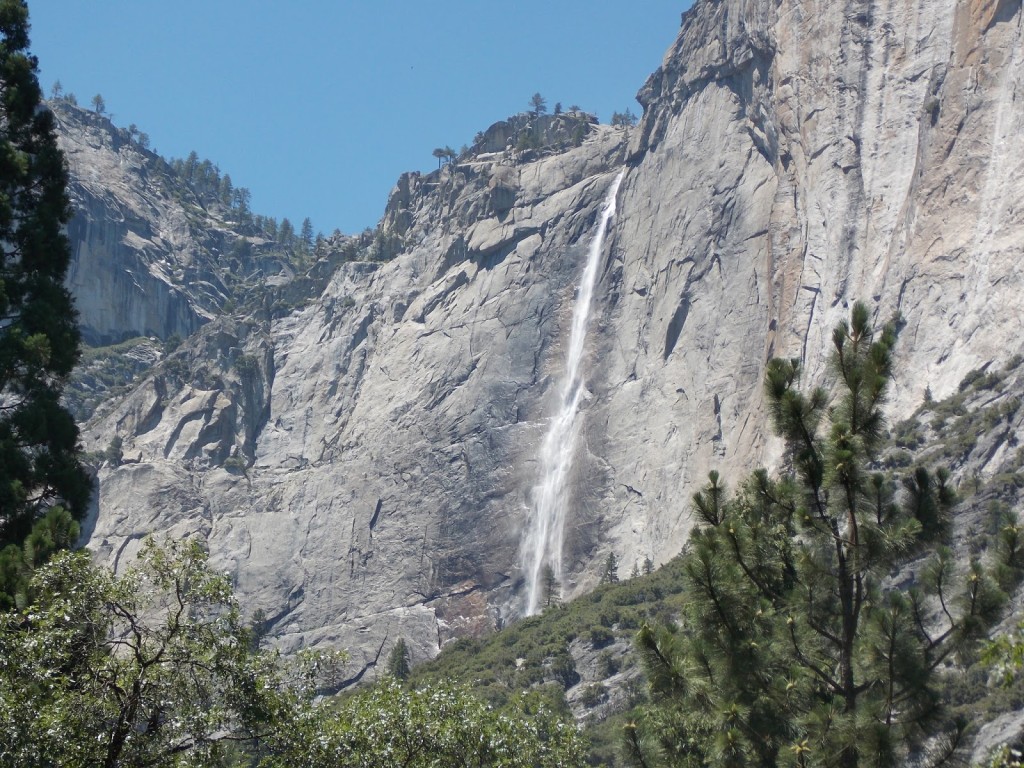 Depending on the time of the year that you visit will determine how many of these falls are actually active and we were fortunate that early July still sees many of these falls flowing water as the final amounts of snow that melted flows down the mountainside.
2. El Capitan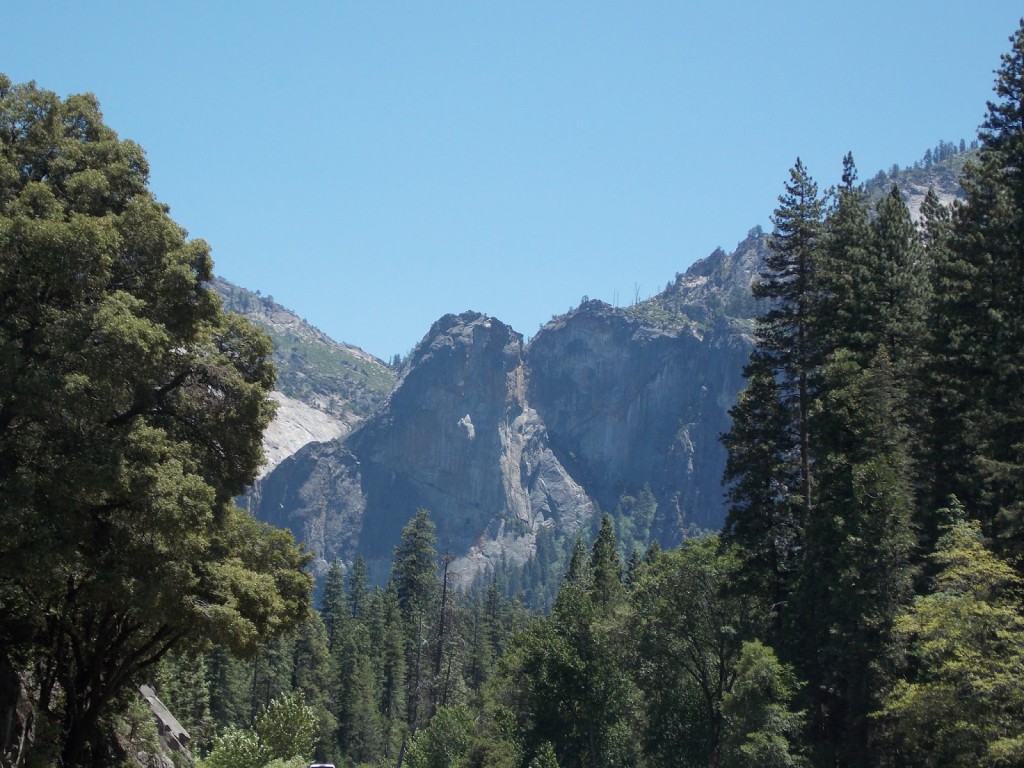 The granite face of El Capitan, formed by glaciers thousands of years ago, rises more than 3,000 feet from the valley and is a true spectacle and landmark inside Yosemite. One of the favorite spots for rock climbers, many times you will see folks trying to master a true test of even the best of climbers out there!
3. Half Dome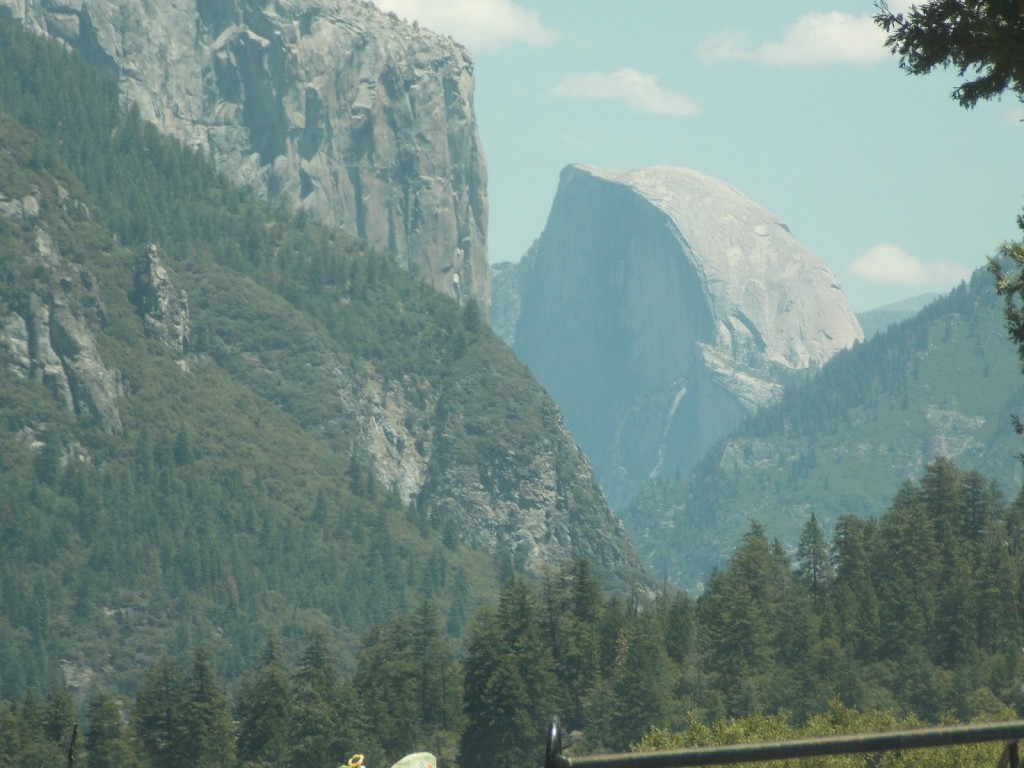 Missing out on seeing Half Dome is like going to London without seeing Buckingham Palace or Paris and not visiting the Eiffel Tower. This landmark really is the stereotypical attraction that people associate with Yosemite National Park. Rising nearly 5,000 feet above Yosemite Valley and 8,800 feet above sea level, Half Dome is a great challenge to many hikers.
From the Visitor Center in the bottom of the valley, you can take on the 14-15 mile hike into relative unknown wilderness in search for reaching Half Dome but by all accounts, this is not for the faint-hearted and should only be attempted by those folks that are serious or at least in shape.
There is so much more to see in Yosemite than I have mentioned above. Just get out there and start exploring but what I would recommend is going against this whole post and spending more than just a day trip in the region. Take advantage of that 7 day entrance fee pass and camp among the wildlife and true nature that Yosemite offers.
What is your favorite landmark in Yosemite?
Do you have any hidden trails or hikes that you would recommend travelers to try?