Seattle, Washington is one city that we are really hoping to visit in the near future (hopefully at some point during 2014). We are excited about the opportunities available here and the fact it is in close proximity to the Canadian border so you could make a bigger trip out of this by crossing over into Canada.
As we have yet to visit the infamously named "Emerald City", this is a great opportunity for us to learn more about this beautiful city especially given it is one of our 'bucket list' locations.
Here are 5 interesting locations/attractions worth visiting from our research and certainly something we would consider if and when we venture to the far North West corner of the United States:
Crystal Mountain Resort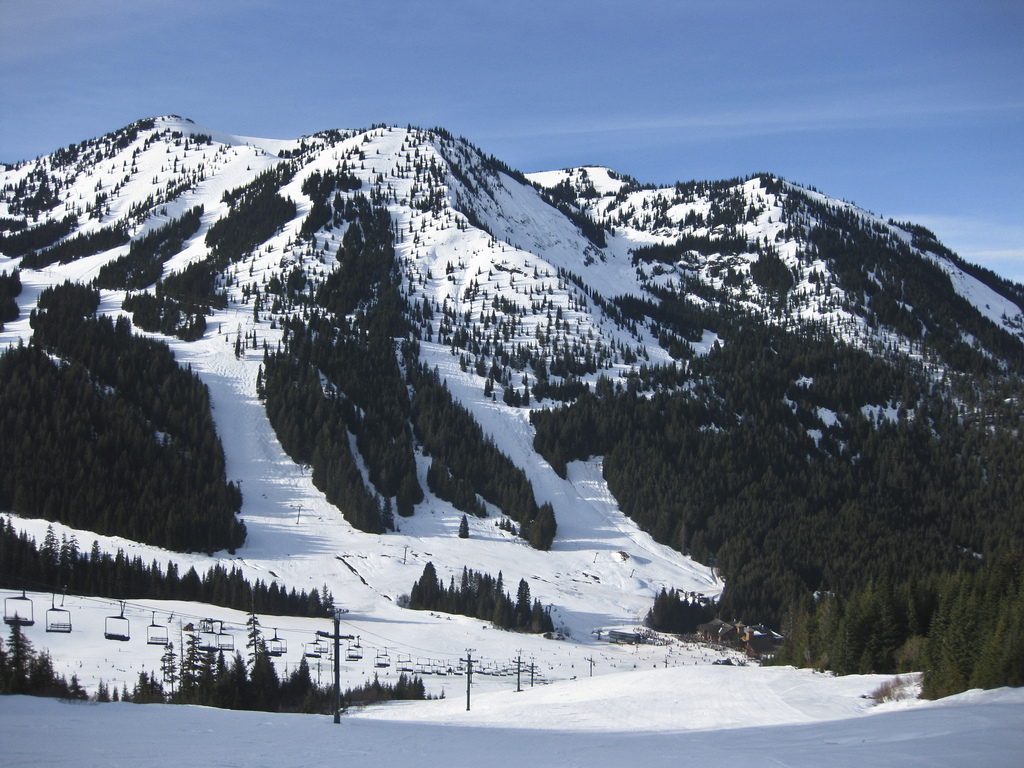 So the first place which is a little out of the way or "off the beaten path" is located about 80 miles outside of Seattle city center. If you are interested in seeing spectacular views and love the natural beauty of national parks, you have to take a trip to Mt. Rainier National Park and head up to Crystal Mountain Resort. Perched in the middle of the Cascade Mountains, this resort is the place for ultimate relaxation.
Crystal Mountain Resort is no longer just a mecca for snow enthusiasts rather it remains open all year round and offers a myriad of activities for all ages including hiking, guided horseback riding, disc golf and of course scenic gondola rides (no need to travel all the way to Venice to ride a gondola when you can just be whisked away in the beautiful mountains).
Of course, Winter is the perfect season to visit this part of the country especially if you love to hit the slopes and test your skiing skills! After a long day on the slopes or hiking around the beautiful national park, why not sample some local northwestern cuisine in the Summit House located inside the Crystal Mountain Resort. This is a perfect way to end the perfect day and if you cannot relax in this part of the country with such breathtaking views, there won't be many places around that you can!
The Museum of Glass
Situated a little closer to Seattle is Tacoma which at just over 30 miles is within a short commute of the Emerald City, the Museum of Glass is a great way of experiencing contemporary glass art in a breathtakingly beautiful museum on Tacoma's revitalized waterfront. The hub of the northwest USA glass manufacturing industry, Tacoma is the perfect setting for the museum to be located and one of the major attractions of this place for so many people are the amazing glass blowing demonstrations that are readily available to the public on a daily basis.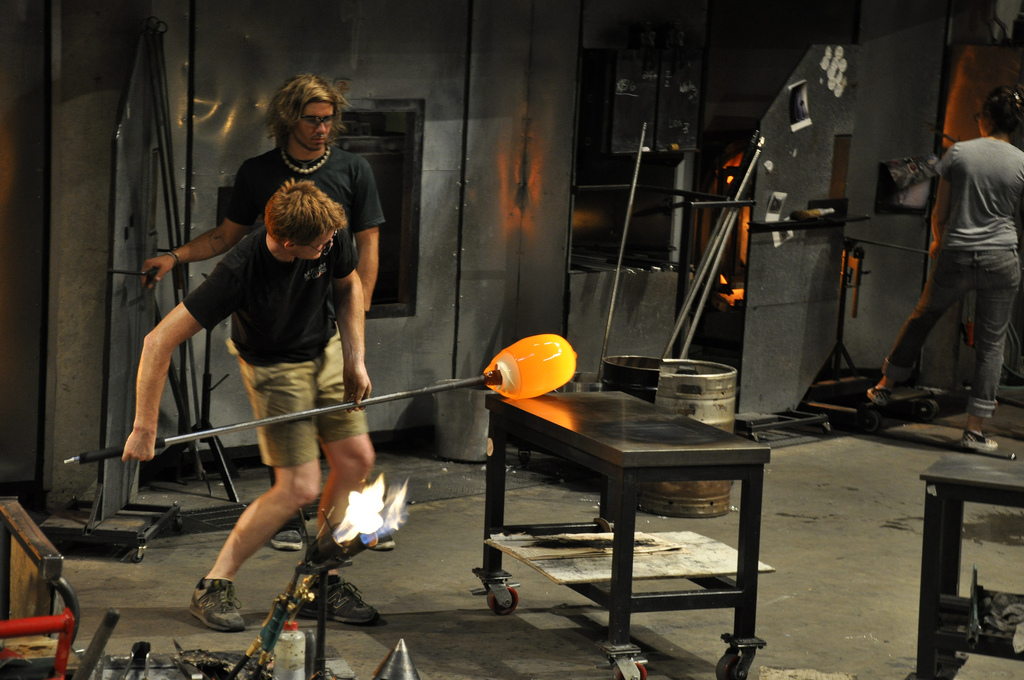 The museum's galleries are dedicated to temporary exhibitions of works executed in glass and there are a host of local artists and those from further afield that travel to this spot of the country to demonstrate and advertise their works of art! Along with these temporary pieces, there are more permanent exhibitions on offer all year round for those who wish to return and just explore the beautiful pieces of architecture that these brilliant artists have created.
Jimi Hendrix Memorial
You may have read that we are heading to an Elton John concert in Memphis soon so we are of course avid music fans! Living in the heart of the Mid-South, we are in the stereotypical hub of country music so we really don't have much contact with the 'Rock N Roll' era aside from Elvis' legacy in Memphis!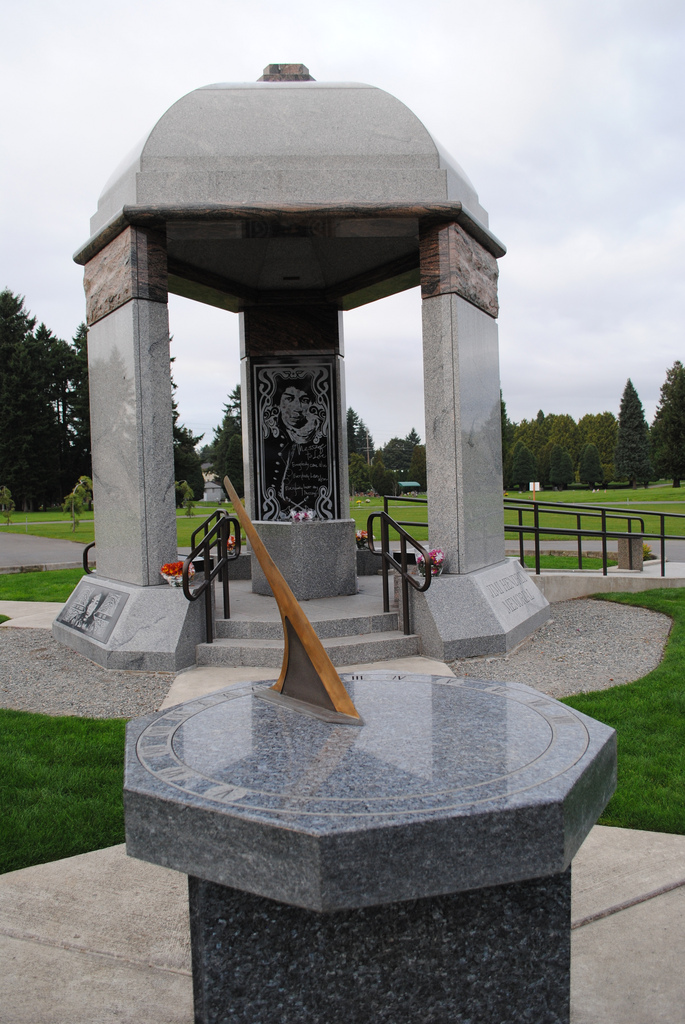 Seattle's most infamous musician has to be the one and only Jimi Hendrix who for any budding guitarists out there is probably one of the true greats. Now I am personally not a Hendrix fan, I don't particularly like his genre of music but even if you are not affiliated with the culture he was involved in, simply visiting a monument devoted to the true legend of music he was has to be worth spending some time at.
"Although Hendrix (November 27, 1942 – September 18, 1970) had verbally requested to be buried in England, his body was returned to Seattle and interned at Greenwood Memorial Park, Renton, Washington, approximately 30 minutes south of Seattle." (Discover Black Heritage, 2013)
I would recommend taking along your iPod or iPhone, setting your playlist to the likes of Voodoo Child and Angel and just reminiscing of the music legend that Hendrix truly was whilst taking in the magnificent monument and park that it stands in.
Space Needle
Afraid of heights? Here is your chance to conquer that fear! Love the thrill of climbing to the summit of a skyscraper? Here is your chance to add yet another impressive structure to your list of climbs. The Space Needle is a major landmark of the Pacific Northwest region of the United States and a symbol of Seattle standing at over 600 feet tall. From the top of the Space Needle you can see landmarks such as the snow capped Mt. Rainier in the distance along with a host of other key Seattle and NW US attractions all from a perfect 360 degree vantage point.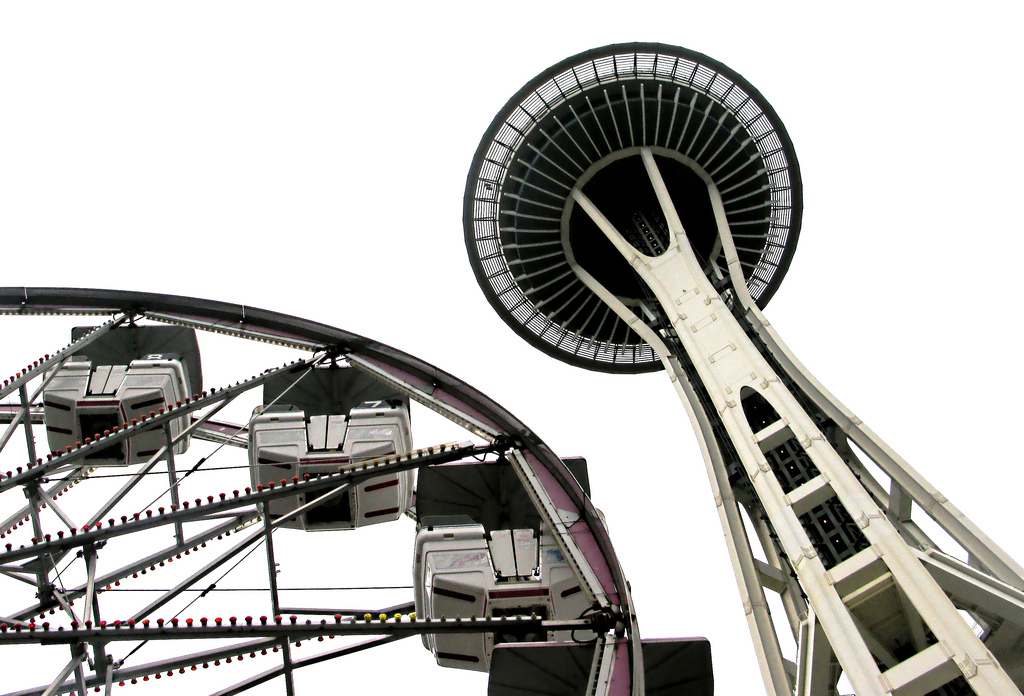 One of the most exciting attractions of the Space Needle is the SkyCity restaurant which rotates the full 360 degrees and offers visitors the opportunity to sit, relax and take in the breathtaking views as your are slowly guided around the city.
Heather and I both have a soft spot for skyscrapers and this is probably one of the reasons why I featured this despite it not really being off the proverbial beaten path.
Boeing Factory
Ok, so you love traveling! All avid travelers probably have one of many things in common – they have flown on a Boeing plane at some point. Well what better way to experience a Boeing on your next flight than by getting a better understanding of the manufacturing process of these soaring birds. Located about 30 minutes north of Seattle, there are great tours available around the Everett factory. Home to the 747, 767, 777 and 787 Dreamliner production lines, this is your chance to learn exactly how these planes are constructed.
"During the tour of the world's largest building by volume (472,000,000 cubic feet or 13,385,378 cubic meters), visitors will see airplanes being built for our worldwide base of airline customers." (Boeing, 2013)
All tours of the Boeing factory last around 90 minutes and prices range from $16-18 depending upon what time of the year you visit. Unfortunately no personal items (for security reasons) are allowed on the tour so it will be you and your memories that you are able to take away from this tour!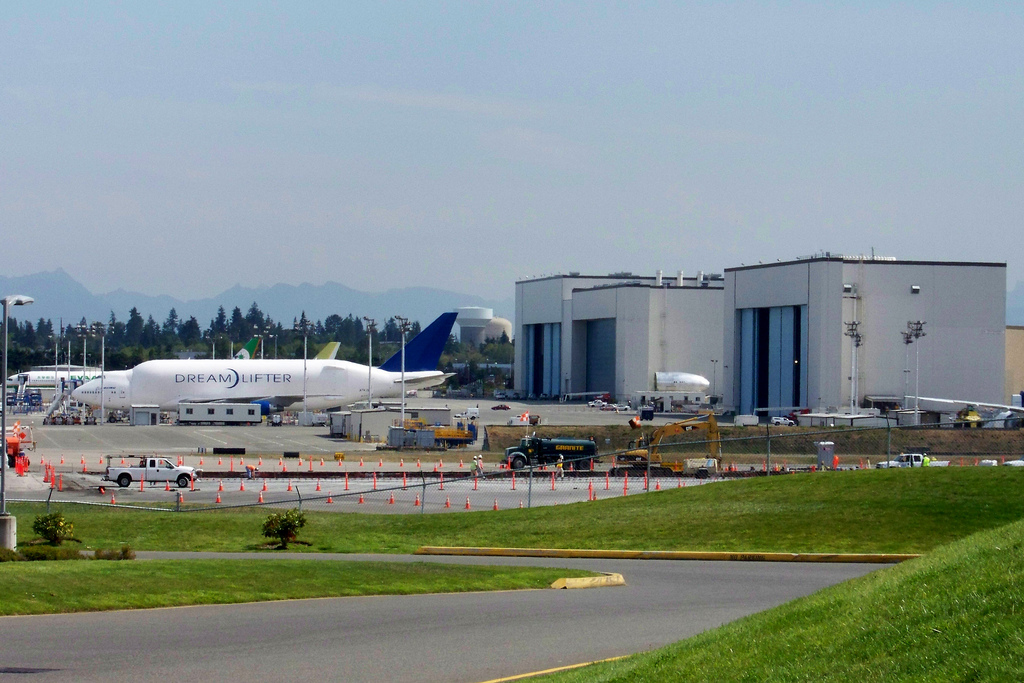 I have always been amazed at the engineering and construction that goes into the aviation industry so I would love to be able to take a tour of such a plant and explore the intricacies as to what actually happens in the development of these forms of transport.
Seattle has so much to offer, let's be frank! I didn't even mention any of the main attractions such as the Pike Place market, CenturyLink field etc. but those above are a great way to see the broad spectrum of the NW part of USA.
Does anyone else have any suggestions on places "off the beaten path" to visit in the Seattle region?