Anyone for free cookies? Well if you have ever stayed at a DoubleTree location, you will know that this hotel chain is famous for offering their free cookies upon checking in. Of course this is just an added gimmick that most folks will likely not care about but in my opinion it is these minor touches and incentives that really set these types of hotels apart from their competitors. Is it a competitive advantage for DoubleTree? By itself, probably not but when you combine this with a great rate, beautiful rooms and other amenities you are likely on to a winner!
We have just recently decided to start focusing our stays on the Hilton Honors chain which encompasses Embassy Suites (if you read our recent review on our stay in Cincinnati you will know we are a big fan of this chain!), Hilton, DoubleTree among others.
Location
Heading to Chicago for the weekend, we didn't want to stay downtown so we opted for the Elk Grove neighborhood located about 20 miles north of downtown Chicago. The DoubleTree Chicago Wood Dale – Elk Grove hotel was a perfect spot for us and the first thing worth noting is that arriving at this hotel we were impressed by the overall setting and surroundings of the hotel.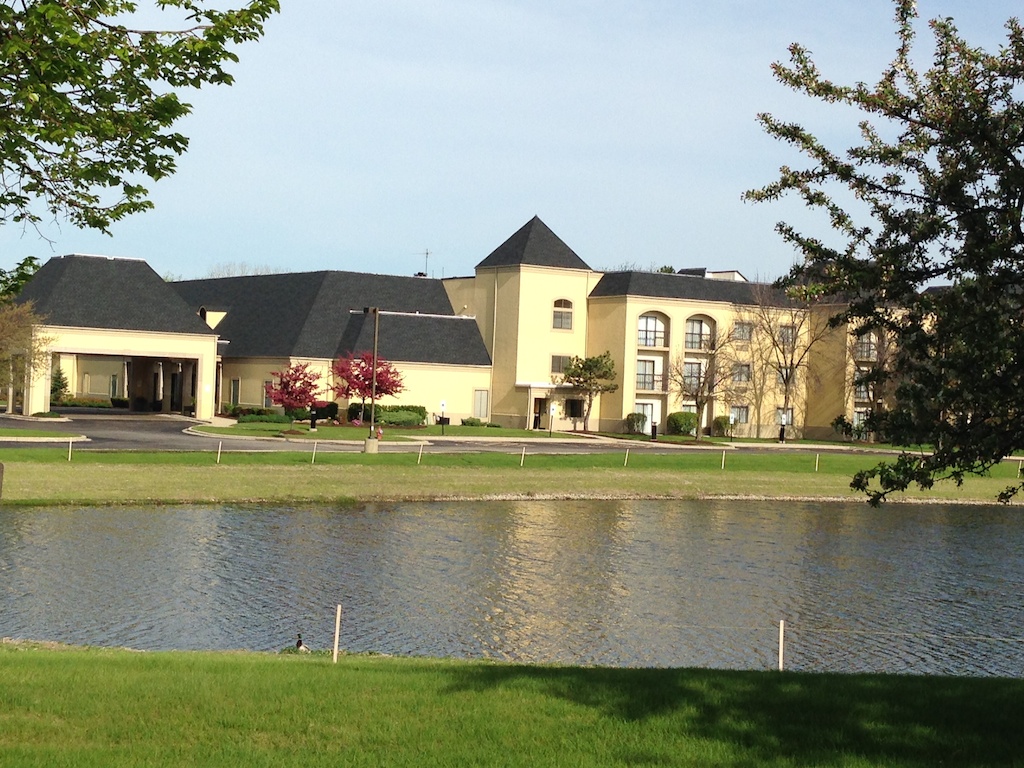 Located directly behind a beautiful lake and a wooded setting, this hotel is a perfect 'weekend getaway' spot whilst at the same time offering a good location to connect with nearby attractions. This hotel is also located in close proximity to Chicago's O'Hare International Airport so would also prove to be a perfect choice if you have an early morning flight.
The Hotel
The design of the DoubleTree Chicago Wood Dale – Elk Grove hotel is aesthetically appealing both on the exterior and interior. Check-in was smooth and painless and of course we were offered the famous DoubleTree cookies which are always a delight to sample.
The hotel offers the usual amenities such as a modern looking business center, gift shop and a Garden Cafe that has a full service restaurant offering options for all daily meals.
The Room
One thing worth noting if you are given a room at the other end of the hotel, be prepared for a pretty lengthy walk after reaching the second or third floor because those hallways seemed to be never ending.  Our room was located on the second floor adjacent to a window overlooking the swimming pool. Entering our room we were immediately pleasantly surprised by the spacious layout and the modern decor used to furnish this space. Everything was in order and the room really had a welcoming feel to it.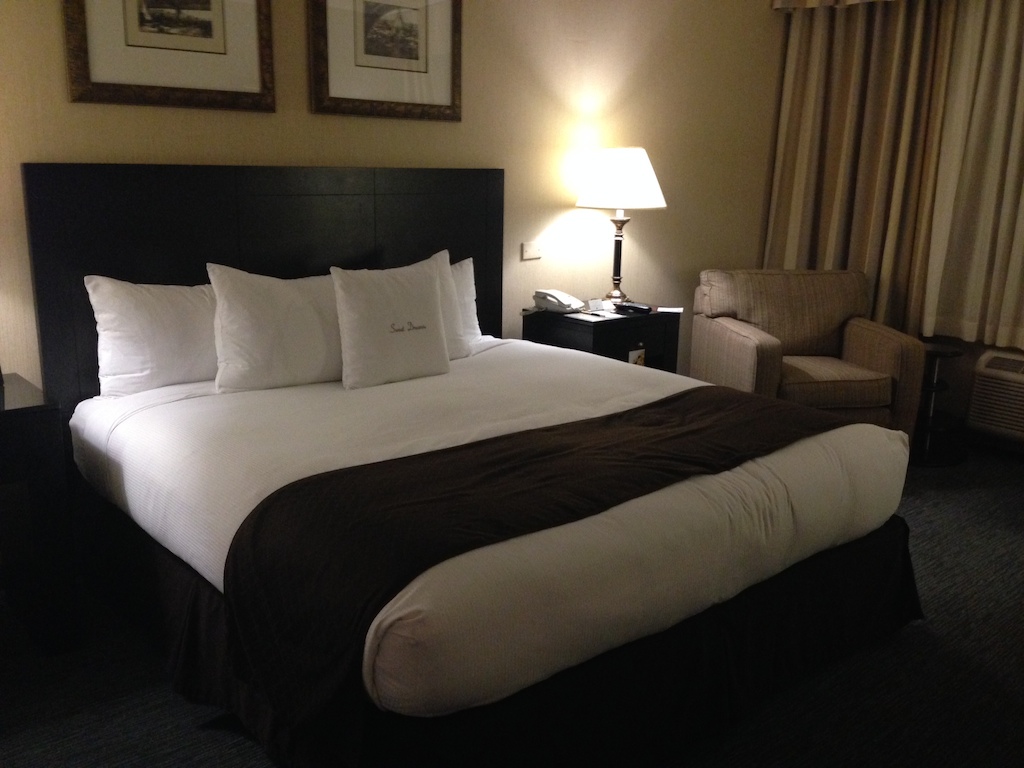 Our main negative with the room was the cleanliness of the bathroom. The bath tub didn't appear to have been cleaned very well but aside from that, the bathroom was maintained at an adequate standard.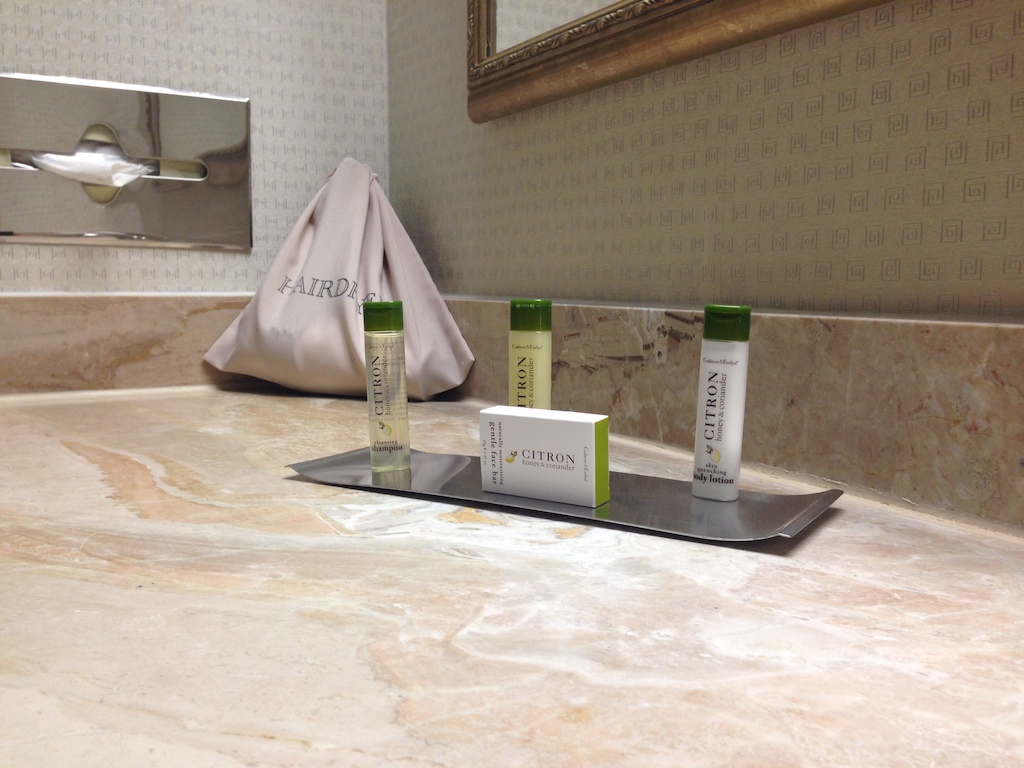 The free wi-fi connection was of course another benefit and will always get full credit from us as we always appreciate when we can connect our devices for free. We had no issues with the speed of internet and no problem with being kicked off the network as you frequently find on hotel networks, especially if you are using for a sustained period of time.
Summary and Details
For just over $90, the DoubleTree Chicago Wood Dale – Elk Grove hotel is a real bargain! It has everything you could want in a hotel and it is situated in a great location. I would definitely stay here again and would highly encourage anyone needing a spot north of the downtown area to consider this option.
Dates: Saturday, May 10, 2014 – Sunday, May 11, 2014 (1 Night)
Price: $94 per night (HHonors Double Points Rate)