After staying at a variety of other hotel chains on our recent trips, we decided to return to our favorite chain – Embassy Suites during our road trip that took us through Cincinnati, Ohio.
We have recently made the decision to start pursuing our Hilton Honors (HHonors) points more effectively rather than using Priceline to get great deals, so there were various options available in the Cincinnati area but after our positive experience at other Embassy Suites we decided on the Embassy Suites Cincinnati Northeast location.
Location
Opting for the Embassy Suites Cincinnati Northeast in Blue Ash gave us a great location to visit the 'Cincy' region despite us only staying there overnight and leaving relatively early the following morning. Driving to Cincinnati from Indianapolis made this hotel easy to find as it is located just off both I-275 and I-71 if arriving from the north or south.
Driving south from this hotel, it is about 15 minutes to downtown Cincinnati so still a relatively good location if you are planning on exploring the heart of the city.
The Hotel
One of the unique characteristics of the Embassy Suites chain is in the design of the lobby and central area of the hotel. Of course each hotel is designed slightly differently to capture the true uniqueness but there is a generic similarity to all of them as they tend to adopt a very 'rainforest' type feel with streams, rocks and other architectural pieces focusing your attention especially during the Manager's Special and buffet breakfast.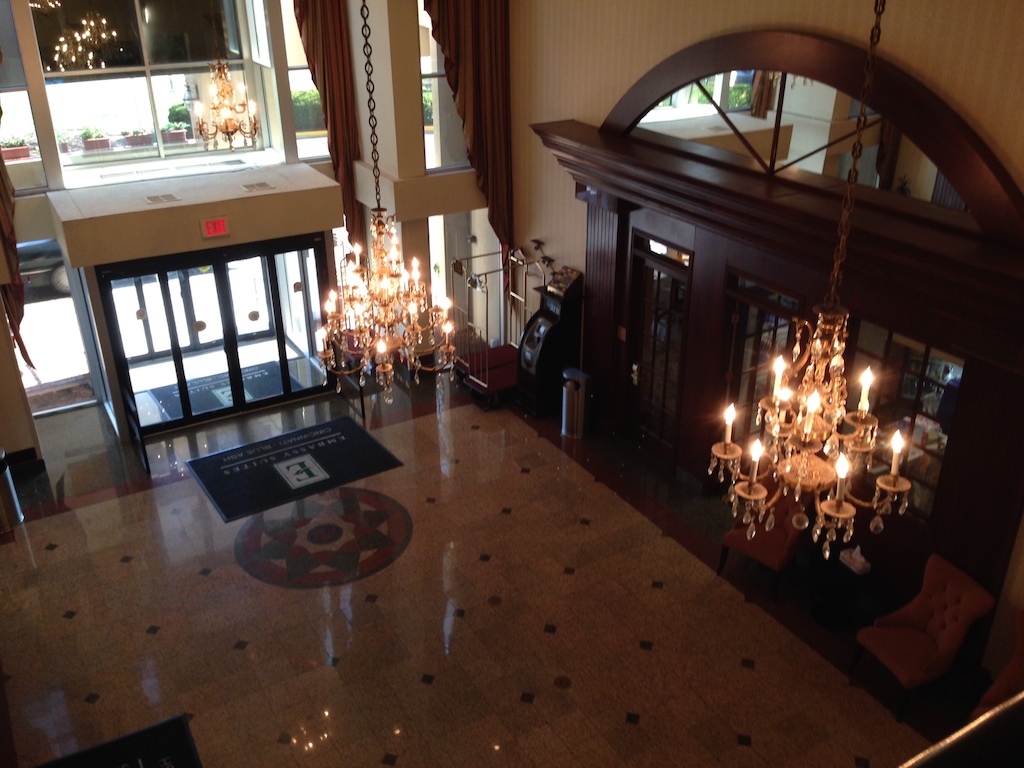 The Northeast Cincinnati location in Blue Ash is no different and offers a very relaxing atmosphere for visitors.
The Room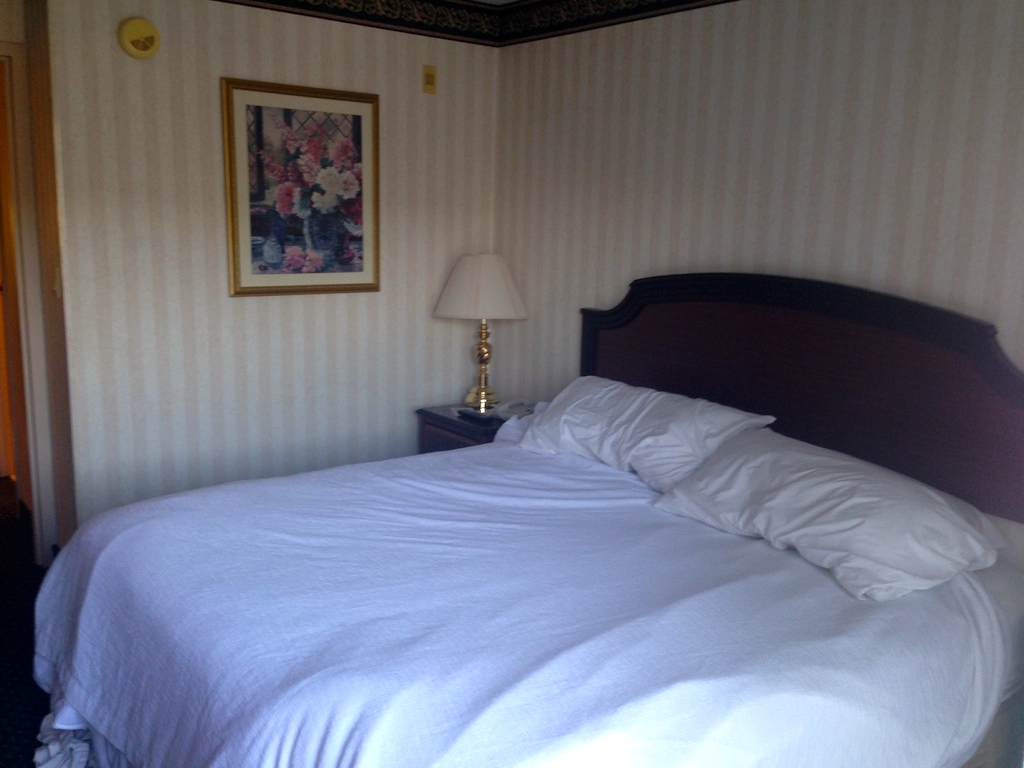 All Embassy Suites locations comprise of extremely spacious two room suites with living quarters and a bedroom. Added to this a gorgeous en suite bathroom and you have a perfect residence for a hotel room. This location certainly met our expectations and exceeded them in many respects with cleanliness, overall comfort and a bonus of two bottles of water in the refrigerator.
I know this may seem a little trivial but if you have read any of our other hotel reviews where some hotel chains make you pay for water and/or coffee, you will understand why this is beneficial.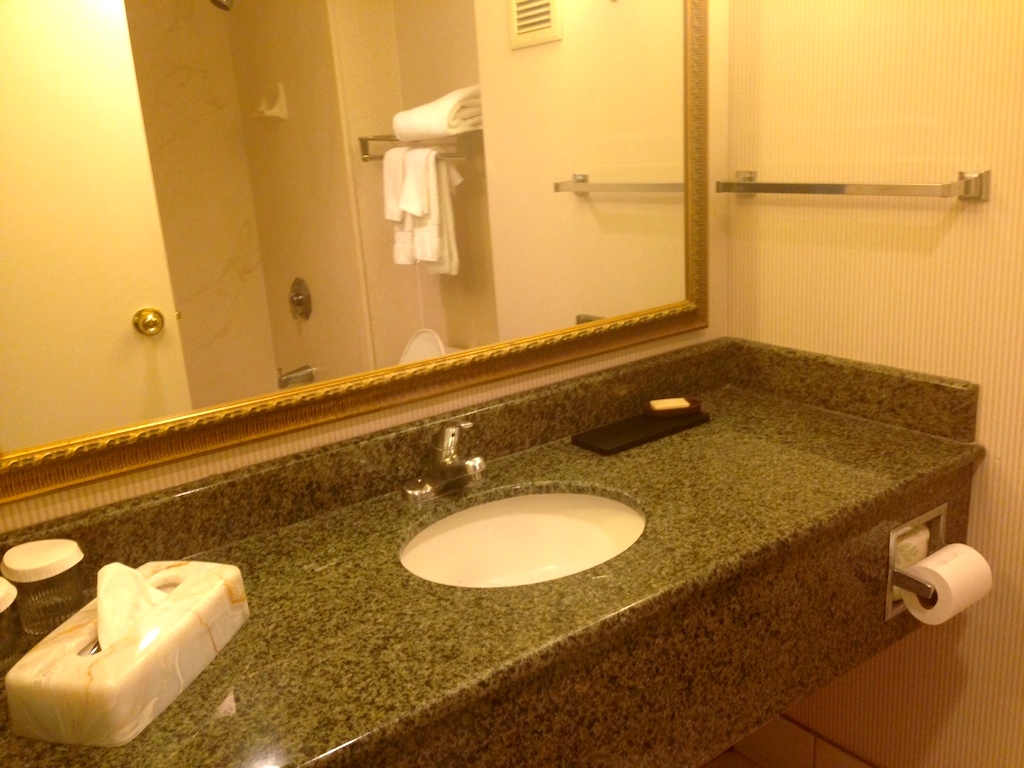 Wifi was complimentary and high-speed connectivity was available which is always a pro for any hotel. Nowadays it's expected but many still fail to deliver, so it's nice to see that Embassy Suites are maintaining a high quality of coverage in this important amenity.
Manager's Special and Breakfast
The Manager's Special runs from 5:30 – 7:30PM at most Embassy Suites locations. Essentially this provides visitors with a free bar for the duration of this 'happy hour'  though there are limited choices to what you can order. This hotel offered two different beers, one a local brew and the other being Molson. Neither Heather nor I had sampled either before so we opted for the Molson which we were not disappointed with.
One of the only disadvantages of being here during the Manager's Special is that it can get very crowded as most folks staying at the hotel want to take advantage of this great incentive. With limited seating available, I would say that this is the one of the only downsides of our experience but with a variety of drinks and snacks available, it was certainly worth fighting for a seat.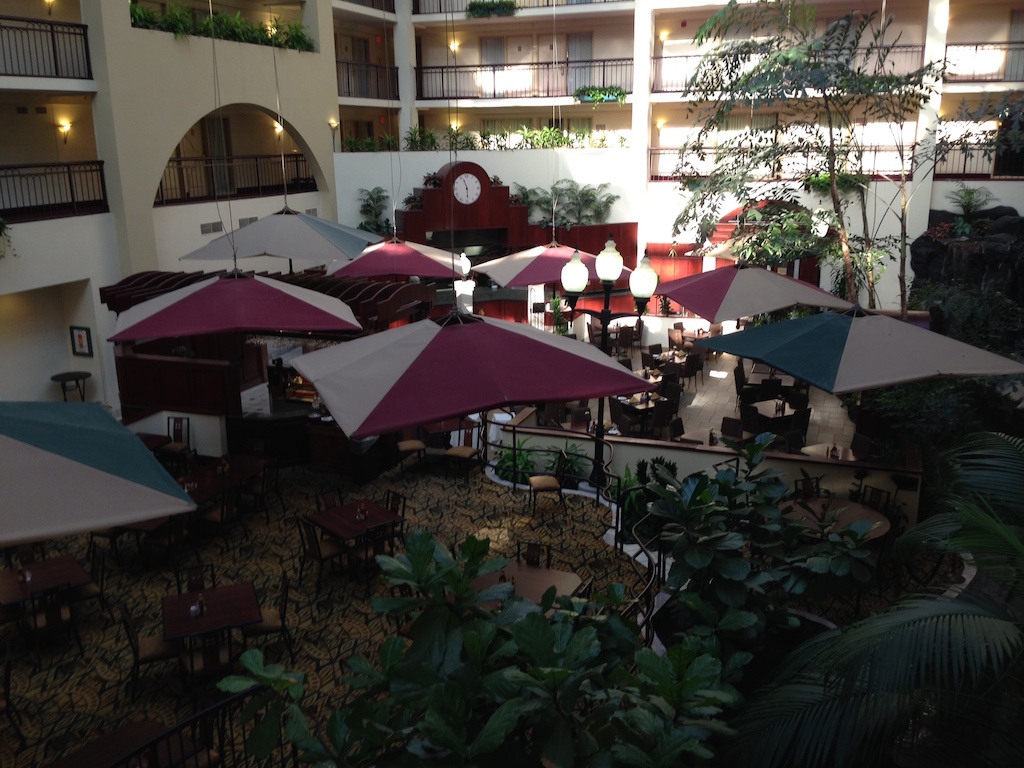 Breakfast at Embassy Suites locations is another huge positive aspect of this hotel chain. However, this was unfortunately the most negative experience we had here because we were left a touch disappointed with the overall quality. The variety of options was excellent but the quality of food left a lot to be desired. The eggs were both cold and a little overcooked which I understand is sometimes difficult to prepare given hotels are producing them in bulk. Added to this the other hot options were slightly disappointing and I was already feeling a little disheartened which is unusual for me when I stay at Embassy Suites.
One positive aspect of this buffet which is a first at any Embassy Suites was the availability of chocolate milk which I am sure is a huge plus for families especially those with children who love to start their day with a glass of chocolate milk!
Summary and Details
Having stayed at numerous Embassy Suites locations throughout the US, I believe my expectations prior to visiting the Embassy Suites Cincinnati Northeast in Blue Ash were particularly high. Fortunately, this hotel didn't disappoint despite a few hiccups with the breakfast.
Whenever you stay at a hotel and are preparing to write a hotel review, you will always look for the negative aspects and areas of improvement – I have to admit that with the Embassy Suites chain it is very difficult to find much in terms of negativity! I would highly recommend this hotel to anyone visiting the Cincinnati area.
Dates: Saturday, April 19, 2014 – Sunday, April 20, 2014 (1 Night)
Price: $109 per night