While most visitors to Texas will frequently visit the iconic cities of Dallas, Houston, San Antonio, or Austin, the Panhandle region of the Lone Star state is unlikely to be at the top of most itineraries. However, having drove through this region from Oklahoma City en route to New Mexico, we can 100% attest that this deserves to be explored because of the myriad of attractions on offer here. The city of Amarillo is at the heart of the Texas Panhandle, and we were able to experience a collection of free attractions in less than 24 hours. Let's take a look at the best free things to do in Amarillo and perhaps you will be inspired to add this to your next Texas adventure.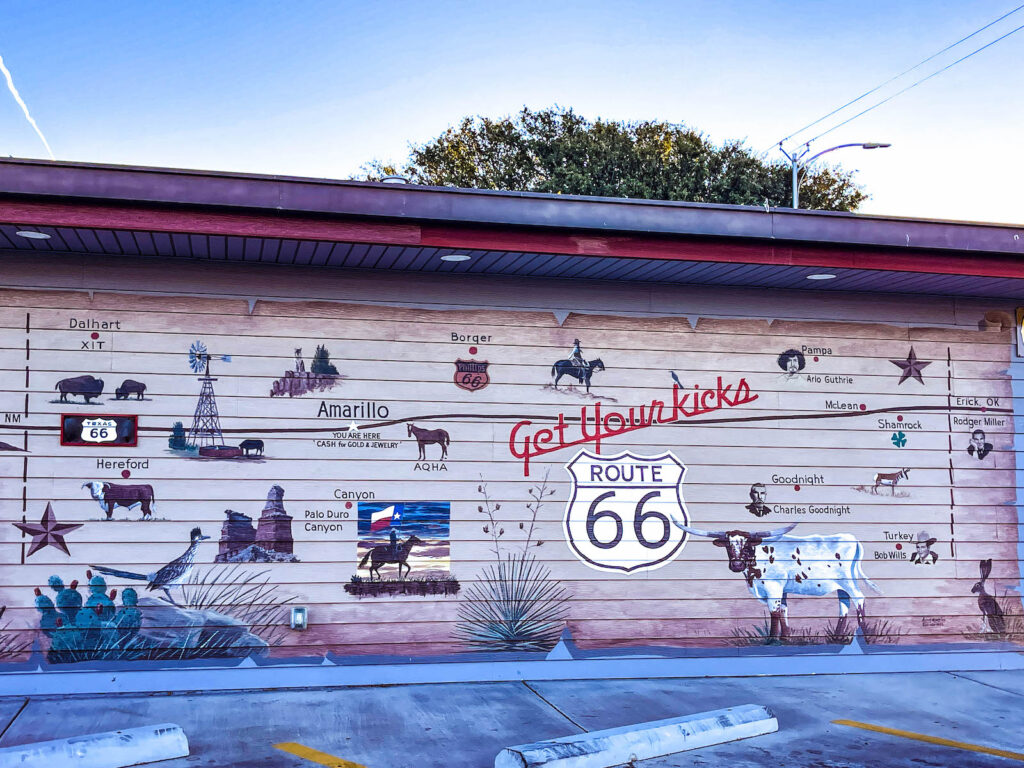 Amarillo is stereotypically renowned as being the gateway to the spectacular Palo Duro Canyon State Park, also known as the "Grand Canyon of Texas". However, for those that are simply passing through the city of Amarillo, you will likely want to explore the other attractions that the city has to offer.
When it comes to quirky attractions, Amarillo certainly has plenty of them but these weird yet wonderful locations are what makes this city worth going out of your way to explore. As mentioned, the real beauty of these is that they are FREE which is always a benefit and a great way to spend a few hours before continuing your road trip through the Panhandle.
Free Things to Do in Amarillo
From the iconic Cadillac Ranch to the lesser known Combine City, Amarillo has a collection of free things to do that are well worth visiting during your trip to this part of Texas. Here are 5 of the very best spots that should be on your radar and we would love to hear any other suggestions on things to experience in this Panhandle region.
Cadillac Ranch
Combine City
The Big Texan Steak Ranch & Brewery
Legs of Amarillo
Harrington Historic Home
Cadillac Ranch
For those of you that have visited Amarillo, you will know that the piece de resistance in this city is certainly Cadillac Ranch, located along historic Route 66 just west of the city center. Dating back to its creation in 1974 by three art aficionados who were part of the "Ant Farm" art group, Cadillac Ranch attracts visitors from across the globe not only because of its quirkiness but also the unique characteristics that make this such an appealing attraction.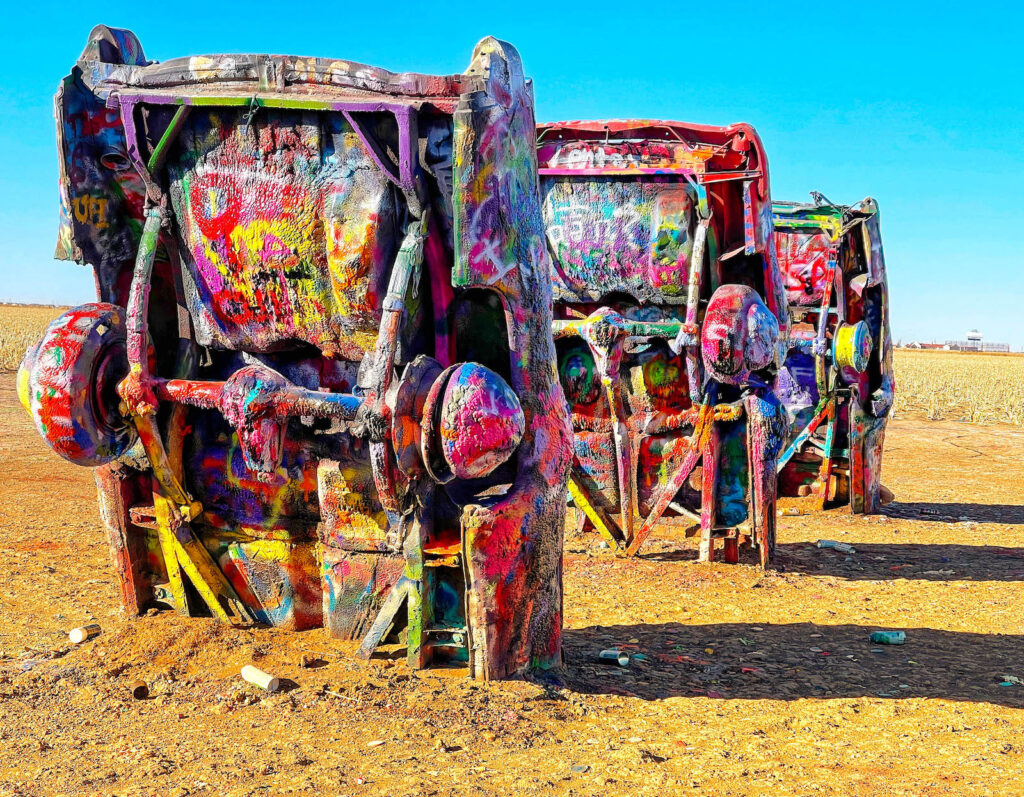 This art installation consists of ten Cadillacs, ranging in model years from 1948 to 1963, buried nose-first in the Amarillo landscape. Visitors can either wander around and admire the Cadillac collection, or purchase a can of spray paint and add their own unique touch to the already heavily coated cars. The original colors of turquoise, banana yellow, gold, and sky blue didn't last very long due to vandalism, and while the cars have been repainted on numerous occasions since their inception, today visitors will simply enjoy a maelstrom of colors.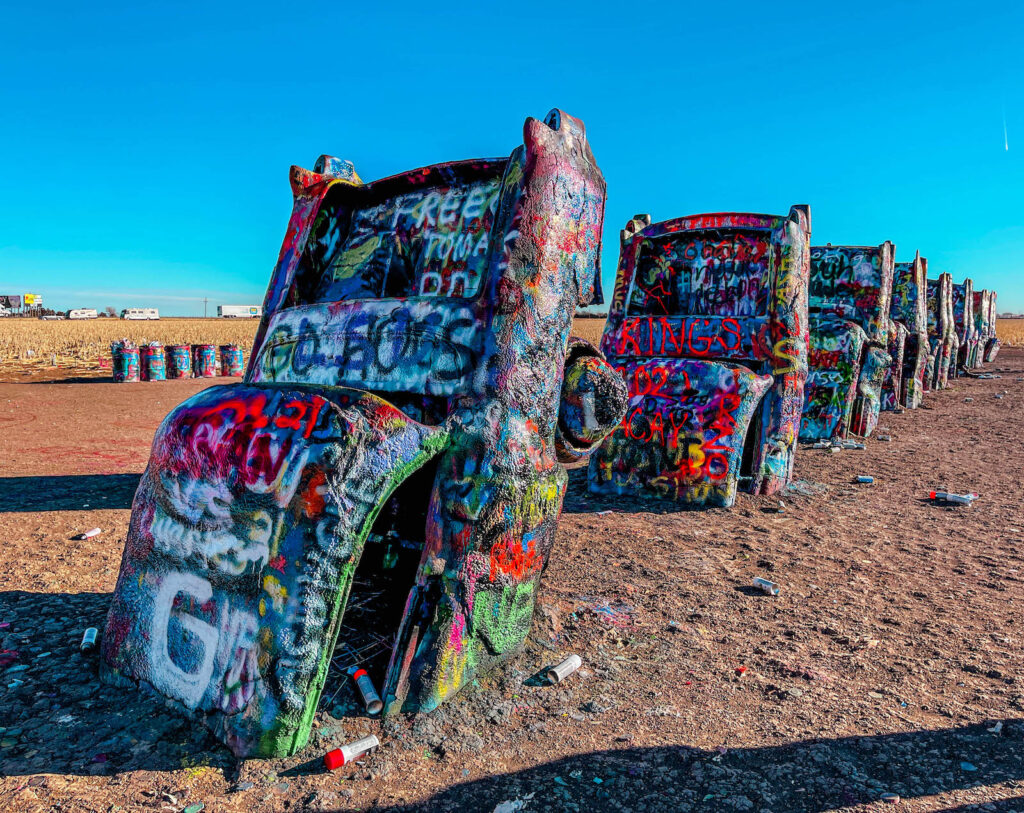 The only disappointing aspect was the number of spray paint cans that were left scattered around the perimeter of the installation, despite a trash can being located nearby. If you truly want to appreciate the artistic beauty of this art display, be prepared to take a trash bag with you to do your part in cleaning up this area or simply pick up cans and place them in the trash can!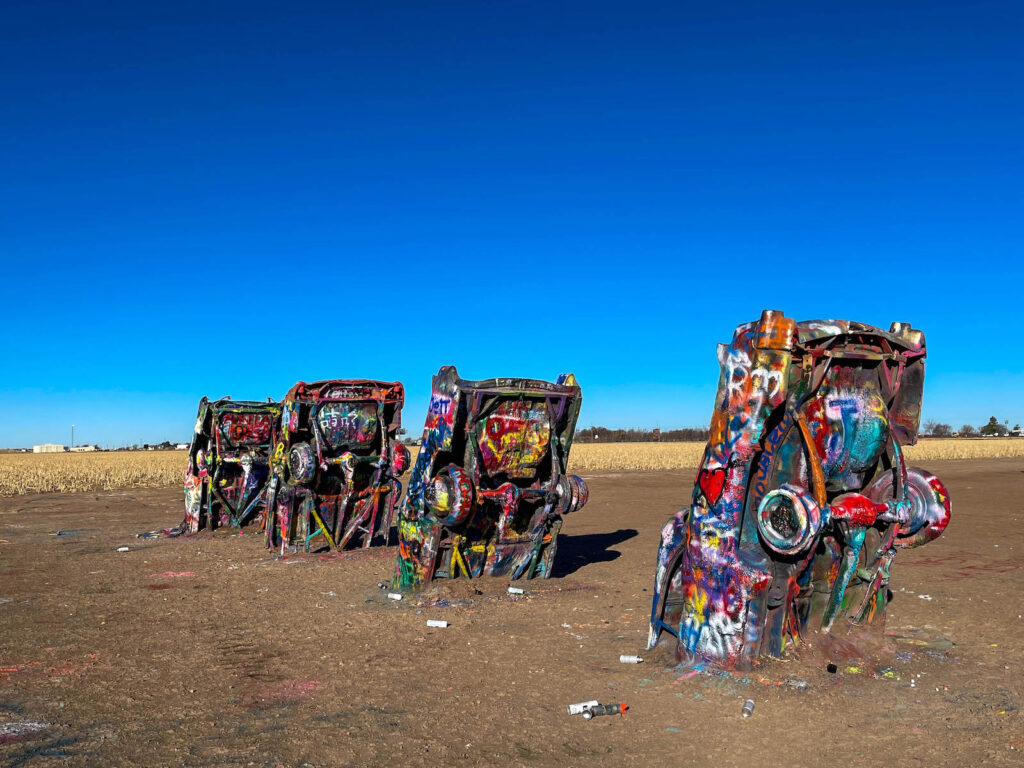 Combine City
Cadillac Ranch may have the recognition of being the most iconic attraction in Amarillo, but did you know that there is another equally quirky attraction that pays homage to this? That's right, head over to the wonderfully named Combine City to experience a collection of half buried combine harvesters on the other side of the city.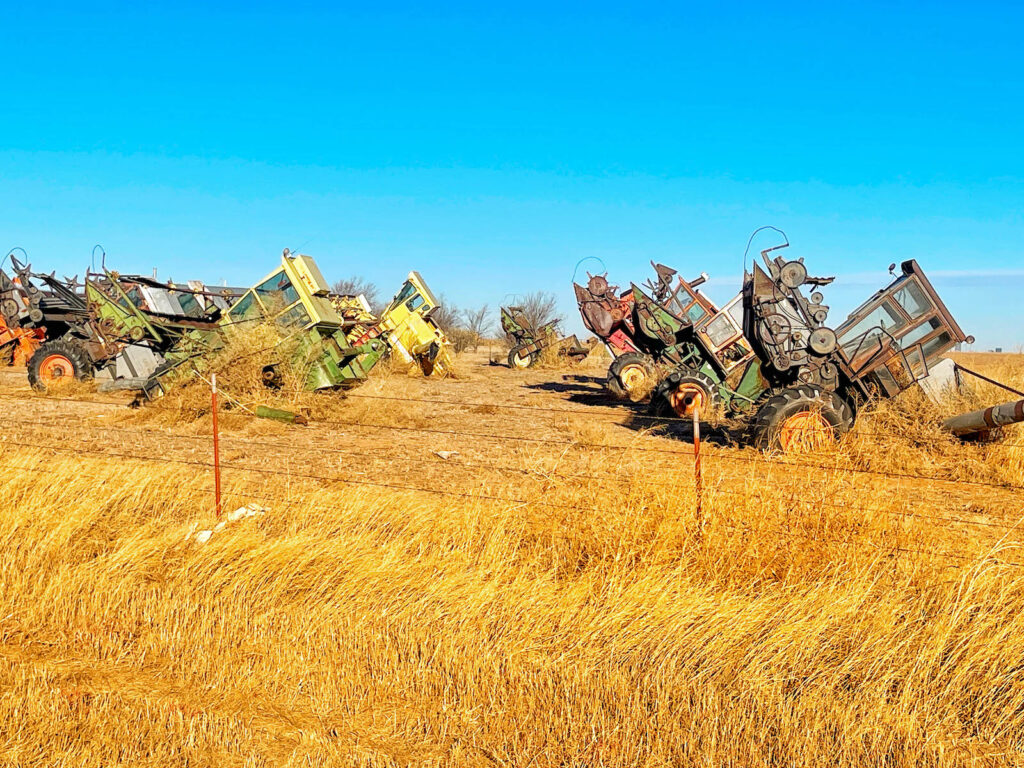 When local farmer Orville Ladehoff had a broken combine, he told his wife that he wanted to "plant" this rather than bury it on a two-acre plot of land along Claude Highway south of the city. Since that first combine was planted, it has since grown to a collection of combines that now attracts visitors who simply love the quirkiness of this feature. While visitors cannot walk among the combines that are on private property, you can pull over to the side of the highway and capture a few memorable shots of these combines, including a sign advertising this unique location.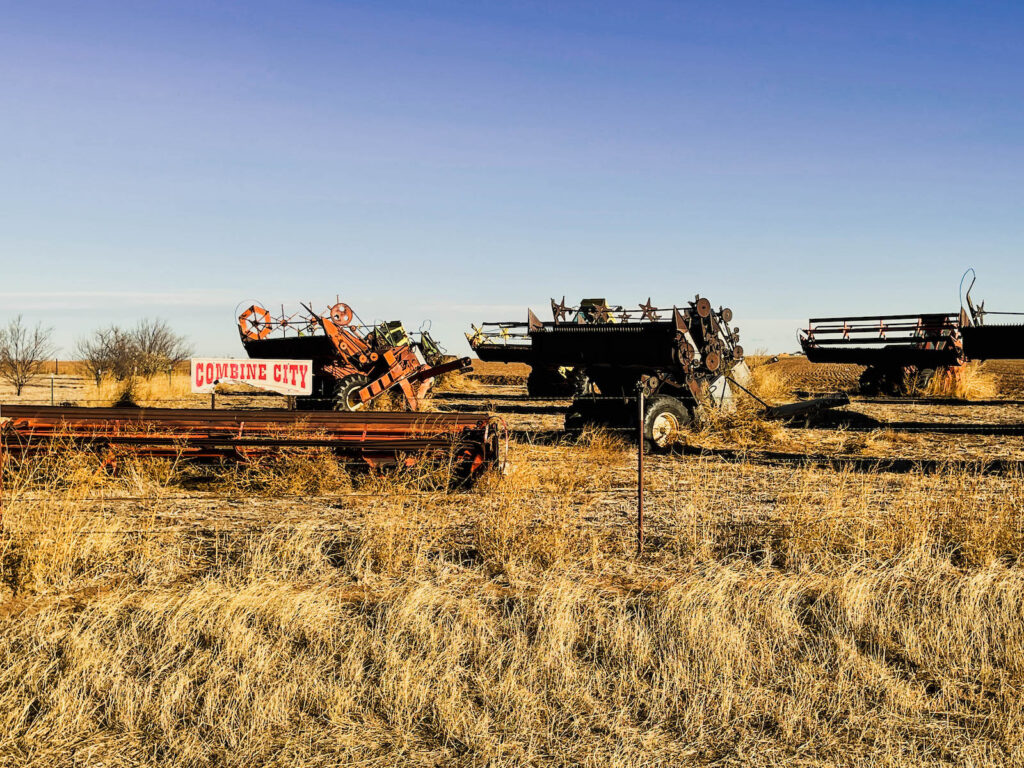 For those of you that love the Disney movie Cars, perhaps you will be pondering Mater and those "tractor tipping" antics when you visit Combine City…perhaps Amarillo will create an attraction in honor of tractors somewhere! Nothing could surprise anyone given the uniqueness of this location.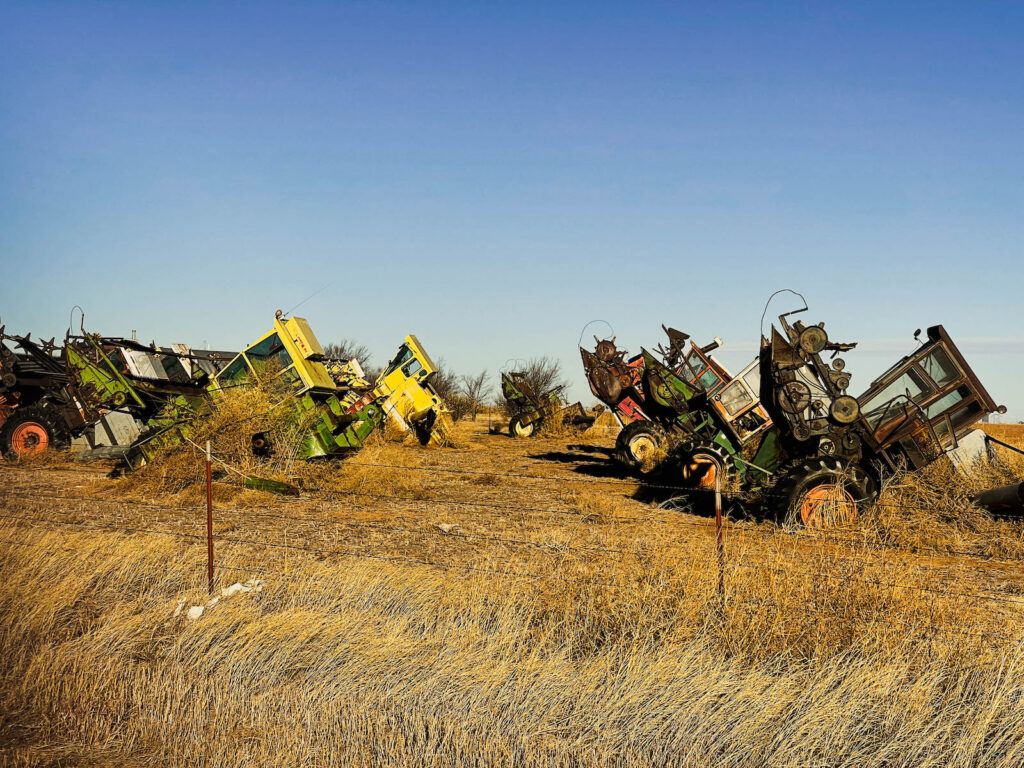 The Big Texan Steak Ranch & Brewery
Are you ready to indulge in a 72oz steak challenge? Accept the challenge and complete it successfully within one hour and your meal is FREE! Lose and you must pay the full price of $72. So while this is technically not a free attraction, unless like us you simply visit outside of the Big Texan Steak Ranch & Brewery opening hours, it is definitely one of the most popular reasons for visitors to experience Amarillo.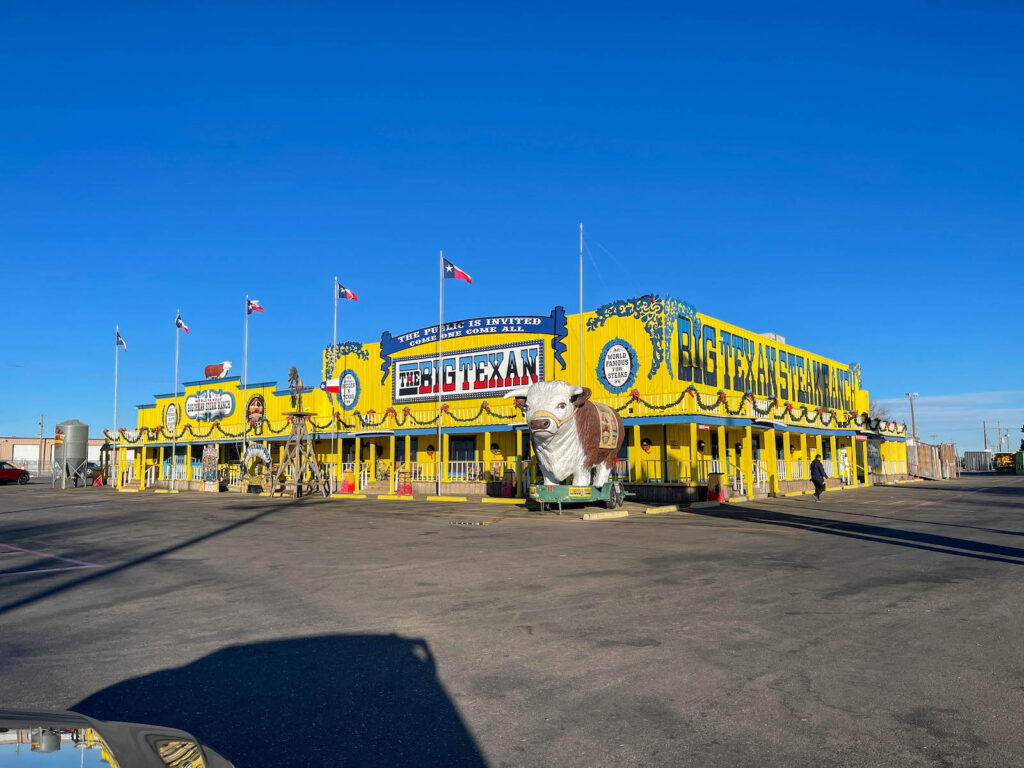 The thought of devouring a 72oz steak along with accompanying sides may sound daunting, but when you hear that there have been over 10,000 successful attempts, perhaps you will be inspired to try this. However, with over 86,000 attempts, you need to weigh up if those percentages are in your favor – with just over a 10% success rate, it's no surprise that this restaurant makes a lot more money than it loses with offering this challenge!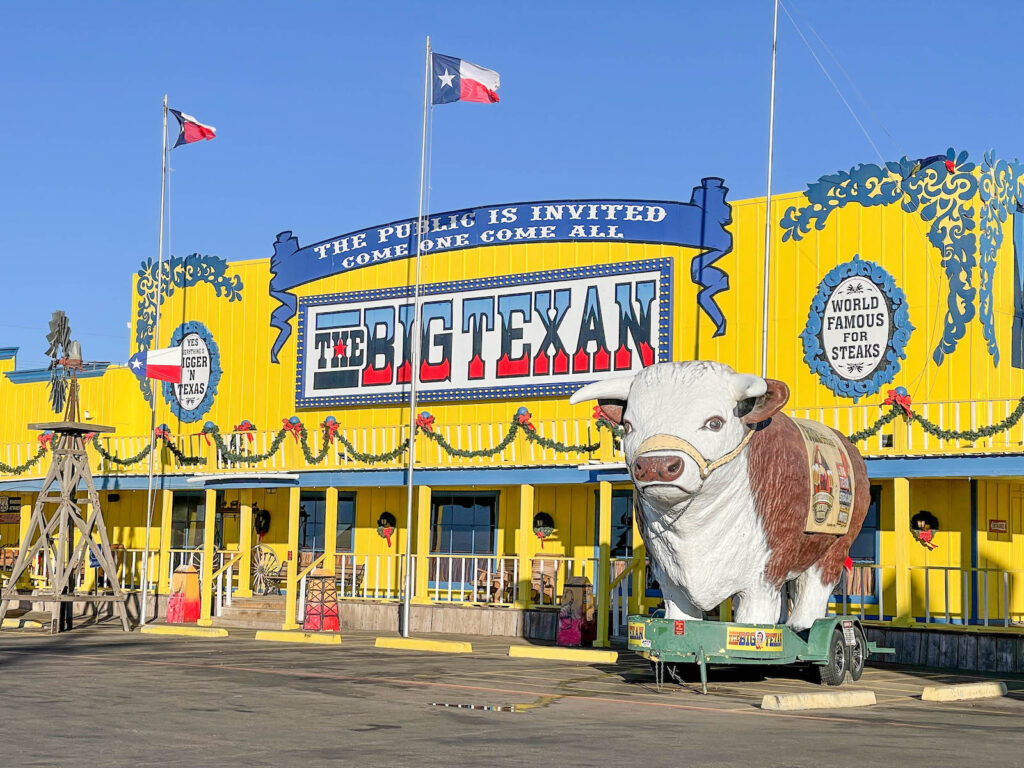 Regardless of your desire to contemplate this challenge, the Big Texan Steak Ranch is a colorful building on the side of Route 66 and definitely worth visiting. Even if you don't opt to dine here, head inside the gift shop to perhaps take away a souvenir 72oz steak seasoning.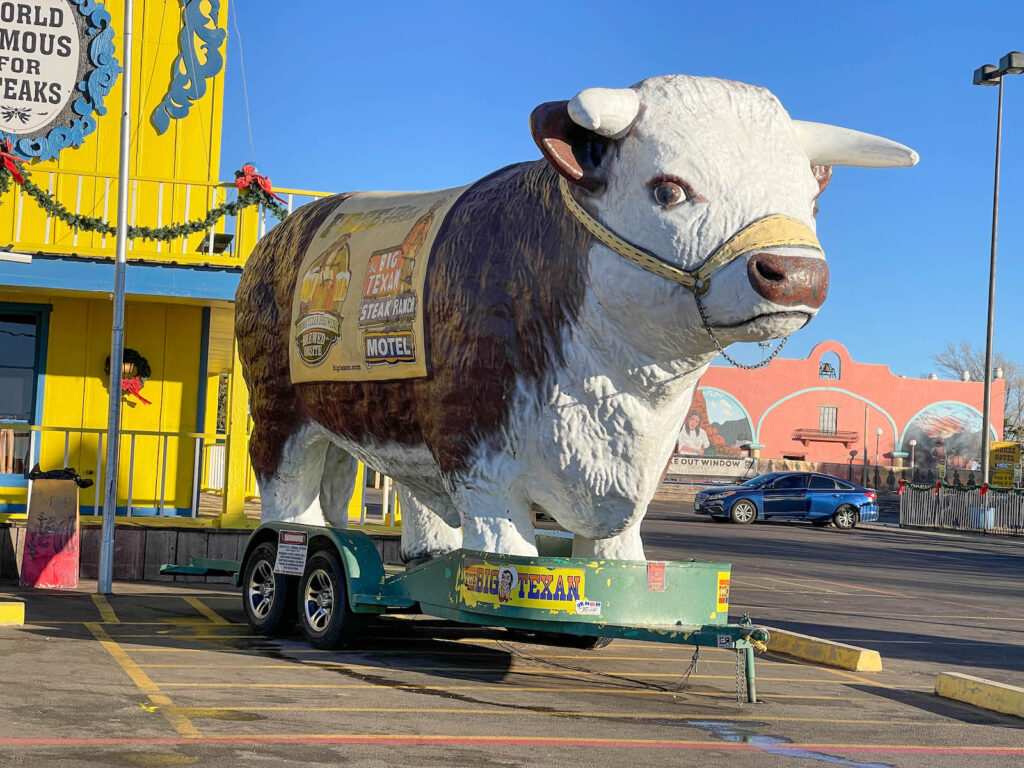 Legs of Amarillo
If you thought a collection of combine harvesters head first into the ground was a little crazy, the sight of the Legs of Amarillo monument takes the word quirkiness to the next level. Located just off the highway heading south on I-27, the towering sight of two giant legs (frequently wearing athletic socks) is a real sight to behold. It's a fair assumption to make that you will likely wonder what the purpose of this monument is, and you may be surprised to hear that the history of this dates back to an Egyptian king.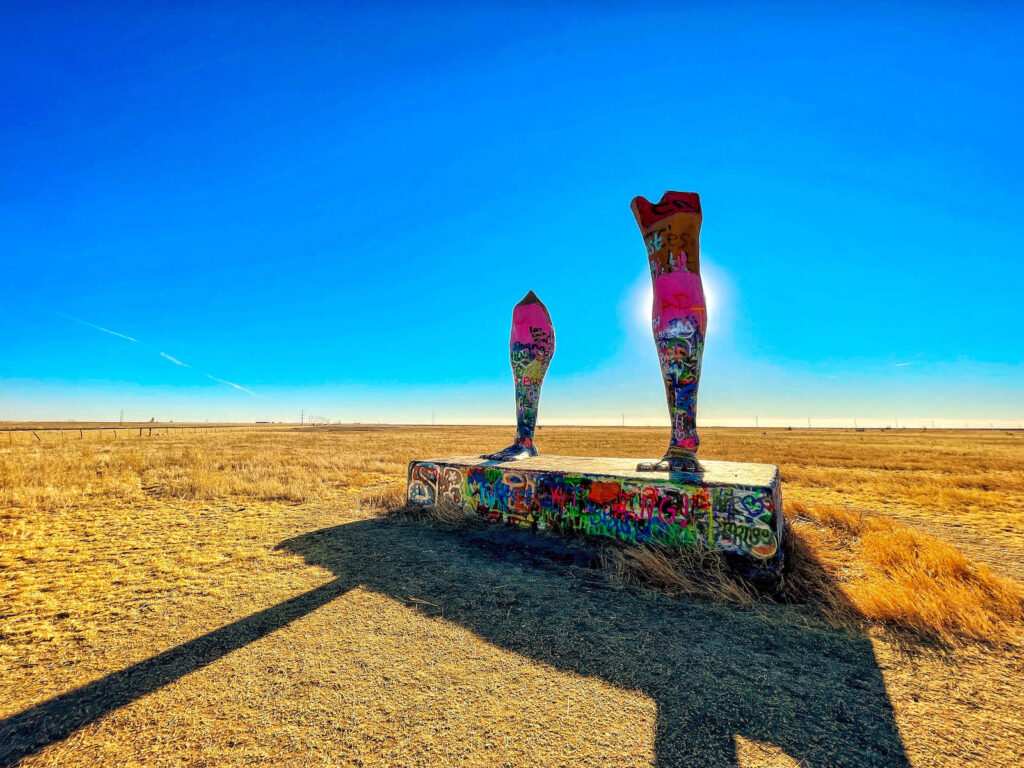 Dating back to 1818 when poet Percy Shelley wrote "Ozymandias", the Greek name for Ramesses II, the Legs of Amarillo mirrors this historic sculpture.
"I met a traveller from an antique land

Who said: Two vast and trunkless legs of stone

Stand in the desert …

And on the pedestal these words appear:

'My name is Ozymandias, King of Kings,

Look on my works, ye mighty, and despair!' "

Percy Shelley, 1818
Similar to Cadillac Ranch, this monument is frequently vandalized with graffiti and occasionally will be sandblasted to restore to its original form, though it generally doesn't take very long for the Legs to return with their customary athletic socks.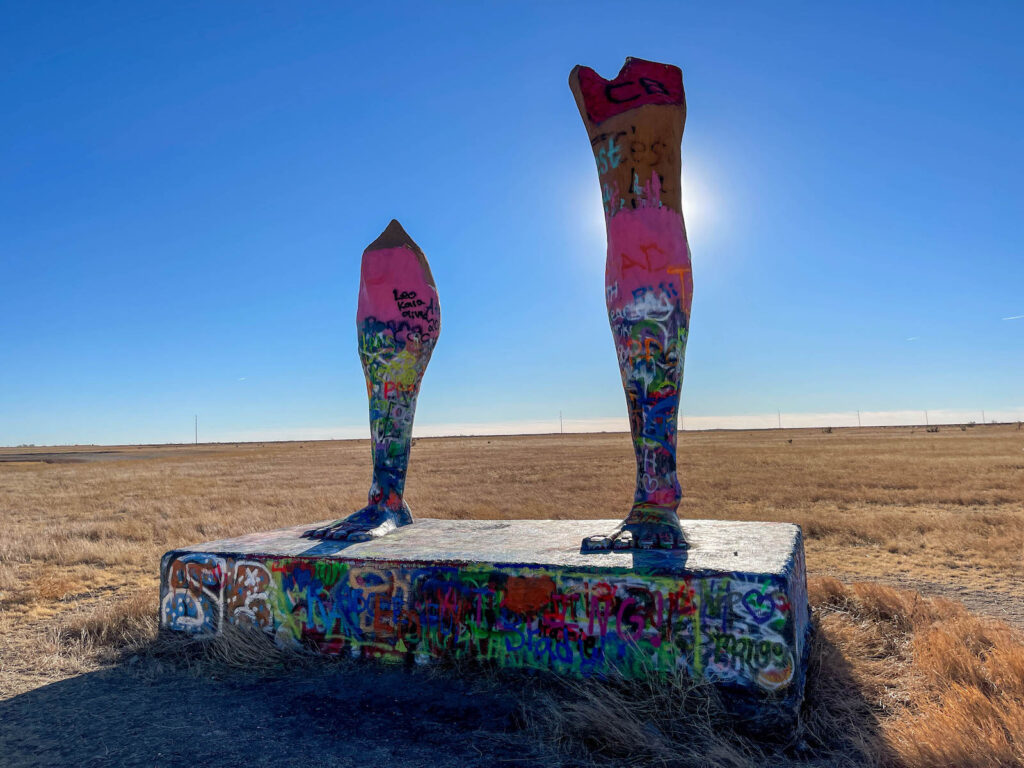 Harrington Historic Home
Amarillo is home to so many unorthodox attractions, but there are a number of other "normal" historic locations that are worth visiting during your adventure around the Panhandle region of Texas. One of these examples is Harrington House, which is a historic architectural masterpiece located in the heart of Amarillo. The history of this house dates back to the turn of the 20th century when the Panhandle was seeing a rapid growth in both the cattle industry and also discovery of gas and oil. Harrington House plays tribute to both of these eras.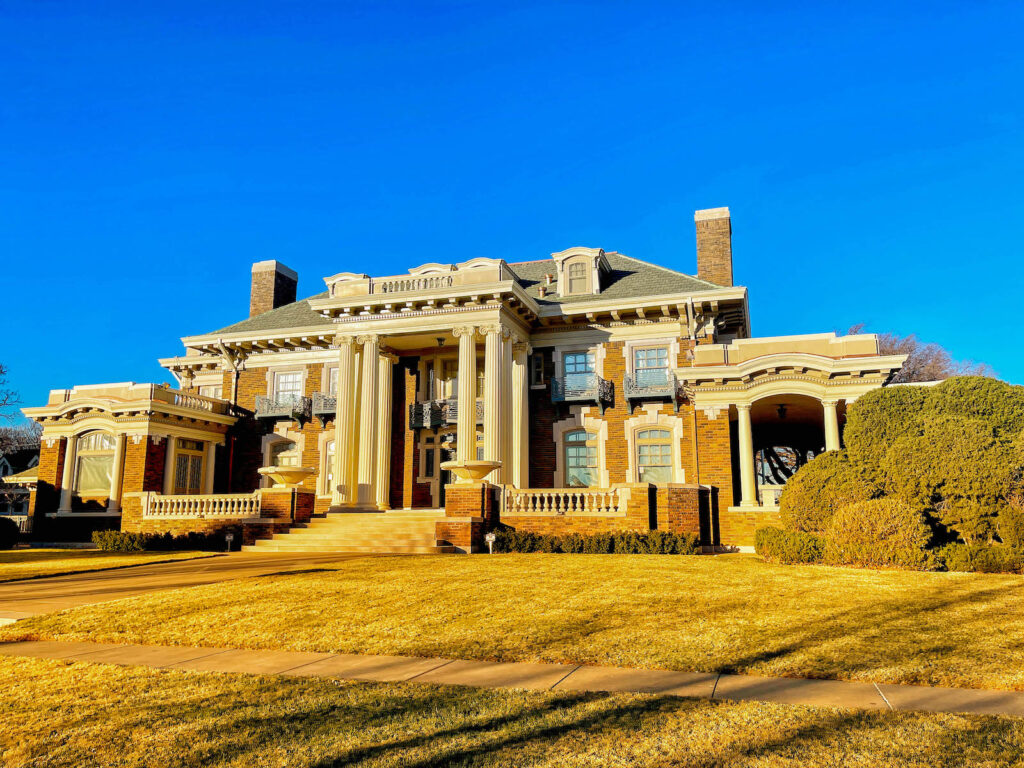 Built in 1914 by cattlemen John and Pat Landergin, Harrington House is stereotypical of Neoclassical design and the intricate details of this home makes this an attraction worth visiting if you love exploring architectural structures. In 1940, this home was purchased by Don and Sybil Harrington, hence where the name of this house derives from.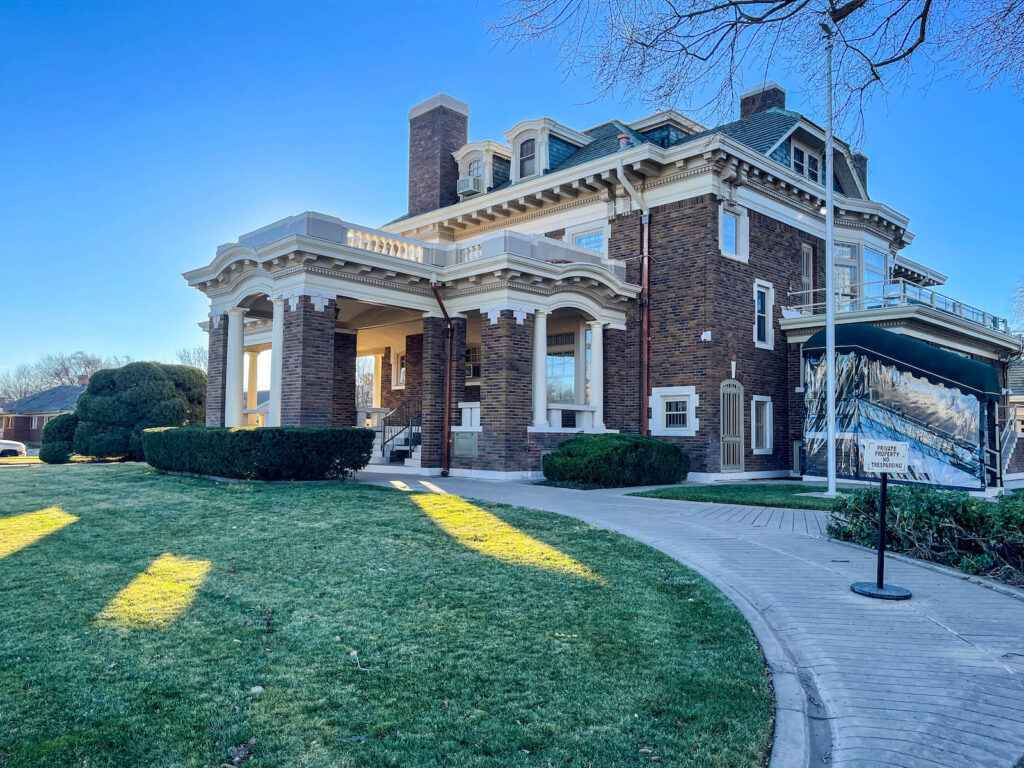 Summary
Amarillo may not be the first place you think about visiting in Texas but having spent time exploring this city, we can 100% attest there are plenty of attractions that justifies adding this to your next trip to the Lone Star state. Many of these attractions are free and the obscurity of these certainly adds a level of interest and uniqueness to the city.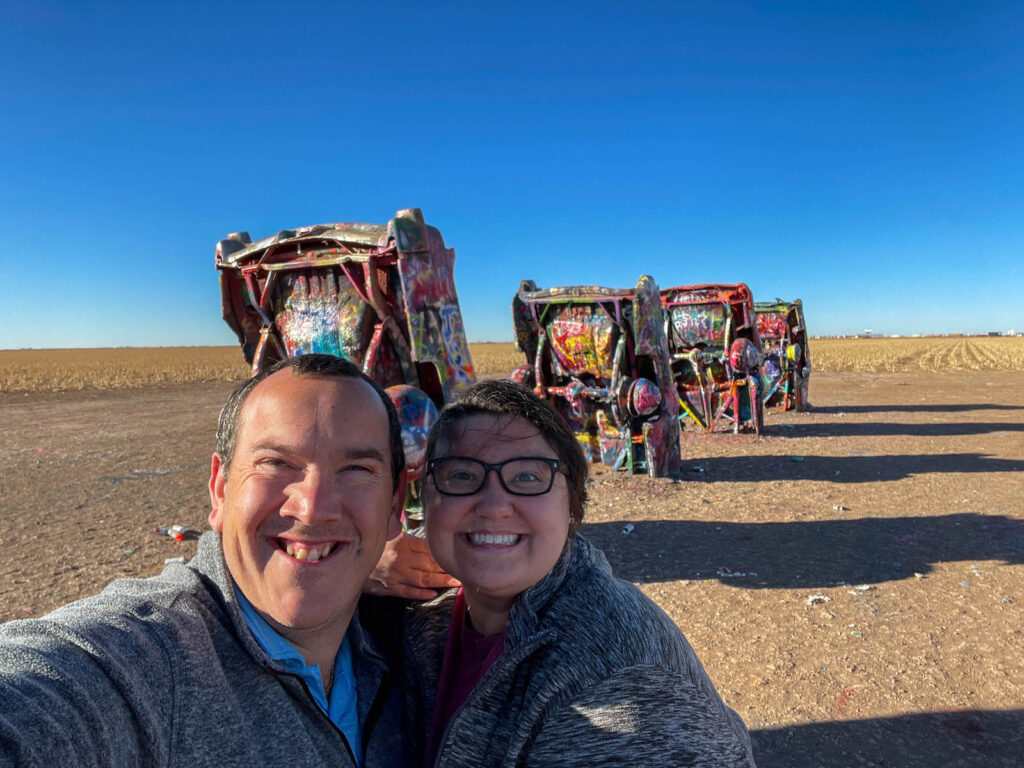 Whether you are inspired to visit the iconic Cadillac Ranch or perhaps want to learn more about the Egyptian inspired Legs of Amarillo monument, the city of Amarillo is one that you may well fall in love with! Have you visited Amarillo before? If so, please share your experiences below. If not, which of these attractions are you most excited to visit?