The idyllic scene of a stereotypical English village is one that epitomizes perfection, and for visitors to the UK from across the globe is an experience everyone should try to add to their itinerary. However, with so many beautiful villages around England to choose from, the ultimate question is where do you visit first. Dependent on where you are traveling in the UK will likely determine which villages are worth exploring, but one thing is for sure, there are ample villages with plenty of unique character that will make you want to return time and time again.
Before exploring some of the best villages in England, let's address a frequent misconception with regards to the difference between a "village" and a "town". The concept of a village is certainly very European, and primarily associated with locations around the United Kingdom. A village is a "small community in a rural area", however, the key difference is that a village does not have a governing authority, whereas a town is governed by local government and authorities.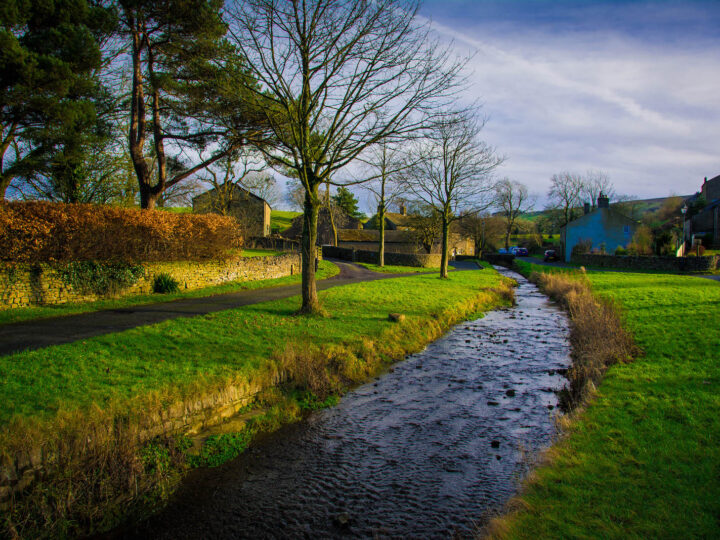 Best Villages in England
When you think about idyllic villages around England, I am sure there may be many that spring to mind. Those idyllic settings in the Cotswolds from the movie, The Holiday…or perhaps Clovelly, Devon which is infamous for the steep pedestrianized cobbled main street, are locations that are frequently recognized as some of the most iconic around England.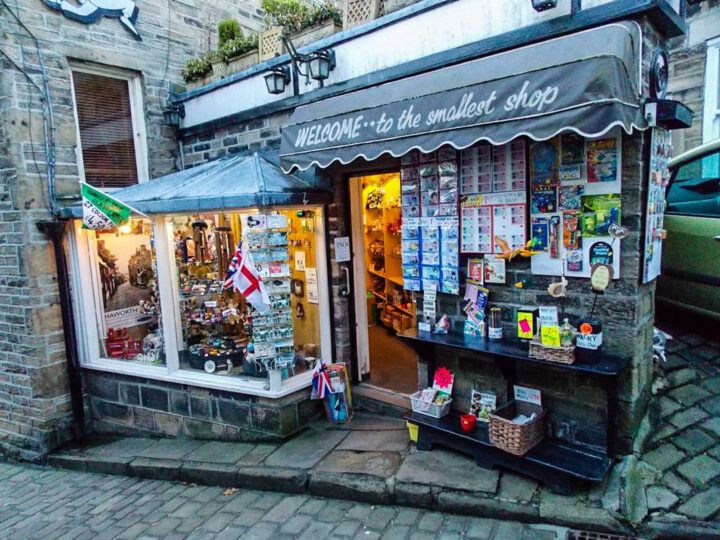 However, we have collaborated with some of our travel blogging friends to bring you a collection of villages that we think should be on your radar for your next trip to the UK. For those of you that reside in the UK, these are the perfect spot for a day trip and you may well stumble across many other picturesque villages as you explore the list below.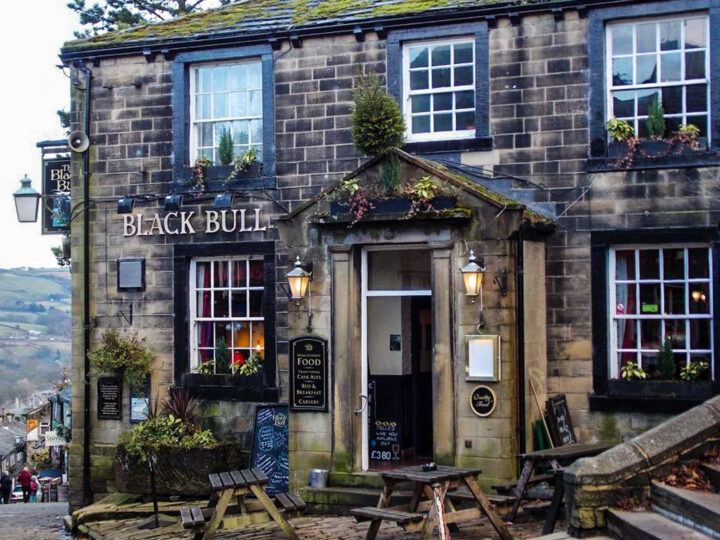 Let's take a look at which villages we will be focusing on and please don't hesitate to share your favorite English villages in the comments at the bottom of this post.
Amberley
Bamburgh
Bibury
Bourton-on-the-Water
Castleton
Downham
Finchingfield
Grantchester
Hathersage
Hawkshead
Haworth
Lacock
Minster Lovell
Polperro
Staithes
Tintagel
Wycoller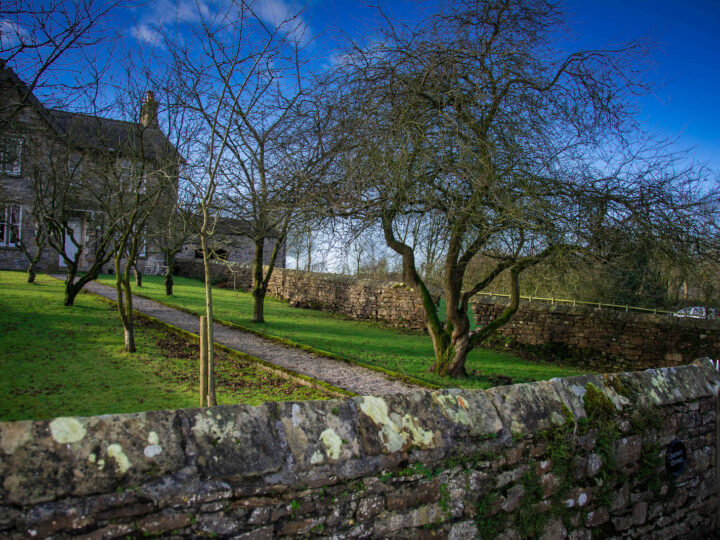 Amberley
Fairytale-like Amberley appears frozen in time. Visiting idyllic Amberley seems like going back to the 19th century. The picturesque village features stunning thatched cottages, a medieval castle, lovely old brick houses, arresting gardens, and breathtaking greenery.
The tiny village of only 600 people is well-liked by artists and nature enthusiasts. The picture-perfect Amberley is set amid unspoiled nature with the beautiful Amberley Wildbrooks Nature Reserve. Close to the reserve, there is the 900-year-old Amberley caste. Today the caste is a top luxury hotel and one of the most romantic venues for weddings, festive celebrations, and retreats in England.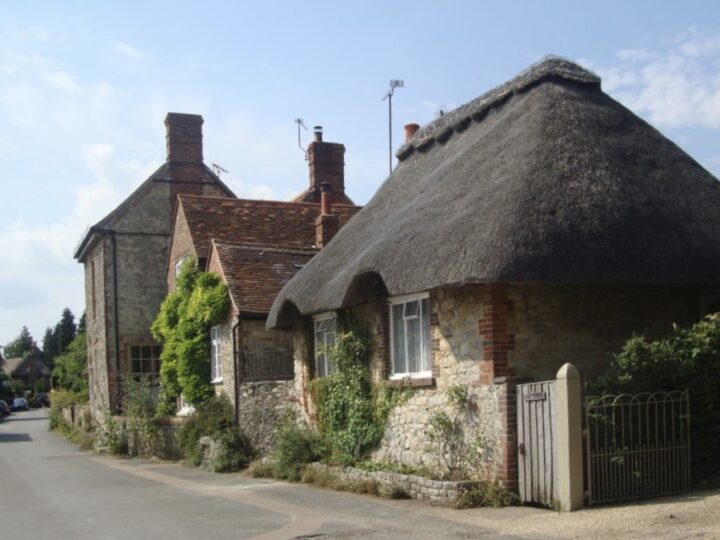 Besides the Amberley castle and the nature reserve, one of the must-see places in the village is the Amberley Working Museum. The open-air museum with more than 40 exhibits of machinery and tools shows the industrial past of Sussex. The museum was even a filming location of James Bond's A View to a Kill. But the coziest place to pamper yourself with some of the best British foods (think of proper English tea with milk, yummy scones with jam and clotted cream or delicious Victoria sponge cake) in the village is Amberley Village Tea Room.
Amberley is only 10 min drive from Arundel and about one hour drive from Brighton. Amberley is also well-connected to London with a direct train line. So if you want to see one of the prettiest villages in England on a day trip from London, you need to check out Amberley.
Click the following link to find the location of Amberley, West Sussex on Google Maps and plan a route based on your location.
By Milijana Gabrić from World Travel Connector
Bamburgh
A village that has a castle, a beach and a national hero has to be something like perfect. And that's what you'll find with the lovely village of Bamburgh. Bamburgh is located on Northumberland's coast and is picture-postcard pretty. This is a glorious village in England's most northerly county.
Throughout this idyllic village, you will find fabulous cozy pubs, a fantastic village green and, of course, the castle, which is in a magnificent position over one of the world's best beaches.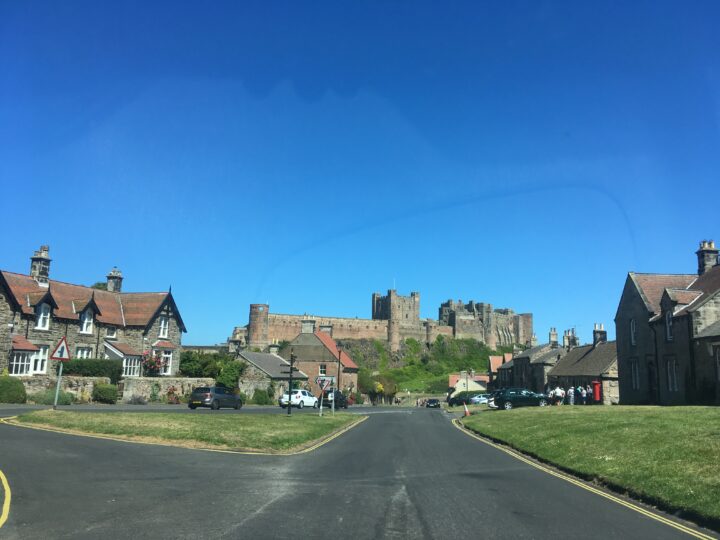 When visiting Bamburgh you should visit the RNLI (the Royal National Lifeboat Institution) museum, which houses the Grace Darling Museum commemorating Victorian Britain's great heroine. Grace was just 22 when she worked with her father, the lighthouse man, to row out and rescue survivors of a shipwreck in 1838. Be sure to take a trip to the Longstone Lighthouse which is where Grace Darling lived with her family.
There are some great hotels and cottages to rent in the area, but the best place to stay in Bamburgh is in the castle itself, where you can rent an apartment with stunning views over the coast.
Click the following link to find the location of Bamburgh, Northumberland on Google Maps and plan a route based on your location.
By Sara from Northumberland's Best
Bibury
William Morris described Bibury as the most beautiful village in England it is hard to disagree. The village is located in the Cotswold's, an area of outstanding natural beauty. Bibury was first mentioned in the Domesday Book and has changed very little over the centuries.
One of the biggest attractions in Bibury is Arlington Row. The historic homes of Arlington Row were originally constructed as wool storage buildings in 1380 and later converted into weavers' dwellings. Opposite Arlington Row is Rack Isle where the cloth was hung to dry by the weavers.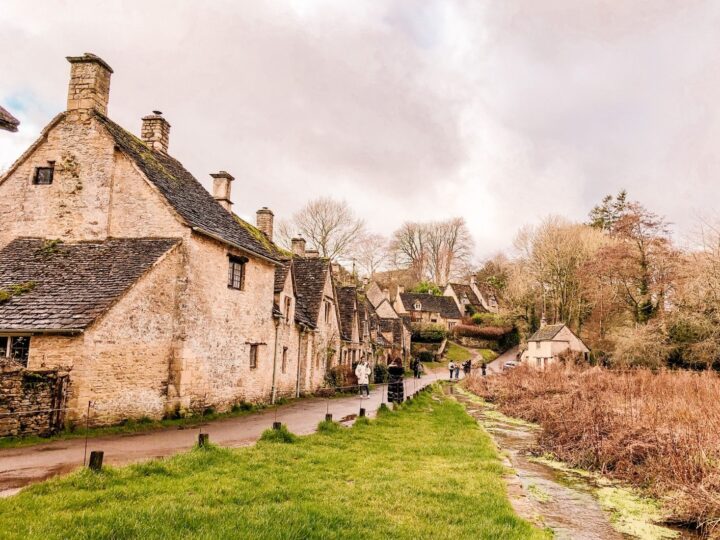 Other Cotswold attractions in Bibury include the Bibury Trout Farm and the picturesque River Colne which runs through the village.
There are a couple of recommended places to eat in Bibury. The Swan Hotel offers a menu of local produce in their brasserie and bar and a relaxed atmosphere in which to enjoy it. In winter warm up around the log fire at the Catherine Wheel pub after a walk around the village. They also serve delicious meals in the bar or restaurant.
Click the following link to find the location of Bibury, Gloucestershire on Google Maps and plan a route based on your location.
By Tracy from UK Travel Planning
Bourton-on-the-Water
Often referred to as the "Venice of the Cotswold's", Bourton-on-the-Water is hands down one of the most idyllic villages in England. Characterized by quintessential stone cottages, this Southern English town is also one of the prettiest Cotswold's villages out there.
Cutting through Bourton-on-the-Water is the picturesque River Windrush, and the views along the riverbank are simply stunning. In fact, taking a relaxing stroll along the river is the main thing to do in this village. All along the way, you'll come across cafes, bakeries, and outdoor restaurants. Be sure to stop by Rose Tree Restaurant for a delicious meal, and Bakery on the Water for a cozy afternoon tea.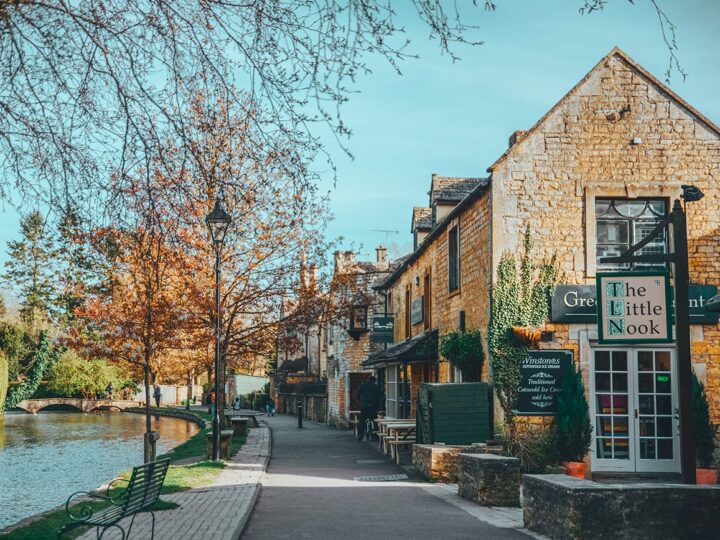 There are also plenty of unique things to do in town. Stop by the adorable Model Village to see many tiny replicas of this village. You will feel like a giant there! You can also check out the Cotswold Motoring Museum for a large collection of vintage cars. Lastly, if you adore animals, don't miss Birdland Park & Gardens. You can even spot penguins and flamingos there!
With plenty of activities to offer both adults and children, Bourton-on-the-Water is the perfect place to spend a day or two relaxing in the laid-back Cotswold's atmosphere.
Click the following link to find the location of Bourton-on-the-Water, Gloucestershire on Google Maps and plan a route based on your location.
By Jiayi from The Diary of a Nomad
Castleton
Castleton is a small and quaint village found in the Hope Valley in the beautiful Peak District National Park. Although it's small, there are many exciting things to do and the village itself is a lovely place to wander around or for a base whilst you explore the national park.
For history lovers, be sure to visit the ruins of Peveril Castle, which you can reach on foot from the village. For outdoor enthusiasts, one of the UK's most popular walks, Mam Tor, is just on its doorstep, with fantastic views over the Peak District and beyond. Finally, be sure to take in the indescribable views from Winnats Pass – an impressive limestone gorge with beautiful scenery.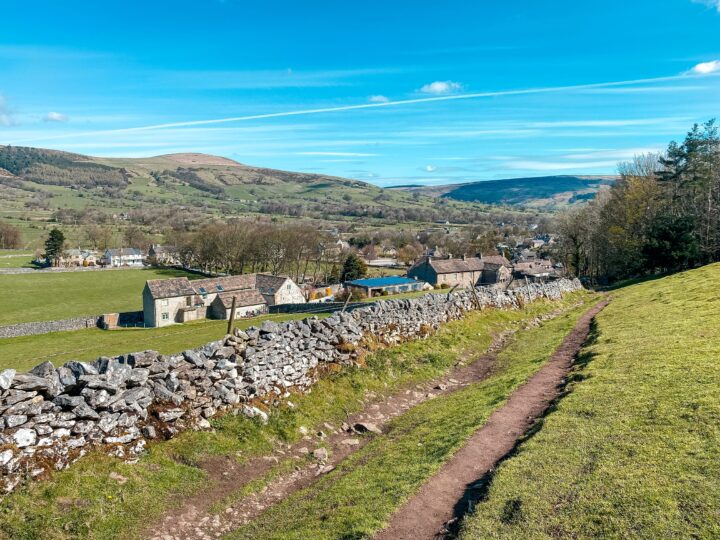 There are also impressive Caverns, including Blue John's Cavern, where you can go on an underground tour to experience the beauty of the Blue John stone, a mineral that has been excavated for centuries.
There are also fantastic places to grab a coffee and cake in the village, for example, Peveril Store. Alternatively, you can enjoy a classic pub lunch and a pint if that's more your style. The Olde Ye Nags Head is a great place to start, and they offer accommodation too!
Click the following link to find the location of Castleton, Derbyshire on Google Maps and plan a route based on your location.
By Rachel from Average Lives
Downham
When you think about idyllic English villages, the scene of Downham in the heart of Lancashire is perhaps one that is synonymous with this stereotype. This charming village is a perfect spot to get away from the hustle and bustle of city life in Manchester to experience a sense of solitude as you admire the historic architecture and quaintness that is epitomized throughout the village.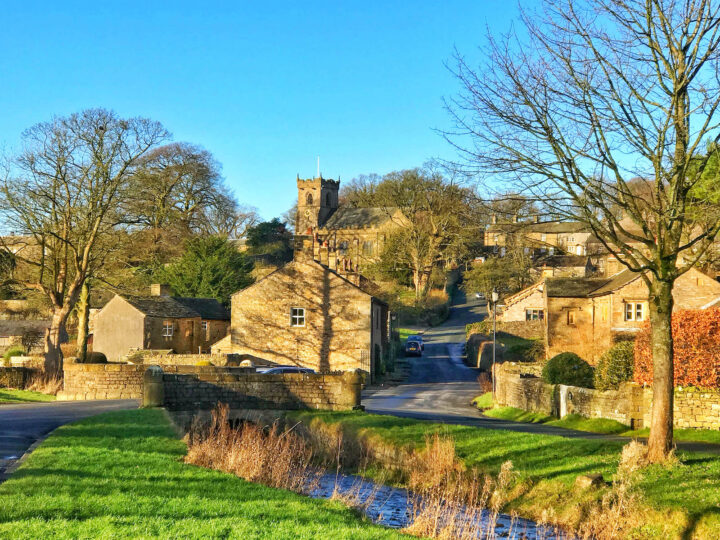 Downham, Lancashire is located in the heart of the Ribble Valley, only 30 miles north of Manchester and easily accessible if you travel by car. The history of Downham dates back to the mid-15th century and the Assheton family who are responsible for the village and surrounding estate. St. Leonard's Church stands proudly overlooking the village and dates back to the 15th-century when the village was first established.
After taking some time to explore the village, head to The Assheton Arms to enjoy a pint of their finest brews on tap. Learn from locals about the inherent beauty of Downham is such that it has been used as a location in several films, the most famous being "Whistle Down the Wind" starring Alan Bates and Hayley Mills.
Finchingfield
One of the most photogenic villages in Essex is Finchingfield, located near Braintree. It first appears in the Doomsday Book in 1086, where it was listed as a stop between London and Norwich. In modern times, the village sits around a duck pond and village green, with a cute humpback bridge. The cottages surrounding the village are painted in different colors.
The Fox Inn is a great pub overlooking the duck pond, or alternatively Winners Cafe is a great place for a cream tea. For things to see and do, Finchingfield Post Mill is the oldest windmill in Essex, dating back to the 1700s.
During the summer months, Finchingfield Camping offers day passes to their lavender farm. Visitors can relax in the lavender fields with a picnic and the small entrance fee also includes 'cut-your-own' lavender. They also have fully furnished stargazing Lotus Belle tents for a glamping experience!
Click the following link to find the location of Finchingfield, Essex on Google Maps and plan a route based on your location.
By Kylie Neuhaus from Essex Explored and Between England & Iowa
Grantchester
Grantchester is a wonderful, small village in Cambridgeshire, located near the River Cam. It is well known for its old-style thatched cottages and narrow winding streets. This picturesque village is also the home of a medieval Church that dates all the way back to the 12th Century.
Visitors mostly arrive by walking or during the hotter months by pole punting up the river. There is plenty to see along the journey and loads of wildlife. Also, the water in Grantchester is quite clean, making it one of the best spots for swimming in Cambridgeshire (in nature). It's also one of the best spots for walking in Cambridgeshire and is surrounded by idyllic trails and beautiful nature reserves.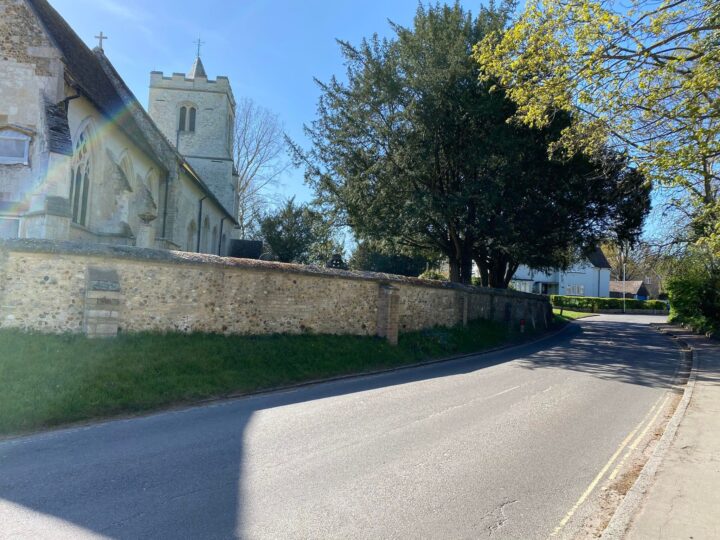 There are some great pubs and shops in Grantchester with a popular pub being the Red Lion, located near Grantchester Meadows and the River Cam. This pub has an open wood fire, so during the colder months you can sit in this pub and cozy up near the fire with a hot drink.
With all the beautiful old-style buildings, wildlife, and rich history, Grantchester is one of the most picturesque and idyllic villages you can visit in England.
Click the following link to find the location of Grantchester, Cambridgeshire on Google Maps and plan a route based on your location.
By Alice from Adventures of Alice
Hathersage
If you're on the lookout for the best villages in England to visit and you find yourself up north, Hathersage offers an excellent day-out adventure for visitors who wants to spend time in an idyllic rural village.
Due to its sought-after location, Hathersage in more recent years has become a popular tourist destination with people looking for places to visit in the north of England that are within easy reach of the main cities. Located around 10 miles south-west of Sheffield you'll find all the characteristics of traditional village life in the countryside.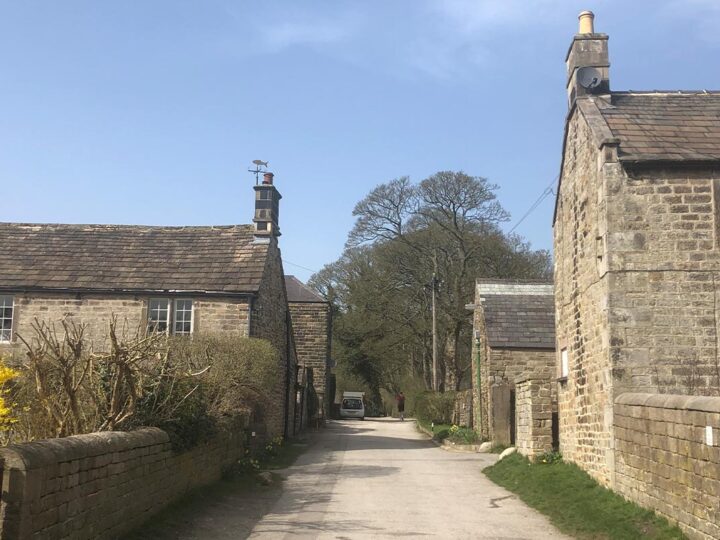 Many come here in search of the prince of thieves legend which can be discovered at Robin Hood's cave. Another popular thing to do is to hike up to Stanage Edge where you can get amazing views of the Peak District.
Places such as the George Hotel which is known for its fine character and authentic pub food are popular with those in search of accommodation so you can book a room if you want a longer stay. Whether you visit on a weekday or a busy bank holiday afternoon, you won't be disappointed with what you find.
Click the following link to find the location of Hathersage, Derbyshire on Google Maps and plan a route based on your location.
By Dan from Urban Abroad
Hawkshead
The little town of Hawkshead is located in the Lake District around 40 minutes west of Lake Windermere. Hawkshead isn't a huge tourist destination and just small enough to be charming. If you're on a road trip through the UK and looking for the best villages in England this is the perfect choice.
The Lake District is known for its beautiful landscapes and traditional villages. Hawkshead is a prime example and great for a day trip. Stroll through the historic streets, admire the ancient houses and go for a hike through nature in the nearby Grizedale Forest.
Hawkshead is also home to the popular chocolate factory where visitors can make their own chocolates and later take them home. The Old Cobblers Cafe is one of the best spots in town for a cup of coffee or a tea as you warm up from the most likely cold weather. Have a piece of cake or a sandwich and enjoy the quaint atmosphere in this beautiful town.
Click the following link to find the location of Hawkshead, Cumbria on Google Maps and plan a route based on your location.
By Victoria from Guide Your Travel
Haworth
Once the home of perhaps the greatest literary family in British history, Haworth has become a mecca for those that loved the work of the Brontë sisters. It's not simply the cobbled pathways and the step main street leading up to the parsonage with it beautiful, niche and boutique shops to wander around that will attract you to this little gem in Yorkshire, but also the wide, expanding, views of the rolling moors that stretch as far as the eye can see and said to be in part, the inspiration for many of the girls works, including Wuthering Heights.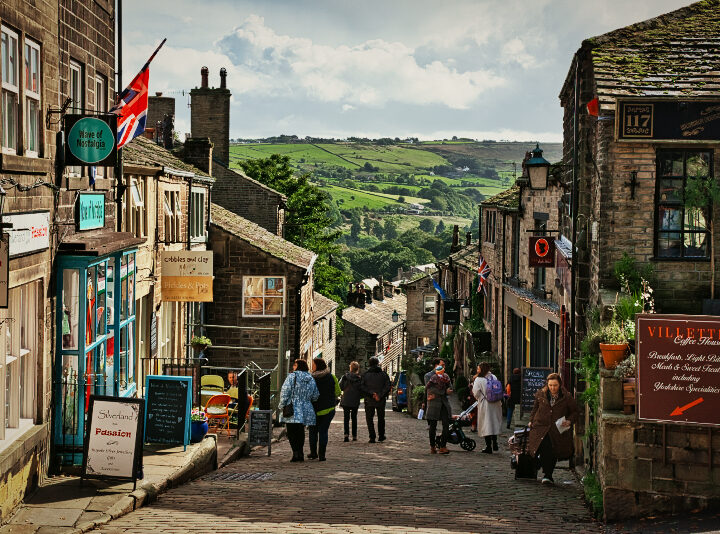 The vintage feel is also a draw to this charming little village, and wandering around, you could be forgiven for thinking that you have stepped back in time. No visit would be complete without opening the door to the treasures held within The Cabinet of Curiosities, an old apothecary shop, home to display cabinets full of delights simply waiting for a new home. Close by, you will discover Wave of Nostalgia, a shop dedicated to all women, not just the Brontë's where you will find unique items, feminist reads and locally designed clothing.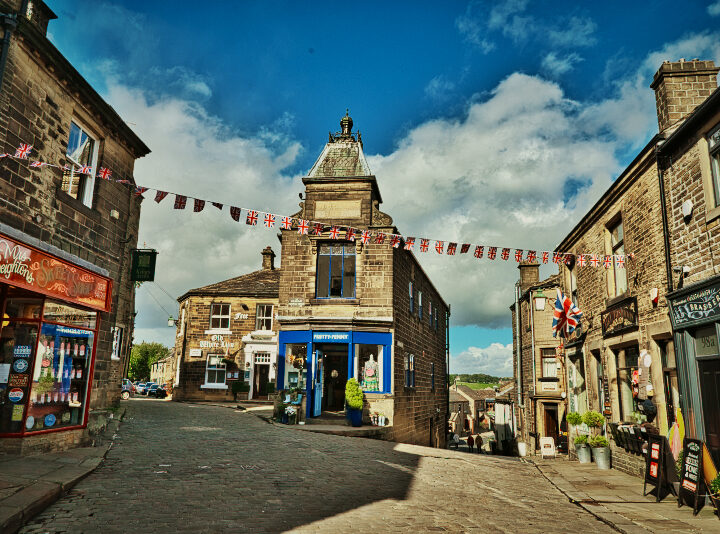 For lunch, consider visiting The Fleece Inn, the one-time watering hole of Branwell Brontë, brother to the famous siblings and renowned for its homemade pies, beer selection and warm Yorkshire welcome. It also has rooms available for anyone wanting to spend a night or two to explore not only the village but also Brontë Waterfall and wander the wild rugged moors to Top Withens, a ruined farmhouse, said to be the setting that inspired Emily Brontë's most famous work. For those less excited by the literature connection there is also plenty of galleries and a gin brewery to explore as well.
Click the following link to find the location of Haworth, West Yorkshire on Google Maps and plan a route based on your location.
By Tamason Gamble from Travelling Book Junkie
Lacock
Lacock is a small village nestled in the rolling hills of Wiltshire. It is just a short distance from Bristol and Bath but couldn't be further from the bustle of the two cities.
Lacock has just four roads that form a square. These were laid out intentionally as part of the medieval planned town and include the church which is where the village started. The village if full of small cottages that have a mix of roof lines, small windows, and tiny doorways. As well as the houses there is the old workhouse, the medieval tithe barn, and the adjacent lock up.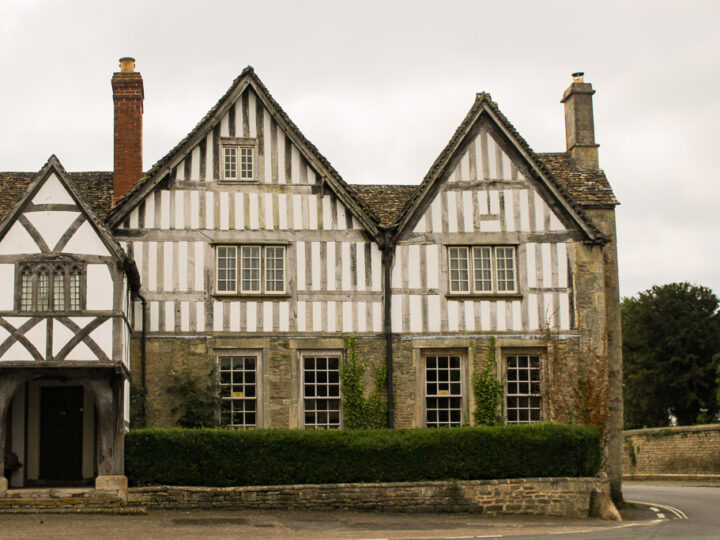 On the edge of the village is Lacock Abbey. This was established in the 13th Century and has beautiful gardens. It also has an interesting museum about the history photography as this was where Fox Talbot lived, one of the pioneers of early photography.
Lacock is probably best known as a film location. It has appeared in Downton Abbey, Pride and Prejudice, Cranford as well as Harry Potter and the Half-Blood Price and Wolfman. For such a small village, Lacock has an abundance of pubs and cafes, all of which produce beautiful food.
Click the following link to find the location of Lacock, Wiltshire on Google Maps and plan a route based on your location.
By Suzanne from Meandering Wild
Minster Lovell
The quaint and beautiful Cotswolds village of Minster Lovell is found in Witney in West Oxfordshire.
This underrated village is rarely visited but has some beautiful things to see, especially the ruins of Minster Lovell Hall. Set next to the picturesque River Windrush, the manor house was built in the 15th century by one of the richest men in England, but has been left in ruins since the 18th century and is currently looked after by English Heritage. (TOP TIP: The ruins are especially beautiful in Autumn when they are surrounded by colorful leaves).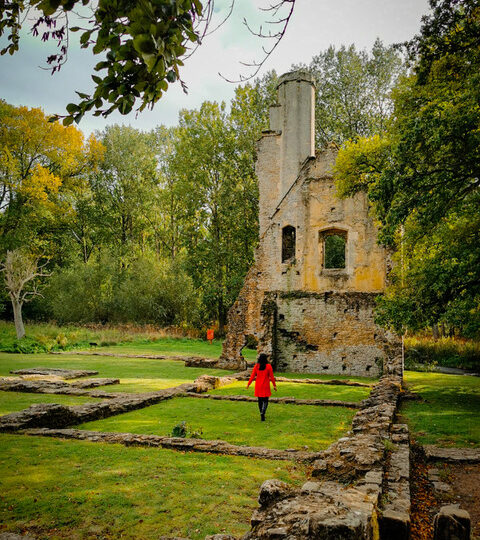 The village of Minster Lovell also has rows and rows of the chocolate box houses you would expect in any Cotswold's village, as well as a great pub (The Old Swan) and a stunning spa and hotel called Minster Mill. It is set in 65 acres of beautiful gardens and meadows and offers afternoon tea from Wednesday to Sunday.
Click the following link to find the location of Minster Lovell, Oxfordshire on Google Maps and plan a route based on your location.
By Roshni Patel from The Wanderlust Within
Polperro
The village of Polperro is a very picturesque place in Southeast Cornwall, close to Looe. It is a small place in a tree lined valley with some nice cliffs where the village meets the sea. Polperro has a beautiful harbor, a nice beach and a tidal pool for swimming.
The cliffs on either side of the village are fantastic for a hike and it's on the Southwest Coast Path. The harbor is great for a mooch around and is beautiful. You can also go on a boat trip to see the Polperro heritage coast or go on a sea fishing trip.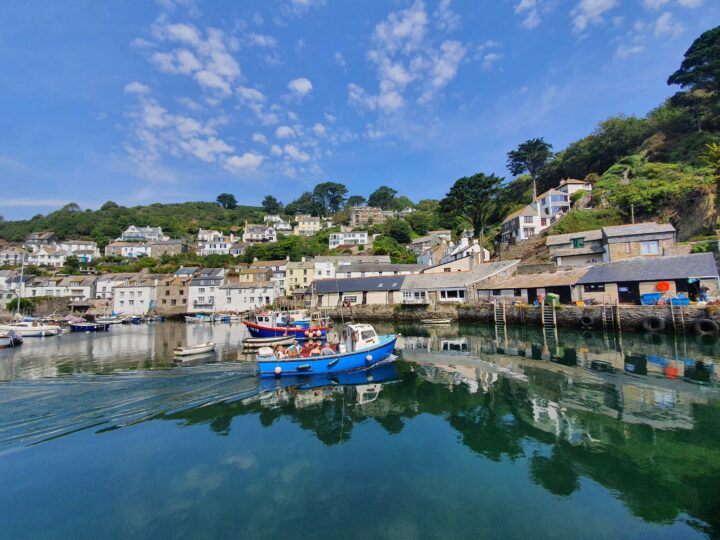 Dining out in Polperro is fantastic and the restaurants showcase the locally caught seafood. The Three Pilchards is a fantastic pub serving seafood, including scallops and a cold seafood platter. Another notable mention is the Blue Peter Inn, who also does some fantastic seafood dishes.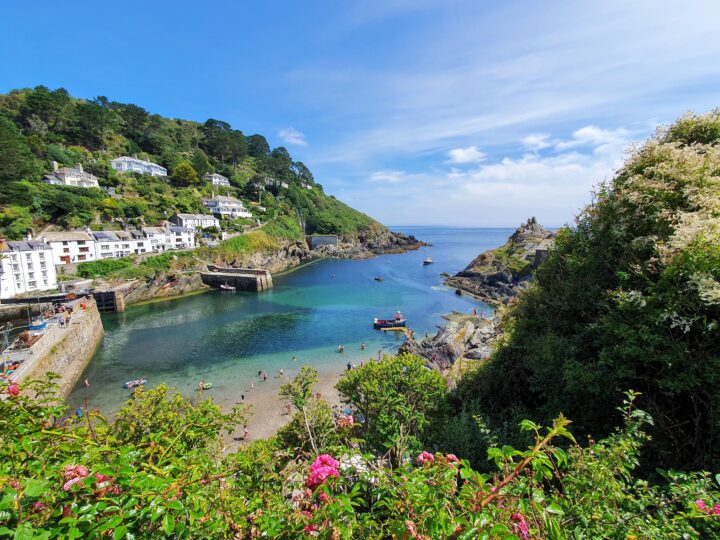 Polperro is a lovely village to visit for a day trip or use as a base for a Cornwall holiday.
Click the following link to find the location of Polperro, Cornwall on Google Maps and plan a route based on your location.
By Rich from RJOnTour
Staithes
Nestled on the coast of North Yorkshire, Staithes is one of the most picturesque villages in England. Impressive cliff sides, breathtaking coastal vistas, historic harbor and delicious seafood make this pretty Yorkshire village a perfect destination for an authentic village experience.
Staithes is best enjoyed by walking. Get lost exploring every nook and cranny of this hidden gem. Visit the harbor – Staithes has a long history of working as a fishing port. Actually, the name 'Staithes' comes from a Viking word meaning 'Landing Place'. Today, you can still see some of the fishing boats docked in the harbor.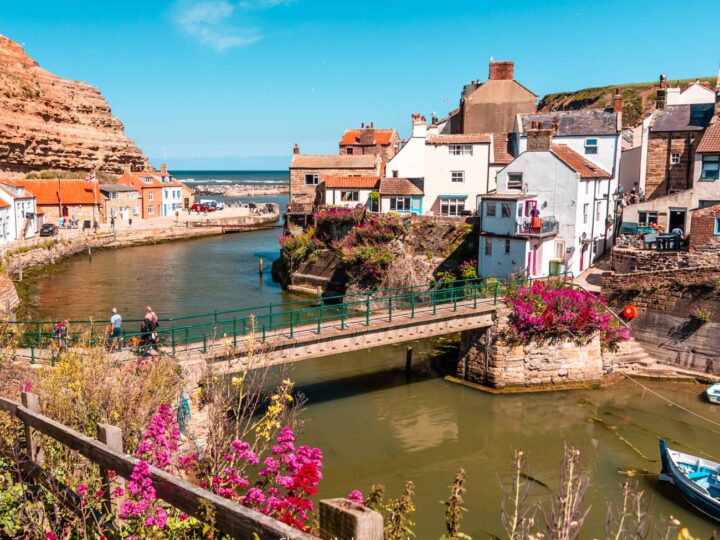 Cleveland Way, a popular 110-mile walking trail, runs through Staithes. If you are fond of walking, do the stretch from the center of this village to Runswick Bay. You would get to admire a cracking view of the impressive Yorkshire coastline.
Also, visit the Staithes Heritage Centre. You would get to learn a great deal of history about this village and its connection with Captain Cook – a famous 18th-century explorer who spent his early life here.
The village has a great seafood scene as well. Pop into The Cod & Lobster and try out their fresh seafood dishes.
Click the following link to find the location of Staithes, North Yorkshire on Google Maps and plan a route based on your location.
By Moumita from Chasing The Long Road
Tintagel
Tintagel is a small village, but it's absolutely bursting with myths and legends. Sitting high on the cliffs above Cornwall's epic coastline, Tintagel is home to Tintagel Castle, which is allegedly where King Arthur was born.
This mythology is not necessarily true, but it was an important castle and trading location in the early medieval period. After the myth about King Arthur being born here was conceived in the 12th century, Richard Earl of Cornwall built the castle that we see today. He wanted to associate himself with the legend that was King Arthur!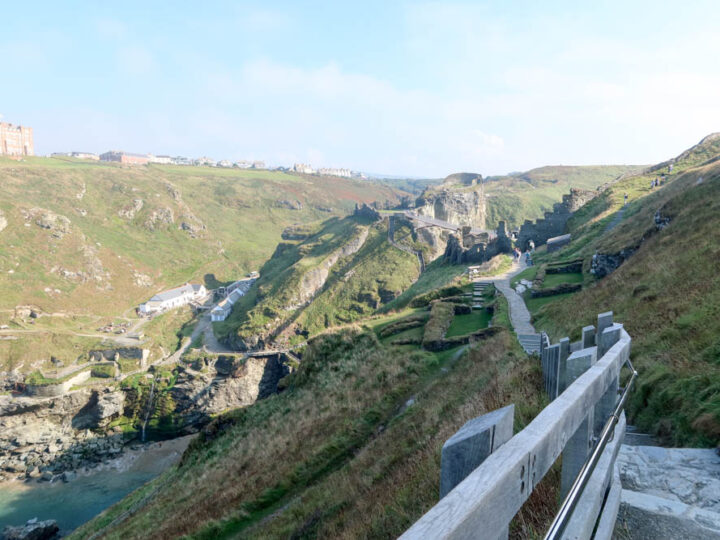 The castle is easily the most popular of all the things to do in Tintagel, but there's plenty more to enjoy too. Visit the Medieval post office, learn more about King Arthur at King Arthur's Great Halls, take in the epic coastline of the area or browse some of the quirky shops.
There are a lot of places for eating too – try the Olde Malthouse pub which dates back hundreds of years.
Many people visit Tintagel on a day trip, but there are plenty of places to stay as well, including a campsite and a grand hotel called Camelot Castle.
Click the following link to find the location of Tintagel, Cornwall on Google Maps and plan a route based on your location.
By Claire from Go South West England
Wycoller
Wycoller is a tiny, hidden village in east Lancashire, close to the border with Yorkshire. The village is set on the edge of the narrow Wycoller Beck which flows down off the moors and runs through the village where it is crossed by several picturesque, historic bridges.

The handful of houses in Wycoller are gorgeous, with period features like mullioned windows and dates carved into their honey-colored stone. The old dairy is now a tea room which does a roaring trade in ice creams and candy floss on summer afternoons.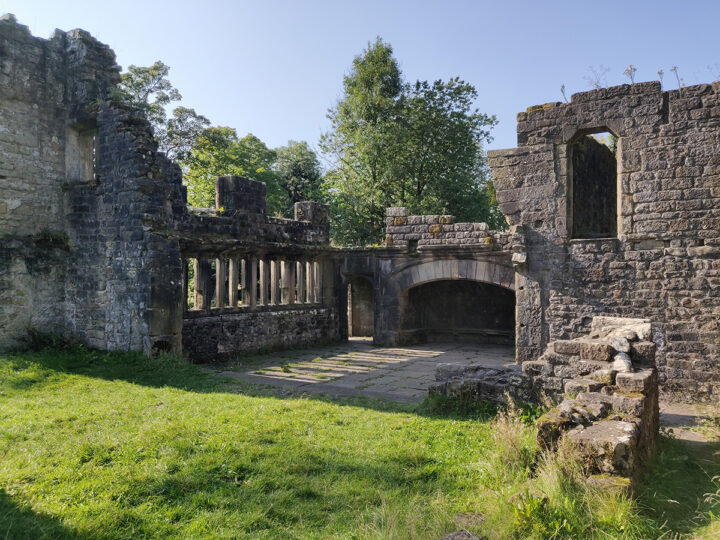 Across the beck, you'll find the ruins of Wycoller Hall. This was once an imposing country house which was remodeled several times, most notably by its last owner, who died penniless in 1818. The abandoned house caught the attention of Charlotte Brontë, who knew Wycoller well, and she immortalized it as the gloomy Ferndean Manor in her novel Jane Eyre.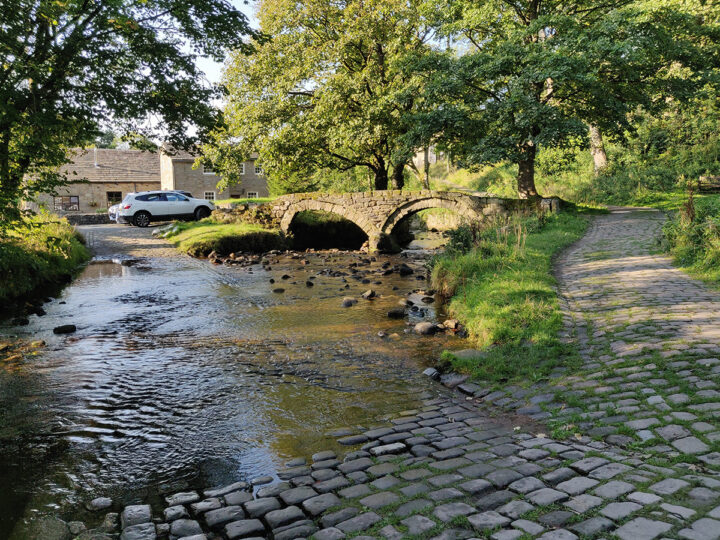 Up on the hill above Wycoller you'll find a more modern attraction. The Atom Panopticon is a large piece of sculpture, created in 2006 as part of a series of sculptures in east Lancashire, all with astonishing views. The Atom has wonderful views over the rolling countryside, towards Pendle Hill.
Click the following link to find the location of Wycoller, Lancashire on Google Maps and plan a route based on your location.
By Helen from Helen on her Holidays
Summary
Whether you are traveling north, south, east, or west, you can be sure that throughout England you are likely to stumble across a picturesque village that is worth exploring. We are delighted to share a collection of some of the best villages across England, but also understand that this barely touches the surface and are always looking to explore new hidden gem.
We would like to reiterate our appreciation to all of the amazing bloggers from across the globe for sharing their insights into their idea of an idyllic English village, and hopefully you will share some of your favorite spots in the comments below.