We would like to give a special welcome today to Diane from Wife With Baggage who has graciously given her time to speak with us and help us learn a little more about his travel thoughts and his website.

Please feel free to comment, ask questions and connect with Diane using her various social media fronts listed below.

We would like to give a special THANK YOU to Diane for taking time to interview with us!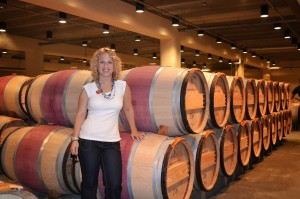 Name: Diane

Website: Wife With Baggage

Social Media: 
What is your favorite aspect of traveling and if you are a travel blogger, why did you decide to create your website? 

Yes, I admit it's a tad cliche, but it's true – my favorite aspect of travel is it's ability to open my eyes to other parts of the world. I feel like I am a more passionate and compassionate person because I've traveled. 

I created Wife With Baggage to help readers incorporate travel into their lives, even with a full time career and family, so that more people can experience other cultures, landscapes and people.

How many continents have you visited? 

Five

How many countries have you visited? 

1-10

What is your favorite destination in the world and why? 
If I have to pick one it would be Namibia. The country is wildly beautiful with animals and terrain not found in many other parts of the world! While there we saw a lion gnawing on a bone under the night sky. We rode ATVs in the desert while looking at the Atlantic Ocean and we walked in the desert to a pond! 

What other country has all of that? It's so fascinating!
If money/time was no object and you could visit anywhere in the world, where would you travel to and why? 

Antarctica for sure! It's my dream visit every continent and this one is VERY pricey!

Which of the following gadgets do you take on your travels? 

Camera and Laptop

What is your preferred method of transport? 

Car

Complete the following, "Everywhere I go, I visit…." 

The countryside. We're not huge fans of the hustle and bustle of big cities. They're nice for a night or two, but we want the wide open spaces and natural beauty of the world!

Here is your chance to sell yourself and your website! Tell us some more information about yourself, what your travel philosophies & future plans are and anything else that people may find interesting to read about… 

My name is Diane. Michael is my husband, travel partner, driver, heavy-bag-carrier and voice of reason. We met back in 2004 and have been traveling together since. Our adventures have taken us to 4 continents, 10 countries, 9 states in the U.S.A. and countless cities along the way, but traveling is not our full time job. Nope! We both have your typical 9 to 5 career. (Psst! We even like them!) I work with little humans (kids) and Mike works with big machines (airplanes). Our careers are opposites, but our desire to travel is the same! So, even though our days are filled with clients, customers, emails and meetings, pieces of our hearts have been left around the world at each of our destinations.
Our mission with this blog is to help readers incorporate travel into their lives, even with a full time career and family. We want to help them travel more with planning tips and ideas as well as with destination inspiration. And, since we do not travel full time, we want to show you how we add bits and pieces of travel into our everyday live with home decor ideas and recipes. Wife With Baggage is for those who've traveled the globe and for those who've barely left their own zip code. I hope there is something here for every type of traveler!

Check out another couple of great pictures of Diane on her global travels: