Today's Sunday Social travel interview features Merete Brown from Outside the Limits who has graciously given her time to speak with us and help us learn a little more about her travel thoughts and website.
Please feel free to comment, ask questions and connect with Merete using her various social media fronts listed below.
We would like to give a special THANK YOU to Merete for taking time to interview with us!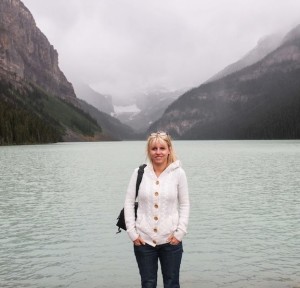 Name: Merete Brown
Hometown: Coeur D' Alene, Idaho (USA)
Website: Outside the Limits
Social Media: 
What is your favorite aspect of traveling and if you are a travel blogger, why did you decide to create your website? 

My favorite aspect of traveling is figuring out where to go and pushing myself out of my comfort zone into the unknown. I love the feeling I get when I travel to a new place and need to figure out how to get from point A to point B. It's like figuring out a puzzle, especially if there's a language barrier.

I decided to create the blog Outside the Limits, because I wanted to inspire people to explore all the amazing natural places often right outside city limits even if it's not that far from home. I also wanted to inspire people to push themselves outside of their comfort zones, because if you do, it often results in great experiences. Since I love photography so much, I wanted to create a poster board, so to speak, to highlight places to visit through photographic essays.
How many continents have you visited? 

Two

How many countries have you visited? 

11-20

What is your favorite destination in the world and why? 
That's a tough question but if I had to pick one place, I would say St. Kitts in the West Indies. I love the ocean and St. Kitts is beautiful with the Caribbean Sea bordering one side and the Atlantic on the other side. When I was there several years ago, I also loved it because it wasn't overrun by tourists. The island felt genuine. Although I enjoy cruising, the Caribbean islands often cater to the cruise ships tourists and at times the atmosphere on the islands can become a little hokey. But St. Kitts felt like a true getaway, not over commercialized and still a sanctuary in paradise.
If money/time was no object and you could visit anywhere in the world, where would you travel to and why? 

There are two destinations at the top of my travel bucket list right now: Machu Picchu in Peru and Iceland. I've always had a fascination with Machu Picchu because of its origin and location in the Andes Mountains. I can't wait to hike the Inca Trail! I also really want to visit Iceland because for one, it's a beautiful country, but also for two, I hope to see the northern lights someday.

Which of the following gadgets do you take on your travels? 

Camera, Phone and Tablet (iPad, Kindle etc.)

What is your preferred method of transport? 

Walk

Complete the following, "Everywhere I go, I visit…." 

Everywhere I go, I visit a gift shop to pick up a Christmas ornament. My husband and I started collecting ornaments to add to our Christmas tree each year, so someday we can look back and reflect on all the amazing places we traveled to!

Here is your chance to sell yourself and your website! Tell us some more information about yourself, what your travel philosophies & future plans are and anything else that people may find interesting to read about… 
Well I'm a law graduate who decided life was too short to spend all my time doing something I didn't really enjoy, so instead of pursuing law further, I dug up some of my skills from majoring in Broadcast Journalism in undergraduate and decided to do the two things I really enjoy: writing and photography. I've always loved to travel and I also love everything about the outdoors. And so, Outside the Limits was born. Although the focus of Outside the Limits is on the outdoors, parks, etc., the blog also highlights interesting cities and other regions to travel to. I really like to tell stories through photos, so people can get a true sense of what a place looks like and decide if it's somewhere they can get excited about traveling to.
There are so many beautiful places in the world. If only I could travel to all of them! 🙂 I would say my travel philosophy is to "just go." It doesn't matter how far you travel or whether you even have a destination. Some of the best trips I've had were largely spontaneous. I just hopped in the car and headed towards a tentative destination, unsure if I would end up detouring somewhere. But the most important thing is to just go. It doesn't have to be far from home. Get out and experience new places, meet new people and see new things.
Also, to quote the blog's slogan "Discover, Explore, Record – Live by Venturing Outside the Limits," I think those simple words really encapsulate how to travel. Find a place to travel outside of your usual locale, explore and record your adventure in some way to always remember your experience. It's easy to get swept up in the moment while traveling, but if you remember to keep some sort of record of your travels, it will likely be very valuable to you down the road (if it was a good experience of course).
Finally, although I love spontaneous trips, I'm also generally a planner when I'm traveling further from home. I like to spend time researching cool places to stay, the best deals and interesting things to see. Sometimes it's fun to construct a certain image of a place before I travel there and then see how the image relates to real life. My next major stop is San Diego, Los Angeles and Joshua National Park. I'm planning to drive a loop between the three places. (I love loops! 🙂 ) I've wanted to visit Joshua National Park for a while now to photograph the landscape. I'm also attending a National Geographic Seminar in San Diego on storytelling through photography. It should be a great trip! Thanks for inviting me to participate in your survey! Please let me know if you have questions!
Merete