If you are following us on Twitter, you may have noticed a Tweet I released indicating that we have finally achieved our goal of reaching Companion Pass status. I will get into a little more detail later in this post about what this involves and means, but for anyone that has never flown or even researched Southwest Airlines, I hope this post gives you a better idea as to what advantages they have to offer over other leading airlines.
The airline industry is undoubtedly competitive so for an airline to grab that all important 'competitive advantage', they have to find niches in the market that will attract customers. Southwest Airlines is relatively new in comparison to other airline powerhouses such as American, Delta or US Airways so they have to look at other ways to gain a reputation rather than just 'long standing' support from regular flyers.
Here are our top 5 reasons why you should consider using Southwest Airlines for your next domestic US flight.
Cheaper Fares
Who doesn't want to take advantage of cheap flights? Over the last few years, airline tickets have skyrocketed and it appears that long gone are the days where you can fly domestically for less than $100 round trip. Well….not necessarily! Southwest Airlines frequently provides blockbuster sales from various hubs across the States with flights as low as $45 one way. We are fortunate to now have two relatively close hubs to Jonesboro, Arkansas. Little Rock, AR and starting this week, Memphis, TN now have direct flights to various destinations across USA.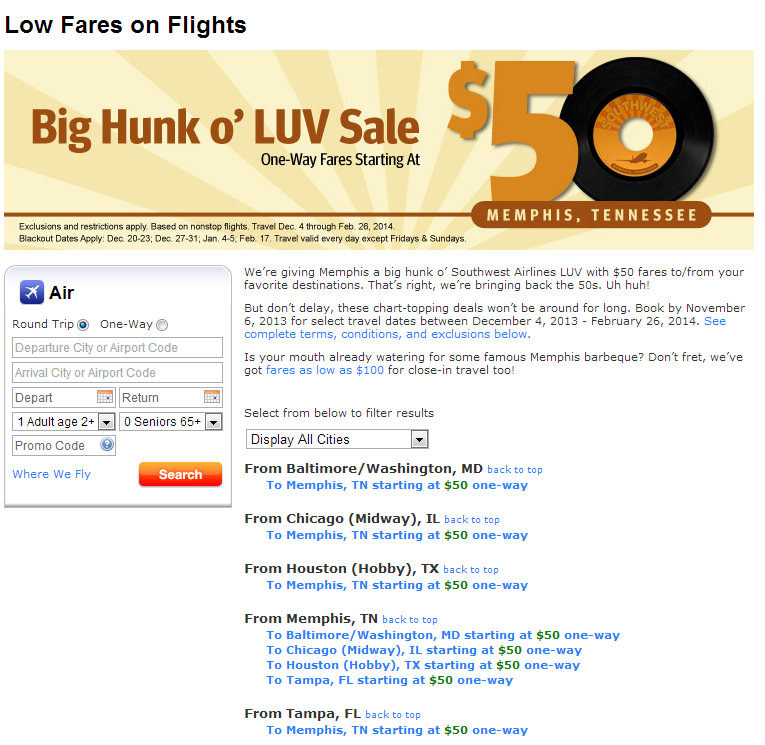 Free Checked Bag(s)
Even if you are a frequent flyer and believe that you are able to pack everything in to you carry-on bag, how nice would it be if you could check a bag with you airline and not have to pay an extra $20-$120 per bag each way? Well, Southwest Airlines are the perfect airline for you because they give you not only one but TWO free checked bags when you use them as your preferred airline.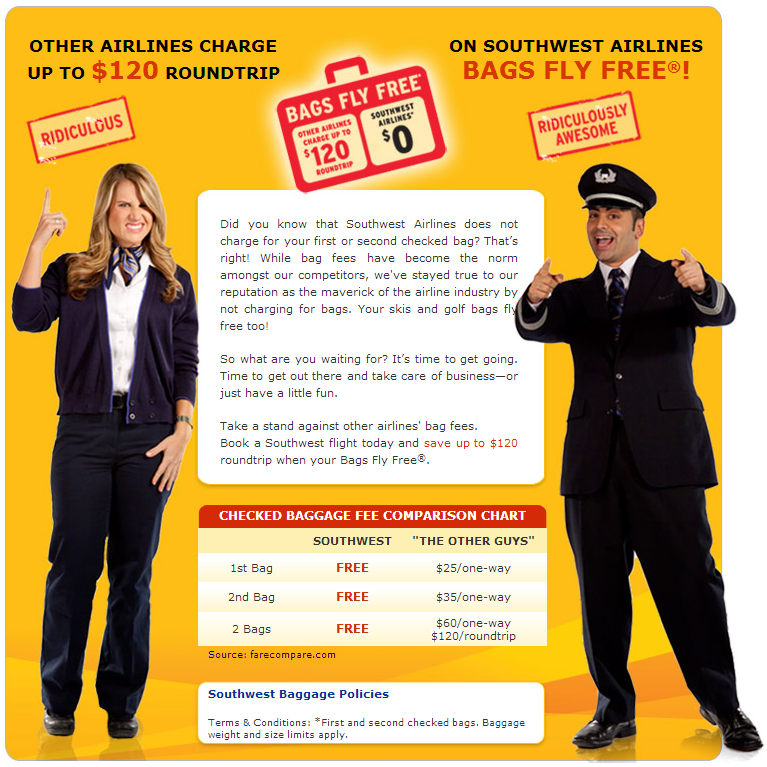 This is a huge incentive especially for families who travel on vacations with kids and need to take plenty of luggage with them. 2 bags per person – put that into perspective for a family of 4 and that is potentially 8 free bags and when you do the math on this, that could be a saving of several hundred dollars!
I am impressed with this 'add-on' because combining this with generally cheaper airfares, it is making Southwest a leader of low-cost airlines.
No Seat Assignment
You may think that having no seat assignment would be a drawback but I like to think of this being advantageous. How many times do you book a flight and then try to assign yourself a seat, only to find that all the seats are reserved or you have to pay extra for 'extra leg room' etc? Well, you don't have to worry about this with Southwest, all you have to do is ensure that you are awake 24 hours prior to your departure time and check-in online to get assigned a group number. The earlier group number that you get, the more choice you will have when you walk on to the plane.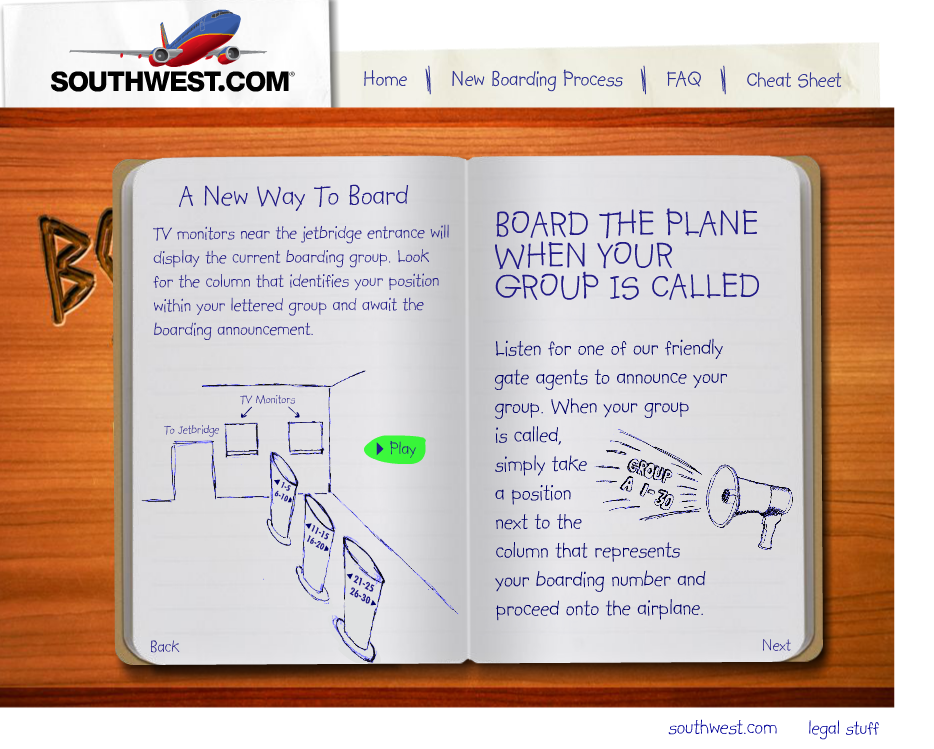 Check out this interactive guide on how the boarding process works for Southwest Airlines: Boarding Process
Companion Pass
The Southwest Rapid Rewards Companion Pass is what inspired me to write this post today. On Sunday, November 3rd, we received confirmation from Southwest that we had achieved Companion Pass status for the rest of 2013 and the 2014 calendar year. So what does this mean? Here are the key benefits of a Companion Pass:
A companion of your choice can fly with you for FREE (Yes you read that correctly!) whenever you take a flight to a chosen Southwest destination.
You can book qualifying Companion Pass flights using either money or existing points that you have.
A companion can be added to existing flight reservations, so you don't need to add the companion at the time of booking the initial flight.
So how do you achieve Companion Pass status? There are currently two ways of doing this. The first way is to complete 100 qualifying Southwest Flights in a calendar year which in reality is difficult unless you are a frequent flyer and that would still equate to about 2 flights per week. The other option, which is what we achieved, is to accumulate 110,000 points using a variety of methods. Southwest partners with Chase to make the Rapid Rewards credit card options a great way to start. Frequently they will have an offer that when you open a credit card with them, after spending the first $2000 within the first three months, you will earn a bonus 50k points which DO count towards Companion Pass status.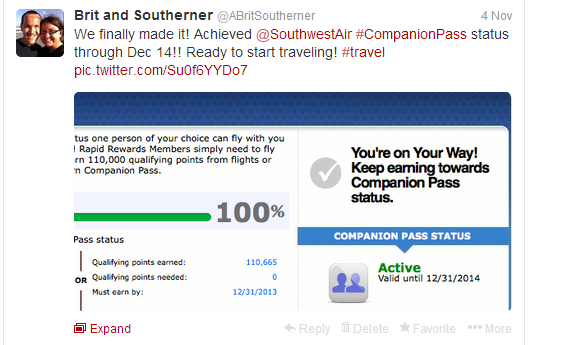 Above is the Tweet that I posted on Monday confirming that our Rapid Rewards account achieved 110k points. We earned the 50k points at the end of July so in reality we have earned 60k more since then. This initially may seem like a lot of expenses but here are a few ways we have found to maximize your spending and achieve the ultimate goal:
Southwest Rapid Rewards Shopping Portal – Keep checking back here daily or weekly as there are always companies that offer double and even triple points.
Teleflora – Unfortunately we have just found out that as of 11/20/13, they are no longer offering the deal that we took advantage of (1000 points for each transaction of at least $30).
E-Rewards and E-Miles – Take a bunch of surveys and basically get free money. For every $25 you earn in survey money on e-rewards, you can convert this to 500 RR points.
Partnership with Airtran
You may be aware that Southwest Airlines acquired Airtran Airways in 2011. This merger is still ongoing and of course we are not going to see the maximum benefits of this until everything in the process is complete. However, we are already noticing some benefits that we can take advantage of as travelers.

Whenever you book on Southwest.com, you now have the ability to book flights to Airtran hubs. Many of these are now available 'directly' through Southwest while some still require you to be redirected through the Airtran portal. Those that make you redirect unfortunately will not allow you to use your Southwest accrued points or Companion Pass status but reports suggest by the end of 2014, all flight connections and bookings will be made directly through Southwest.com.
Do you fly Southwest Airlines?
What are your opinions on their customer service and incentives?