So….after our morning and afternoon adventures, we decided to spend our early evening venturing to the top of the Empire State Building. We wandered down 34th St passing the infamous Macy's department store (a brief visit leading us to see masses of shoppers was sufficient for us to turn around and continue down towards the landmark skyscraper.
Arriving at the foot of the Empire State we were visited with plenty of ticket touts trying to sell us VIP passes that would apparently 'expedite' and 'enhance' our experience both at the summit and on the Sky Ride that is offered.
Empire State Building
Undeterred by these folks, we entered the basement of the Empire State which on it's own is very impressive with the entrance hall providing plenty of excellent photo opportunities.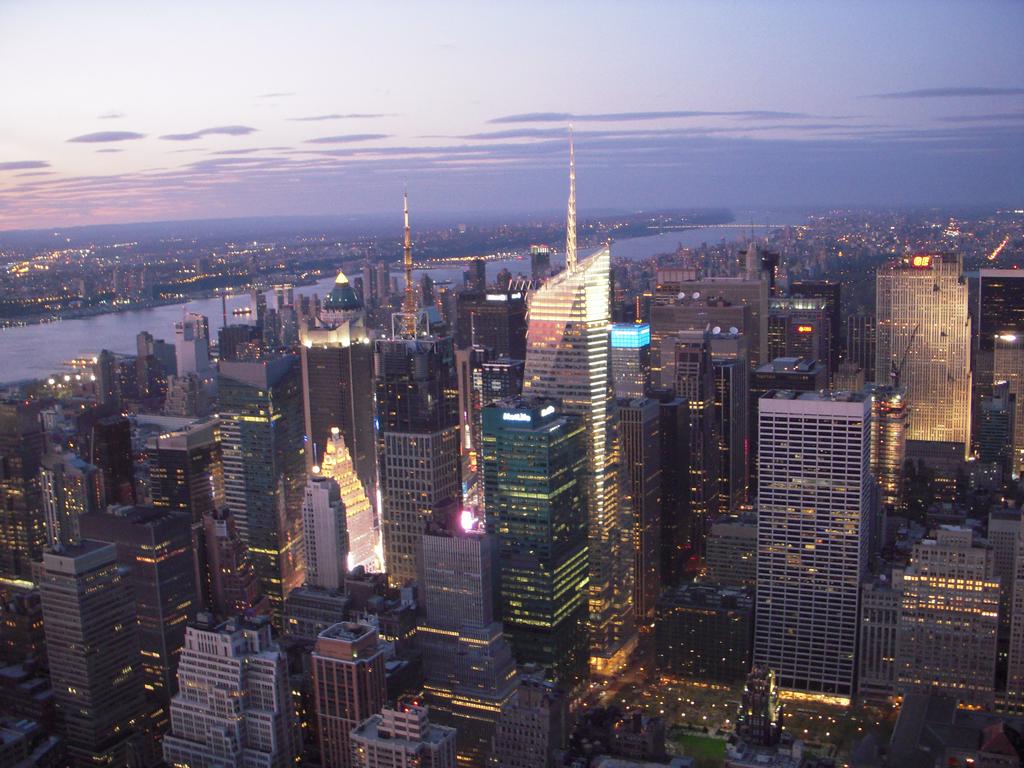 Entering the first elevator is a little misleading as you are only doing this to go to the first level where you begin the lengthy waiting game to go first through security and then the ticket booths to purchase tickets.
Again, we realized that purchasing the Go Select tickets was not particularly beneficial as we had to wait the same amount of time as all other individuals who had no pre-purchased tickets. It appears that only the 'New York Pass' VIP members were able to skip the long queues and advance through security faster than everyone else. Either way, part of the whole experience was waiting in line hearing the many languages that were there. Heather was probably feeling like the minority as there really were not many Americans present.
After getting through security which is just as tight as TSA in airports we purchased just the basic tickets to view the Observation Deck on the 86th floor though there are a myriad of options available including  the 'top deck' which allows visitors to go an extra 16 floors to the 102nd after the initial viewing. Overall we probably waited around 90-120 minutes to get to the 86th floor but this was certainly worth the wait. Visitors are able to be both inside and outside on the Observation Deck with stunning views over the NYC landscape and over into New Jersey.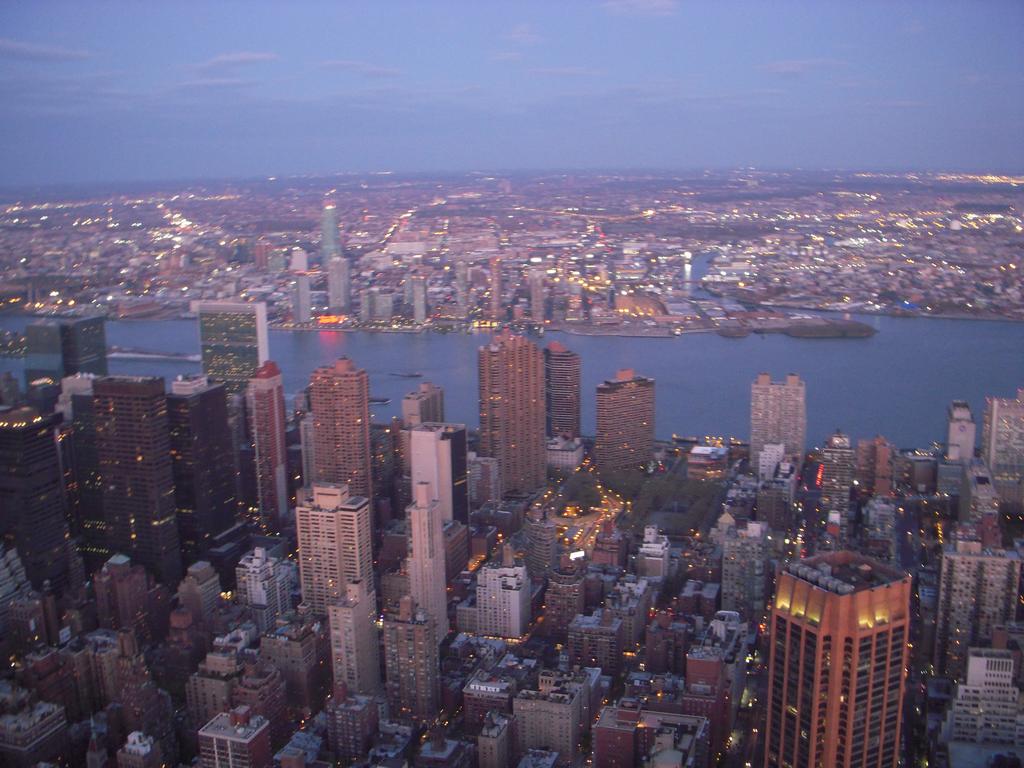 The early evening on top of the Empire State is a great time to visit as you capture both NYC in the day and then the beauty of the sun setting in the distance as night time approaches and NYC's vibrant nightlife springs into action.
We would recommend this attraction to any tourist visiting New York as it allows you to piece together all of New York's boroughs and also cultures together from a bird's eye view which at ground/street level you may well miss given that the majority of the time you are enclosed within the vast structures present throughout Manhattan. The gift shop offers interesting yet extortionately priced souvenirs and if you are like us you will probably be forced into purchasing at least a small memento of your trip to one of the world' most famous landmarks.
After leaving the Empire State Building we began walking back to our hotel after realizing it was quicker and cheaper than either a yellow taxi or getting back on the complex NYC Subway system. Walking back we found, or should I say Heather found, a street corner with a group of 'flea market' sellers trying to quickly offload some legitimate (at least Heather thought so) Louis Vuitton purses. After a little wheeling and dealing by yours truly, Heather left happy with her new sidekick "Louis".
Dinner that evening saw us visit a great little Irish pub, O'Lunney's, just off Times Square and both the food and atmosphere was top notch and a great advertisement for Irish culture and cuisine.
Central Park
Day 2 saw us start walking from our hotel with our third attraction in mind that we had pre-paid for, the American Museum of Natural History which was on the north side of Central Park. Given that Central Park was one of our other attractions we wanted to visit, we decided to walk and get some breakfast on the way at a little coffee shop, aka Friends style….ok so it was just Starbucks but given the volume of Starbucks there are in NYC, it was one of our better options. Walking all the way to Central Park was another great experience as it gave us ample time to see the change from Times Square hustle and bustle, to the more day to day calmness of working life in NYC as you move towards the entrance of Central Park.
Walking around Central Park, sitting on the grass overlooking the "Home Alone" scenes was certainly memorable before we continued through the heart of the park watching a combination of families having fun and people working out on bikes and jogging.
American Museum of Natural History
The American Museum of Natural History was our destination and upon climbing the steps and entering the building, the vast enormity of this building was the first striking thought. The wait was actually not too bad, maybe around 10 minutes before we presented our pass and got our tickets for the self-guided tour. After reviewing the map, we soon realized that this could be a full day attraction and we probably wouldn't be able to see the full extent of the displays on offer.
I was particularly interested in the Earth and Planetary Science halls which gave you an IMAX style experience of how the Earth evolved and then you are left to walk out and down the different periods that make up the history behind earth. There are also plenty of 'hands on' experiences including an opportunity to stand on scales showing your weight in a variety of different locations, e.g. on the Moon, on other planets etc.
The birds and reptiles exhibits were also interesting as it divided these into their different groups and then provided detailed information on their anatomy, behavior, and various adaptations. We probably spent 2-3 hours at the museum though as mentioned this was probably nowhere near long enough given the magnitude of the exhibits on offer.
Little Italy
We headed onto the subway and headed back downtown to have lunch in Little Italy in a wonderful little restaurant, Il Palazzo Ristorante Italiano. The food was excellent but the standout feature of this restaurant was the unbelievable services by the waiters who were always on hand to refill drinks and meet your needs. We visited several little stores in this neighborhood and also walked around Chinatown just to experience the variety of cultures that spread this vast city. Walking down one street being in Little Italy and then turning right/left and being in Chinatown is enlightening to say the least.
The rest of the afternoon and early evening was spent shopping and investigating downtown Manhattan further before we returned to our hotel around 9:30PM. We initially decided we were just going to grab something but around 10:30PM we decided to venture back out on to Times Square and sample some more NYC food.
We ended up at Planet Hollywood and the food was overall a little disappointing especially given the price. You are probably paying more for the name of the location rather than the actual quality of the food. Leaving here around Midnight and back on to Times Square is certainly worth the late night dining experience just to see how this city truly is the 24 hour city of the world given the number of people that are still walking up and down.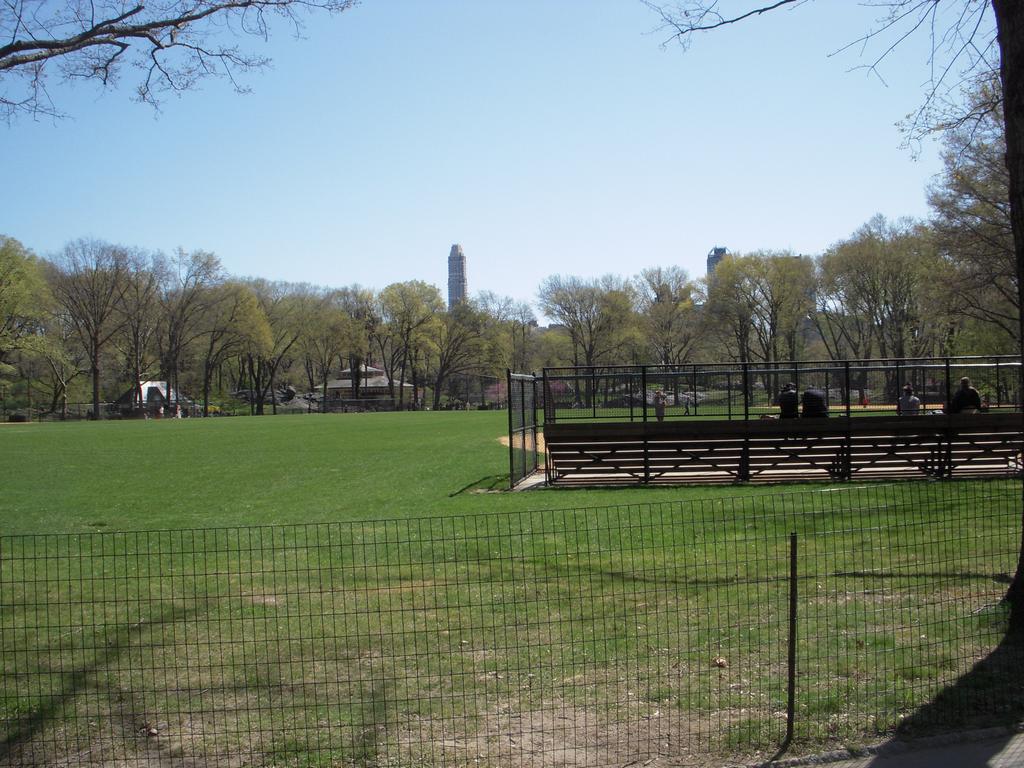 Bryant Park
Our final day saw us go to Bryant Park which on a glorious Sunday morning was a perfect relaxing spot to watch some Eastern European's playing table tennis in the park. We then walked down to the United Nations complex which was worthwhile as we were able to walk through Grand Central Station which was one of Heather's 'must-see' spots.
We visited the NBA Store and then grabbed lunch at Heartland Brewery & Chophouse. I experienced a buffalo burger for the first time here and this is a definite choice for anyone who loves a little extra spice in their burger.
Leaving here brought an end to our New York City trip but this was certainly memorable. The journey back to the airport also saw us use New York's public transportation system to the max as we used both subway and the bus to get to La Guardia.
Positives
Central Park is a great, relaxing location for all ages.
The Empire State Building, despite the lengthy wait, is worthwhile with the stunning views on offer over the NYC landscape.
Try the variety of local cuisines, especially the Irish pubs and Italian restaurants in Little Italy. I am sure the Chinese restaurants are equally appetizing for anyone who likes this (sorry Heather, I am not a Chinese cuisine lover!)
Negatives
Always keep a close eye on your credit card especially in restaurants. A few days after returning from NYC I realized I had several hundred dollars of credit card fraud against me.
Plan your days and trips accordingly based on the amount of waits to expect at the top attractions
New York City is truly an exhilarating, 24 hour city that is a must see for EVERYONE!!! WE WILL BE BACK!!!