If you are an avid sports fan like myself, you will love taking every opportunity available to watch a live sporting event. I have always tried to take advantage of watching sports teams wherever I have visited, whether it is watching the English Premier League back in England (or I personally preferred watching my local non-league team, Ramsbottom United – I knew I would get a shout out for them in one of my blogs!!), Brisbane Heat in the 20/20 cricket tournament in Brisbane Australia or the Memphis Grizzlies NBA franchise in nearby Memphis, Tennessee.
However, despite an array of sporting events that I have visited, I can say that October 6, 2013 was the first time that I had ever visited a 'real' NFL football game. Our weekend trip to St. Louis, Missouri was the perfect opportunity to break this duck. We have previously visited the Edward Jones Dome for a pre-season encounter between the Rams and Colts, but Sunday's match-up between the Rams and Jacksonville Jaguars was the real deal and we were both really excited. Yes, you may see my switch from 'I' to 'We' right there because any time I go to sporting events I drag along Heather. We are really fortunate that we both love sport and any chance we get to watch an event live, we try to take it!
Ticket Purchase
Generally speaking, I don't like paying the prices of pro sport tickets so whenever we visit stadiums we tend to be in the cheaper seats which sometimes leaves you either at the very top of the stadium (anyone with a fear of heights beware!) or in the corner somewhere away from the action. However, given that in pro footballing circles this was not the most lucrative encounter, at least it wasn't the Packers, 49ers or Patriots who attract more attention, ticket prices for the Rams/Jaguars contest were relatively cheap.
Below you can see a seating chart of the Edward Jones Dome and our tickets were in the Lower End Zone, Section 125, Row N so pretty close to the field! For $26 each, this was a real bargain especially given the face value on these was $84. Thanks to the wonderful Stubhub for these tickets. If you have never used this site I would highly recommend it.

Pre-Game
One of the most difficult aspects of going to a professional team sporting event, at least in the United States, is finding a parking spot because for the most part stadiums are located downtown (or at least they seem to be from my experiences!).
Leaving our hotel at 9:00AM, we decided to head downtown and check out the St. Louis Gateway Arch which is one of the most iconic landmarks in this city. Located right on the riverfront and relatively close to the NFL stadium, we figured that if we could park somewhere nearby we could walk around for a few hours prior to kickoff.
To our delight, we found a perfect spot directly on the riverfront (when I say directly, I mean literally on the cobbles of the riverfront) in front of the Arch. Costing only $4 for the whole day, this was a real bargain especially when we later saw signs for $15-$20 parking in nearby garages that were no closer to the stadium than we were.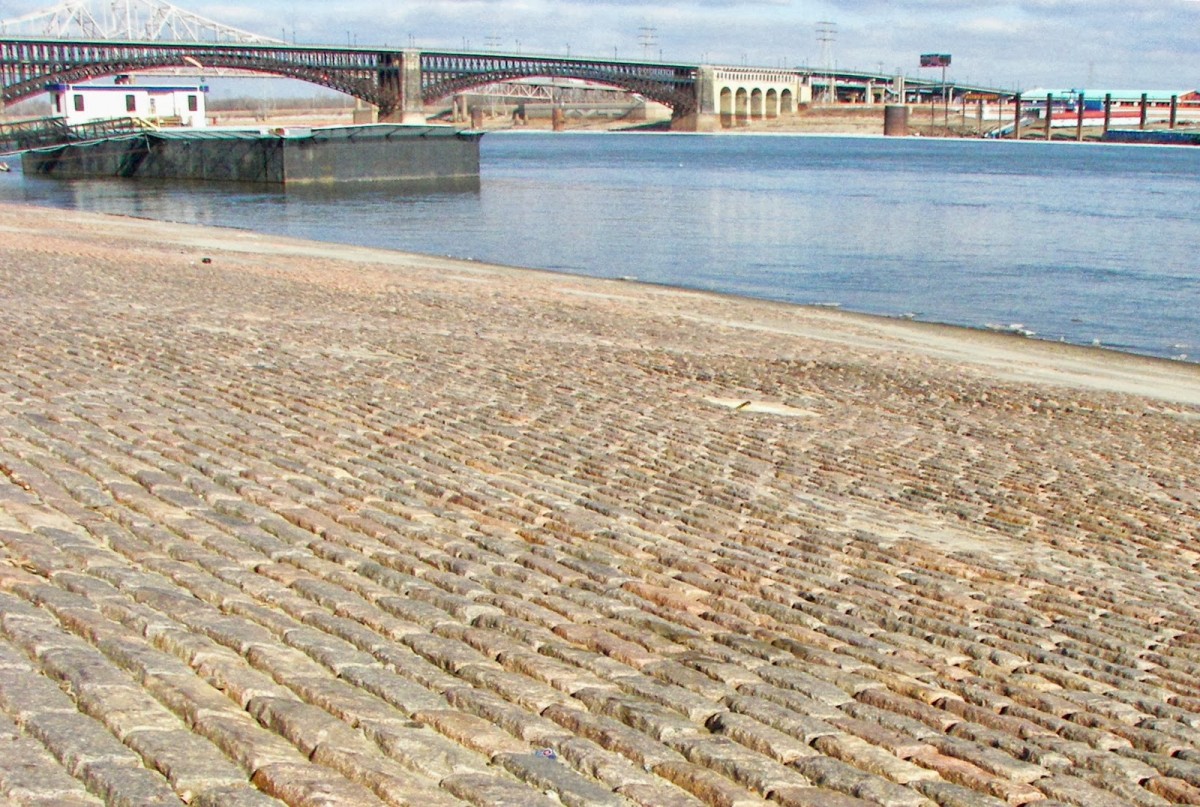 Anyone visiting St. Louis, if you plan on heading downtown, this parking spot is secure, has a great location and is cheap!
If you arrive in St. Louis and are heading to a Rams game, there is plenty to do pre-game in terms of wandering around seeing landmarks such as the Gateway Arch, Busch Stadium (home of MLB franchise, St. Louis Cardinals), the old Jefferson Courthouse etc.
Inside the Stadium – Game Time
We entered the Edwards Jones Stadium around 11:15AM with kickoff at Noon, it gave us time to find our seats and take some of your stereotypical pre-game pictures. The first thing we noticed was just how good our seats were. The Rams defensive line were taking part in drills directly in front of us near the 5-yard line and it was a really cool experience watching them warm up being so close to the action.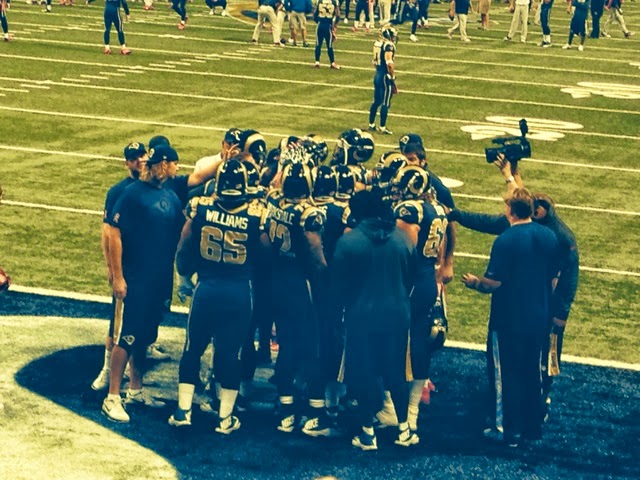 All of the pre-kickoff events took place such as the players entering the field to rapturous applause, a great rendition of the national anthem by one of the Rams cheerleaders and the ceremonial coin toss which the Rams won and elected to defer kickoff to the Jaguars.
The game itself was relatively close at least until half time. The two most notable plays that we saw was early in the first quarter, Jaguars QB Blaine Gabbert fired a pass to Justin Blackmon who broke free of the Rams back-line to breakaway for a 67-yard touchdown. The second play which was directly in front of us saw Matt Giordano of the Rams intercept another Gabbert pass and return this for a 82 yard TD. The Rams showed their superiority as the game progressed though the Jaguars will feel they had several opportunities to get back into the game.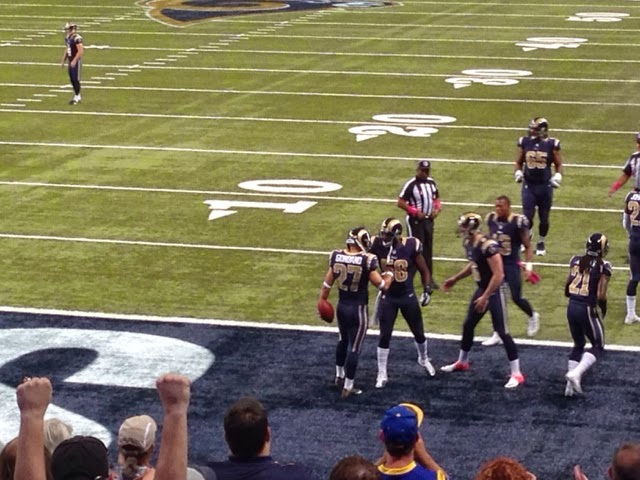 Whether Gabbert leaving midway through the second half due to a hamstring injury had anything to do with the final result, the Rams ran out deserved 34-20 winners!
Overall, this was a great day and we both really enjoyed our experience at our first NFL game!
Here are some of our other favorite pictures from the experience: