Having previously visited 24 US states, I looked at the map of USA and noticed that there were several states in relative close proximity to Arkansas that we had yet to explore.
Planning a road trip around the Ohio Valley including the states of Indiana, Ohio and Kentucky was challenging but certainly achievable over the span of a weekend.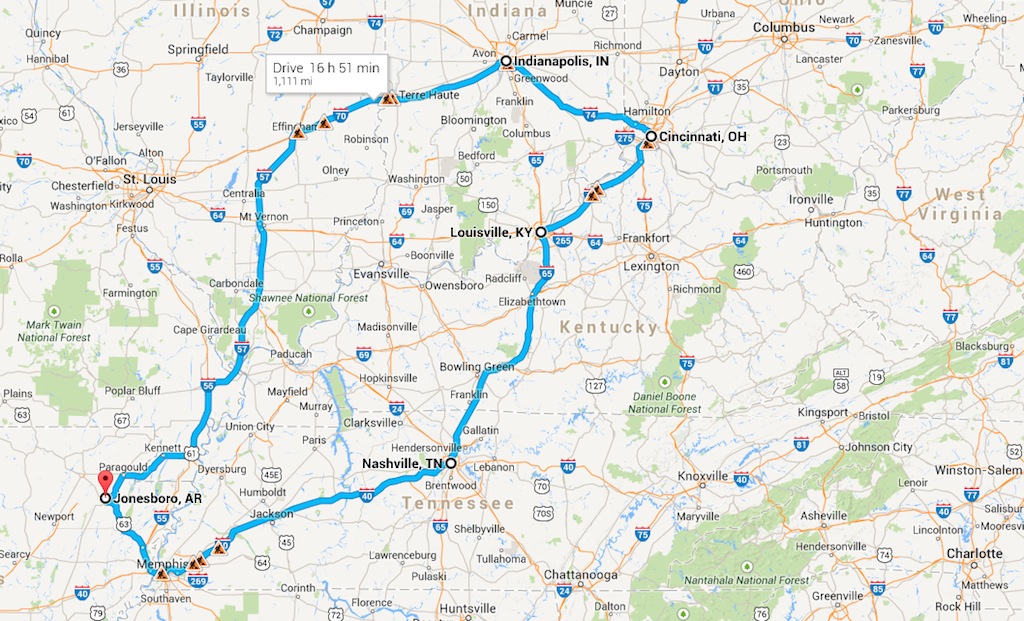 Day 1 – Jonesboro, AR to Indianapolis, IN
Total Distance: 443 miles (6 1/2 hour drive)
When we decide to take a weekend road trip, we first have to establish when we want to leave – Friday evening or Saturday morning! Usually this is based on the distance we are traveling. Anything over 4 or 5 hours we will generally leave on Friday after work to at least get the majority of the distance covered so that we are not spending the whole weekend driving, not giving us any time to explore a destination.
Although we sometimes try to leave work a couple of hours early, this road trip didn't allow this so it was 5:00PM before we were on the road. One other word of note here was that the direction we were heading saw us move from Central Time Zone to Eastern Time Zone.
Departing Jonesboro, our estimated time of arrival in Indianapolis was 12:30AM (1:30AM Eastern Time).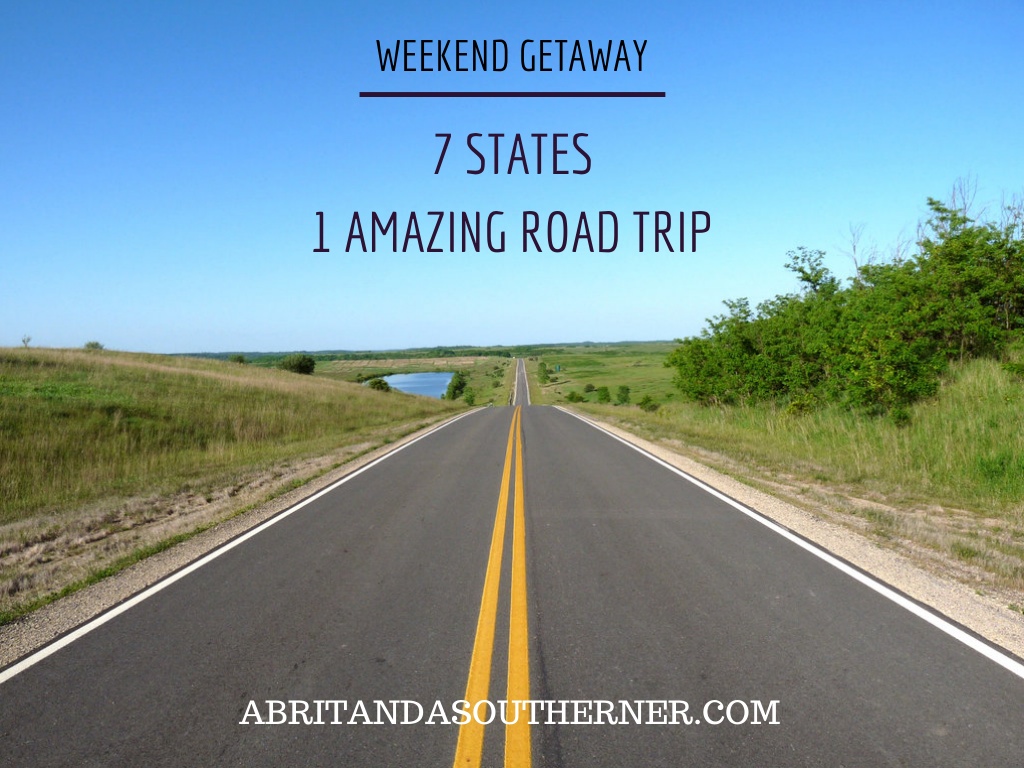 We don't usually frequent McDonalds but during a road trip when you haven't eaten anything all day and you are trying to get to a location as quickly as possible, the term 'fast-food' really does help! A quick pitstop in Mount Vernon, Illinois for dinner here saw us back on the road within 15 minutes which is a pretty good turnaround.
We arrived in Indianapolis at 12:35AM (Eastern Time) at the Crowne Plaza Indianapolis Airport hotel, which saw us make up almost a hour on the expected time of arrival.
Day 2 – Indianapolis, IN to Cincinnati, OH
Total Distance: 108 miles (1 1/2 hour drive)
During most of our weekend getaways, Saturday is always the 'busy' and 'hectic' day as we are trying to cram as many attractions and landmarks as possible, with the knowledge that we will be heading home at some point the following day. Our plan was to spend the morning and early afternoon in Indianapolis and then drive on to Cincinnati where we already booked a hotel to stay Saturday night.
Downtown Indianapolis
Without getting into too much detail on our experiences at specific attractions, our morning comprised of having breakfast at Chick Fil A, followed by heading to Downtown Indianapolis where we parked directly in front of the Indiana War Museum. This area was metered parking but at $1 per hour, we felt this was a really good rate for a downtown location. We paid for a couple of hours and started walking around before returning to explore the Indiana War Memorial Plaza prior to heading over the Canal District.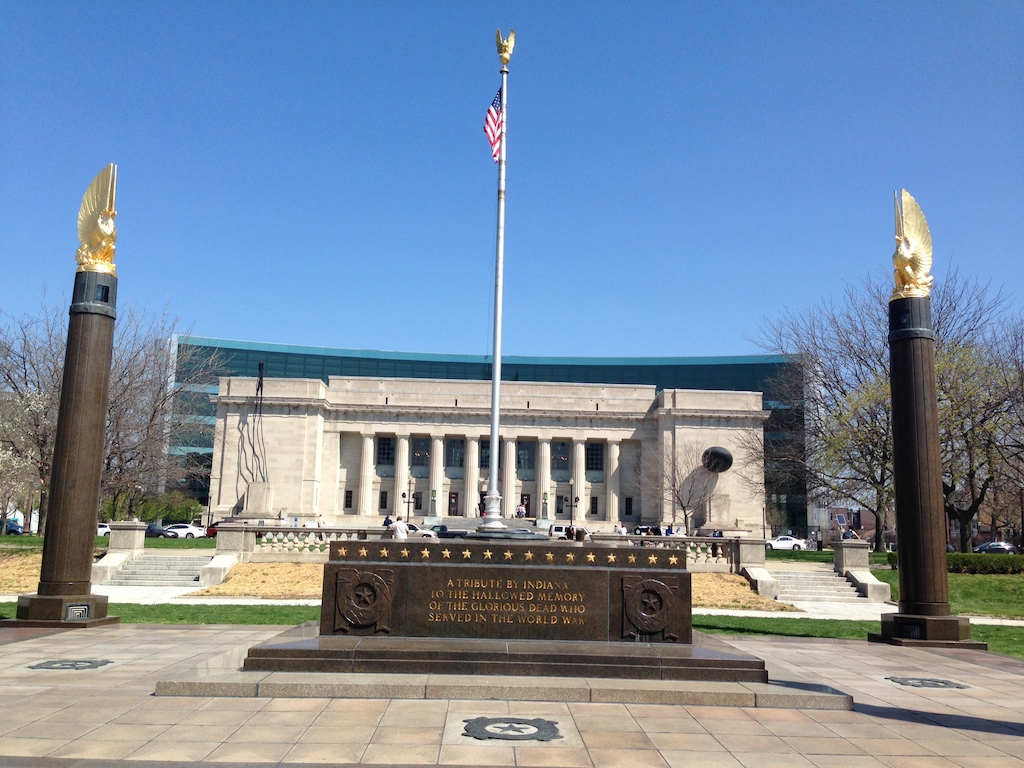 The second half of our time in Indianapolis was spent exploring the NCAA Hall of Fame museum and wandering around the beautiful Canal District and Riverfront park which was gorgeous on a perfect Spring day.
Driving to Cincinnati
We left the downtown area of Indianapolis around 1:45PM and headed East towards Cincinnati where we stopped along the route for lunch before arriving in the 'Cincy' area around 3:30PM. The rest of Saturday comprised of shopping, visiting IKEA and having dinner at The Cheesecake Factory which admittedly was one of our worst experiences there!
The evening culminated in heading over to Graeter's which is the "Home of Irresistible Ice Cream and Handmade Candy".
Day 3 – Cincinnati, OH to Jonesboro, AR
Total Distance: 555 miles (8 hour drive)
By the time Sunday arrives, its usually time to start winding down and preparing to drive home but that wasn't on our radar for this weekend getaway. Our initial plan was to drive from Cincinnati to Louisville and then home, but we made a few slight adjustments along the way.
Downtown Cincinnati, Ohio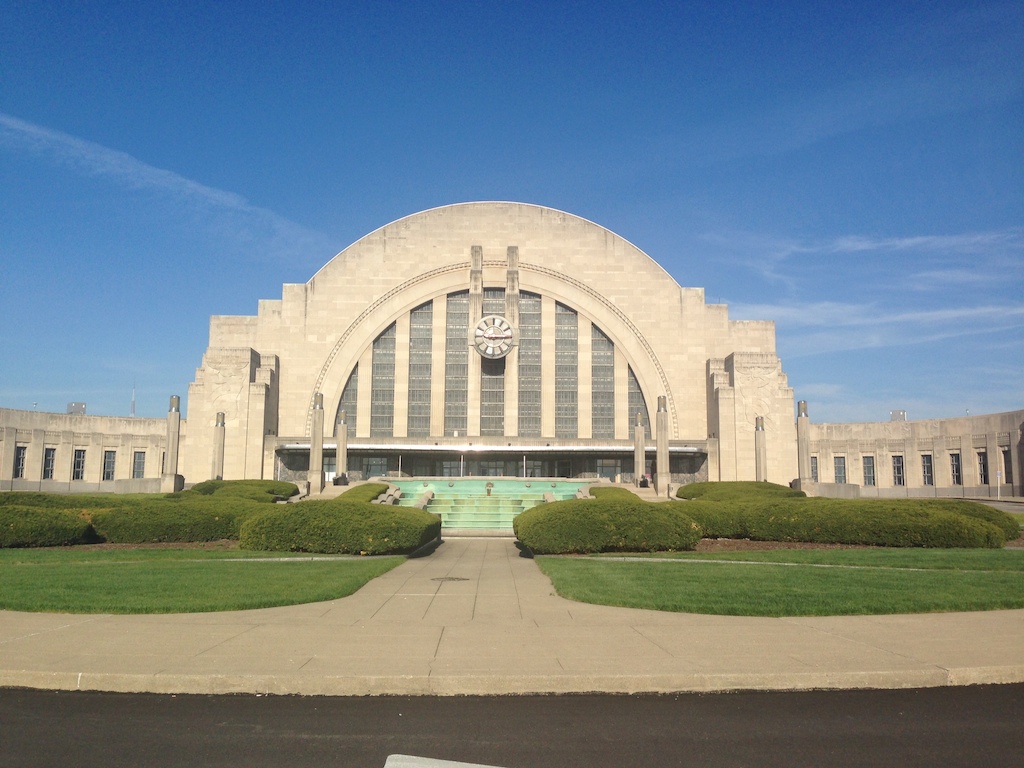 After enjoying breakfast at the Embassy Suites Cincinnati Northeast location, we ventured downtown to see the Cincinnati Museum Center at Union Terminal which was a really impressive landmark despite being closed early on Easter Sunday.
Louisville, Kentucky
The drive from Cincinnati to Louisville, KY was similar in time and distance to the previous days route from Indianapolis to Cincinnati. We arrived in Louisville just before Noon and headed to Churchill Downs, home of the Kentucky Derby.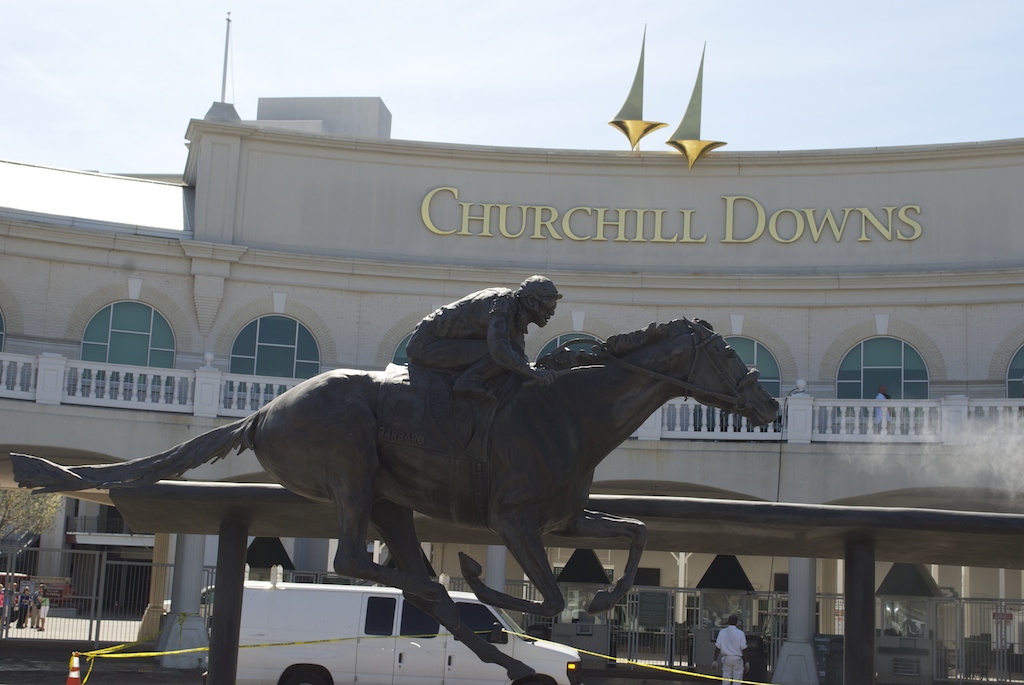 You can read all about our experiences there but we made the decision to just visit this museum rather than also experience the Louisville Slugger Museum which was our initial plan.
Nashville, Tennessee
Our detour from Louisville took us through Nashville, TN which takes around 2 1/2 hours. We crossed back into Central Time Zone on this drive but I have to say that this is one of the more attractive, scenic routes as we drove through the foothills of the mountains.
We didn't stop anywhere along the way though signs for the National Corvette Museum in Bowling Green, KY (infamous for the recent sinkhole catastrophe) and various caves which are likely cool to explore.
A quick stop in Nashville to visit the Opry Mills Mall and then possibly our favorite store in Nashville, McKay's Used Books was all we had time for before we headed back home along I-40.
Summary
This was probably one of our more extreme road trips given the distance we covered and the number of attractions that we saw but I am delighted that we did this because it proves to us, and hopefully you that you can achieve an awful lot in just a weekend.
I have covered three days here but the reality is that we did everything inside 48 hours and even after we returned home on Sunday evening we were not completely exhausted.
Method of Transportation: Car
Length of Getaway: 3 Days