As travelers we all need a great backpack right? Where do you even begin searching for the perfect choice when there are so many different options out there? With such a variety of brands, colors, sizes and designs to choose from, as consumers we are all faced with a saturated market that makes it difficult to differentiate the various options!
Well folks, we think that we have found a perfect backpack that will meet your needs if you are an adventure traveler, weekend traveler or just someone who needs something to carry around your personal items – the Drifter Backpack by STM Bags.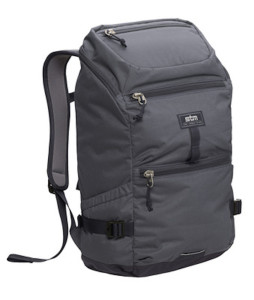 STM Bags
Founded in Sydney Australia in 1998, STM Bags offers a diverse range of lifestyle oriented laptop bags, iPad cases, iPhone cases and of course their primary focus – the ultimate backpack for the traveler!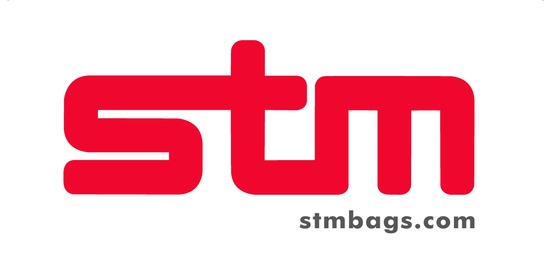 As the leading Australian bag and case designer, STM Bags are truly a well recognized manufacturer not only in the Southern Hemisphere but also on a global scale. In March 2014, STM Bags released the Annex collection with their primary focus on the urban, fashion-oriented customer. This is where the Drifter Backpack fits in alongside the Trust, Sequel and Link range. Available in three different colors (Graphite, Red or Olive), this is a great choice for the avid traveler.
STM Drifter Backpack
Like your favorite pair of cargo pants, the Drifter is easy to wear, contains pockets in all the right place, and is comfortable to boot.
This quote really sums up for me the quality of this backpack! When you consider purchasing a backpack, you want something that is rugged, durable, lightweight, spacious and of course aesthetically pleasing to the eye. The Drifter has it all plus much, much more.
One of the major selling points of this backpack is the tuck away rain cover located at the bottom, which covers the whole backpack for those unexpected downpours keeping everything inside water resistant!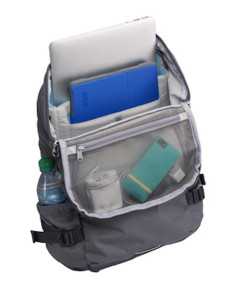 Pros
Built In Rain Cover – Huge benefit of the Drifter is the integrated cover that keeps everything waterproof!
Integrated Luggage Strap – Great to be able to slide over my other carry on bag when traveling through an airport. Conveniently located for ease of use.
Lightweight Design – Inclusion of three front pockets with only one primary pocket really helps keep the weight of this to a minimum (2.3 lbs/1.0kg).
Durability – Sturdy design of the zippers, straps and use of modern material makes this a backpack that will last for quite some time.
Inclusion of a 'Reward Tag' – Each bag has a unique ID that allows you to go to a website and offer a 'reward' should you lose this.
Fleece Lined Compartments – Great benefit for storing valuable items while traveling.
Padded Straps – Extra Comfort.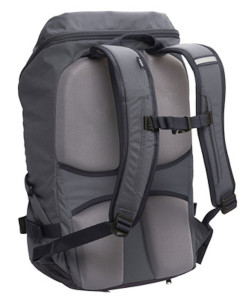 Cons
Size – The backpack is a little on the small size especially if you want this to carry multiple items such as a laptop, camera, jacket etc. However, this could also be considered an advantage if you are seeking out a small, lightweight option!
Material – The main negative of the material is that I found it easily shows marks and stains.
Unconventional Design – The Drifter design takes getting used to because it looks and feels different to conventional, everyday backpacks. Overcome this and you are on to a winner for sure!
Conclusion
Whenever you are considering a backpack purchase, you have to first consider exactly what your needs and desires are in the product. For me, I want a backpack that I can use everyday while at the same time use this whenever I travel, whether it is for one of our weekend getaways or an outdoor adventure trip. Yes, I have pretty high standards and requirements but I am delighted to say that the Drifter Backpack meets all of these.
With every product, there are always going to be negative aspects but the reality is this is a great backpack that I would highly recommend! Check out this backpack along with the rest of the product line at STM Bags.
*Disclosure of Material Connection: A Brit & A Southerner was not financially compensated for this post. We received a free sample from STM Bags for consideration of review purposes only. This is solely our personal opinion/experience*