I have to admit that one of the things that I miss about England is being able to wander along a street and pop in to a local tearoom for lunch or afternoon snack. Ok, so in America everyone visits Starbucks or the like if they want something equivalent to this but there is something about those quaint little village tearooms in English hamlets that make you feel homely.
We have traveled to various cities around the States and up until visiting Panama City on our recent trip to Florida, there has been nothing like what I am used to seeing back in England. After deciding to take the hour drive from Destin to Panama City, we were a little disappointed at what we found on arriving in downtown Panama City.
The main street looked similar to what you would expect in an old US town but I was soon attracted to a Union Jack flag swaying in the distance at the bottom of the street. After telling Heather we should drive down and investigate further, we saw a quaint little tearoom called 'Willow's British Tea Room'. We decided to take a look at the menu in the window and after a few moments we immediately decided we had to go in and sample the food.
We were greeted by a friendly girl who I immediately knew was not a Florida native, rather she was from the homeland (we later found out that she was from Norfolk and moved over to the States about 18 months ago) and she took our drink order. The menu was 'so British' with the main highlights for snacks being a Cornish Beef Pastie and Sausage Roll with a side of good old HP sauce.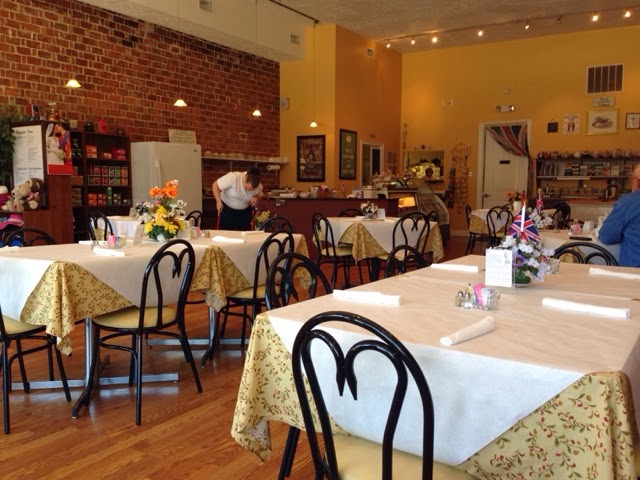 We opted for both of these British classics and we were certainly not disappointed by the quality of the food. The Cornish pastie was 'home-made' and definitely a recommended choice and I know that Heather enjoyed her selection.
Below is a copy of the menu that gives you an insight into what is on offer here.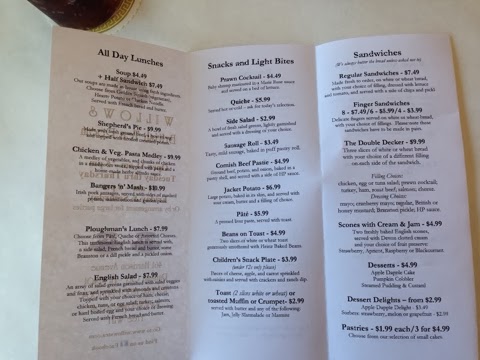 I wanted to give a little advertisement to this great little establishment along the Emerald Coastline. If you are traveling in the vicinity of Panama City, please go ahead pop by the
Willow's British Tea Room
and sample their British style cuisine – you won't be left disappointed!