If you read Heather's review of our experience at the JFK Presidential Library and Museum in Boston earlier this year, you will understand that Heather is a huge American History buff so it was no surprise that during our recent trip to Little Rock, Arkansas that we headed to take a tour of the Clinton Presidential Center. What is probably even more surprising is that despite living only 2 hours away from Little Rock, this was the first time that either of us had visited this attraction!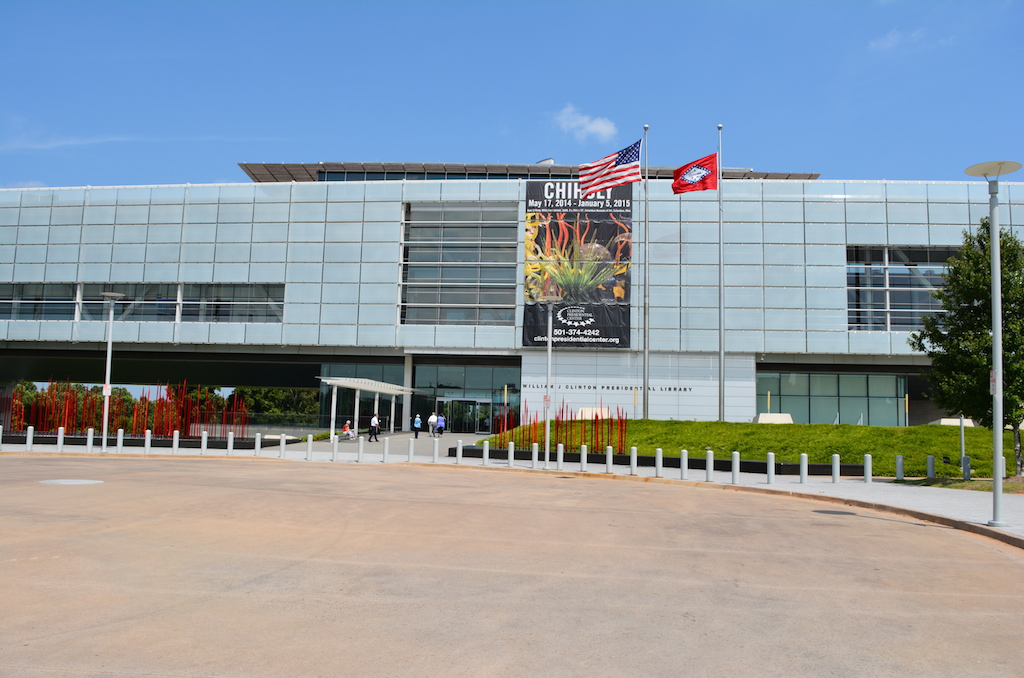 As a local Arkansan, he is clearly still a very popular figure in this part of the world and it's not surprising to see this museum full of locals and tourists alike learning more about him.
Approaching the Clinton Presidential Center from the east, it is located on the Arkansas River and is an impressive looking building with a modern day architectural design and a cantilever style look that arcs over the river. Echoing Clinton's promise in 1996 to take the nation to the next level, the building and nearby Clinton Memorial Bridge really emphasizes his vision throughout his tenure as President of the United States.
Tonight, let us resolve to build that bridge to the 21st century, to meet our challenges, protect our basic values and prepare our people for the future (Clinton, 1996)

Admission
As I mentioned, the exterior design of the Clinton Presidential Center is really impressive and this continues as you enter into the foyer where you pass through a brief security check and then head over to the admission desk. Tickets are relatively cheap in comparison with other Presidential libraries and for $14 for the two of us, we were really looking forward to taking advantage of this apparent bargain.
A small gift shop is available for memorabilia but I would recommend resisting the temptation here and then heading over to the official Clinton Museum Store which is just down the street and you can actually head over there after the tour in a free shuttle that is provided by the center (it's only on the back of a golf cart but it's a cool experience even though the store is only about a 5 minute walk away).
I'm not sure the reason behind having the official store 'off-site' so to speak, but it was worth heading there to pick up a souvenir magnet and pressed penny!
The First Floor Exhibits
There are three levels to the center, each with different aspects of Clinton's Presidential history and also information that leaves you learning more about Bill Clinton as an individual along with his family.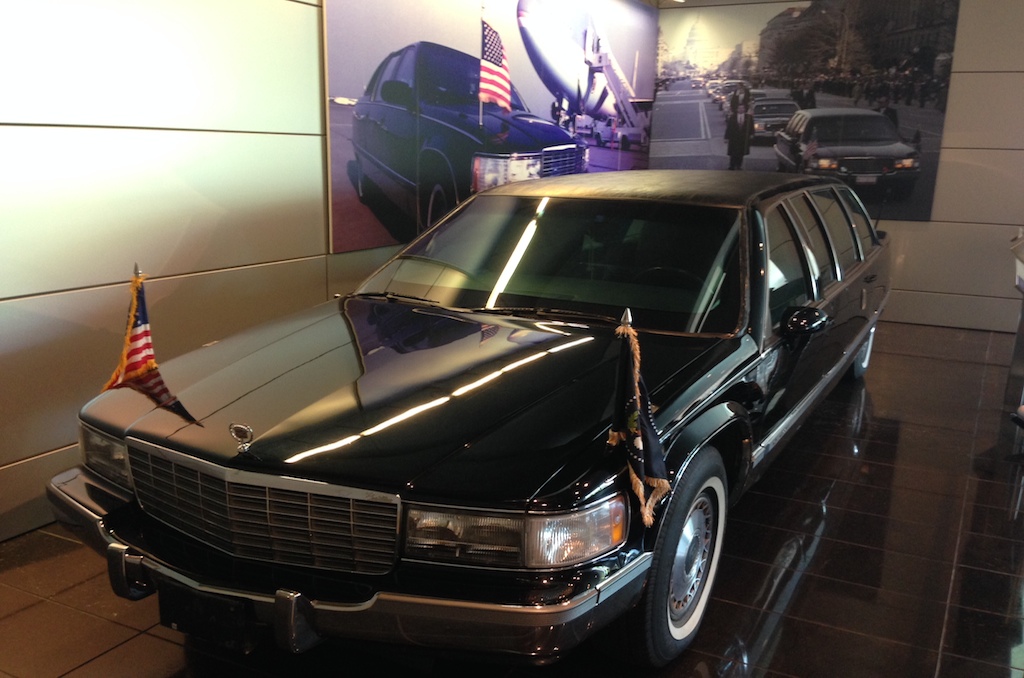 The highlight of the first floor is Clinton's 1993 Cadillac Fleetwood that is proudly on display yet this is really the only exhibit worth exploring. The rest of the first floor was reserved for a special exhibit by the glass artist Chihuly. Dale Chihuly is credited with revolutionizing the glass movement and enhancing the reputation of glass sculptures around the world.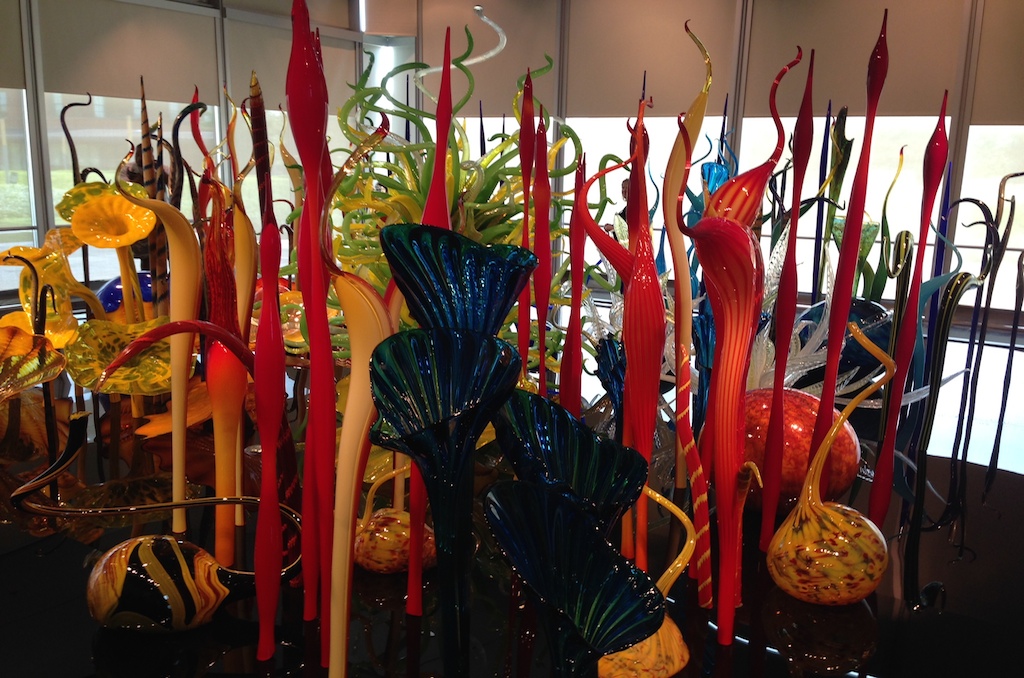 I really had a hard time understanding the relevance of this despite the clear beauty of these sculptures, but after learning that Clinton was a huge fan of Chihuly's work I guess it makes sense that the work is shown in conjunction with the permanent exhibits.
The Second Floor Exhibits
The second floor is where the main exhibits stand though my main issue was after climbing the escalator you really had no idea where to start. A reproduction of the Oval Office was probably the most interesting spectacle on this floor and really takes you to The White House to get a feeling of the space, decor and day to day business that Clinton would have experienced while at the helm.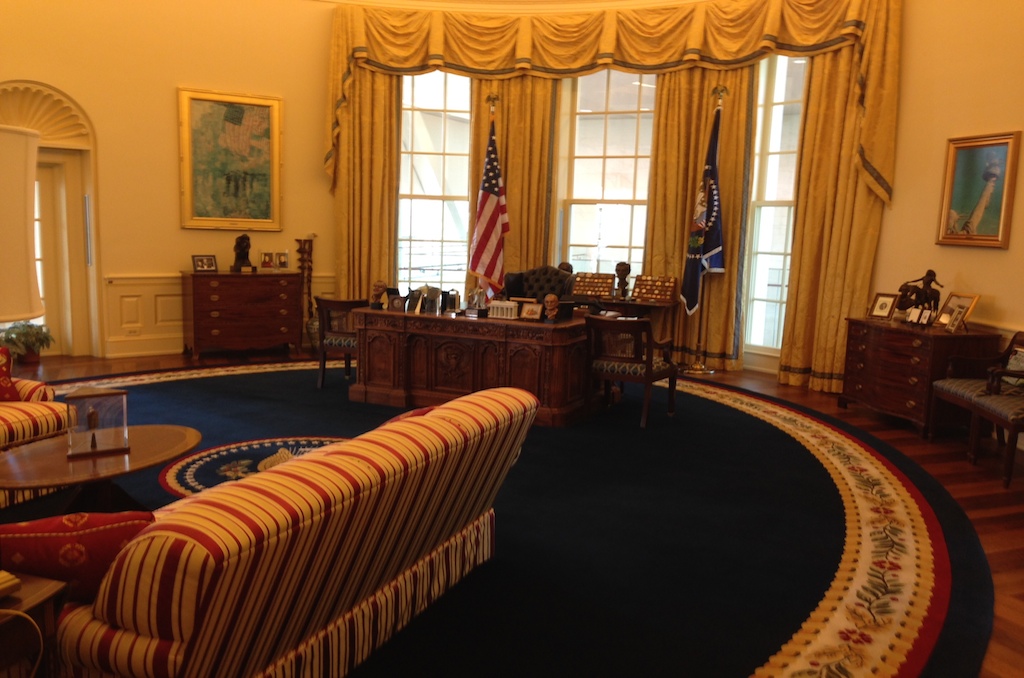 One aspect that was really interesting was a series of folders that showed Clinton's daily schedule throughout his Presidency. The amount of structure and planning that clearly goes into the day to day scheduling of the President's life is astounding.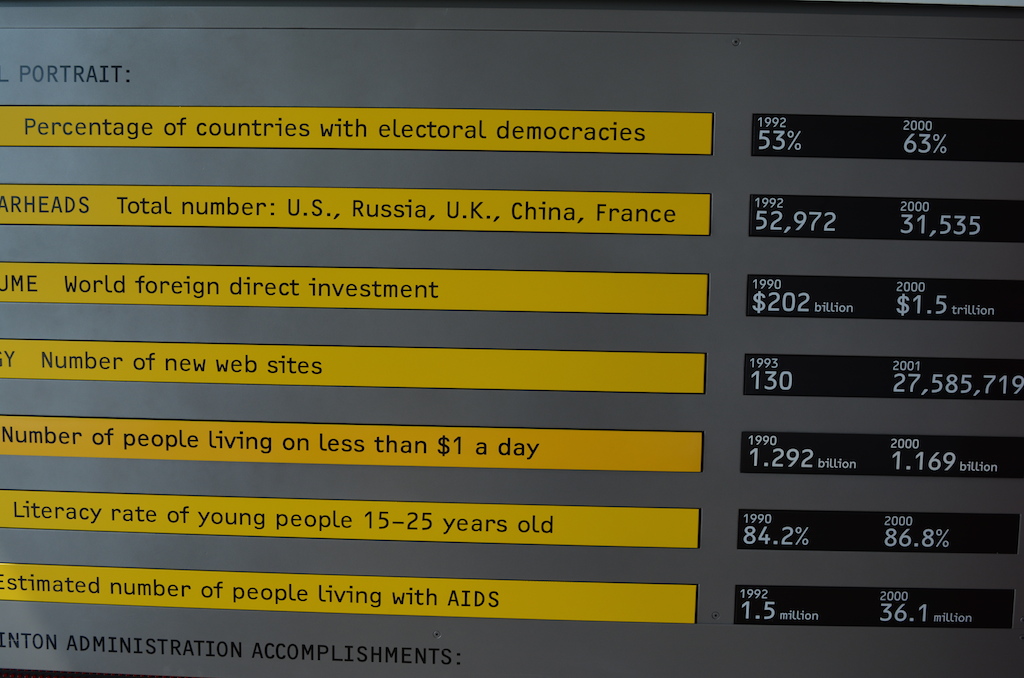 The Third Floor Exhibits
The third floor contained more of Clinton's personal life and included a dining table containing the presidential china that was used for global guests and dignitaries. Clinton was an avid sports fan and of course a keen Arkansas Razorback supporter.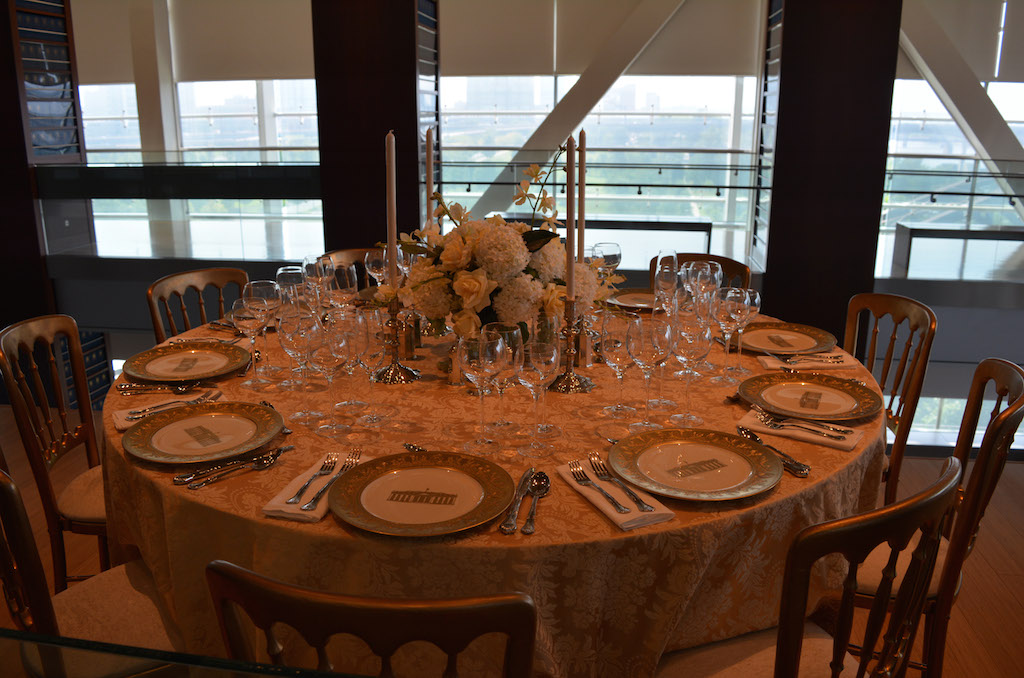 His love of golf saw him play with some of the game's leading players including Tiger Woods and Jack Nicklaus, and the library showed a few of Clinton's rickety clubs that probably saw a few rounds of golf!
Summary
I will be the first to admit that the Clinton Presidential Center was a major disappointment! Sorry Little Rock, but this center is not in the same league as the JFK equivalent in Boston. Whereas the JFK experience involves a guided tour with real structure and organization, everything at the Clinton Center is self-guided and makes it  really difficult to comprehend the best order to see all of the exhibits.
There is very little in terms of information both prior to and after Clinton's presidency. There is nothing regarding Clinton's impeachment, so the reality is there not much that depicts anything beyond what most Americans and global followers probably already know.
If you are a true Clinton follower and want to learn more about his life, campaign and presidential tenure, you may find some interest here and I guess for only $7 you can't complain too much. I am glad we experienced this living so close to Little Rock but I doubt that we will be heading back there any time soon!
 Have you visited the Clinton Presidential Center? Have you visited another museum or library that was a disappointment?