Having traveled so much over the last 18 months, I am not sure what has come over us recently given that we seem to have been doing quite a bit of exploring in our home state of Arkansas. Maybe it's the fact I feel it's beneficial to highlight and share some of our home grown experiences with everyone especially given that Arkansas rarely receives much in terms of media coverage.
If you read our recent post on the Clinton Presidential Center you will know that there is much history and fame in the state of Arkansas, yet I think the real strengths of this state are related to the beautiful natural landscapes and outdoors adventure opportunities that are available! Mount Magazine State Park is probably the most famous of all throughout Arkansas, which is clearly known as 'The Natural State' for good reason.
Not too far from Mount Magazine State Park along I-40 is the small town of Morrilton, AR.  The burning question that most folks will have is what is there to do in Morrilton, AR. Well the reality is not a great deal….at least that is until you venture just outside of this town to the wonderfully named Petit Jean State Park.
Without a doubt this is the ultimate outdoor adventurer's dream, simply because of the trails, waterfalls and other natural features that are present here.
History of Petit Jean State Park
Let's start out with a brief history lesson on Petit Jean State Park because you are probably wondering how on earth a place in Arkansas could be named that! If you have any knowledge of the French language, your first instinct would probably be thinking something French related. You would be correct with this because the history of this park dates back to the early 18th Century, when a young French Nobleman who went by the name of Chavet, set out to explore the Louisiana territory and beyond.
Legend has it that this Frenchman was engaged to a young girl who requested that he marry her prior to setting out on his journey. Chavet refused this request and went on his way. Unfortunately the young girl (Adrienne) refused to give in and disguised herself as a young cabin boy so that she could accompany her one true love. Adrienne named herself Jean and by all accounts did a great job with her disguise because even Chavet failed to recognize her. Given her small stature, the rest of the crew decided to give her the nickname 'Petit Jean', translated in English as 'Little John'.
While sailing between the Mississippi River and the Arkansas River, they arrived at the foot of a mountain but unfortunately for Petit Jean, she immediately fell ill that night. At this point while laying on her death bed, her identity was discovered and of course she begged forgiveness from Chavet. Her final request that should she die that night, they would bury her at the top of the mountain overlooking the Arkansas River.

Petit Jean Grave and Overlook
So you probably have painted a picture in your mind of this tragic love story between Chavet and Petit Jean. Well, imagine as you pass through Morrilton, AR and approach Petit Jean State Park and the first sign gives you the opportunity to explore the summit of the mountain and see Petit Jean's Grave Site.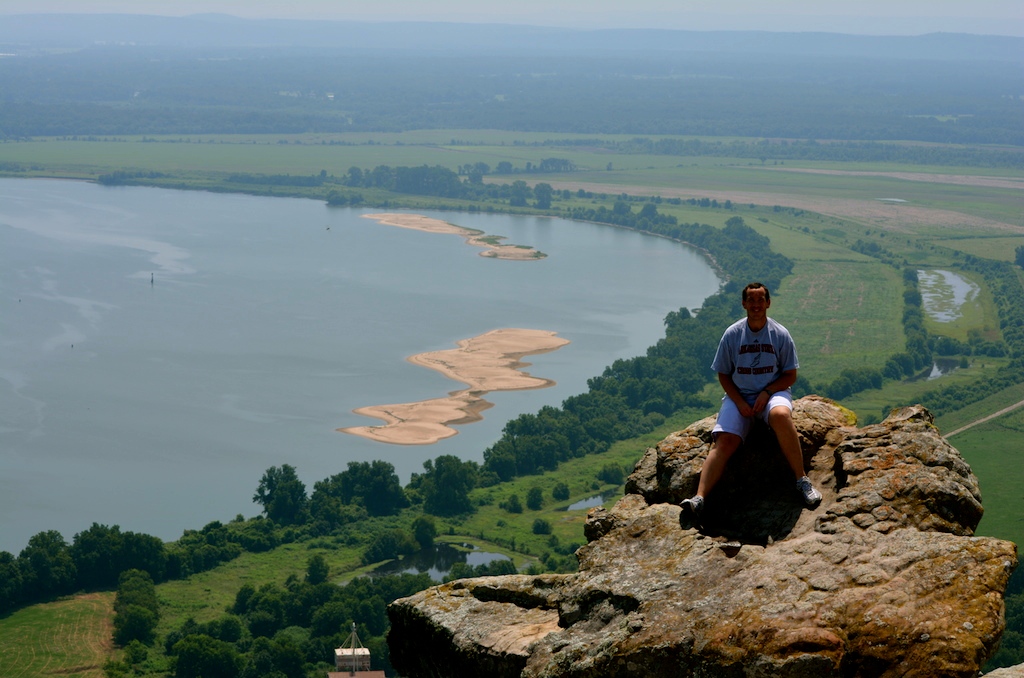 Overlooking the Arkansas River, this really is a peaceful location with a walkway that has been constructed to provide scenic views around the state of Arkansas. On a clear day the views really are spectacular and we were very fortunate to have picked a great day to explore this part of Arkansas.
The only downside was the temperature which soared into the mid to late 90's and this really took it's toll later in the day as we experienced more of Petit Jean State Park.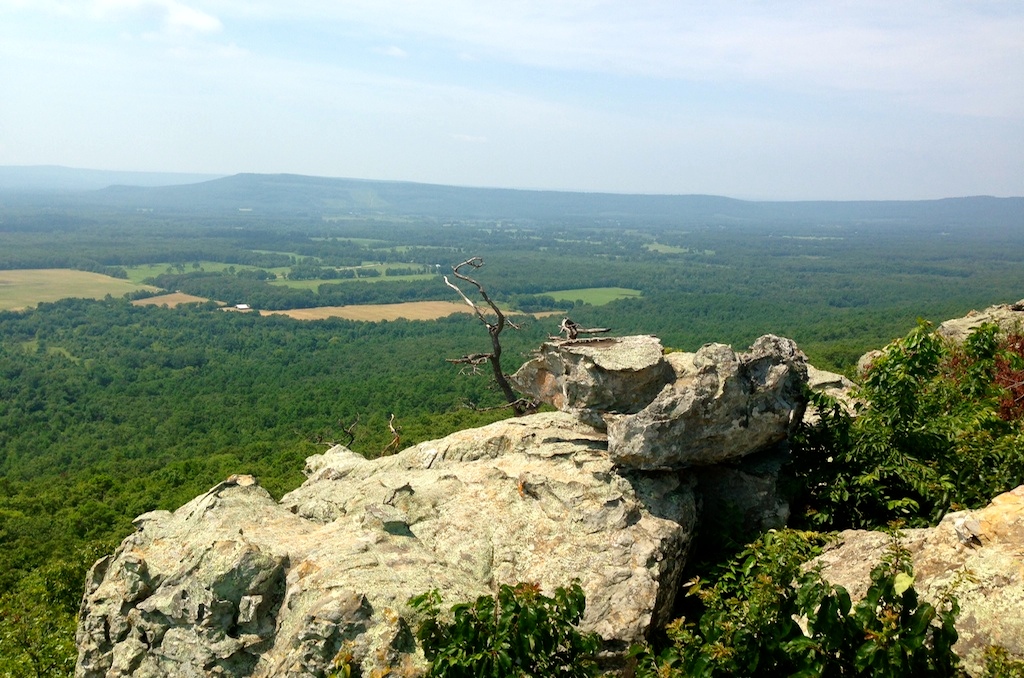 Visitor Center
After pondering the history behind Petit Jean and taking in some stunning scenery, your next stop is to enter Petit Jean State Park and I would highly recommend taking some time to wander around the Visitor Center.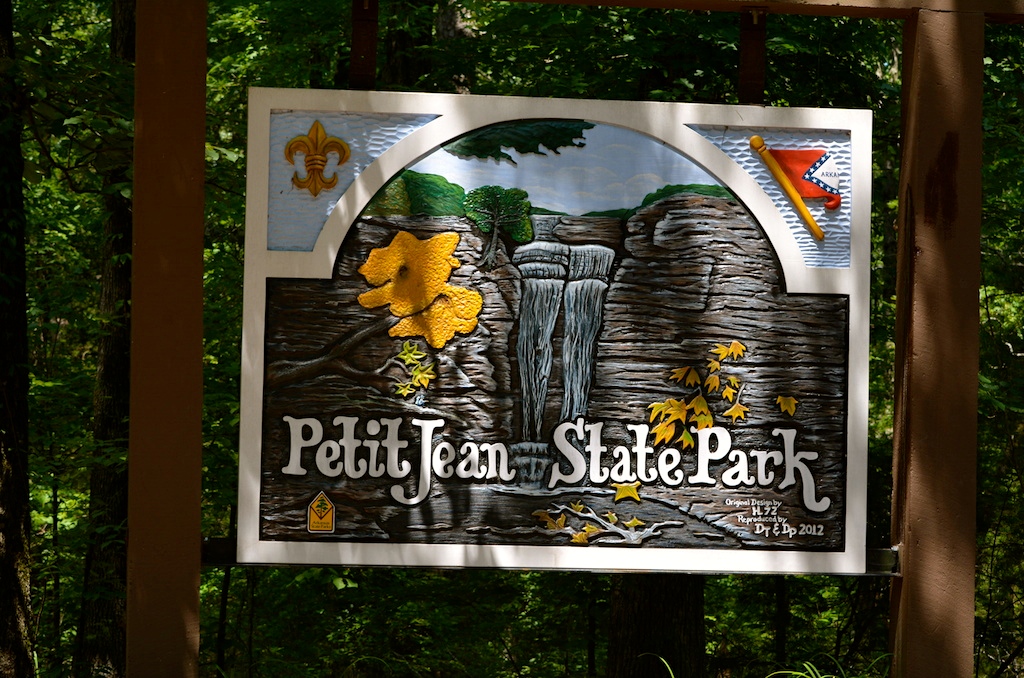 Not only can you pick up some souvenirs (of course we found our traditional magnet and pin) but there is a plethora of information available here, not only regarding the hiking trails and other outdoors activities inside the park but also the surrounding region.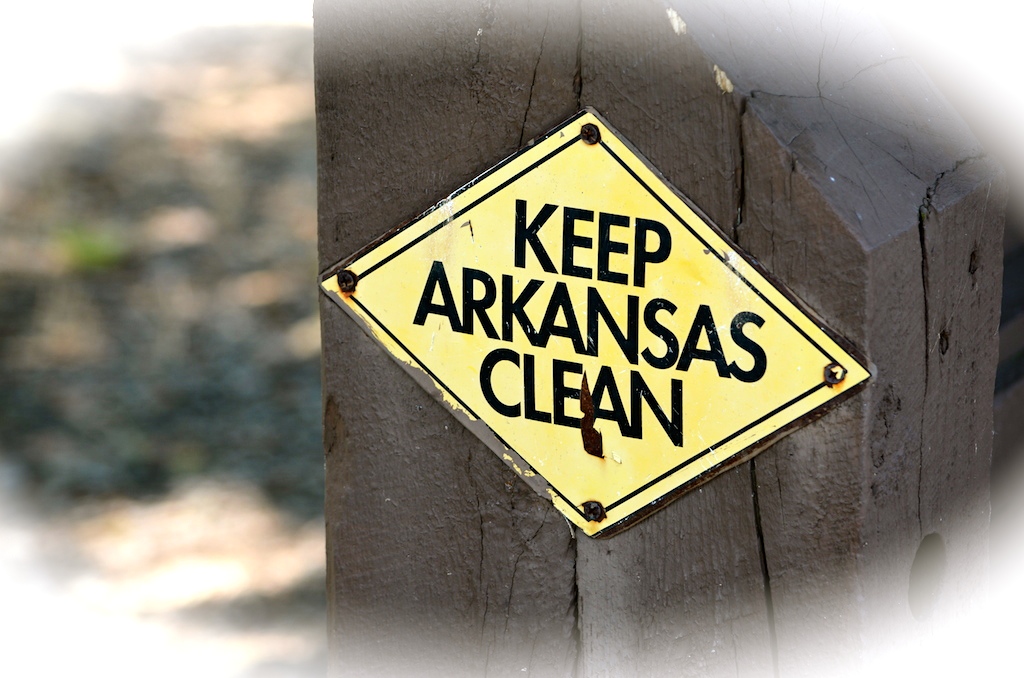 Cedar Falls Overlook
Leaving the Visitor Center and heading into the heart of Petit Jean, we first paid a visit to the Cedar Falls Overlook. Cedar Falls is probably the most iconic feature at Petit Jean State Park so of course this was one of our researched spots prior to making the trip. The overlook provided some great views but we were a little obstructed by the abundance of trees covering the creek where the waterfall flowed into.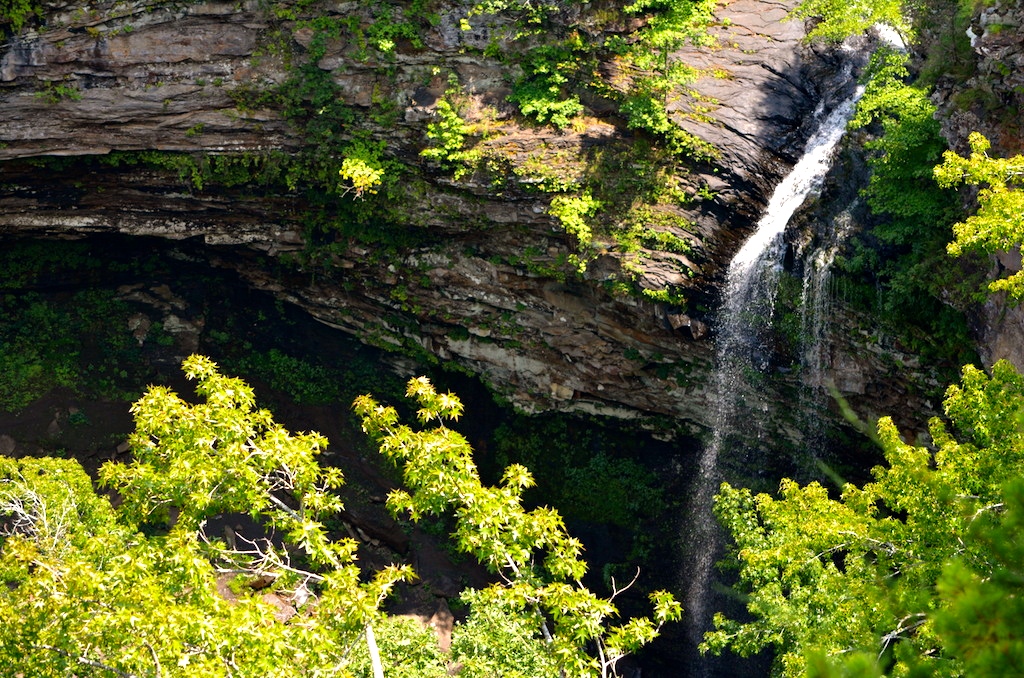 The pictures probably don't do the waterfall justice because it really is a magnificent sight especially if you are as interested in waterfalls as I am!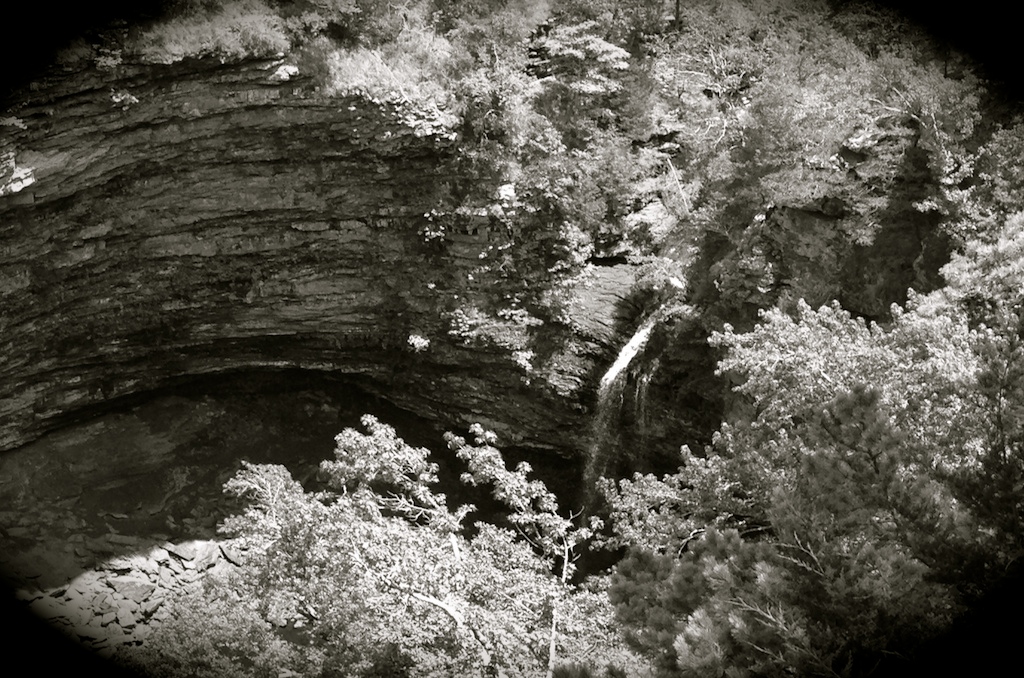 Cedar Falls Trail
As I mentioned, there are so many awesome hiking trails throughout Petit Jean but the most famous trail that we would dearly have loved to fully experience is the Cedar Falls Trail.
Unfortunately given the temperature and the time it was going to take, we were only able to walk about half way down the trail which I have to admit is not for the faint-hearted. Heading down a steep, 200ft drop with a series of cutbacks makes the first half mile a tricky obstacle.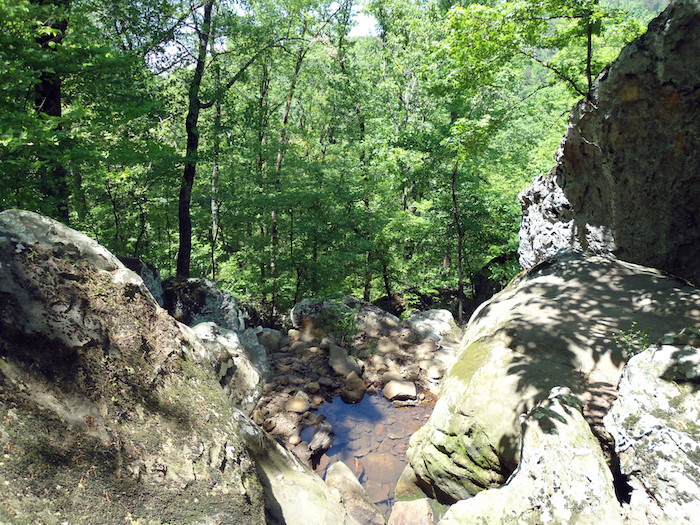 After covering about the first half mile and seeing the number of hikers making their way back up the slope and really struggling, we decided to turnaround and make the hike back to the top and save this experience for a cooler day when we could really enjoy the experience. Of course we were disappointed but realistic at the same time and looking forward to returning here in a month or two when the temperatures are less harsh.
The trail in total is 2 miles and the guidebook indicates you should allow anywhere between 1 1/2 hours to 3 hours to experience this trail, depending on how long you want to spend in the canyon floor.
Hidden Gem in Arkansas
Both Heather and I really enjoyed our short time in Petit Jean State Park. The drive to and from the confines of the park is scenic and of course there is plenty to see and experience while inside the park.
Whether you are a novice hiker or someone more experienced, there is something inside Petit Jean for you! If hiking doesn't interest you at all, why not head over to the park's boathouse and marina to rent a boat or partake in other fun-filled activities.
Even many local Arkansas residents probably don't know much about Petit Jean, simply because of it's location and the fact it probably plays second fiddle to the more popular Mount Magazine State Park that is not too far from this part of the state. Petit Jean does not get the coverage even in Arkansas that it deserves and I hope that this post encourages those reading this to pay a visit because it is natural beauty personified!
What do you enjoy most about exploring state parks?
Weekend Wanderlust Collaboration
Does this post give you some inspiration to start traveling and getting involved in some outdoor activities this weekend? Well, if that doesn't spark your interest we are delighted to announce our ALL NEW WEEKEND WANDERLUST (#WeekendWanderlust) collaboration with our fellow travel friends.
Every Friday, ourselves and our friends will be hosting Weekend Wanderlust using the hashtag #WeekendWanderlust throughout our social media networks and our websites. Please link-up your latest travel posts with us and spread the word to inspire everyone to travel the world and really enhance the experience of 'Exploring the world one weekend at a time' which is our ultimate travel motto that we live by!
Let's introduce our co-hosts that are proud to be partnering with:
We will be introducing our co-hosts in more detail in the next few weeks.