Have you ever wanted to take your closet with you when heading on vacation? I know that I am a culprit of this but of course we have to be ruthless when packing our essential items. I was recently introduced to the innovative designs of Rise Gear, an upcoming company that make it easy to pack on the go yet remain organized.
By utilizing the built-in shelving system, instead of a messy bag you now have a clean and organized hanging suitcase for convenience.
History of Rise Gear
As an innovative designer dating back to his college days, Lee Renshaw lived out of a suitcase while making constant trips to and from school.
We have all struggled to find that perfect bag to make traveling easier, however Lee went a step further and made a suitcase functional as well as efficient and effective for everyday travelers.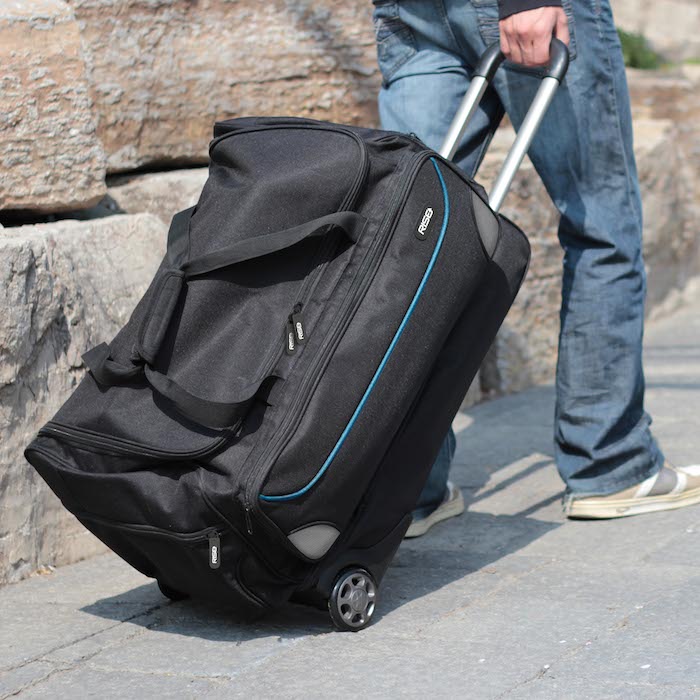 The Roller – Rising above the Rest
We recently started using the Roller which is a perfect travel companion for your weekend getaways – perfect for the 'Weekend Warriors' that we are right! The essential component of the Roller alongside the built-in shelving system are 2 sturdy hooks that will transform your luggage into a hanging suitcase.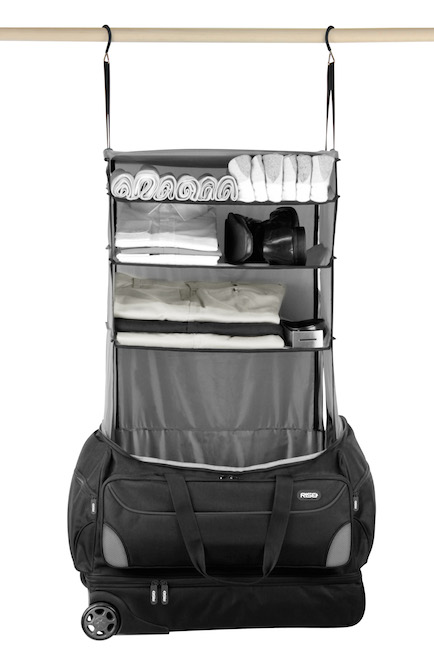 Built-In shelves makes packing a breeze. There are 3 shelves that expand from within the bag allowing you to organize and stay organized throughout your journey.
Not only does the shelving system give Rise Gear a competitive advantage with such a unique product design, the additional large compartment at the bottom allows for laundry to be stored or larger items to fit. Outside sections also provide easy storage without having to open the main compartment.
I honestly believe that these innovative functions make the Roller bag a must-have for all travelers. This 15 X 24″ bag allows for all the storage that you would need when traveling the world. It is larger than your regular carry-on bag which may be a slight disadvantage as it seems to be a little over the TSA compliant dimensions, but given the organization and storage this far outweighs the negatives.
 "It is the ultimate Rise travel companion. The Roller will revolutionize the way you travel!"
Weighing in at 9 pounds it is consistent with other leading brands in luggage. Rise Gear does a fantastic job of making functional products, yet developing a unique design that will encourage people to try them out.
How many times have we all been in a hotel and our suitcase is an utter mess? The Roller is a game changer in this market and it could be yours for $159.00 which may seem to be a little pricy but remember you get what you pay for.
Pros
Shelving System
Roller Wheels
Reinforced Zippers
Strong Handle for Pulling
Rubberized Steel Hooks
Cons
Slightly too big for a carry-on for most airlines
Summary
Just to give you an idea of what I was able to fit into this bag in order to conduct our test, and there was still plenty of space for additional items should you require them:
8 Pairs of socks
6 T-Shirts
2 Sweater
4 Pants
1 Pair of shoes
Toiletry Kit / Makeup Bag / Curling Iron in external pockets
Travel documents, including passport
Travel accessories, including cell phone, charger, keys
Kudos to Rise Gear for thinking about travelers when designing this product because the cost of the Roller bag is completely justified in order to experience the most convenient bag on the market.
The Roller bag also ensures that all your items don't shift in transit and are easily organized for the entirety of your trip. If you are seeking different options and colors, Rise Gear has several that could fit any style for any kind of traveler so I highly recommend checking out their selection of products.
*Disclosure of Material Connection: A Brit & A Southerner was not financially compensated for this post. We received a free sample from Rise Gear for consideration of review purposes only. This is solely our personal opinion/experience*