A magical winter wonderland is an experience many of us dream about when we consider destinations across the globe, and for those of you that reside in Europe or love to travel to this continent, you will know that there are a plethora of amazing places worth visiting. While we have been fortunate to explore a variety of European nations, there are countless others that we have yet to visit and so we are delighted to collaborate with some of the best travel bloggers in the business to showcase the best European winter destinations to enjoy an epic weekend getaway!
Whether you are inspired by the thought of a stereotypical winter wonderland or perhaps the exact opposite and want to experience warmer climates to get away from the freezing weather, Europe is home to an abundance of destinations that offer everything visitors from around the world could want to experience this historic continent during the winter months.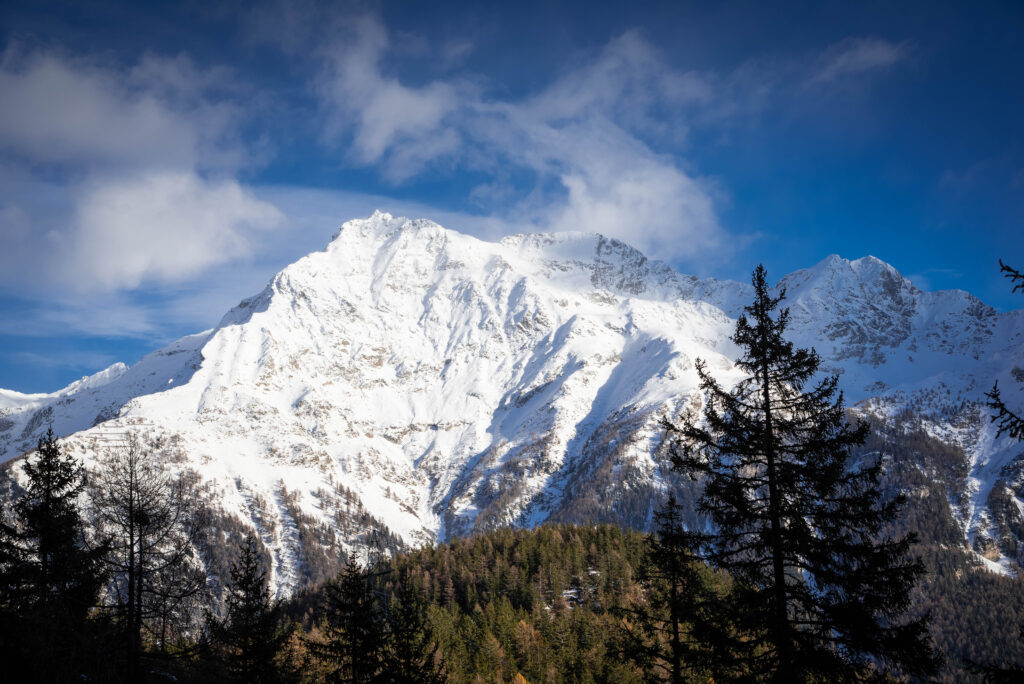 Best European Winter Destinations
Let's take a look at some of the iconic destinations that will be highlighted throughout this post and please, don't hesitate to share your favorite European destinations for a weekend break during the winter months!
Amsterdam, Netherlands
Athens, Greece
Bergen, Norway
Cascais, Portugal
Chatsworth, England
Dublin, Ireland
Edinburgh, Scotland
Fuerteventura, Canary Islands
Iceland
Innsbruck, Austria
Italian Dolomites, Italy
Lake Bled,Slovenia
Lapland, Finland
Lucerne, Switzerland
Malaga, Spain
Moscow, Russia
Neuschwanstein, Germany
Palermo, Italy
Prague, Czech Republic
Split, Croatia
Venice, Italy
Vienna, Austria
Warsaw, Poland
From a long weekend getaway to perhaps exploring a variety of these destinations courtesy of an Eurail first class travel experience, you can be sure that each of these offers something unique and memorable.
Amsterdam, Netherlands
The capital city of Holland – Amsterdam, is an excellent all-year-round destination, including winter months when the city hosts many exciting events and festivals.
Amsterdam is an excellent place for the foodies with a great selection of cafes where you can have a break to warm up after strolling through the city's many picturesque canals and bridges. Try one of the pancake houses, which is a Dutch speciality.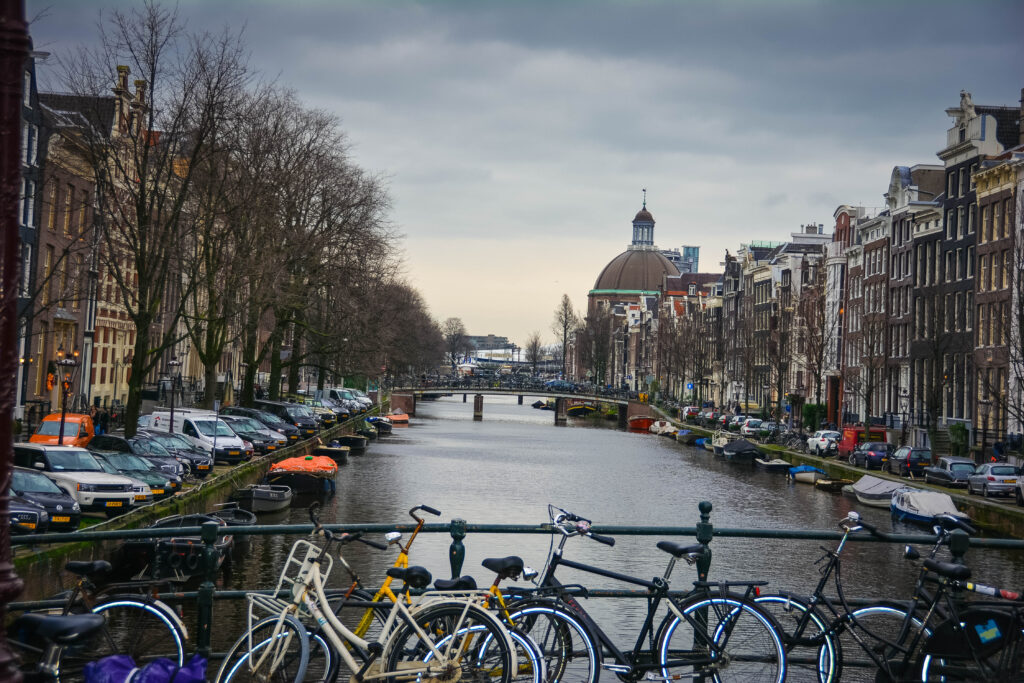 Amsterdam also has many gripping museums which are great for visiting in the cold months, including the Van Gogh Museum, Rijksmuseum, Rembrandt House Museum and more quirky ones such as Amsterdam Sex Museum.
In December, the city transforms into a winter wonderland with various Christmas markets, and ice rings scattered around different areas. The most popular one is the Ice Village Amsterdam that lures with the explosion of festive colors and scents of Christmassy treats, including the Dutch special – freshly baked stroopwafel with sweet caramel filling. For winter sports enthusiasts, RAI Centre builds an indoor winter wonderland during the festive season with real snow, ski slopes, sledging tracks and a lot more fun activities to enjoy.
There is also a yearly Light Festival during which the city of Amsterdam becomes a fairy tale with giant lit structures and twinkling lights everywhere.
By Mal from Raw Mal Roams
Athens, Greece
Despite many people flocking to Greece in the warmer months, Athens is actually at its best in winter. While it can be a bit wet in winter, the temperatures are generally relatively mild, hovering around 12 degrees Celsius.
This cooler weather is perfect for exploring the city, especially visiting the ancient Greek ruins, which can get uncomfortably hot and crowded in the summer. If you want to enjoy the wonders of the Acropolis at your leisure, winter is the time to do so. The clearer air also means you can enjoy beautiful views from both the Acropolis and Mount Lycabettus on fine days.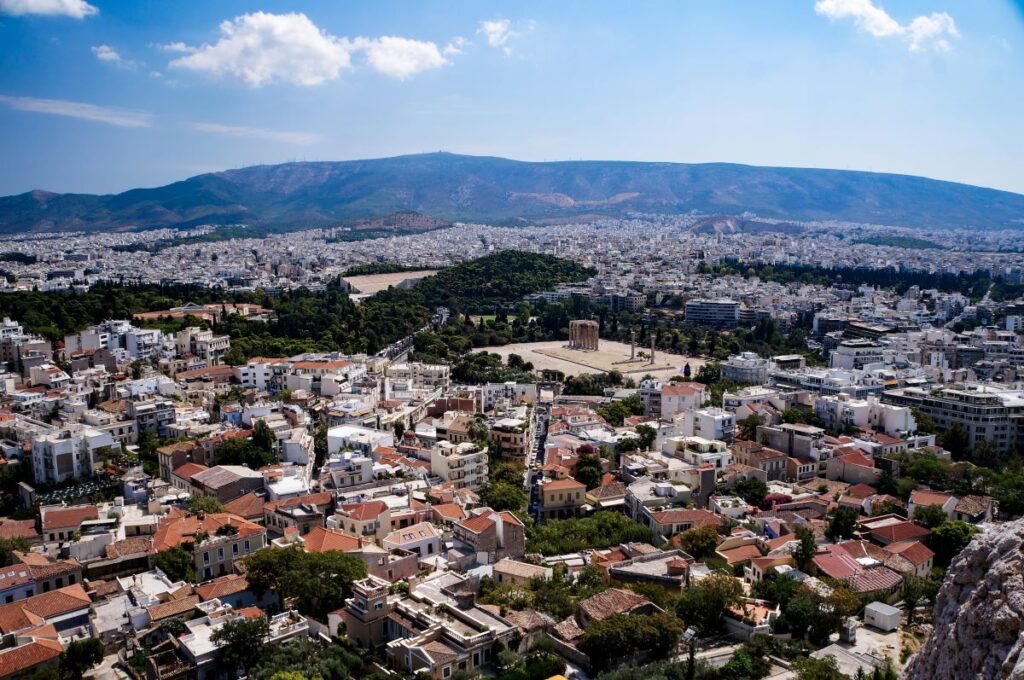 Winter is also a good time to try one of the local hikes – try walking along the Sacred Way in Kerameikos Cemetery or taking a stroll through the National Gardens. There's always great food in Athens, with many tavernas serving excellent meals. Athens Central Market is well worth visiting, especially if you want to cook a couple of meals yourself.
If it does rain during your stay, that's the perfect time to visit some of Athens' remarkable museums and art galleries. Some favorites include the Acropolis Museum, the National Archaeological Museum and the Benaki Museum, although there are many others to choose from. And, if you're lucky enough to get some snow during your stay, make sure you take advantage of the opportunity to marvel at the Parthenon veiled in white.
By Roxanne from Faraway Worlds
Bergen, Norway
Situated on the southwestern coast of Norway Bergen is the country's second largest city. Bergen is a wonderful city to visit at any time of year and is often described as the gateway to the fjords due to its proximity to some of Norway's most beautiful areas.
In the winter, however, Bergen has fewer hours of sunshine and somewhat colder temperatures than other times of year. It is, nevertheless, a wonderful location for a short holiday with lots of things to do and see.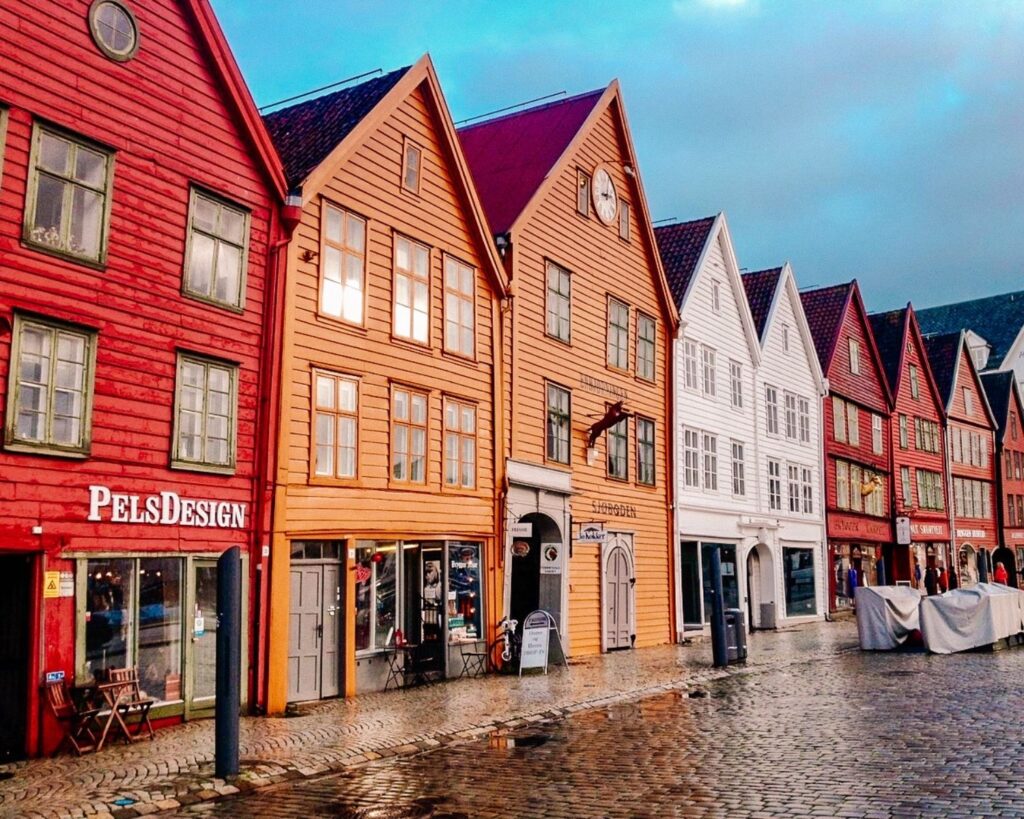 Main attractions in Bergen include the UNESCO World Heritage Area of Bergen called Bryggen which is the site of the Hanseatic wharf. This area is full of gorgeous, wooden buildings, narrow streets, and cozy coffee shops. The Bergen Fish Market (Torget I Bergen) which has existed since the 1200s is also worth a visit.
For spectacular views of the city take the funicular up Mount Floyen. The funicular leaves from the city center a few minutes' walk from Bryggen and takes a few minutes to get you to the top. There is a restaurant and cafe at the top too which are prefect for a coffee stop on a cold winter's day.
Norway is not a cheap destination so be prepared for the price of food and drink in Bergen. It can be more cost effective to eat at fast food outlets rather than break the bank at a restaurant. For good coffee and cake try Det Lille Kaffe Kompaniet located in one of the wooden houses in the alleyways of Bryggen.
By Tracy Collins from Tracy's Travels in Time
Cascais, Portugal
The Portuguese Riviera town of Cascais is located on the Atlantic Ocean. This seaside resort town becomes a sleepy and relaxing getaway during the cooler months of winter.
You can still enjoy a walk or bike on the paredão along the beaches and visit the Boca do Inferno and shops at Casa de Guia. Feeling ambitious? Continue to Guincho beach. You'll be treated to breathtaking scenes as brave surfers trying to catch the perfect wave. While you're there stop at Forteleza do Guincho for a Michelin starred meal where the food competes only with the view.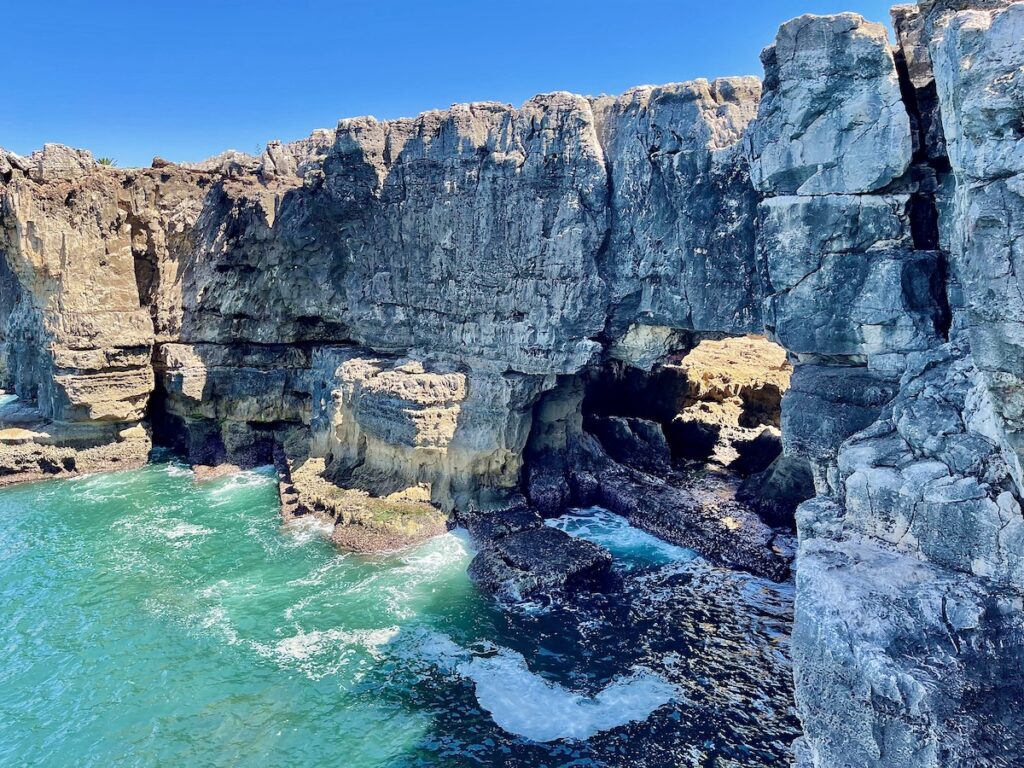 A stroll through the historic city center of Cascais will have you checking out the sculpture garden in the Citadel Art District, the Parque Marechal Carmona and the Cascais Cultural Centre. Stopping here for lunch or a coffee break is highly recommended.
The city center has quaint shops, museums and many restaurants that will beckon to you with the smell of the famous grilled Portuguese chicken and seafood. Try the piri piri chicken at the Jardim dos Frango or a plate of fresh golden bream at A Nova Estrela.
Stay at the Grande Real Italiá Hotel & Spa for a gorgeous ocean view and tip top service. Take advantage of the spa facilities and let yourself truly unwind.
Cascais is the perfect spot to stay and still see more of Portugal. A quick train ride along the coast brings you to Lisbon and a 15-minute drive to the fairy tale city of Sintra. Easy drives to Nazaré and the wall-city of Óbidos are also well worth a visit.
By Sue Reddel from Food Travelist
Chatsworth, England
Chatsworth is a stunning stately home located in the Peak District National Park UK. The expansive estate grounds are free to visit and walk around affording excellent views of the house, surrounding hills and the local wildlife. The grounds are home to a herd of stags which can often be seen roaming the grounds on icy winter mornings.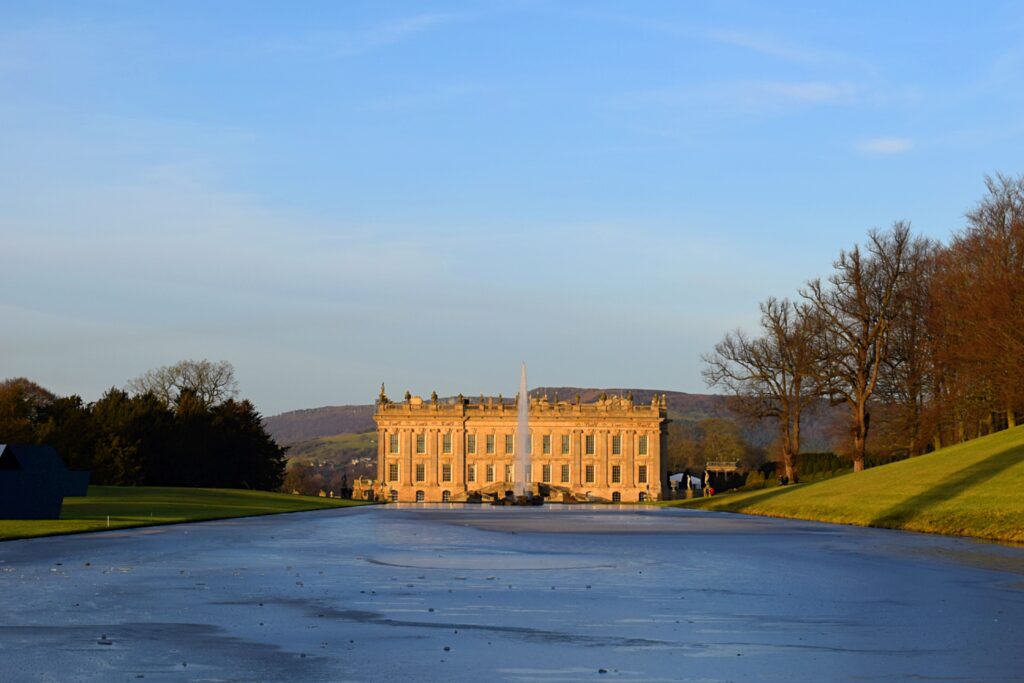 The beautiful Chatsworth house, dating back to around 1553, is richly adorned with furniture, decorations and artwork that celebrate its rich history. The impressive gardens are beautifully landscaped and planted to give a varied experience of every season. The Play Park and farm is the perfect place for active kids to let off some steam and learn about local agriculture. Chatsworth House has had its fair share of appearances in movies and media: Pride and Prejudice (2005), The Duchess (2008) and The Crown (2016) to name a few.
If you want to explore the house, the gardens or play park and farm you do need to book tickets in advance. Don't miss the amazing Stables Cafe (located next to the entrance to the Gardens) which serves a range of fresh, delicious hot food and drinks.
Also, the Chatsworth farm shop is located a few km up the road and serves gourmet local produce and tasty treats. Chatsworth often hosts seasonal celebrations and events. Don't Miss the magical Chatsworth at Christmas display!
By Peter Tryon from The Backpacking Family
Dublin, Ireland
Dublin is the capital of Ireland and a beautiful city to visit in the winter. The weather in Dublin can be quite unpredictable and although Dublin gets some cold days due to the wind and humidity, the winter season is usually mild with beautiful sunny days. This makes it a great destination to visit in the winter if you're not a big fan of the snow and really cold weather.
Dublin offers a variety of activities and historical visits. Lots of must-see attractions are indoor which is perfect in case you get caught in the Irish rain or need a break from the wind. From doing a guided tour of Dublin Castle to visiting the Jeanie Johnston ship, you will appreciate how rich the history of Dublin is.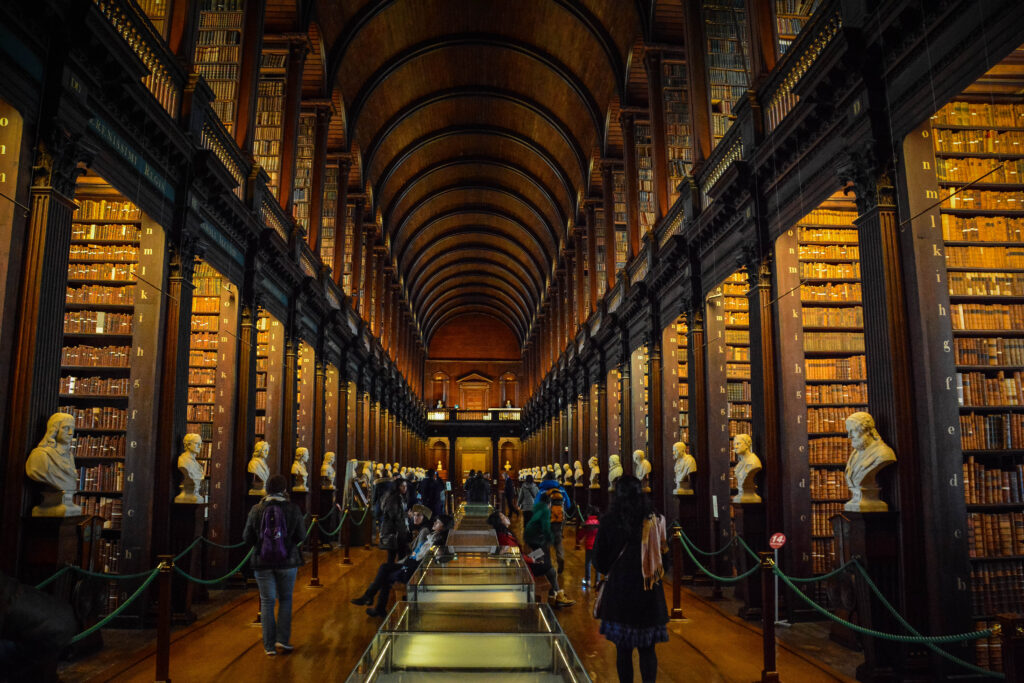 Trinity College is also a must-see both for its architecture and the visit of the Book of Kells library. On a beautiful sunny day, rent a bike to visit Phoenix Park and the local herd of deer that lives there.
In December, there are lots of Christmas things to do in Dublin. From the festive Christmas markets to sightseeing Christmas lights, Dublin becomes magical. One mandatory stop is the Temple Bar pub in the Temple Bar district. This traditional and historical pub is decorated every year with lights and a Christmas tree. It is the perfect place to warm up with a hot drink or a traditional Irish coffee while listening to live music and enjoying the Irish Christmas spirit!
By Mary from Be Right Back by Mary
Edinburgh, Scotland
Edinburgh is a good idea all year round, but this medieval city looks particularly pretty in winter. Lights dance above popular tourist streets such as George Street, brightening up the shopping street and upmarket bars stretched along it. The independent stores and coffee shops of Cockburn are given a sparkly highlight with Christmas themed lights strung above them. Victoria Street, also known as Diagon Alley, gets some star treatment too.
Visitors book into the best Edinburgh Christmas hotels, decorated inside and out with trees, baubles and lights. Their restaurant menus shift into winter mode, serving up hearty seasonal dishes and putting on party nights with turkey and tinsel for business people.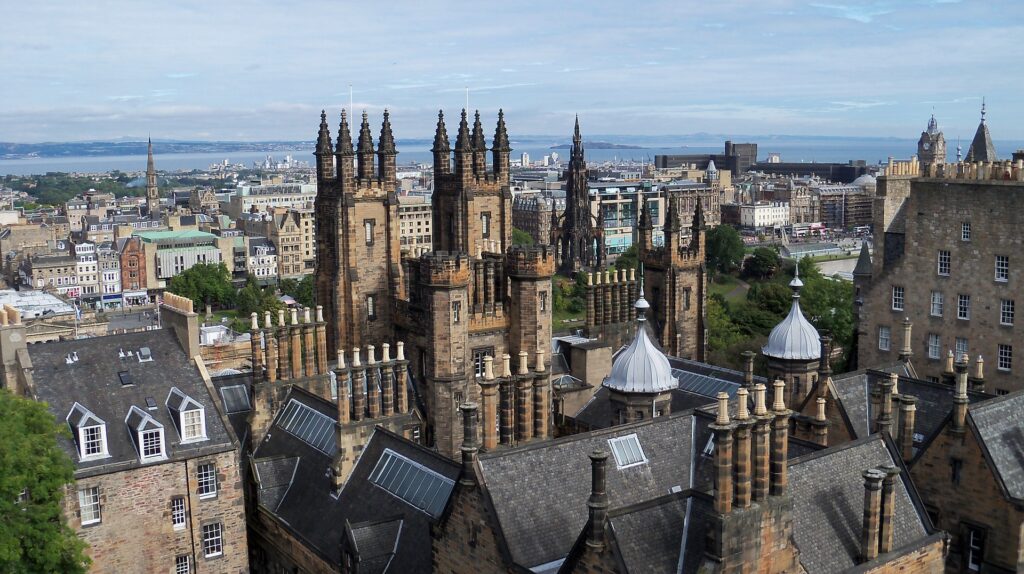 Edinburgh's Christmas Market takes over Princes Street Gardens with stalls selling mulled wine, sizzling bratwurst and handmade gifts. However, there's one venue on everyone's bucket list, The Dome. This former bank is now 'the' place to enjoy a cocktail around its towering Christmas tree which takes center stage behind the bar.
Revelers also aim for seats at the pop-up venue on top of the Waverley Mall. Previous years have seen this location erect tents and burn fires to keep drinker's cozy. If you prefer to dine in a warm restaurant with a view of the festive fun, head to Twenty Twenty.
By Gemma from Everything Edinburgh
Fuerteventura, Canary Islands
There is no doubt about it, one of the best European winter destinations is the Canary Islands. Situated in between Spain and North Africa, the Canaries gain from lush warm weather all year round. While each island has its own merit, Fuerteventura is a great choice of location for your winter vacation.
As the second biggest Canary Island, there is a lot to do in Fuerteventura and it is also easy to get to nearby Lanzarote for a day trip or extended stay. The island is vast, and tourists will only often stay in one part. One of the most popular spots is Corralejo at the northern tip.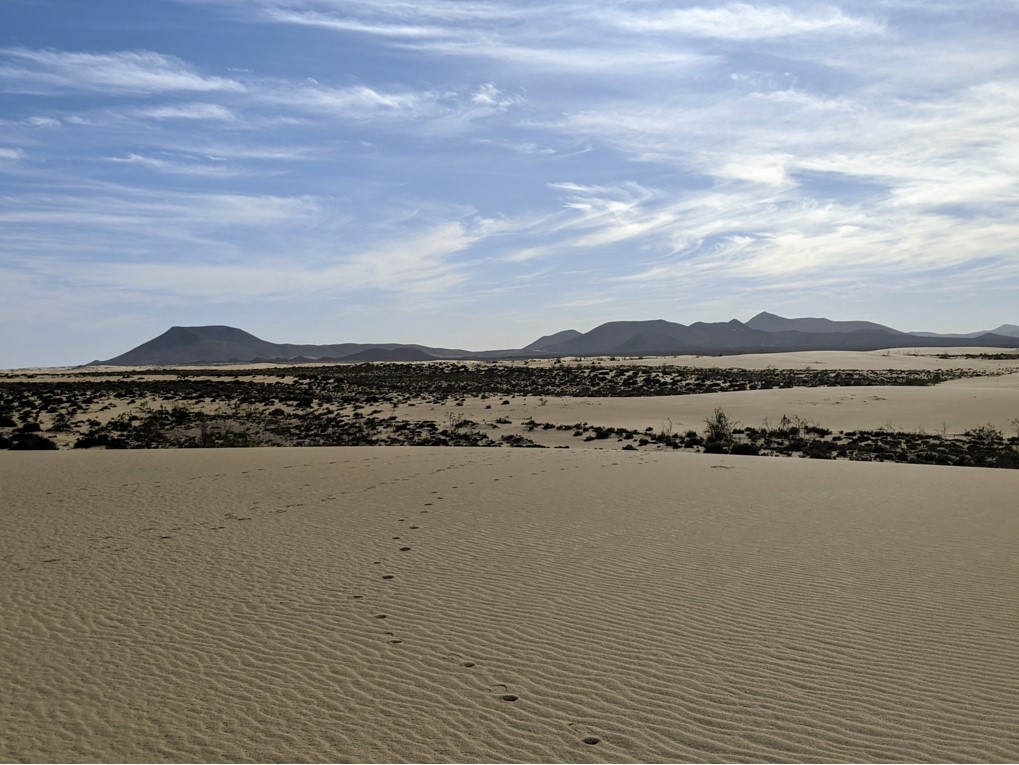 There are many fun things to do in Corralejo, Fuerteventura and some of them are even better in winter! This region has the famous Parque Dunas de Corralejo, which are extensive sand dunes that you can enjoy. A short walk away is Corralejo beach which has its iconic stone wind breakers you can sunbathe in, or waves that you can wind surf. Another exciting activity is to take a sand buggy excursion off-road across the volcanic mountains across the island.
When you're just wanting to relax, head to El Campania shopping resort or the nearby harbor. There are many restaurants with great food and even better views. In the evening, several places across the harbor also offer fondue which is a tasty and fun way to start or end your night.
By Kerry Hanson from VeggTravel
Iceland
If you are looking for the best European winter destinations, look no further than Iceland!! After all, it is called the land of fire and ice for a reason and what better time to visit than when it is, well, icy?
There are so many things to do in Iceland in Winter. First? Go look for the Northern Lights! This is one of the most popular reasons to visit at this time of year. You can also visit one of the many hot springs in Iceland and of course the famous Blue Lagoon. You can even see the Northern Lights from the Blue Lagoon if you are lucky.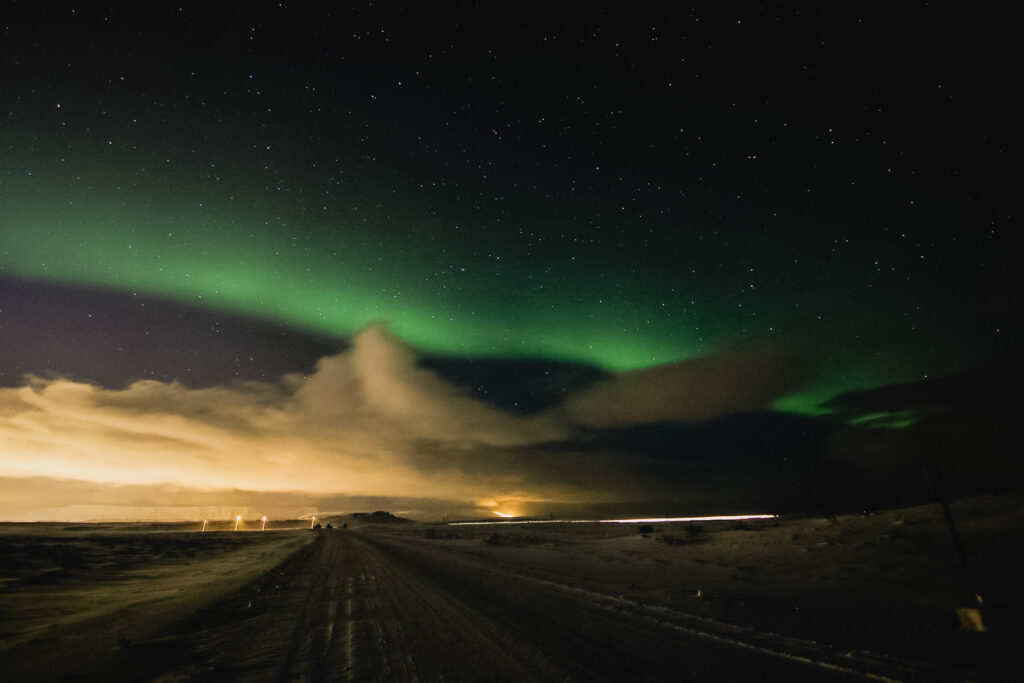 If you are into hiking, you can hike through glacier ice caves which are only possible to visit during winter. Once you are done, head back to Reykjavik and eat at Noodle Station, a very affordable and tasty noodle bar to warm your soul after being out in the cold air all day!
By Victoria Yore from Iceland Trippers
Innsbruck, Austria
You could get away with calling Innsbruck, Austria the ultimate winter destination. Flanked by infinitely skiable hills, offering a myriad of cold-weather activities, blessed with a walkable city centre that's bursting with historical attractions, and hosting plenty of festive events, there's no better place to be in Europe in winter.
Visiting Innsbruck in winter is ideal for those who want a hassle-free way to savor the delights of a European city break, while also enjoying the fun that comes from being on the slopes. The city is renowned for its ski fields, some of which can be reached from a funicular that departs right from the city centre and whisks you up the hill within minutes. Once you reach the top, several runs await.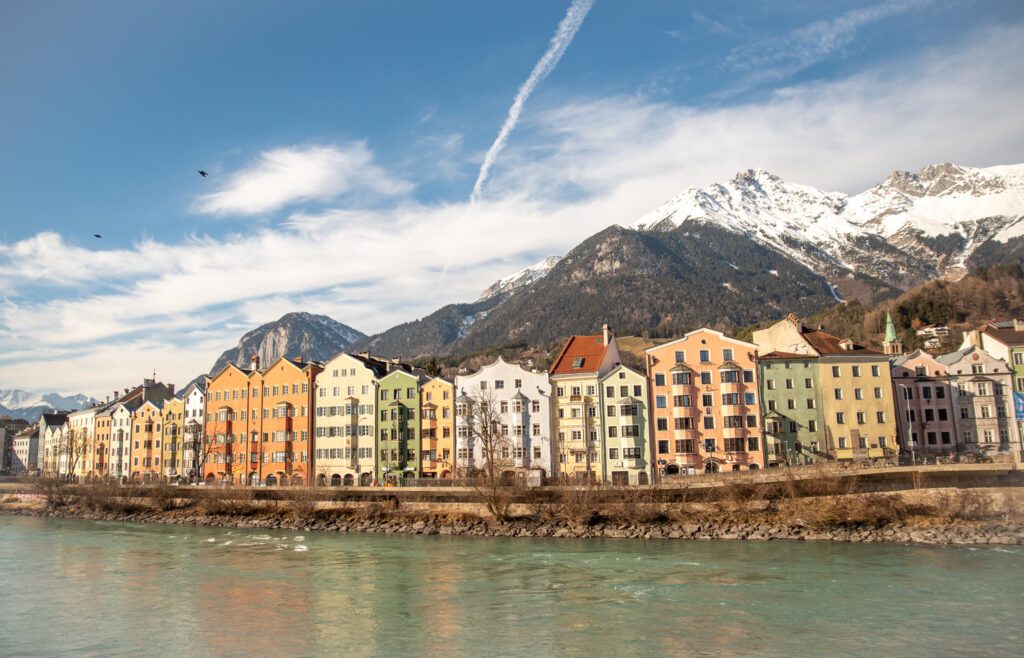 But if skiing isn't your thing, simply settle into the iconic Cloud 9 bar and enjoy the view instead or treat the kids to some free sledging on gentle slopes. Back down at ground level, warming cafes await to serve up Austrian classics such as cheese dumplings and the local favourite, Tyrolean speck, alongside warm mulled wine or sweet schnaps.
Once you're suitably warmed up, head along to Altstadt, the town's historical center to take in the famed Golden Roof, which is decorated with over 2,000 gilded copper tiles, the beautiful medieval streets, and ornate buildings. It goes without saying that it's also a fabulous place to shop – especially during the Christmas period when seasonal markets pop up all over the city.
By Nadine Maffre from Le Long Weekend
Italian Dolomites, Italy
The craggy snow-covered peaks of the Italian Alps beckon many a ski lover to northern Italy and the Italian Dolomites. It's one of the best winter destinations in Europe! The Dolomites are a spectacular destination at any time of year, but they take on a whole new beauty when they're shrouded in snow, and skiing is the name of the game.
You don't have to be a seasoned skier to enjoy it here, however. Besides downhill, there are other styles of skiing like cross-country, freestyle, and freeride skiing and beginners can hone their craft with lessons at every resort. Or you can strap on a pair of snowshoes or find a cleared hiking trail and enjoy the stunning landscape.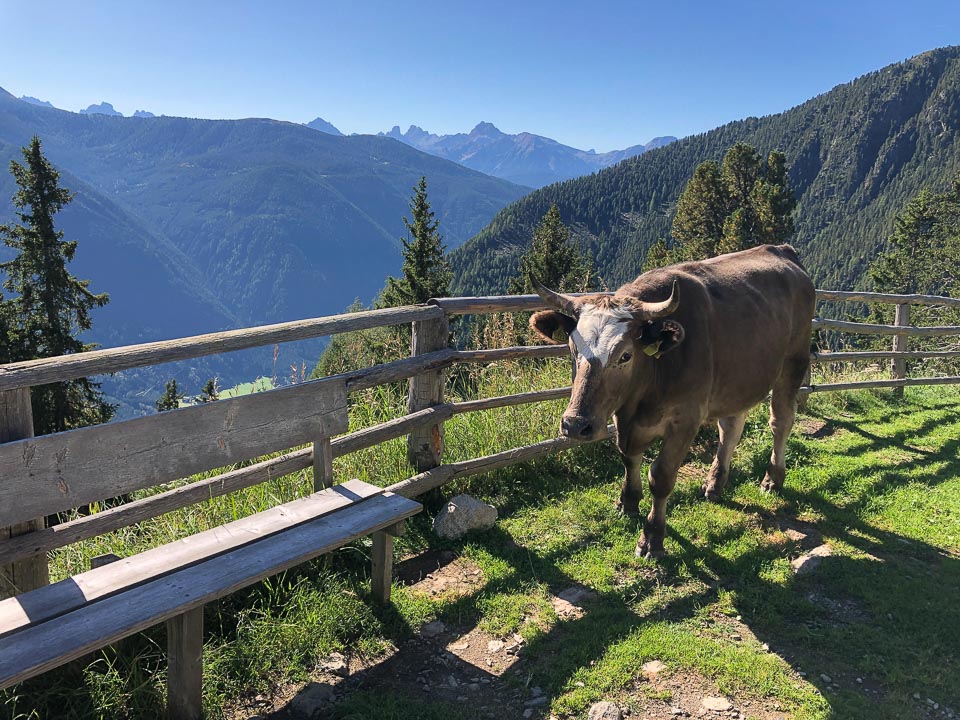 For the more adventurous, snow trekking through the mountain passes or snow kiting might be more your speed. Think of yourself downhill skiing only attached to a sail or kite. For those who prefer snowboarding, Alta Badia is the place to be with specially designed parks and schools to take a lesson or two.
When it's time to head inside, the popular Rifugio Emilio Comici in the middle of Selva di Val Gardena is the place to warm up with some hearty South Tyrolean food. Look for a small white building with light blue shutters and a lively crowd.
In this beautiful valley you'll find lots of quaint B&Bs and upscale hotels, but Garni Floreal Di Kelder Berta Paula is excellent and a great value to boot.
By Lori Sorrentino from Italy Foodies
Lake Bled, Slovenia
In summer Lake Bled in Slovenia is packed with European vacationers attracted by the scenic mountains, lakes, and outdoor activities. Slovenia is worth visiting all year round, but it's in winter that Lake Bled really transforms into something spectacular – a fairy-tale-like magical winter escape void of the peak season crowds.
On the iconic Lake Bled, most notable for its small island with an attractive church and cemetery in the middle, instead of rowing, there's ice skating when it freezes over. If you're lucky enough to visit over Christmas, then Bled also has cozy winter markets with mulled wine, twinkling fairy lights and a whole lot of hygge.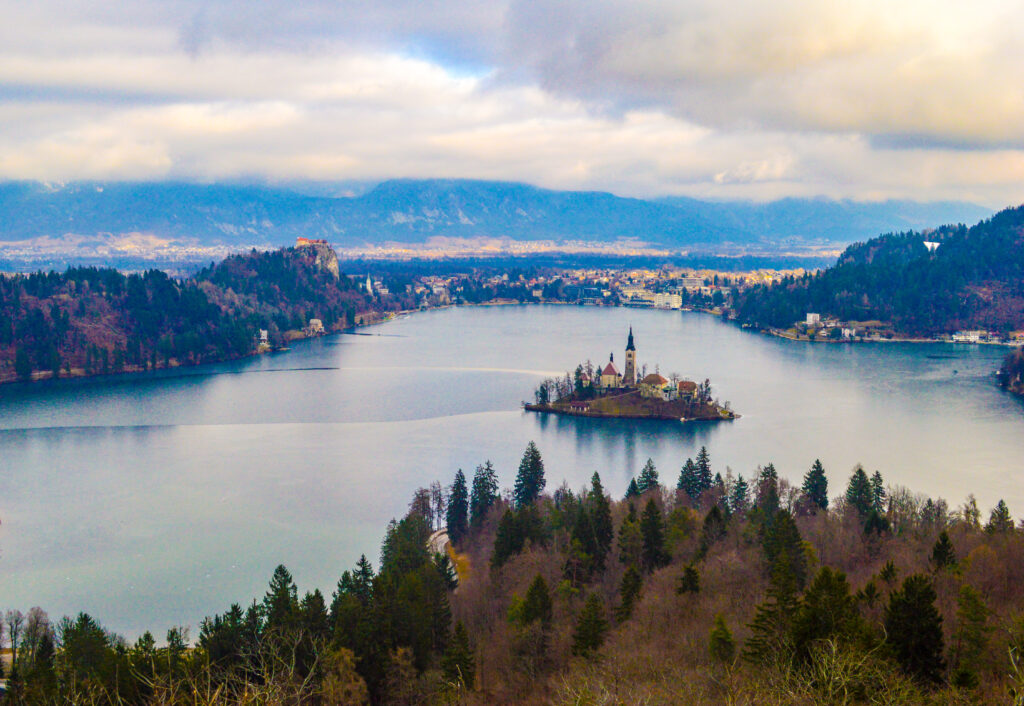 If there is one place beside the lake you must see its Bled Castle, a stunning medieval fortress perched atop a precipice, with incredible views overlooking the lake and beyond. The coffee shop in the lower courtyard is ideal to sit back and enjoy the views with a hot drink and to try the famous Bled cream cake. No trip to Slovenia is complete without tasting it!
Snow in the winter is common in Slovenia so skiing in the Julian Alps is a popular and budget-friendly activity compared to its neighboring European countries such as Italy, Austria, and Switzerland. Or if it's a mild winter, even if there's no snow in Lake Bled you should at least have a scenic backdrop of snow-capped mountains from the nearby Triglav National Park.
Lake Bled is a scenic, safe, and relaxing winter getaway with flights you can often snap up for only a few pounds from London or other major European cities.
By Tammy Thurman from Travelling Tam
Lapland, Finland
Lapland is the ultimate winter destination – magical, full of intrigue and feels as though you've stepped into a fairytale. Spread across largely Finland and Sweden, but also into Russia and Norway this is the land of the nomadic Sami and full of folklore and tradition.
There is so much to enjoy in this area of the world, number one if you're traveling to Lapland with kids then high on the list will be visiting Father Christmas in his home, which is a special experience no matter what age you are. Everyone will enjoy taking a sledge ride pulled by husky dogs which is an incredible experience, as is a reindeer sleigh ride as they meander gently through the snowy forest.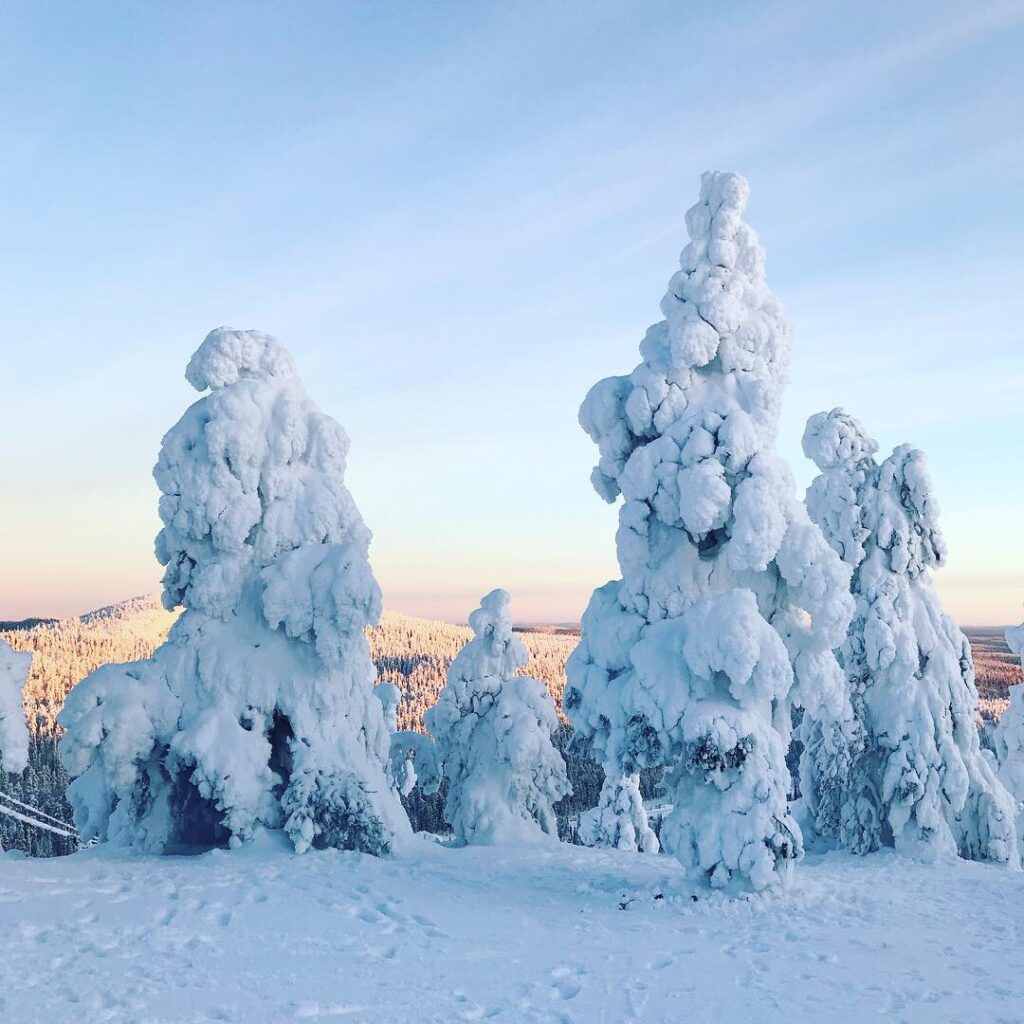 Lapland is also one of the best places in the world to see the Northern Lights which is a truly spectacular experience. Come here to ski, Nordic skiing is very popular here as well as downhill skiing and weaving in and out of trees that look so otherworldly is a wonderful experience. This is a great place to try the local food, particularly the interesting berries including crowberries and the evocatively sounding (and tasting) cloudberries.
Temperatures here in winter, particularly above the Arctic Circle can get incredibly low, in the minus mid-twenties and below, so be prepared with seriously warm clothes. One trip to Lapland in winter will never be enough, it is a truly special place and should be on everyone's must-visit list.
By Nichola from Globalmouse Travels
Lucerne, Switzerland
When it comes to choosing the best European winter destinations, the beautiful medieval city of Lucerne in central Switzerland ticks all the boxes for me.
If you're fortunate to be in the city after it has snowed, wandering around the cobbled streets of the Old Town and across the Chapel Bridge, with a dusting of snow on its roof, is one of the not-to-be-missed things to do in Lucerne.
There are plenty of museums to visit in Lucerne should you prefer to stay indoors. The Swiss Transport Museum is just one that's worth a visit. With planes, trains, cars, boats, cable cars and all modes of transport on display, the museum offers something for every visitor. There's even an IMAX theatre, a planetarium, and the Swiss Chocolate Adventure Museum, all under the one roof.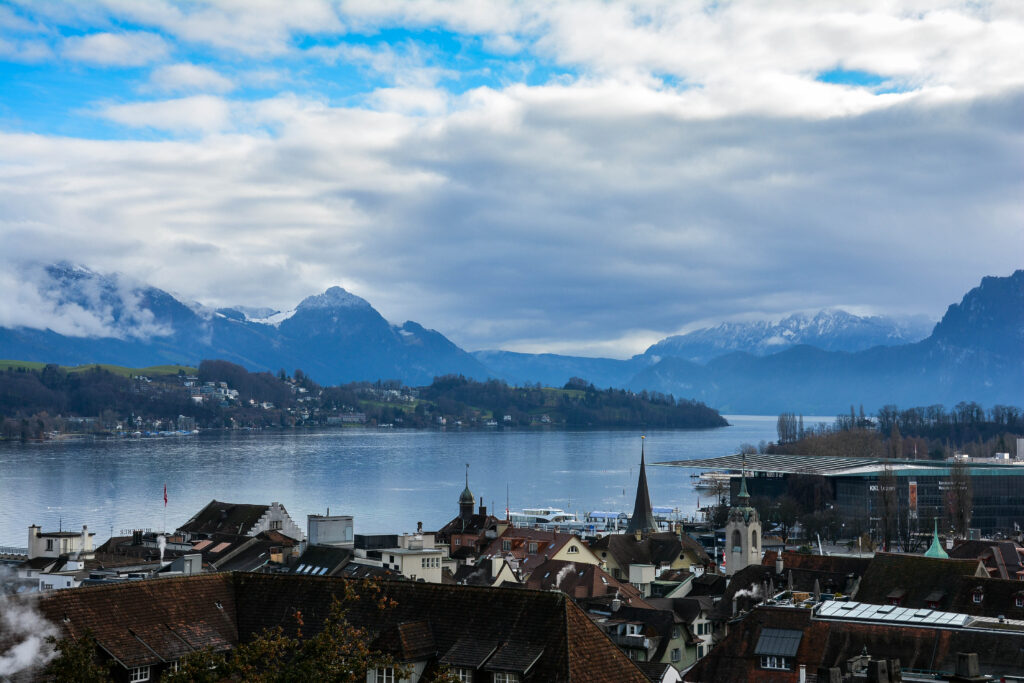 If it's outdoor activities you're after, Lucerne is the perfect base for visiting one of the nearby mountain peaks. Mt. Pilatus, Mt. Titlis, and Mt. Rigi are just three mountains that can be easily reached from the city. All three are ideal for skiing and snow sports or just for admiring the views.
Another great excursion is a cruise on Lake Lucerne. Viewing the snow-capped rooftops of the city with a backdrop of snowy mountain peaks from the water is something very special.
Whatever you decide to do during the day, be sure to head to Old Swiss House Restaurant on Lowenplatz for a delicious dinner of Wiener Schnitzel cooked right beside your table. For over 70 years, the restaurant has been serving its specialty dish this way and it is sure to leave you with fond memories of Lucerne.
By Carolyn from Holidays to Switzerland
Malaga, Spain
For winter sun it's hard to beat Malaga, the capital of the Costa del Sol. With daily temperatures around 17°c winter is a good time to visit Andalucia and, in Malaga, you'll certainly find plenty to do.
The warm temperatures are ideal for walking the Senda Litoral de Malaga (or at least part of it as the full coastal path runs for over 200kms from Nerja to Manilva). If it's history you're after then Malaga has it in spades with the Alcazaba, 15th century cathedral, and the Castle of Gibralfaro which has outstanding views over the city and coastline.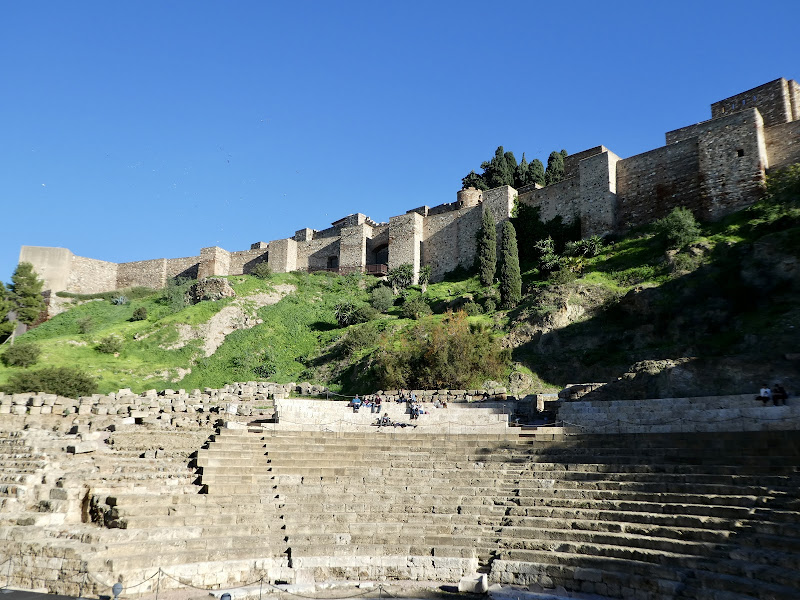 Art lovers will find plenty of museums to keep them occupied, including the Picasso Museum which celebrates the work of one of Malaga's most famous sons. There's also a thriving street art scene in and around the neighborhoods of Lagunillas and SOHO.
The highlight of any visit to Malaga in winter though is the Christmas lights display, especially the sound and light show which takes place on Calle Larios three times each evening. Join the crowds in Plaza de la Constitucion to enjoy this festive spectacle and, while you wait, grab a seat at Café Central for a café con leche.
Later enjoy a tapas tour around the historic streets of Malaga's old town, and make sure not to miss a visit to the popular bodega, El Pimpi. Who knows, maybe one of the owners, Antonio Banderas, might be there too!
By Alison Nicholson from Alison in Andalucia
Moscow, Russia
Moscow in winter is magical and looks as though it were plucked straight from a fairytale. There are many dazzling Christmas lights displays, as well as Christmas markets that start in late November and run to the end of February. While the cold temps give it a bad rap, as long as you know what to pack for Russia in winter you'll have an amazing trip with beautiful sights and fewer tourists.
The most picturesque place to visit in Moscow during winter is the Christmas market that is held in Red Square. Here you can shop and admire the snow-covered St. Basil's Cathedral, with a mulled wine in hand. Red Square also hosts a large ice-skating rink at this time of year as does Gorky Park. Be sure to purchase your tickets online ahead of time before hitting the rink, though!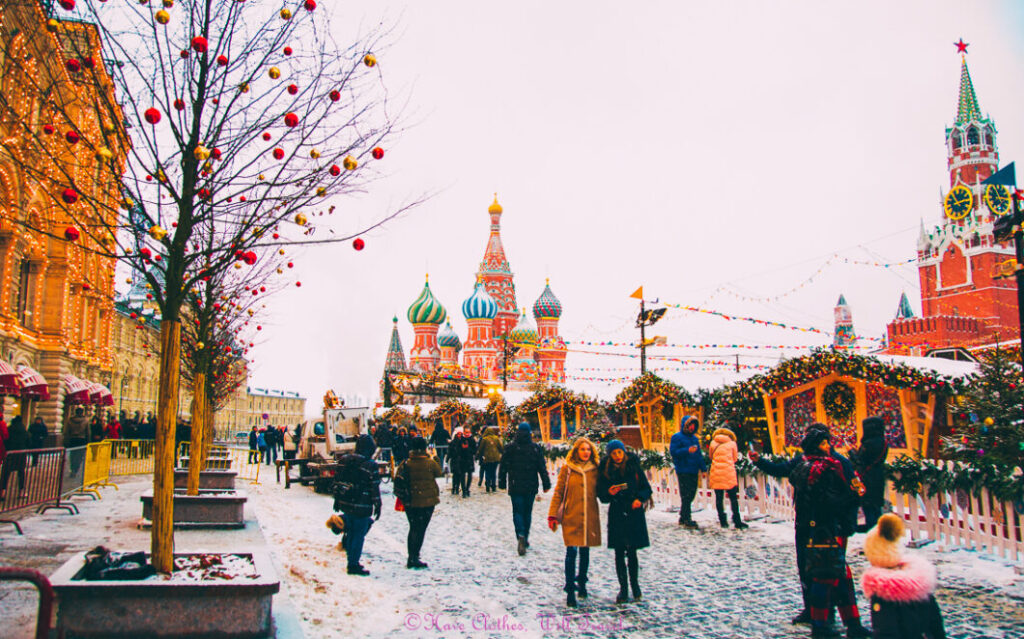 Visiting Moscow in winter also presents the opportunity to see a performance of the famous Nutcracker ballet performance at the Bolshoi Theatre. Be sure to book online the moment tickets go on sale, though – Nutcracker tickets can sell out within minutes!
When it comes to dining in Moscow, there is no shortage of amazing options. One of the most extravagant restaurants in Moscow is Turandot. The baroque décor of this restaurant is unforgettable as its Pan-Asian cuisine. Next door to Turandot is also Café Pushkin – which features amazing traditional Russian dishes with some of the best service in Moscow. For a less formal atmosphere, featuring delicious Russian food – be sure to head to Mari Vanna.
By Lindsey Puls from Have Clothes, Will Travel
Neuschwanstein, Germany
If you're looking for a unique winter destination, there is nowhere quite as magical as the real-life Disney castle- Neuschwanstein in southern Germany.
Neuschwanstein Castle inspired Walt Disney's creation of his Cinderella castle and is perched on top of a hill, with breathtaking views across the surrounding countryside. It's easy to visit at any time of year, either with your own vehicle or as part of an organized tour but expect it to be busy, especially if there is snow on the ground as everyone wants that perfect winter photo.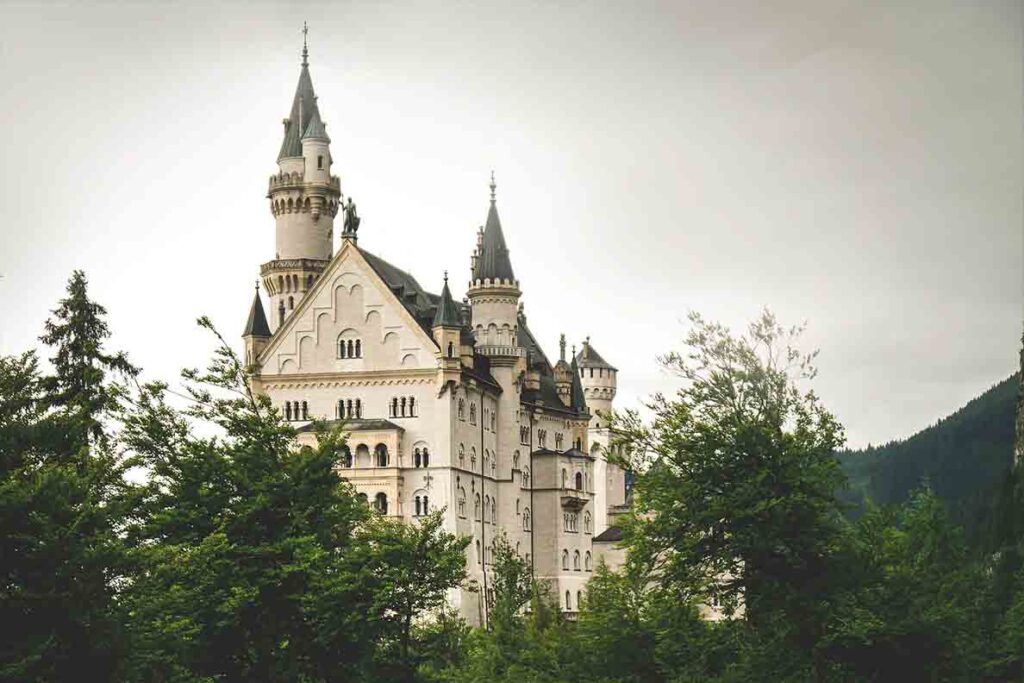 If you're driving or motorcycling in Germany, there is secure parking nearby and plenty of hotels and Bed & Breakfast options in the town of Fussen. Don't forget to buy your entry tickets at the bottom of the hill before you go up as you can't buy them at the top.
If you want the best photographs of the castle exterior, walk up the hill past the castle to Marienbrucke bridge. I would recommend going here first, before your castle tour, so you can get photographs before the crowds which build steadily throughout the day. Going as early as possible is the best plan.
Once you've explored inside the castle (don't miss the Throne Room or the amazing fairy grotto), head back down the hill to Ludwigs – their strudel was delicious!
By Kat from Biker Girl Life
Palermo, Italy
Located in the southern part of Italy, Sicily is stereotypically known for being super-hot throughout summer. In the winter, this beautiful region cools down to the 50s (10-15 degrees Celsius). The mild weather is accompanied by mostly sunny days, making it a great time of year to visit this Mediterranean island.
One major advantage of going to Palermo, Sicily's capital city in the winter is that it is off season. There are way fewer tourists, and fewer crowds. This means you'll find cheaper prices for hotels and excursions, and you'll avoid having to wait in lines for museums and other attractions. If you want to do any outdoor day trips from Palermo, like climbing Mount Etna, it'll be way more comfortable in the mild weather.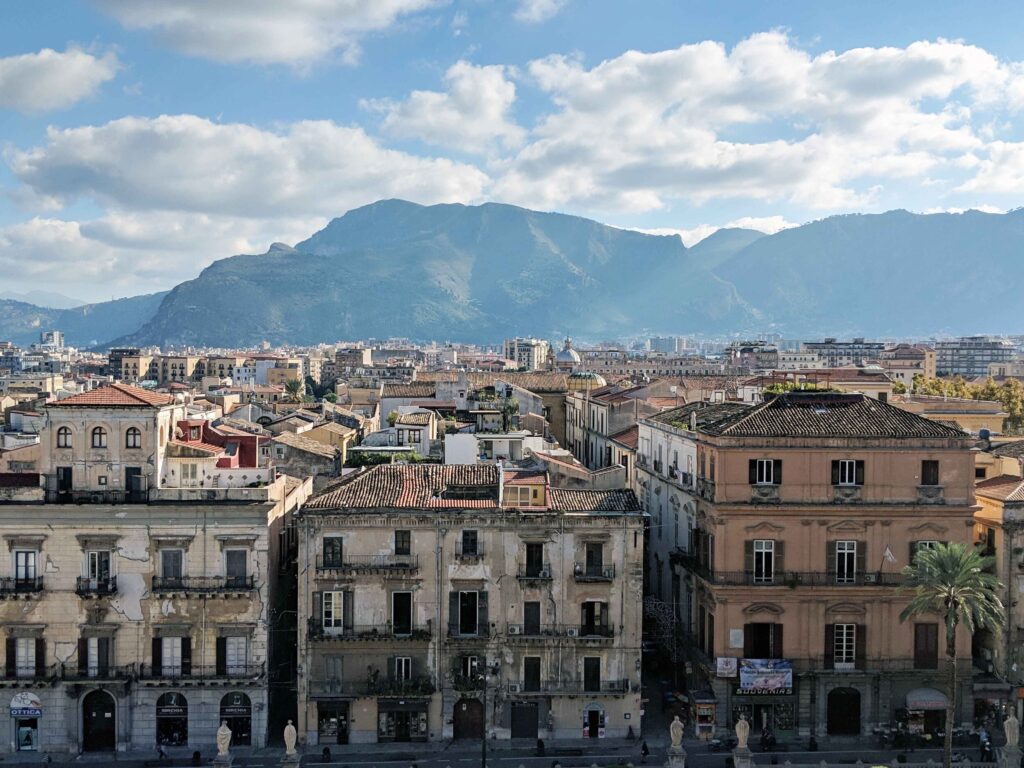 Palermo is home to many famous architectural sites, traditional markets, shopping, restaurants, and more. One essential site to visit is Quattro Canti, which is a Baroque square that was built in the early 1600s. From there, it's a short walk to Fontana della Vergogna. This beautiful fountain was built in Florence, and then transferred to Palermo in 1574.
Another essential spot to visit is the Palermo Cathedral, which was built in 1184. For just a few euros, you can climb several steep flights of stairs to the roof of the cathedral, where you'll take in gorgeous views of the city. These are just some sights that you must see in Palermo while visiting during the winter! And, while you're there, be sure to try some of Sicily's local cuisine, including pasta con le sarde, arancini, cannoli, and granita.
By Erin Hynes from Pina Travels
Prague, Czech Republic
When it comes to the best European winter destinations, Prague certainly tops the list! While the charms of Charles Bridge and Old Town Square are gorgeous year-round, visiting them when they are covered in a light layer of pillowy snow is dream-like.
Prague is a must-visit destination in the winter, especially for the holiday season. There are at least 8 incredible Christmas markets in Prague that you can visit during your stay, each with its own personality.
The most popular Christmas market is hands-down the Old Town Square market. The Old Town Square is stunning on its own, but when the twinkle lights dazzle overhead, live music plays from the stage, and the smells of roasted ham waft your way, it is enchanting.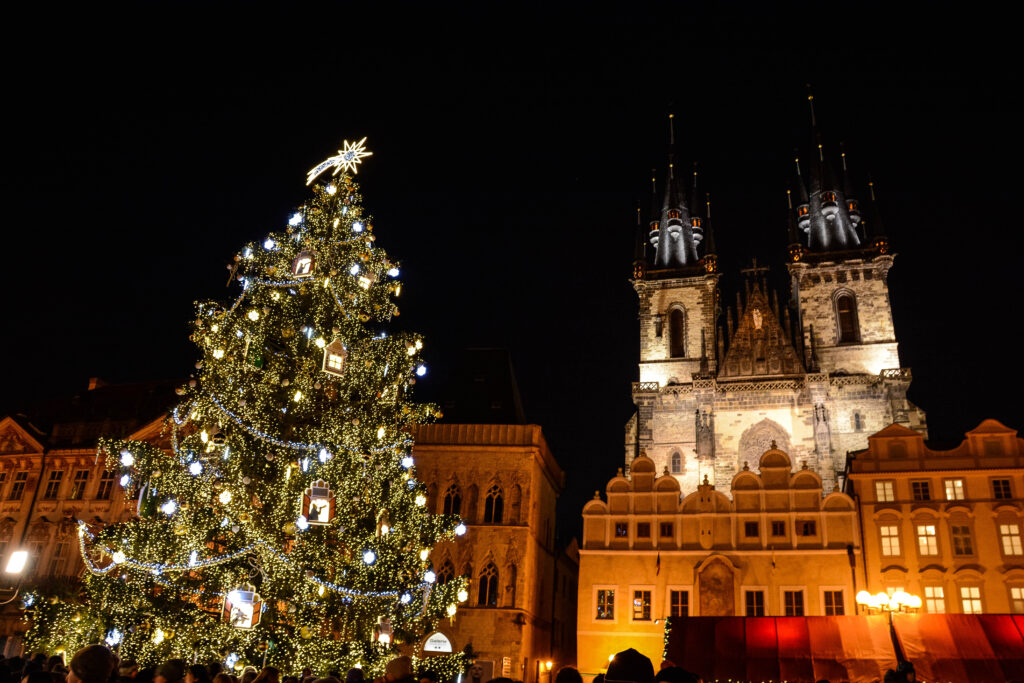 The Prague Castle Christmas Market is another iconic market nestled in the Prague Castle complex. There are lovely ciders to enjoy as well as tasty treats like trdelnik (a cinnamon sugar dough wrapped around a spit and cooked until crispy on the outside and chewy on the inside) or gingerbread.
Aside from exploring the Christmas markets, winter in Prague is a perfect excuse to go on a food tour and tuck into all the hearty food and delectable soups the city has to offer. Some restaurants you'll need to visit include Cafe Imperial for the best khulida soup and Lokal beer hall for a few pints and pub food!
Prague is a lovely city, but it really feels magical during the Christmas season, making it perfect for a European winter trip!
By Kat from World Wide Honeymoon
Split, Croatia
The second largest city in Croatia, Split is a perfect winter destination if you want to see one of the most popular places in the Adriatic without the crowds. Another great advantage of visiting Split in winter is lower prices on tours and accommodations, as well as the lack of mass tourism.
Split has enough things to do in winter, and while it might be too cold to go to the beach and catch some sun, you can still hop on a boat and visit some of the nearby islands such as Hvar to see what it looks like without tons of tourists. Overall visiting Croatia in winter is a good idea because it will show you what the country used to be like before it became super popular with tourists.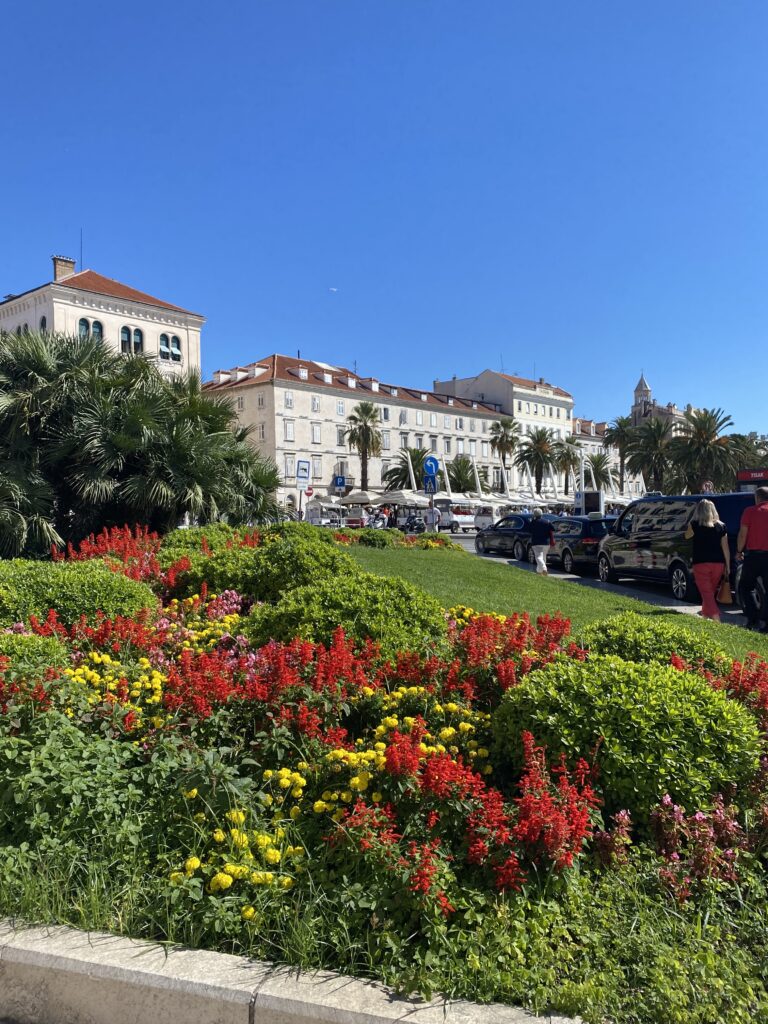 Of course, don't forget to explore the beautiful city of Split. You can take a walk around the city's historic Old Town, get a guided tour of the Diocletian Palace, or climb the Klis Firtress outside of the city or hop on a bus to historic Trogir – these are just some of the things you can do in Split during winter and have a blast.
If you are going to visit Split and surrounding areas in winter, keep in mind that the transportation options are limited between the city and some of the surrounding towns because of the lower demand. From Split, you can catch buses to Dubrovnik, Zagreb, and other major destinations around the country.
By Daria from The Discovery Nut
Venice, Italy
Many places emulate the great and beautiful Venice, but there can only be one Venice in the world. Tucked away in the northeastern shoreline of Italy, is the charming and ever popular city on water.
Picture winding cobblestone alleyways, curving water canals, romantic baroque architecture and fantastical events. Venice is a picture to behold. Made even better by the mass exodus of tourists, mild weather and upturn of festivities, Venice in the winter is even more enchanting.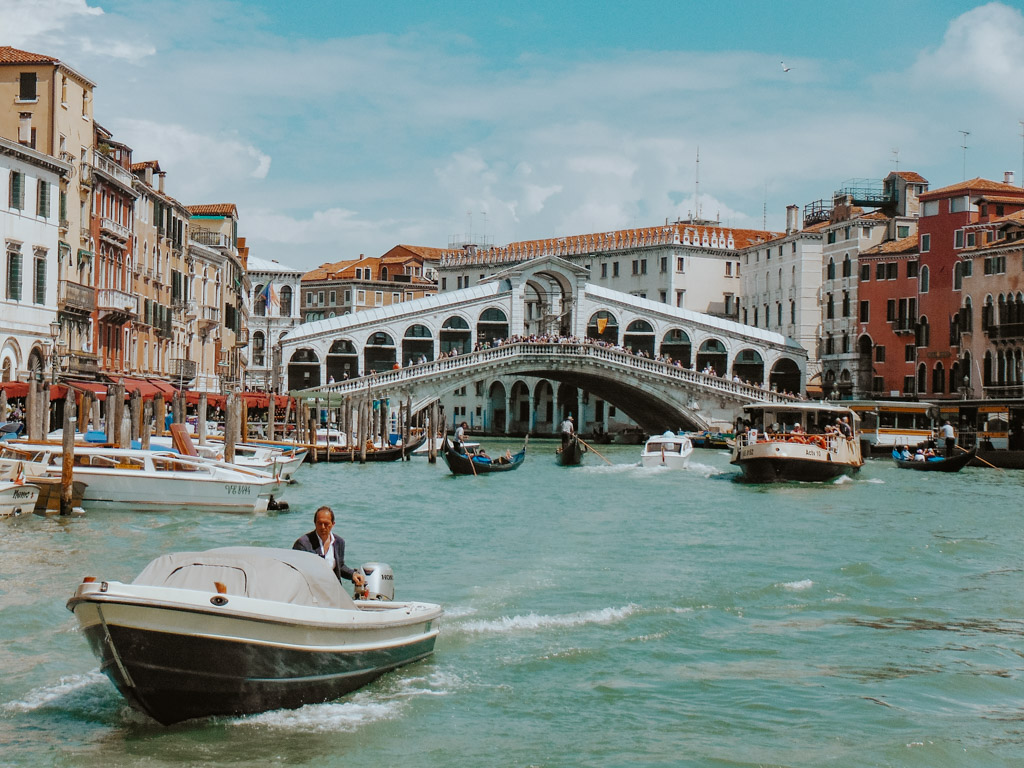 Known for being the 'city built on water' with its grand canals, gondola rides, delightful bridges, and deep Venetian culture, it doesn't get any better than Venice for a European winter destination. One of the best things to do in the winter and a must for your Venice itinerary, is the Venice Carnevale. The city comes to life with elaborate and colorful masks and costumes as well as boat parades down the Grand Canal and mask parades in the famous Piazza San Marco.
After watching the festivities, grab a hot chocolate at the oldest cafe in Venice, Caffe Florian. Although pricey, it's a quintessential Venice experience. Wander around Saint Mark's Basilica to see the four horses and check out the Rialto Bridge. If you've come prepared with winter jackets and scarves, climb aboard a gondola for the ride of a lifetime.
If you decide to visit Venice at Christmas time, you won't be disappointed. The quaint alleyways shine bright with festive lights and sounds.
By Haley from HaleyBlackall.com
Vienna, Austria
For a truly memorable white Christmas, one of Europe's most enticing capitals is Vienna. Thanks to its 2500+ years of history, the city has gorgeous palaces, cathedrals, fountains, and public artworks at nearly every turn. Covered in a light dusting of snow, they look all the dreamier. The views might remind you of snow globes; in fact, it was in Vienna that these Christmas icons were invented!
One of the best things to do in winter in Vienna is to visit one of the city's 20+ Christmas Markets. Several of these are set amongst the city's finest architectural gems, including the markets at Rathaus, Karlskirche, Stephansdom, Schönbrunn Palace, and Belvedere Palace.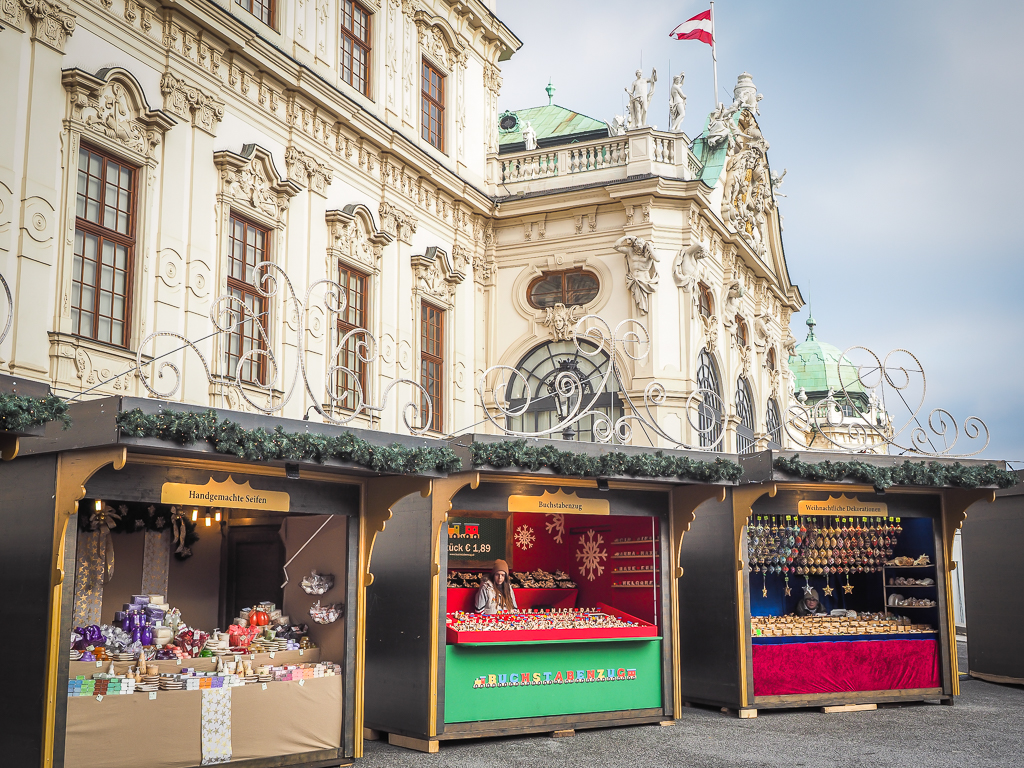 For something spectacular, head to Wiener Eislauf-Verein – at 1000 m2, it is one of the world's largest skating rinks. Nearby, take a stroll through Stadtpark to see statues of Vienna's great artists and composers, including Strauss and Schubert, with a snowy backdrop. To see a wintery Vienna from above, take a ride on Wiener Riesenrad, the oldest still-running Ferris wheel in the world.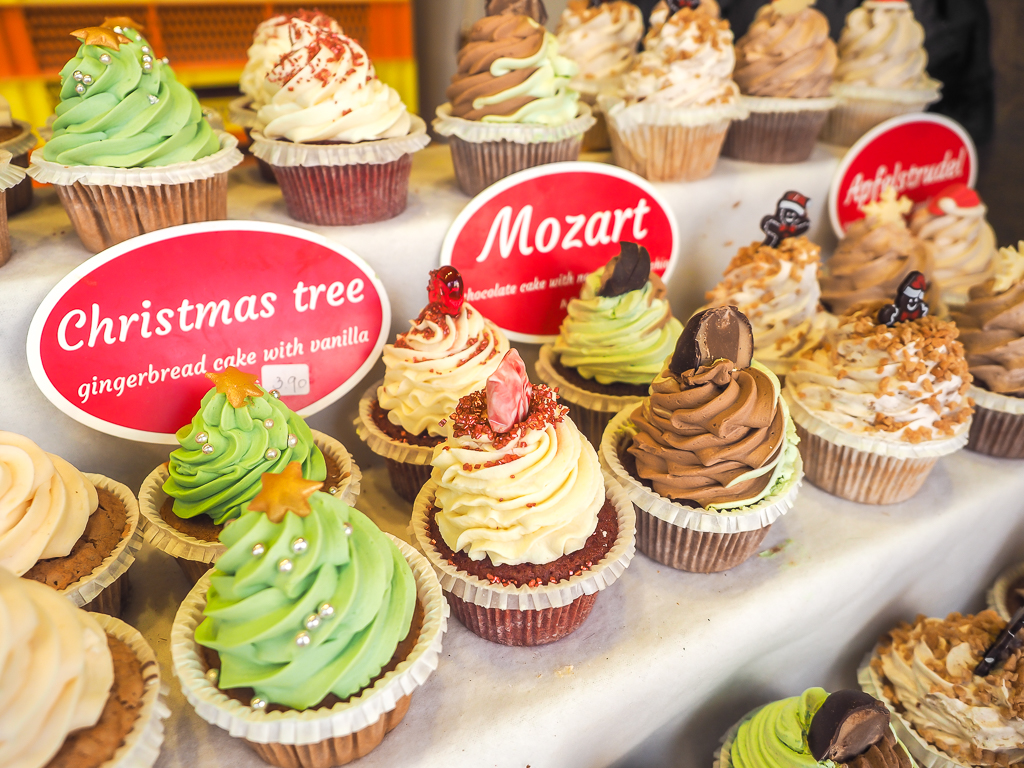 When you get the chills, warm up in one of Vienna's traditional coffee houses, so important to Viennese culture that they are listed as a UNESCO Intangible Cultural Heritage. Some of the most elegant options include Cafe Prückel, Cafe Hawelka, and Cafe Landtmann.
By Nick Kembel from Spiritual Travels
Warsaw, Poland
If you are looking for the perfect place to spend winter in Europe, then look no further than a trip to Warsaw Poland. This beautiful Polish city is perfect in any season but in the winter months, it comes alive, especially before Christmas. Warsaw is world known for its spectacular Christmas light displays that light up the city.
From lanes filled with fairy lights to massive installations, you can find a perfect scene for the best Christmas photo ever! You may even bump into a certain jolly man for an extra special photo at one of the small but gorgeous Christmas markets dotted around the Old Town area.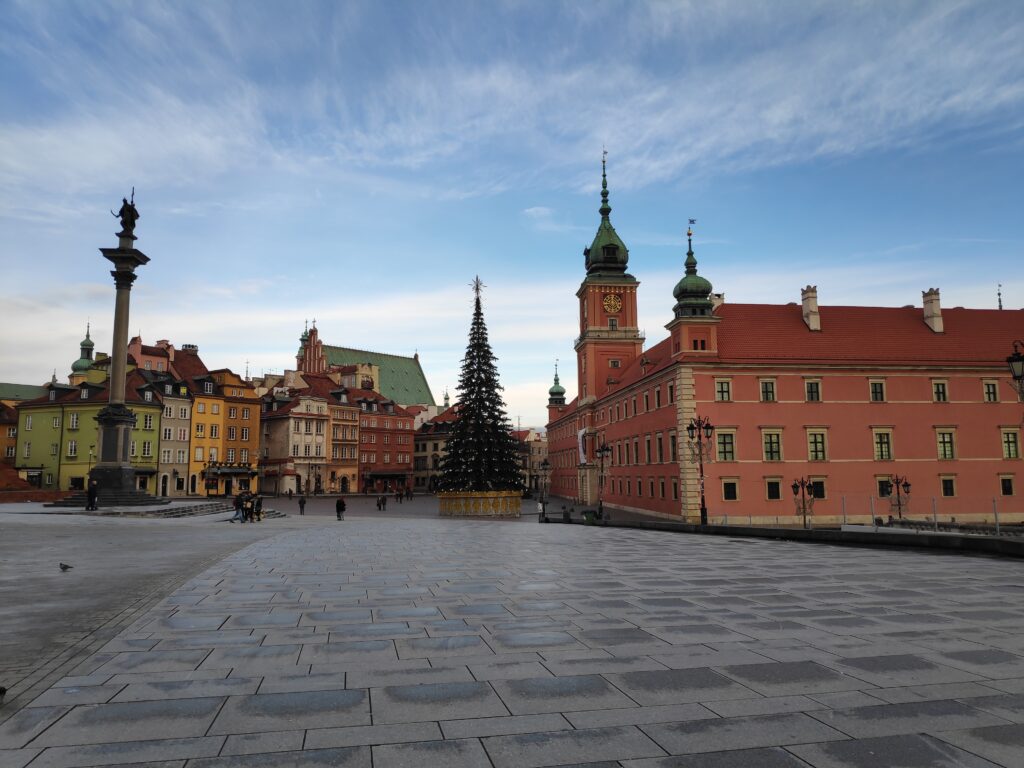 If you are unable to make a trip to Warsaw before Christmas, then you are still in for a treat. While much of the city was destroyed in WWII the old town area has been reconstructed to look as much like it originally did. You will find some of the buildings still have gouge marks in them left from bullets and shells even though the colors of the build hide them a little.
Sitting in Castle Square you can enjoy the hearty and warming food after you have wandered the Old Town area. Many people are drawn to Pierogi (Polish dumplings) but Bigos, Rosol or goulash with potato pancakes are also amazing dishes to try. If you prefer street food, then Zapikanka and Gofry will keep you going all day long. If the weather turns bad head straight to an E. Wedel Cafe and warm up with a delightful hot chocolate or coffee and try not to leave without buying their decadent chocolate.
There are so many things to do in Warsaw for people of all ages and budgets. The Royal Castle is stunning and a beautiful replica of the original that was also destroyed in WWII. You can visit the Barbican, Sigismund's Column, The Little Insurgent and some other monuments which are all located in the Old Town area and are free to see.
Just a short bus ride from the Old Town area you can visit some of the best museums. The Polin Museum and The Warsaw Uprising Museum are brilliant in learning the impact WWII had on Poland. From here you can also visit the Palace of Culture and Science building. The top floor provides stunning views over the city of Warsaw.
By Bec Wyld from Wyld Family Travel
Summary
Wherever you choose to visit in Europe during the winter season, you can be sure that there will be plenty of attractions and experiences to enjoy. From the cooler climates such as Lapland and Iceland, to the warmer spots in the Canary Islands and Mediterranean, Europe offers something for every type of traveler.
We would like to thank all of our amazing friends for sharing such awesome experiences, and we hope you are inspired to add some, if not all, of these epic destinations to your next European bucket list itinerary.