Traveling to Las Vegas, your first thought is unlikely to be about accommodation but at the same time it's important to find somewhere that will meet your needs without getting ripped off. There are a variety of hotels available but your first decision is where exactly you want to stay – either on the Las Vegas Strip, just off the Strip or even in old downtown Vegas also known as the Fremont Street district.
We left the decision until the week of our trip to Vegas and opted for Priceline which has been our trusty resource in recent trips. We were fortunate that this decision paid off yet again. We selected a 3.5 Star option just off the Vegas Strip (Las Vegas Boulevard) and were pleasantly surprised to see we were staying at the LVH (Las Vegas Hotel). This hotel is now known as the Westgate Las Vegas Resort & Casino.
My first reaction was probably a little negative, simply because I had never heard of this hotel before but a little research soon eased my fears prior to us heading to Vegas.
Location

View Larger Map
The Westgate Las Vegas Resort & Casino is located on Paradise Road and if you have a rental car is only a short 10 minute drive from McCarron International Airport. Is this hotel within walking distance of the main attractions on the Vegas Strip? I'm not completely convinced you would want to walk from here, though it is likely feasible but either way the Vegas Monorail runs directly to the hotel and for $12 you can get a one day pass valid for 24 hours from time of purchase.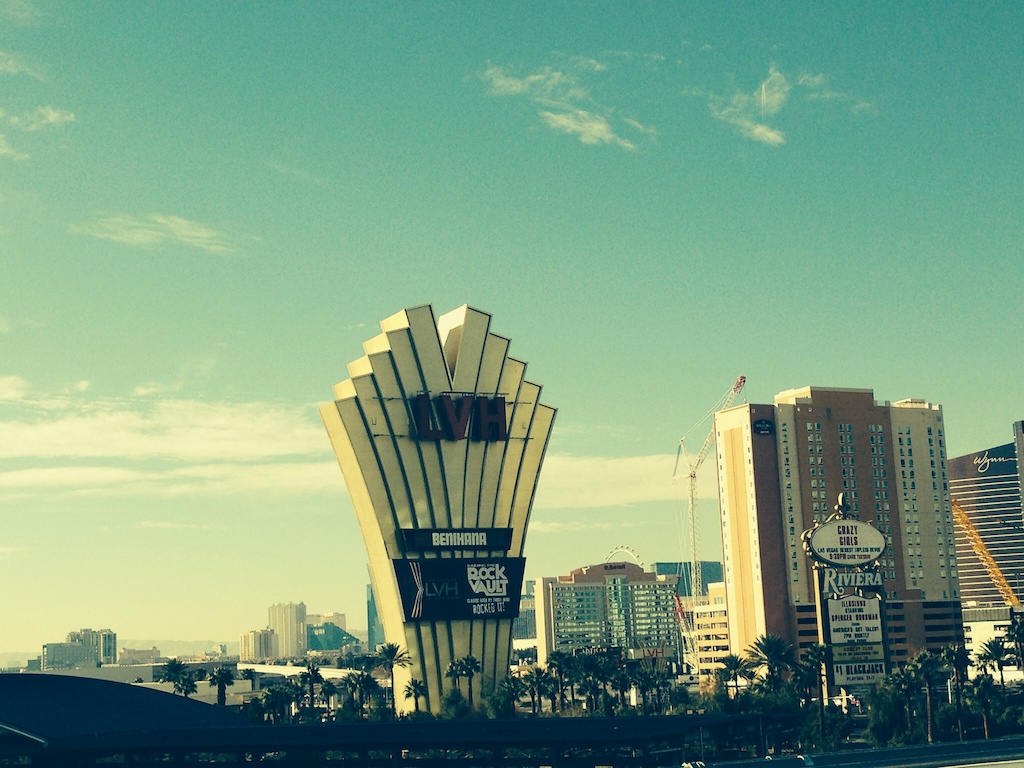 The outside of the Westgate Las Vegas Resort & Casino is impressive and blends into the Vegas skyline with all the other more infamous casinos and hotel chains.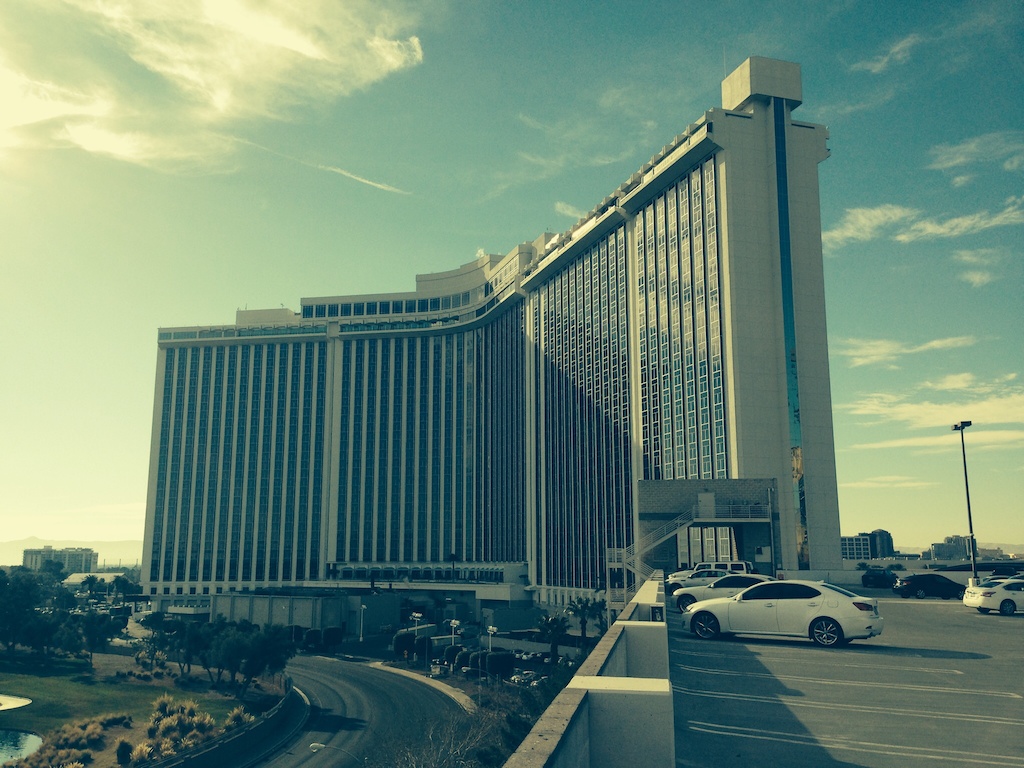 The picture above is taken from the top floor of the parking garage overlooking the illustrious Las Vegas Country Club to the left and the hotel tower. From the parking garage, it is a fair walk to the lobby area of the hotel for check-in as you walk through the casino. We were given a coupon for a complimentary photo which we used later that evening. Our room was on the 27th floor which again required us to walk back through the casino to the Central Tower elevator and almost to the top floor of the hotel.
Room
Entering our room the first thing we noticed was just how spacious the room was. One major issue which was apparently accounted for was the curtains that operated electronically were not functioning so we were left in relative darkness (at least away from natural light!) for the duration of our stay.
Now is a good time to talk about the price of the hotel. Through our purchase using Priceline, our hotel was only $20 (YES $20!!) per night but then of course this doesn't including the Las Vegas resort fees that pretty much 99.9% of hotels in Vegas will charge you. This was an additional $20 per night so it worked out that the hotel was $40 per night which is still an absolute bargain, I am sure you will all agree!
There are however some hidden costs if you are not careful. For example, if you choose to use the coffee maker, you will be charged $3 per cup. In addition, you are left two bottles of 500ml water but should you decide to open them, it will set you back $3.50 each. Internet is included for the first device only within the resort fee and should you choose to add an additional device, either laptop, iPad or phone you will be charged another $14 per 24 hour period. So yes, it can be a real bargain but hidden costs can soon rack up if you are not diligent.
I have no complaints at all with the hotel and I would very highly recommend this to anyone visiting the Vegas area, especially if you are not concerned with staying in a brand name casino hotel. For $40 with everything included, you can't beat that for price and the quality is there. Most hotels within this price range are well…I will leave this to your own opinion!
Summary
If you are visiting Las Vegas, you are literally spoiled for choice when it comes to hotel options! We strongly recommend staying at the Westgate Las Vegas Resort & Casino if you are looking for an affordable alternative that is located off the main strip but still conveniently located to access the very best attractions in Vegas.
Whether you are ready to hit the iconic casinos or perhaps head over to enjoy the awesome Stratosphere rides, anyone visiting Las Vegas should consider staying at the gorgeous Westgate Las Vegas Resort & Casino.
Click here for latest availability and prices at Westgate Las Vegas Resort & Casino
DISCLAIMER – This post contains affiliate links. Should you choose to make a purchase via one of our links, we may receive a small commission. This income helps A Brit & A Southerner continue to explore and share inspiring stories.