The heart of the United States offers an abundance of attractions that frequently fall under the radar but are well worth experiencing if you are planning a trip to this part of the country. Whether you are visiting the states of Missouri, Kentucky, Indiana or Illinois, there are ample opportunities to explore hidden gems that may inspire you to book a return trip in the future. Living in nearby Arkansas, we have had the opportunity to visit many of these, and we recently took a road trip from St. Louis to Indianapolis to see what gems we could stumble across along I-70.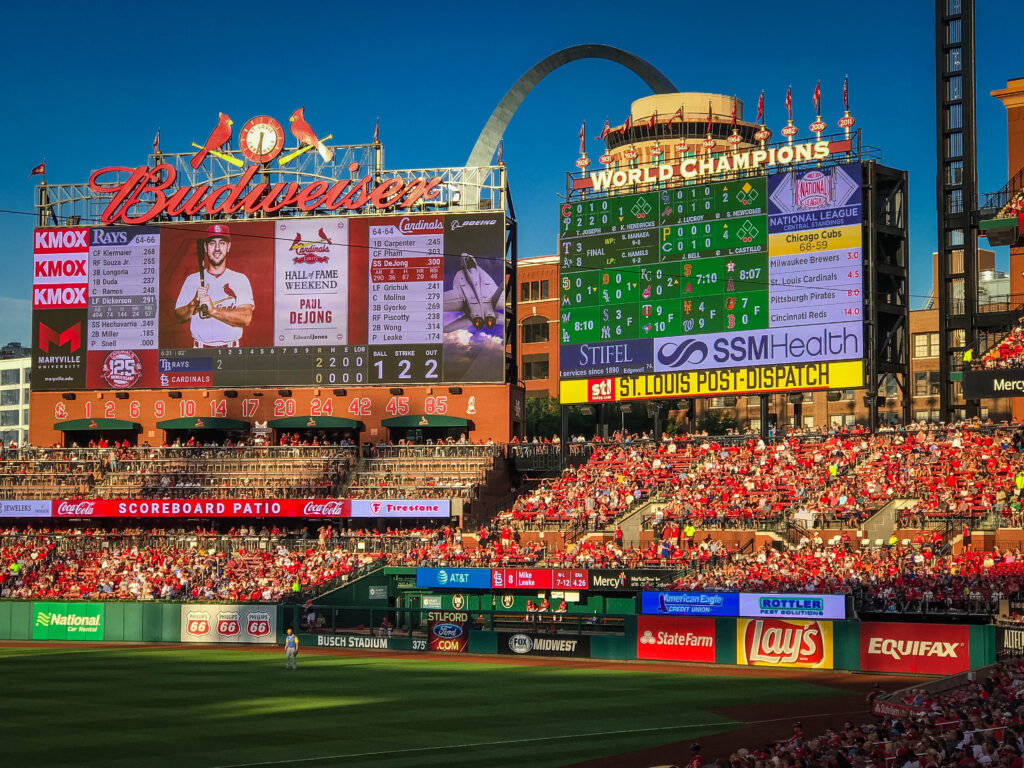 A little over three hours in driving time, the road trip between two of the more iconic cities in Central USA is simple given that it is all interstate along I-70. While you will pass through a myriad of smaller towns, each with their own unique character and charm that may inspire you to spend some time, there is one spot that is well and truly the pièce de résistance on this journey. However, while the focus of this post will highlight this iconic destination, it's also worth noting there are other places that should be added to your road trip itinerary.
Casey, Illinois – Big Things, Small Town
The small town of Casey, Illinois may be home to a population slightly over 2,000, but there are plenty of reasons that make this destination a place that should be on everyone's radar when visiting this part of the Prairie State. Whether you are heading to the nearby cities of Indianapolis or St. Louis, or perhaps embarking on a cross-country road trip, Casey is a location that has an abundance of personality that visitors should cherish as they experience this one of a kind town.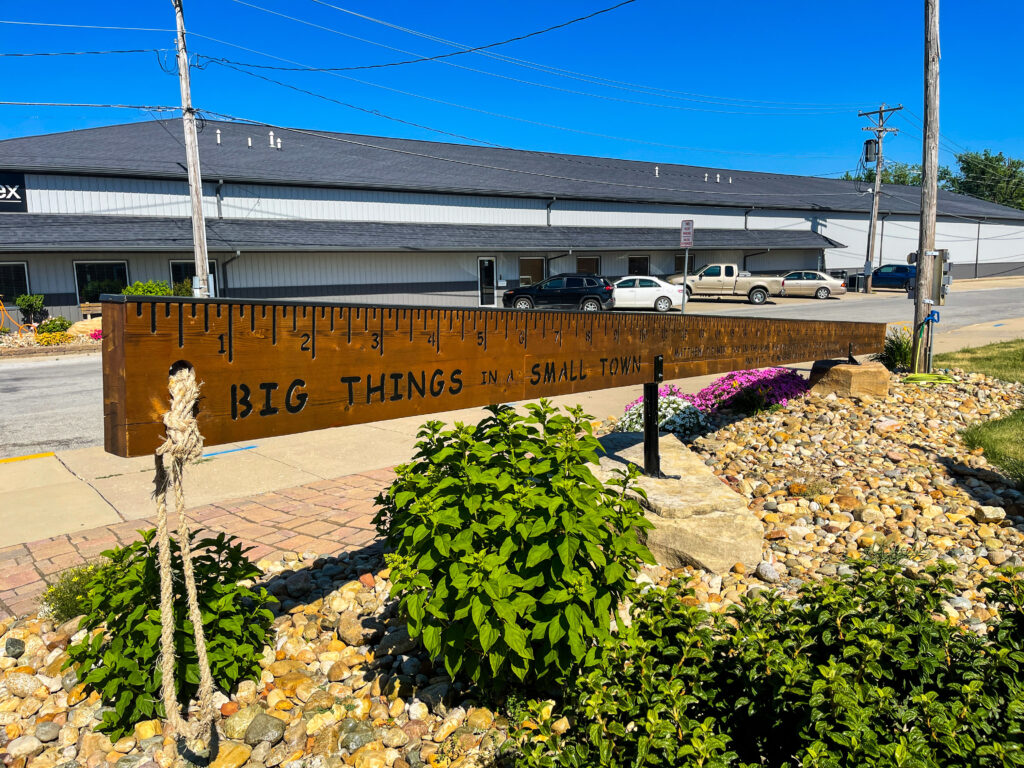 While Casey may be a small town, it's well recognized as being home to "larger than life" things! The locals are proud to call their home a tourist hotspot given that the Guinness World Records recognize this destination as being home to a number of the world's largest roadside attractions. Let's take a quick look at what you can expect to see (you can hardly miss them once you venture off I-70 and visit this iconic town!) in the town of Casey!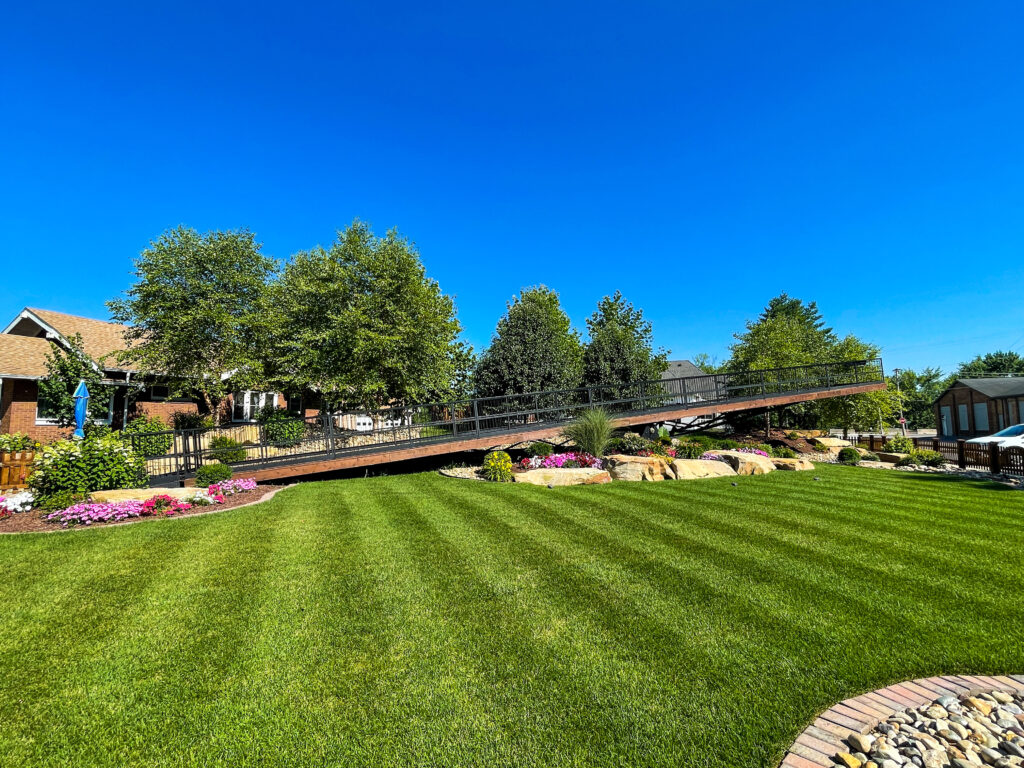 Big Wooden Token
After leaving exit 129 on I-70 towards the downtown area of Casey, the first attraction you will stumble across is a big wooden token which on the front advertises Casey State Bank. With a 13-foot radius and weighing 3,280 pounds, the back features smaller tokens highlighting the various attractions that you will find as you continue your journey around Casey.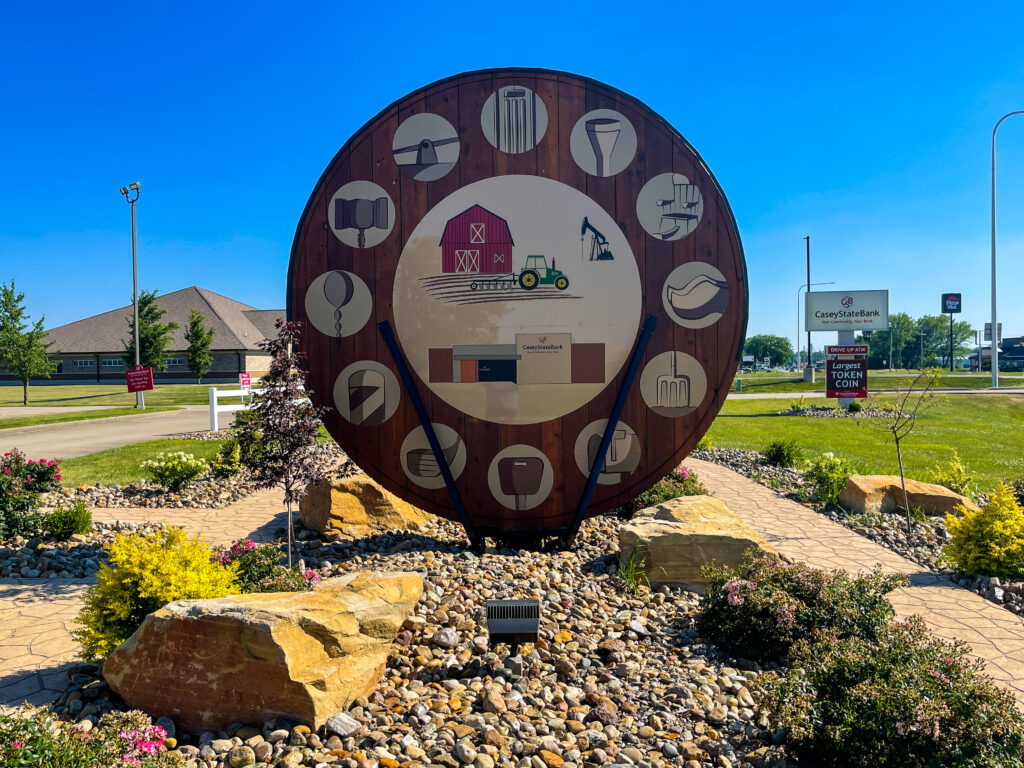 World's Largest Golf Tee
Head to Casey Country Club and visit a golf tee that stands 30.5-feet tall and is perhaps one of the coolest attractions if you are an avid golfer like myself. This tee was verified by Guinness World Records as the tallest golf tee in the world in February 2013, and I cannot imagine there will be many other golf courses around the world ready to build one larger than this.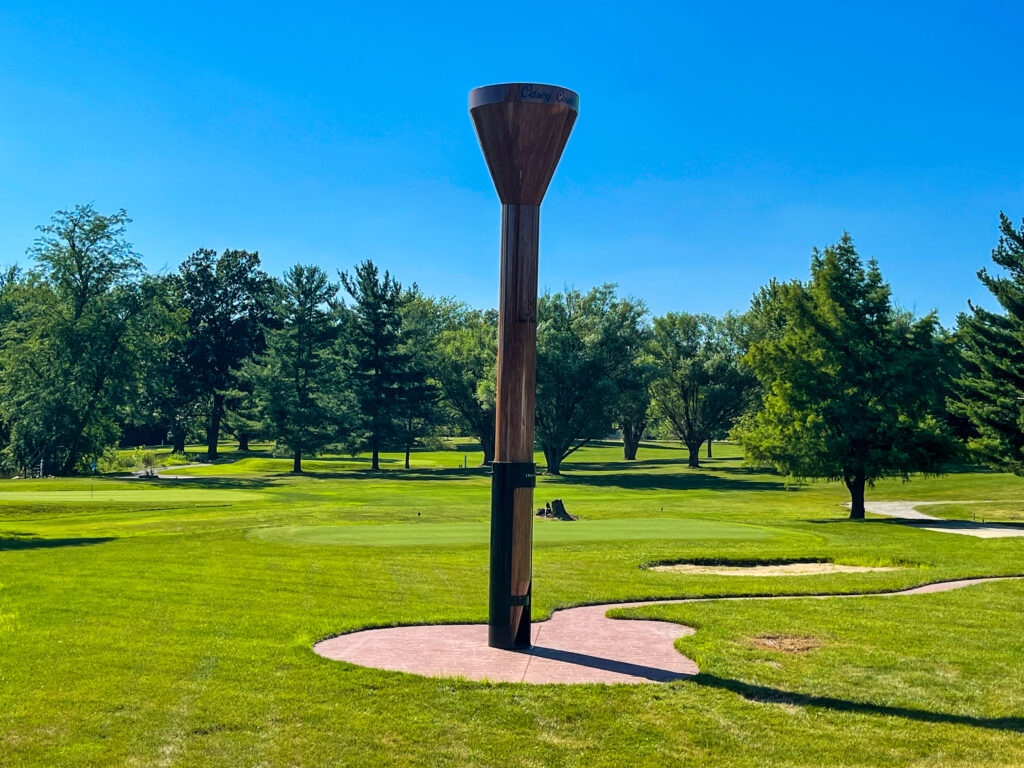 This attraction certainly helps put Casey Country Club on the map for a golf course worth visiting…you may as well enjoy a round of golf after visiting this attraction. The history of this tee only dates back to 2012 when the country club's president decided to continue the tradition of Casey's iconic "big things" theme. By laminating lumber for close to five months, the structure of this masterpiece was formed before using a chainsaw and sander to shape and smooth the surface.
World's Largest Golf Driver
Let's keep the golf theme going by heading from the country club into the downtown vicinity of Casey and experiencing the world's largest golf driver. Measuring over 45-feet in length and weighing 731 pounds, the head of the driver is made from persimmon wood and a reused aluminum light pole for the shaft.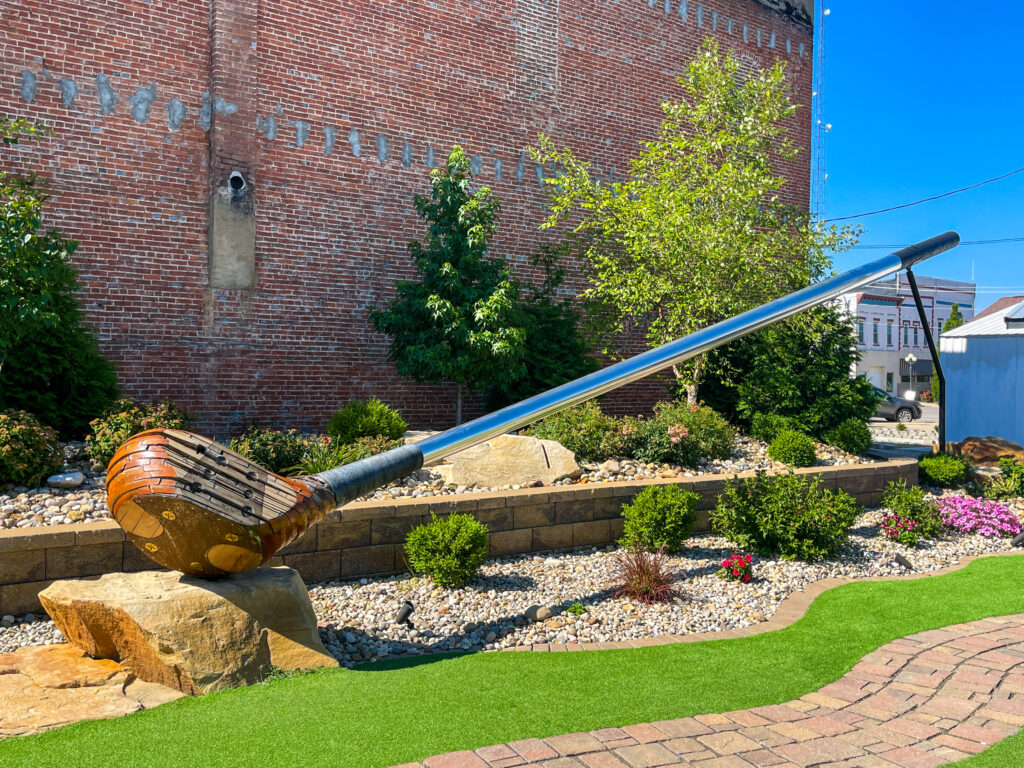 Verified as the world's largest driver on September 28, 2019 by the Guinness World Records, it is clearly on display alongside some of the town's other iconic landmarks at the intersection of Main Street and Central Avenue.
World's Largest Pitchfork
At 60-feet in length, the world's largest pitchfork can also be found in the heart of Casey. The pitchfork handle is made of reclaimed red cedar and the metal part was created primarily from parts of old streetlight illuminator arms.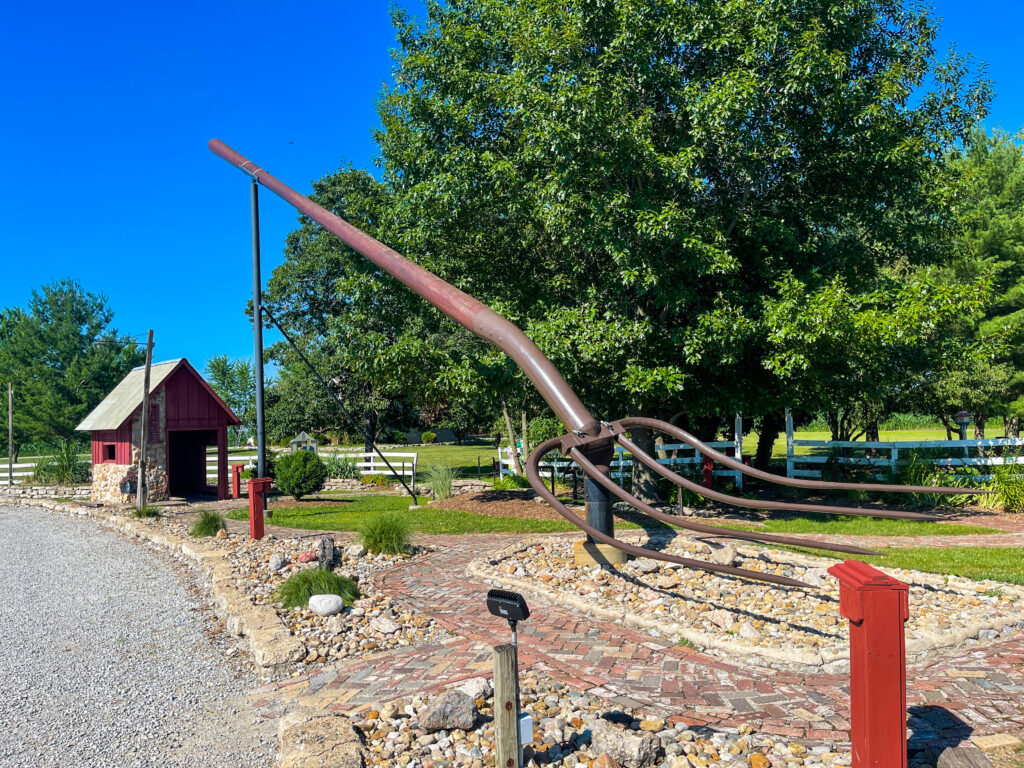 When this pitchfork was created in 2014 and declared the world's largest less than 12 months later, it was recognized as the first by the Guinness World Records. Did you know that the Guinness World Records requires an item to be at least 10 times larger than the regular item in order to qualify? Casey's pitchfork easily exceeds these minimum requirements and is one of the most popular landmarks in the town.
World's Largest Rocking Chair
Perhaps the most iconic of all the landmarks in Casey is the towering rocking chair that sits in the heart of the downtown area. Standing at 56.5 feet tall, this masterpiece is not only the world's largest rocking chair, but it is also the largest chair in America. Completed in August 2015, this chair weighs 46,000 pounds and is made with recycled wood and pipe.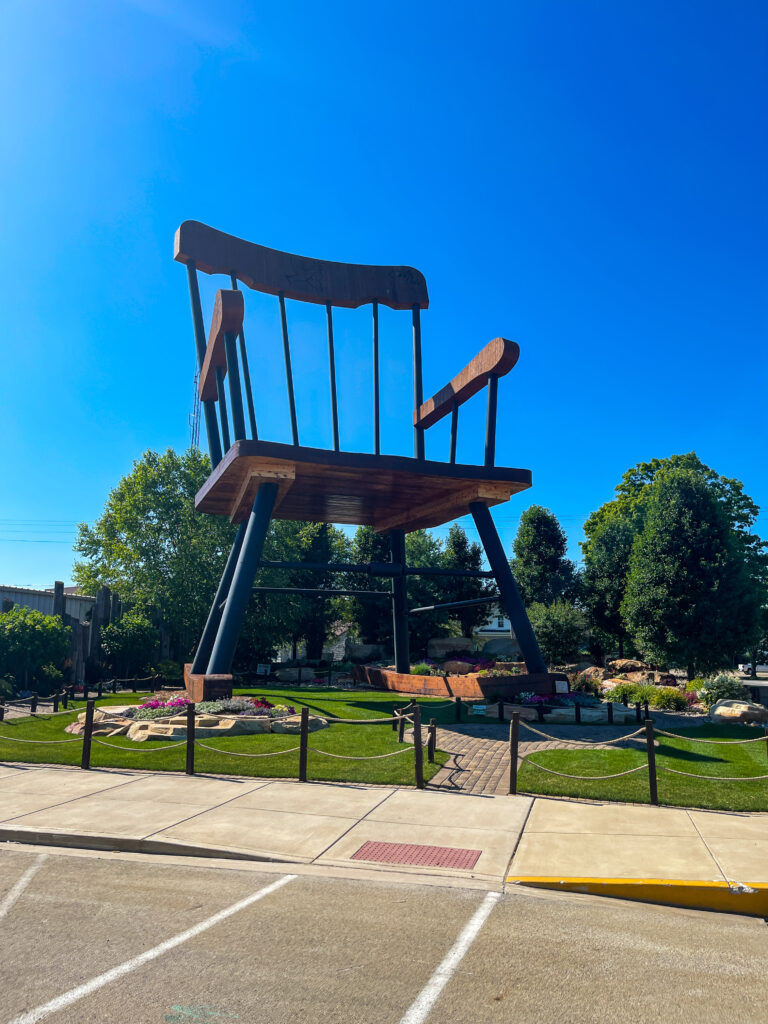 While visitors cannot sit on the chair, standing in front of it and marveling at its size really puts this landmark into perspective!
World's Largest Mailbox
Each of these weird and wonderful attractions has unique character about its design, but in my opinion the most eye-catching is the world's largest mailbox. At 5,700 cubic feet, this mailbox has been certified as the world's largest by Guinness World Records and with two sets of interior stairs, visitors can climb the "post" to the top of the "box" and enjoy epic views across the town of Casey.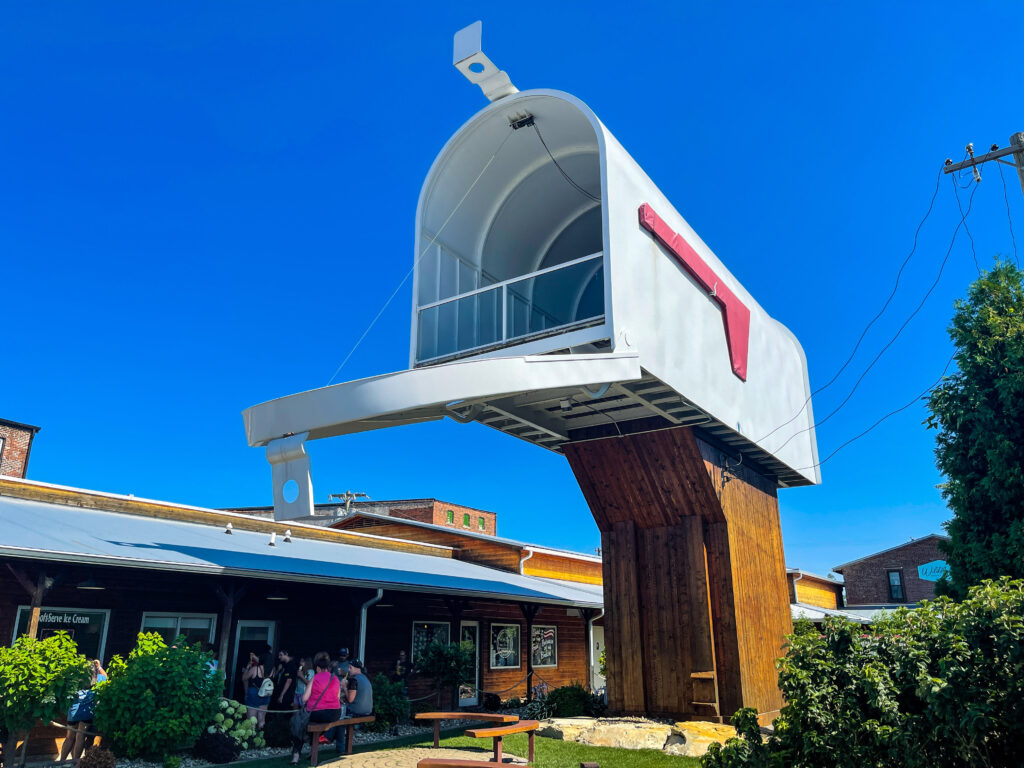 The mailbox is another of Jim Bolin's creative works of art and was completed in 2015. Did you also know that you can even mail your own letters or postcards from within the mailbox?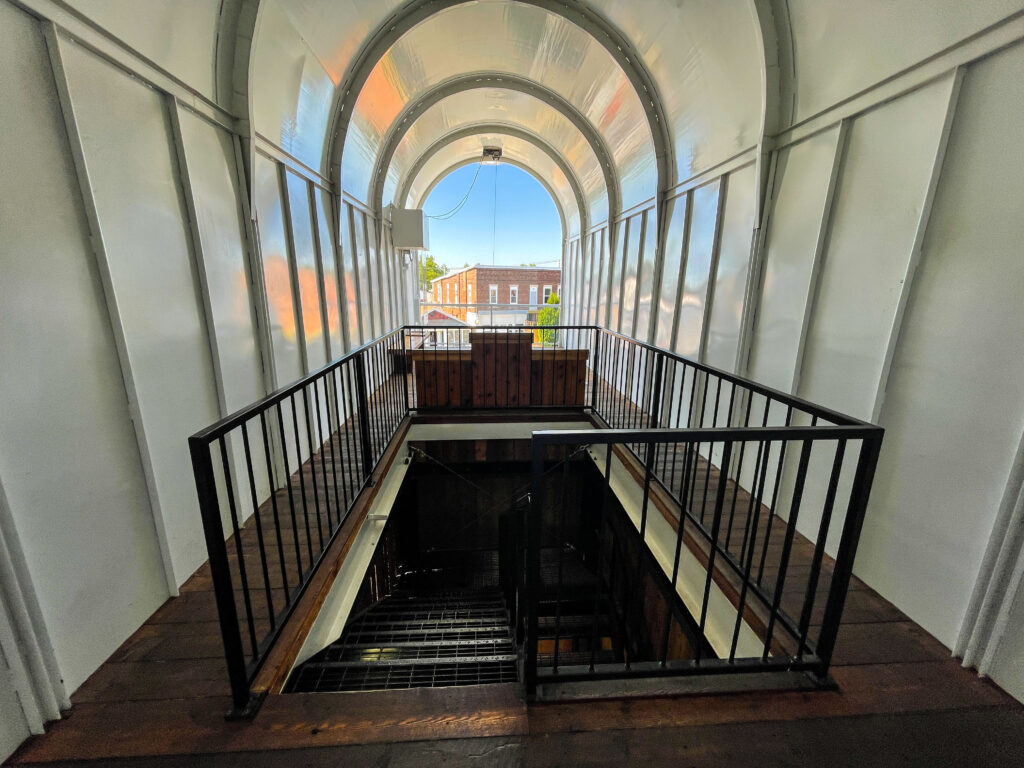 Other Attractions in Casey
Visitors to Casey will each have their own favorite attraction, and while the aforementioned are likely to be the most infamous, there are a wide variety of other landmarks that lay claim to being "oversized" and certainly help the town become renowned for having such "larger than life" items.
World's Largest Teeter Totter
Big Yardstick
Big Antlers
Big Cactus
Big Mouse Trap
Big Spinning Top
Big Pencil
World's Largest Barbershop Pole
Big Birdcage
World's Largest Swizzle Spoon
Big Taco
World's Largest Truck Key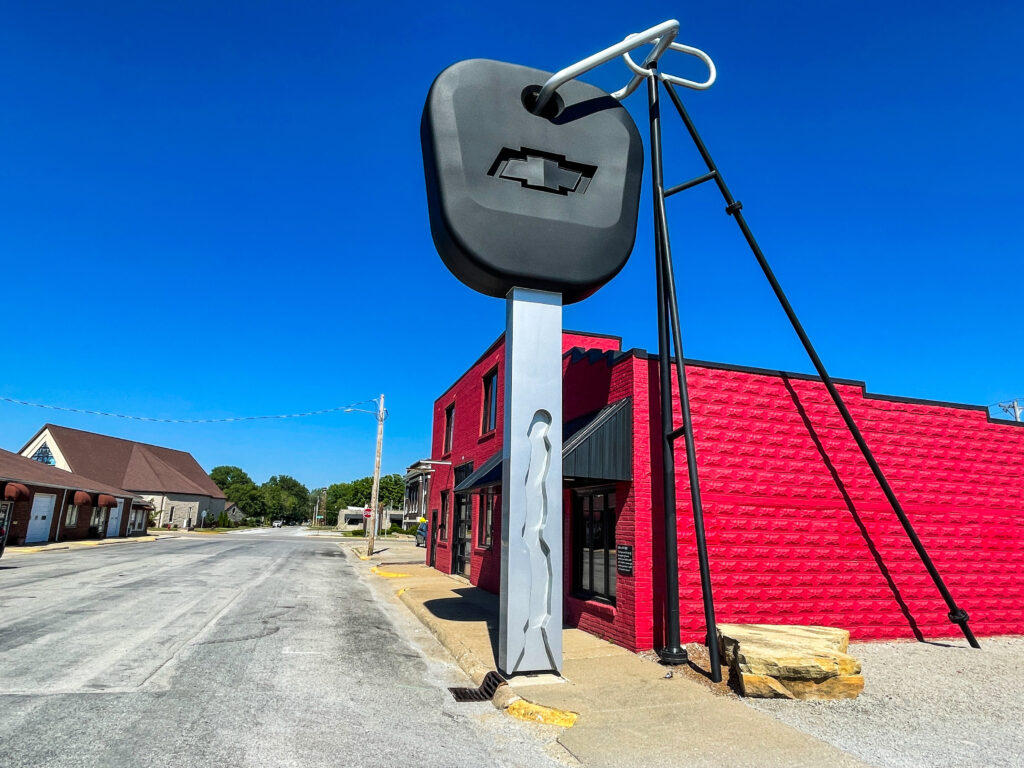 Effingham
The drive between St. Louis and Indianapolis offers more than just the weird and wonderful attractions in the small town of Casey. Prior to arriving in Casey, you can enjoy the city of Effingham and explore a couple of iconic attractions. The "Cross at the Crossroads" is clearly visible from the interstate and is almost 200-feet in height.
Standing as the second largest cross in the United States, visitors can walk around the designated area and read and listen to the Ten Commandments. This structure is certainly a work of art, so regardless of your religious affiliation, this is certainly an attraction worth visiting, or at least admiring from the interstate.
If you are a wine connoisseur, consider paying a visit to Tuscan Hills Winery for a quick wine-tasting experience. The home-like atmosphere is extremely welcoming for all visitors, and with a collection of local wines on offer, this is definitely an attraction worth considering. Other attractions in Effingham include the Mid America Motorworks Museum, Lake Sara, and a collection of eateries that are worth grabbing a bite to eat to sample local delicacies.
Terre Haute
After leaving the town of Casey and venturing onwards towards Indianapolis, the best opportunity to stop and explore more of Indiana's lesser known destinations is the city of Terre Haute.
One of the most poignant landmarks is the CANDLES Holocaust Museum, opened in 1995 by Eva Mozes Kor. The ultimate goal of this museum is to prevent hatred and prejudice, through the depiction of the horrific experiences during the Holocaust. CANDLES is an acronym for "Children of Auschwitz Nazi Deadly Lab Experiments Survivors."
"You may have destroyed some photos, but you didn't destroy our story. You may have destroyed some exhibits, but you didn't destroy our spirit. You may have destroyed a building, but you didn't destroy our community. Light prevails over darkness, and love will always conquer hate."

CANDLES Holocaust Museum
On a lighter note, Terre Haute is also home to Terre Haute Brewing Company which is a perfect spot to enjoy Indiana's oldest and America's second-oldest brewery in operation. With a number of craft brews always available, this is definitely a spot worth visiting if you love to sample craft beers.
Summary
The road trip between St. Louis and Indianapolis is one that at first glance looks like a simple interstate drive, and you could be forgiven for thinking your attention should be on reaching either of the iconic cities. However, we hope after reading this post you will allocate some time to explore the quirky town of Casey, along with other spots along this route.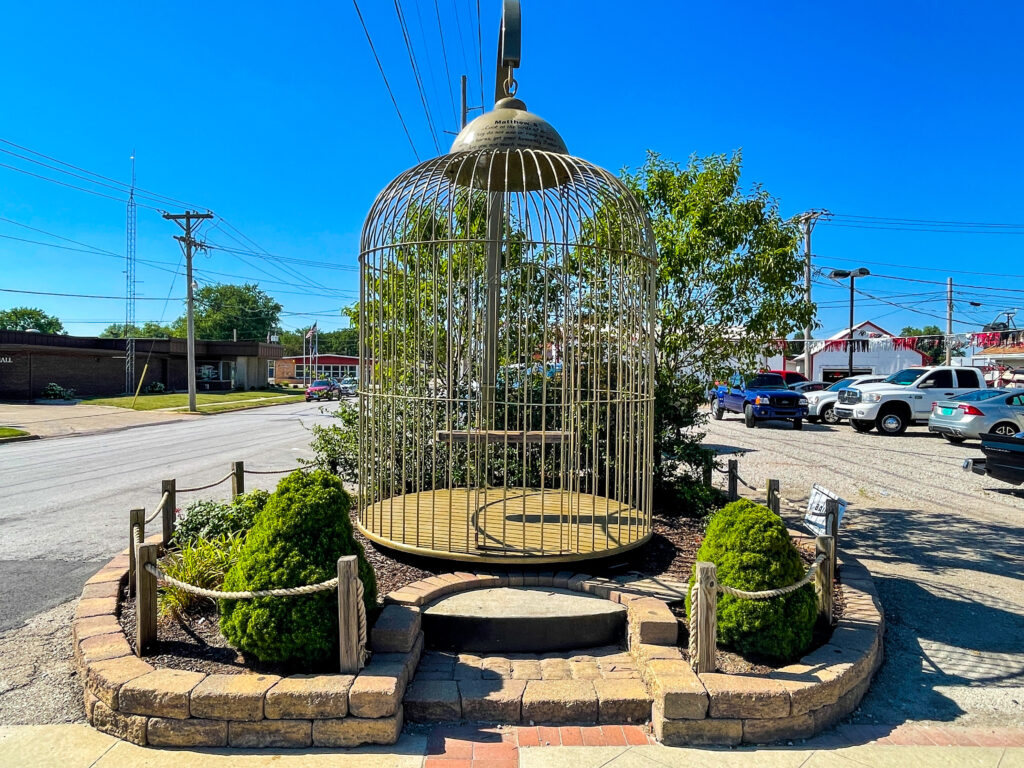 What is your favorite "larger than life" attraction in Casey? What other landmark would you like to see Casey create and put on display for visitors in the near future?